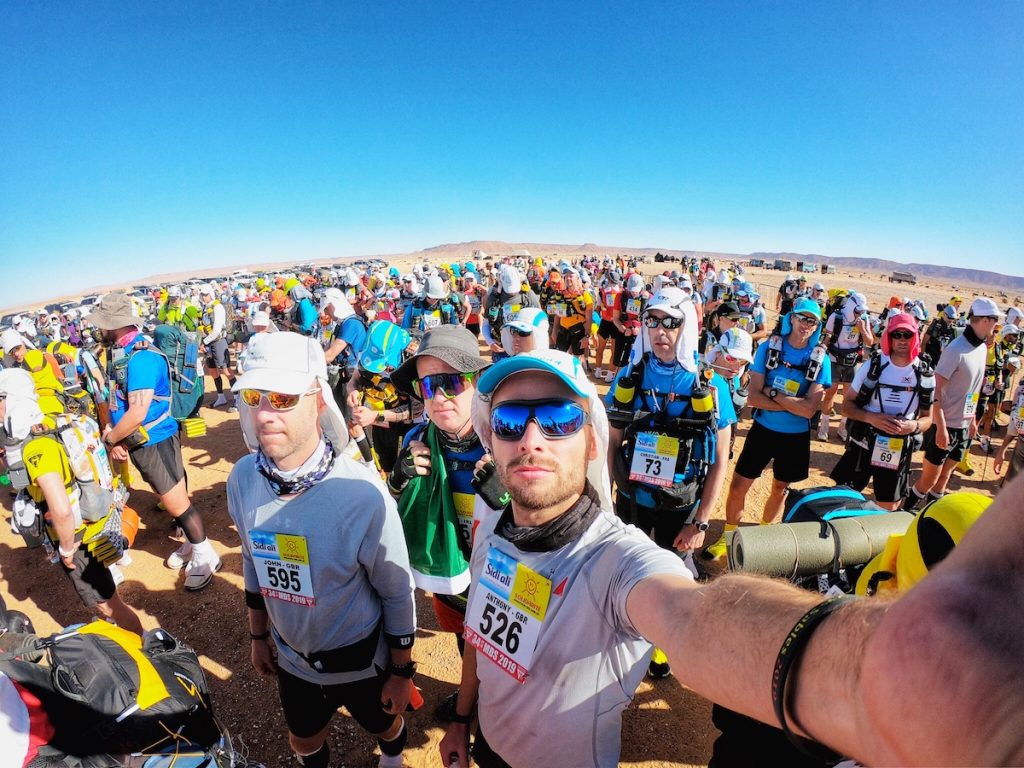 I found myself in a real funk last year, and not in an upbeat, Bruno Mars, hip-thrusting-in-a-dapper-pink-jacket kind of way but a kind of funk that left me dealing with a lot of anxiety, poor decision-making, lower confidence and a below-par fitness level.
As the turn of the new year approached, I decided that 2019 would be the year that I rose like a phoenix from the ashes, but I needed something to work towards. A goal to focus on that would intertwine with the need to be physically fit, but I also wanted to go HARD in terms of a challenge.
The successful slog on Mount Elbrus showed me that I have grit in my locker when the going gets tough, however, it wasn't enough to satisfy my insatiable appetite for growth and adventure.
My prayers were answered when one of my closest mates, Johnny from onestep4ward.com asked me when we were visiting Greenland if I fancied doing the Marathon des Sables (MDS). Labelled as 'The Toughest Footrace on Earth' by The Discovery Channel, participants must run a total of 6 marathons in 6 days in the Sahara Desert (one of those days being a double marathon). We would have to carry our own food and medical kit. Oh, and also have to pay £4,250 for the privilege of doing it!
I'd heard about this crazy race before on the Rich Roll Podcast, and while I don't believe in 'signs' from the 'universe', this was exactly the type of thing I needed to sink my teeth into and so I signed up.
I kept up my hectic travel schedule during the remaining months of training, visiting China, North Korea, Nepal, UK, Azerbaijan and Sri Lanka and I got to a point where I was running pretty much a half-marathon every morning.
I approached a British Marathon des Sables hero on Twitter called Tobias Mews for paid telephone consultation. He had finished 21st in the event in 2011 as a Top British finisher, and went back in 2013, finishing 15th and 3rd overall Brit. I had absolutely no delusions of grandeur that I could achieve anything like that, but I figured it would be nice to get some inside info in terms of the right gear and what to expect.
Tobias was an absolute godsend in terms of helping and being a calming presence for me and my packing situation, and Marathon des Sables came around in no time. Before I knew it, I was boarding the plane from London Gatwick to Ouarzazate, Morocco, right in the heart of the desert.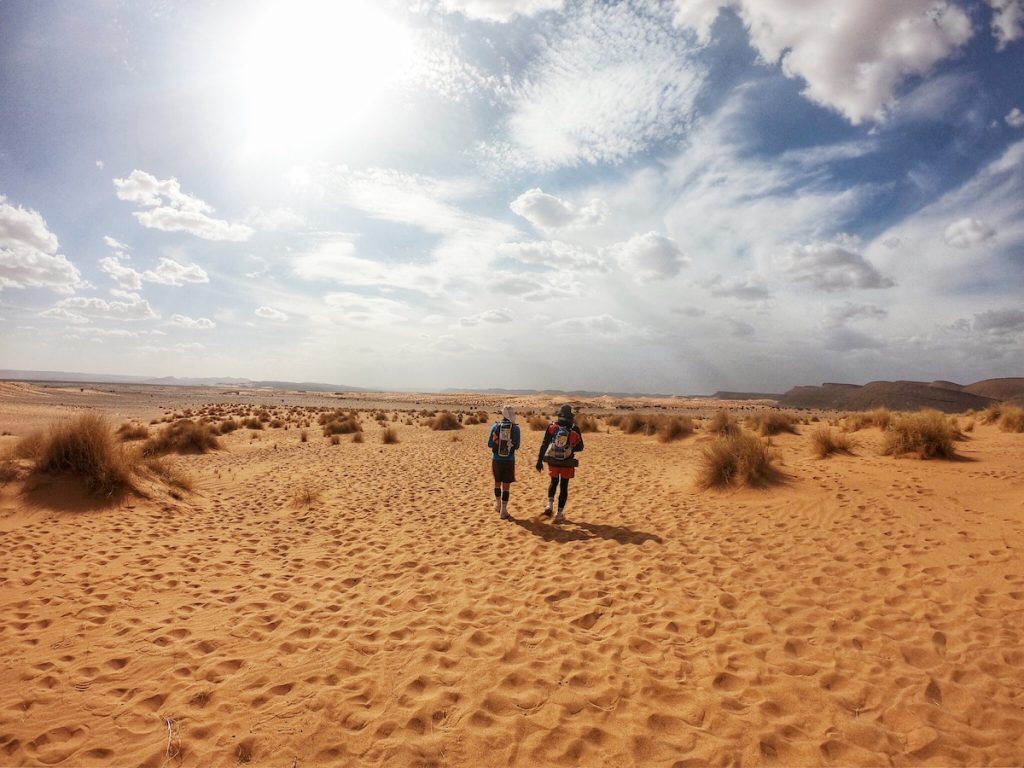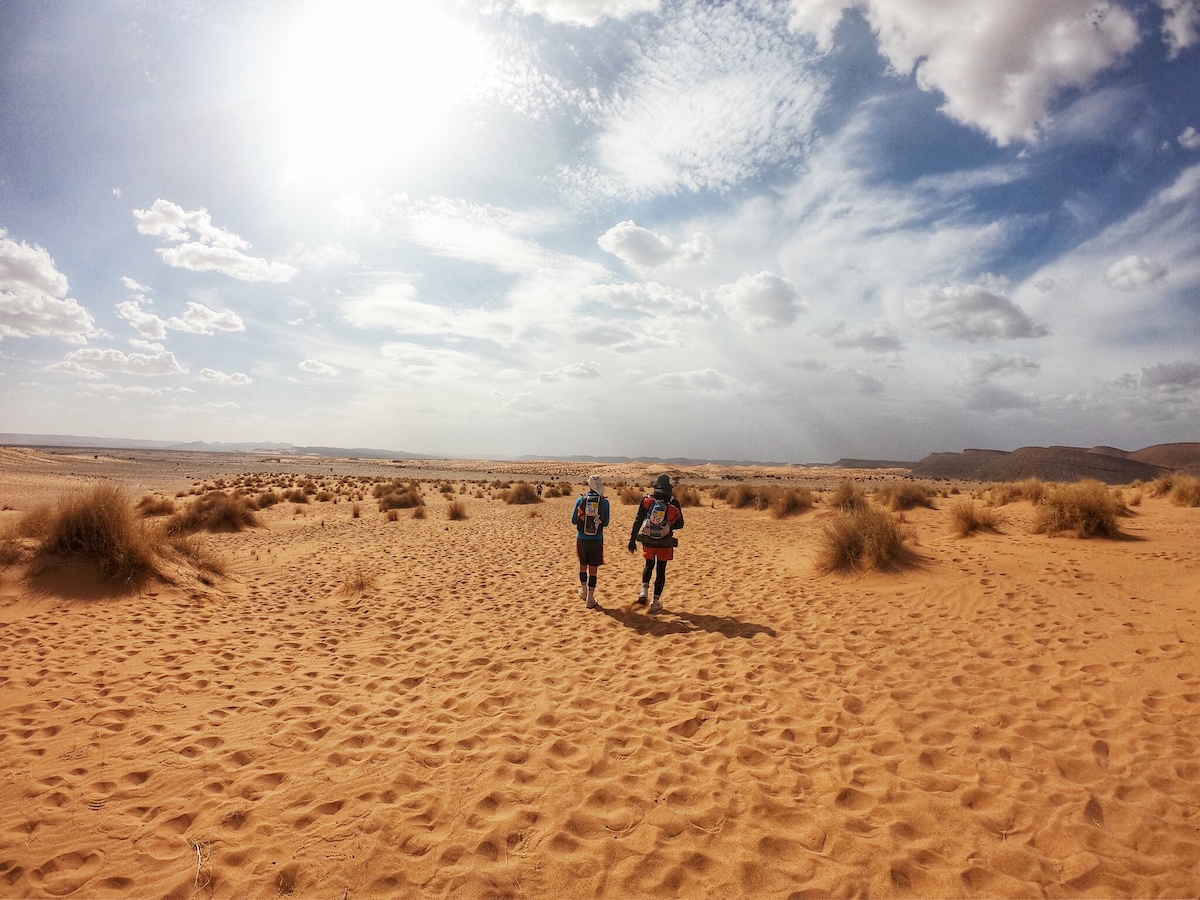 Johnny introduced me to one of our eight potential tent mates, a laid-back Irish lad called Eamonn who I'd been chatting with on Instagram during the training months. We hit it off immediately – fantastic! Now the mission was to find 6 more legends to make up our dream team tent in the Sahara.
Nervous energy was running high on the plane and, being the utter chatterbox that I am, Airplane Tourette's syndrome kicked in and I struck up a conversation with the fella named Paul next to me who had absolutely no say in the matter.
Paul was a Scouser with a calm energy, who was in great shape, a fireman and doting dad of two lads. I pretty much branded him with my proverbial Marathon des Sables prod as "one of us" and, as dodgy as it sounds, I unashamedly asked a stranger who I'd just met on a plane if he'd like to sleep in my tent with me.
Three down and five more to go. After we arrived at the airport in Morocco, Johnny told me he'd also found a few guys on the flight. The Marathon des Sables gods were shining down upon us and we couldn't have hand-picked a better bunch even if we'd tried as we settled in for the six-hour bus ride into the desert wilderness.
Damian, gifted with a hilarious dry wit and intelligent conversation, Chris, a buff 6'2", former Royal Marine with a measured but tough personality, and then the cherry on top of the MDS tent cake, Rocky – who we affectionately referred to as "Dad" due to his ability to fix any issues and for constantly being in dad mode – one of the most genuine, gentle and fun blokes I've ever had the privilege of meeting.
Good vibes bounced off that man and I'm sure it was a major factor in my Marathon des Sables survival.
An Indian guy named Ansar was already in the tent when we arrived; he was quiet, a bit of an introvert, and an absolute champ of a guy.
We had our dream team ready and the nerves surrounding our gear, fear of failure or of receiving a fine for not having the correct kit were alleviated by the natural, positive energy and flowing conversation in our group.
That night, we got into our sleeping bags knowing that the following day was all about registration, after which we would hand in all of our luggage and be left with our tiny running bag to last us a week in the Sahara.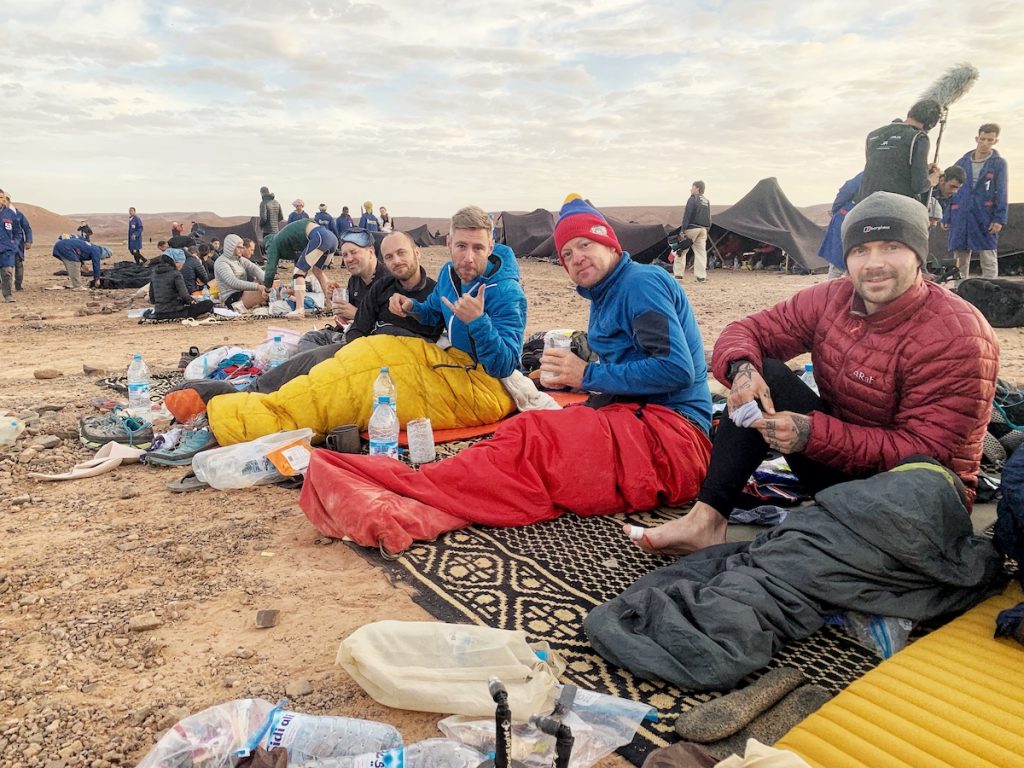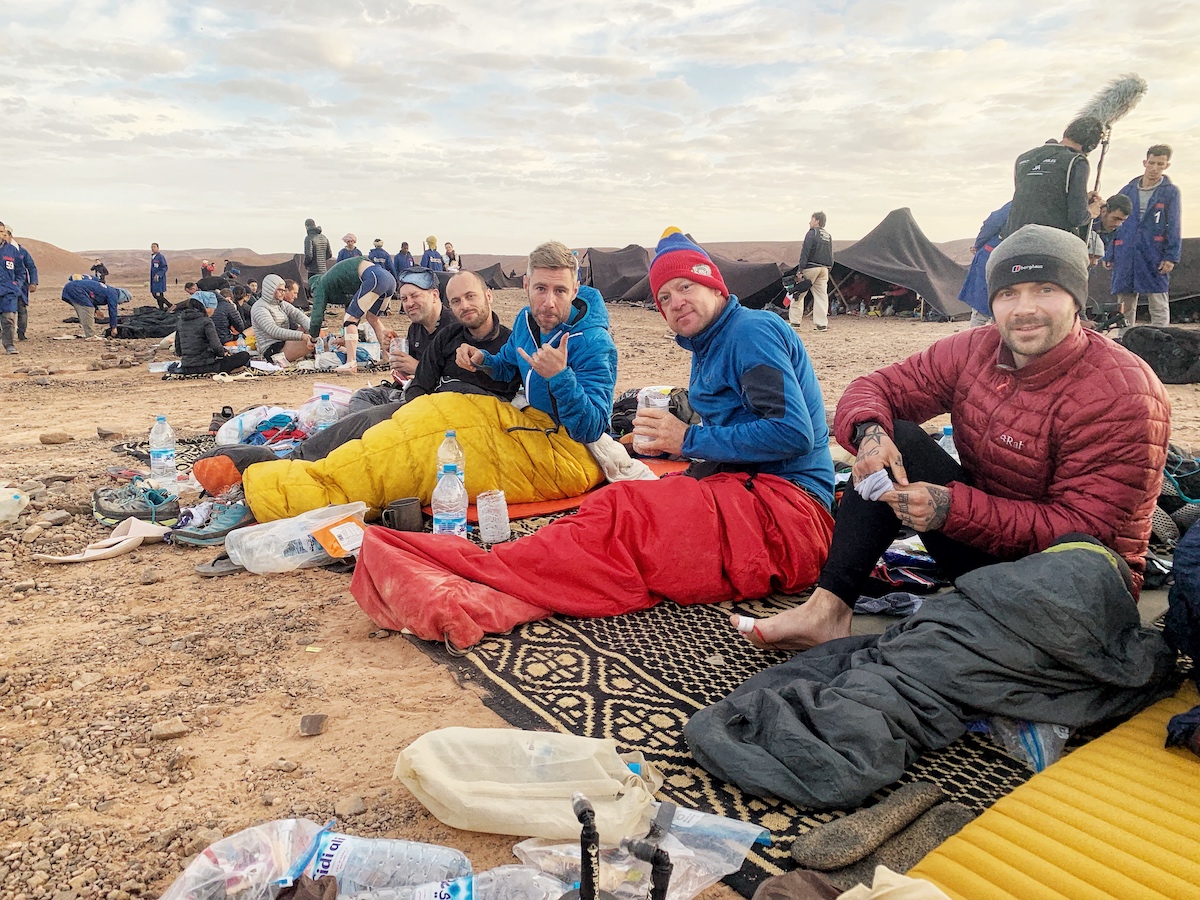 Marathon des Sables admin day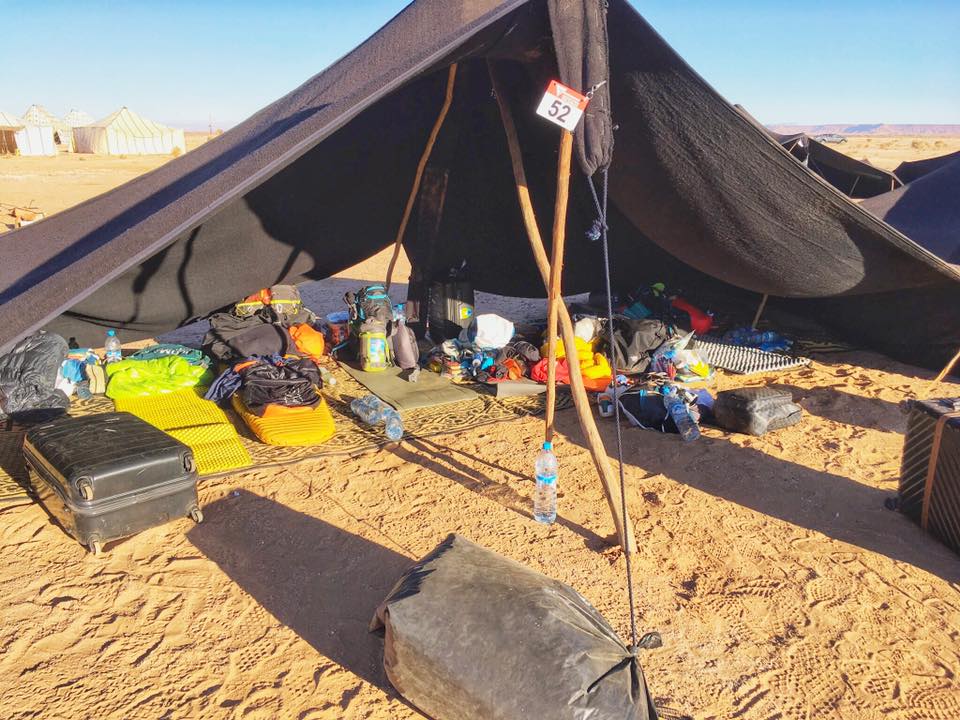 The day went exactly as I had expected it to – full of anxiety, followed by the relief of getting the job done. Everyone was worried about forgetting something and all we wanted to do was to get checked in and signed off with a thumbs-up.
When I registered, I weighed my bag (9 kilos before water), handed in my signed medical certificate and ECG results, and received my salt tablets from the medical staff.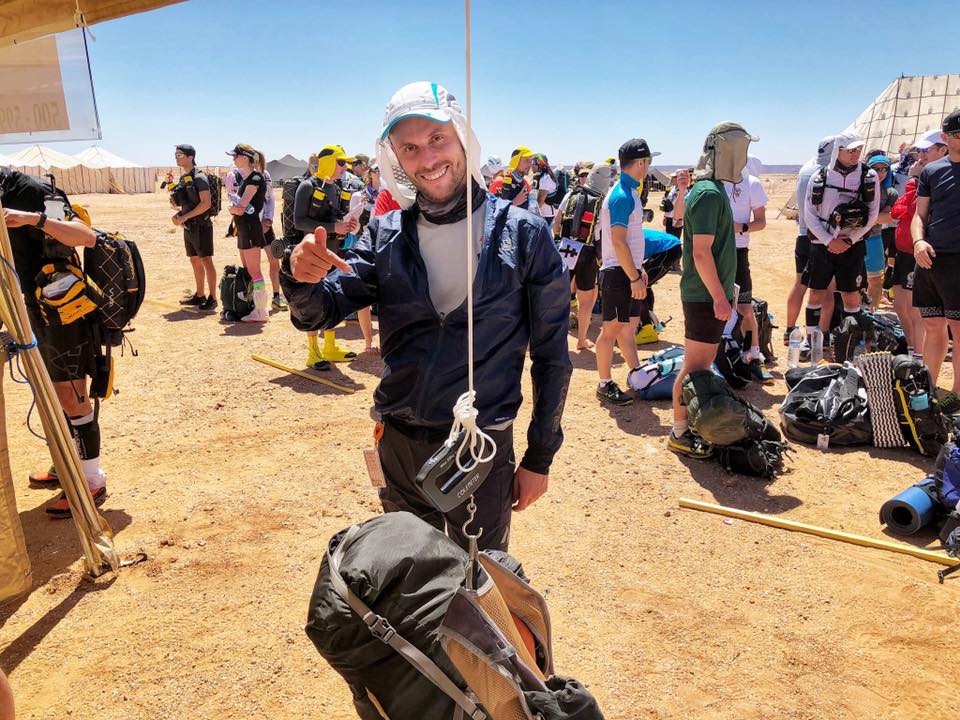 The doctor freaked out a bit when he saw that I'd declared on my form that I am allergic to penicillin, which was a bit odd. It's important to note here that I'm not criticising the medical team of Marathon des Sables – they were phenomenal and I'm sure it was a stressful job registering 800 people in one day.
The time came when we said goodbye to our extra bags and we were left with only the clothes on our backs and the gear inside our running bags. It felt so real and next day was the first race day.
Day 1 of Marathon des Sables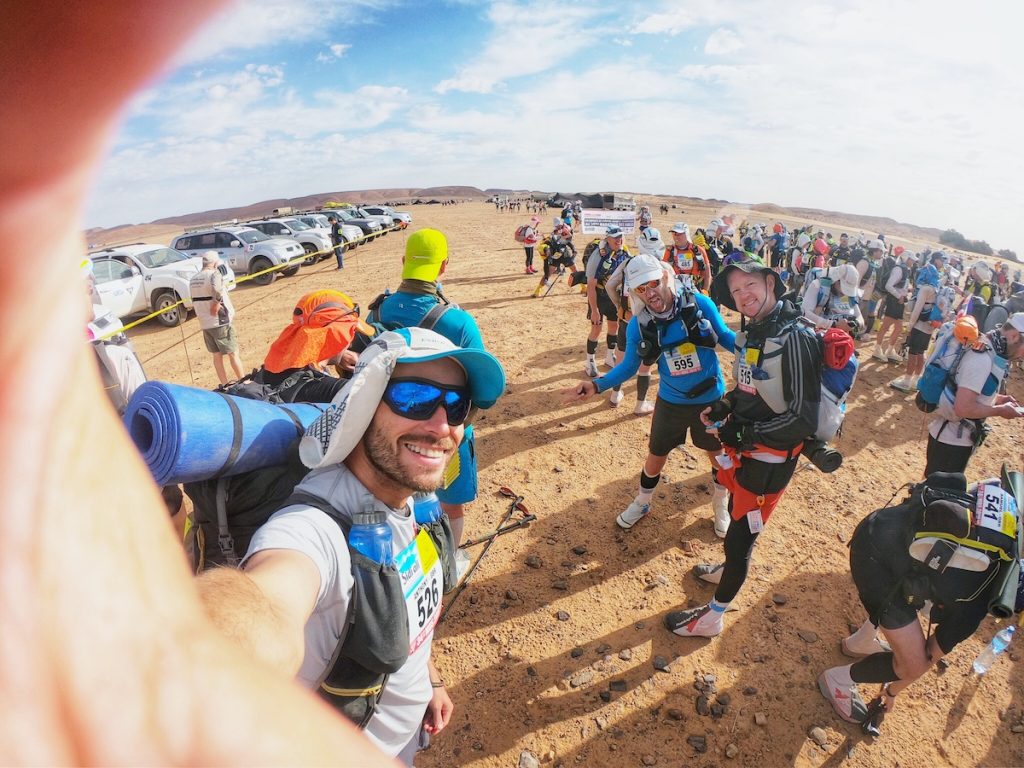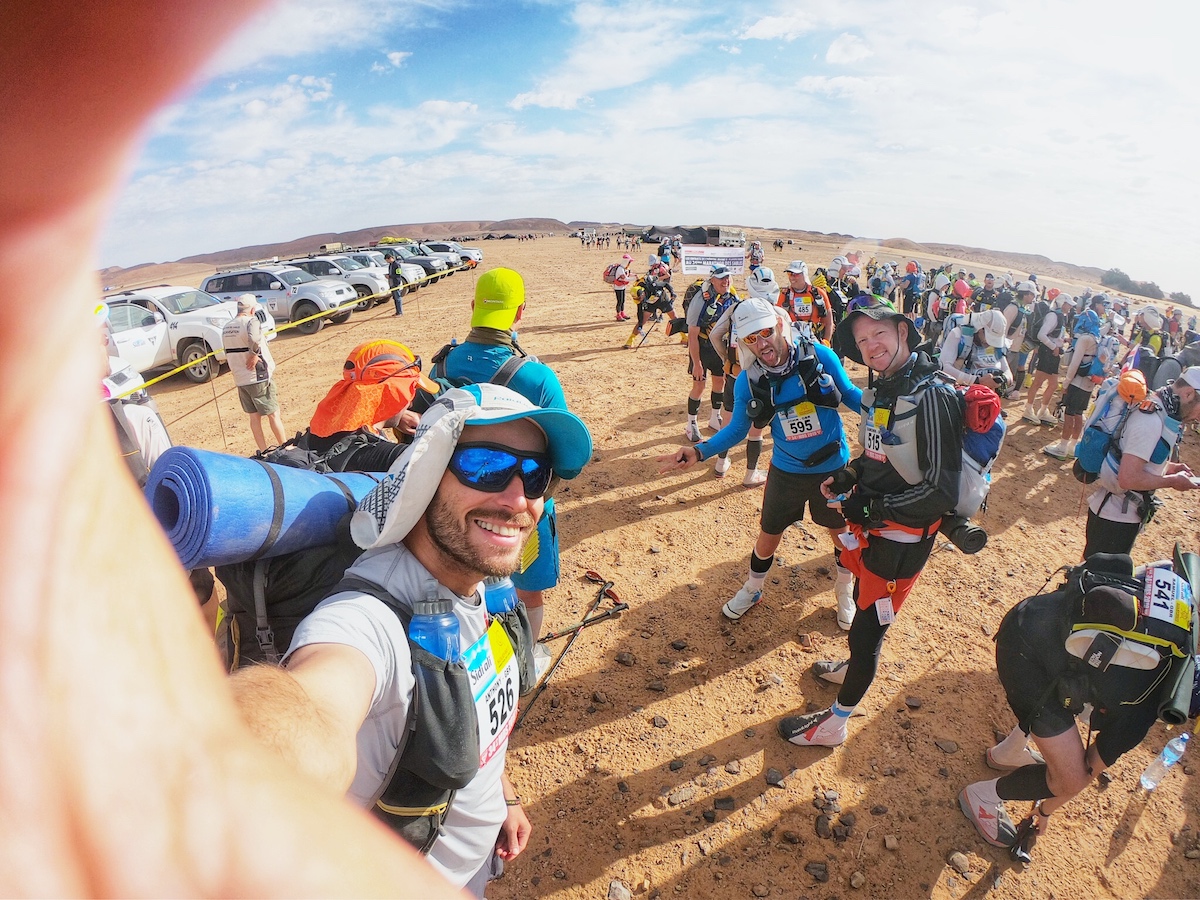 I had an absolutely crappy night's sleep that night (sadly, a common theme for me at Marathon des Sables) and woke up at 6am, in time for the 8:30am race start. I chomped down on my grainy granola/chocolate powdered mix and got myself ready for the race – this was it! We were finally there… Tent 52 was about to lose its Marathon des Sables virginity.
Before the countdown to the race start, a Marathon des Sables tradition was carried out, blasting AC/DC's "Highway to Hell" from the loudspeakers.
Nice touch. It got the adrenaline pumping.
Then, bang – we were off. 800 of us running off into the Sahara Desert with our battle bags.
This turned out to be my fastest and easiest (not to be confused with "easy") day; most of the sand was hard and I pounded it, giving it my all. The sweltering heat made it very difficult, but I just got my head down, didn't chat to anyone and ran about 85% of the race.
It's not possible to run the whole thing as a mere mortal, as the routes contain soft sand dunes that need to be climbed. I had no hiking sticks, but I felt strong, hydrating and refuelling at every 10 km checkpoint.
Cute local kids ran out from the villages to blow kisses and high-five us along the way. Life felt good, albeit in a Sahara Desert-struggle kind of way.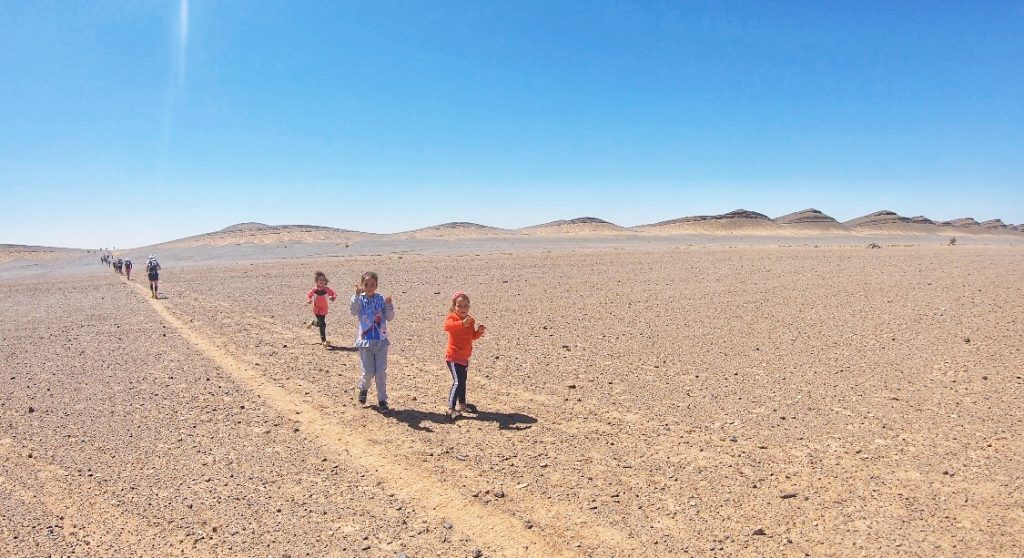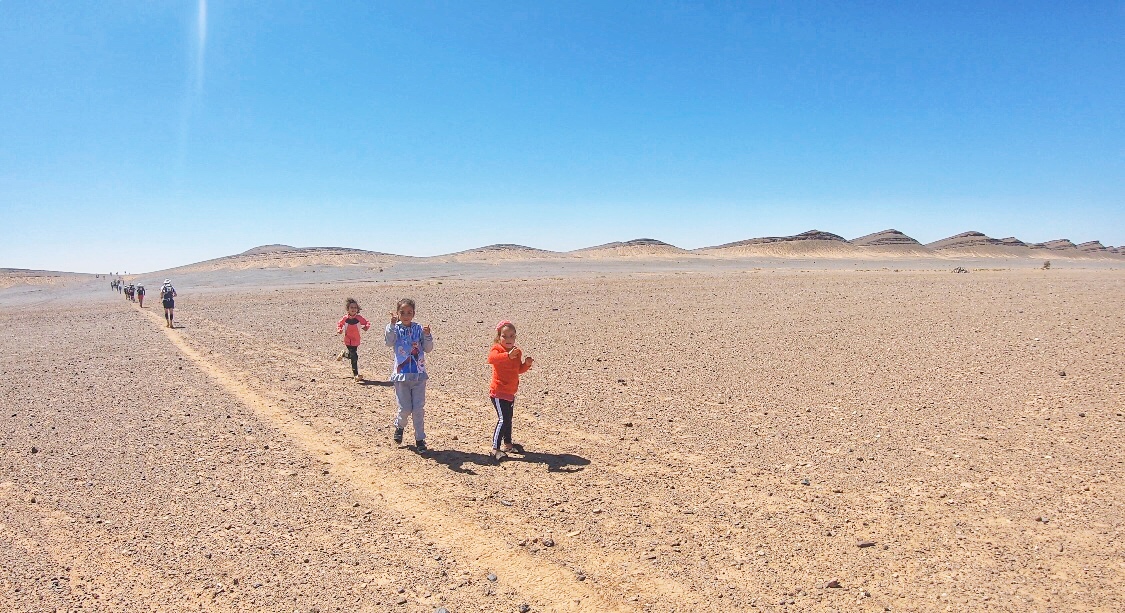 I got back to the tent in 04:43:22. I felt proud of my effort but made sure to stay grounded in reality. We were warned that day 2 would be hell; so bad that Marathon des Sables' organisers reluctantly knocked a few kilometres off the usual total because this day would be so unprecedentedly brutal, with the course bragging a whopping 16 km of the biggest sand dunes in Africa in a gruelling 34 km race.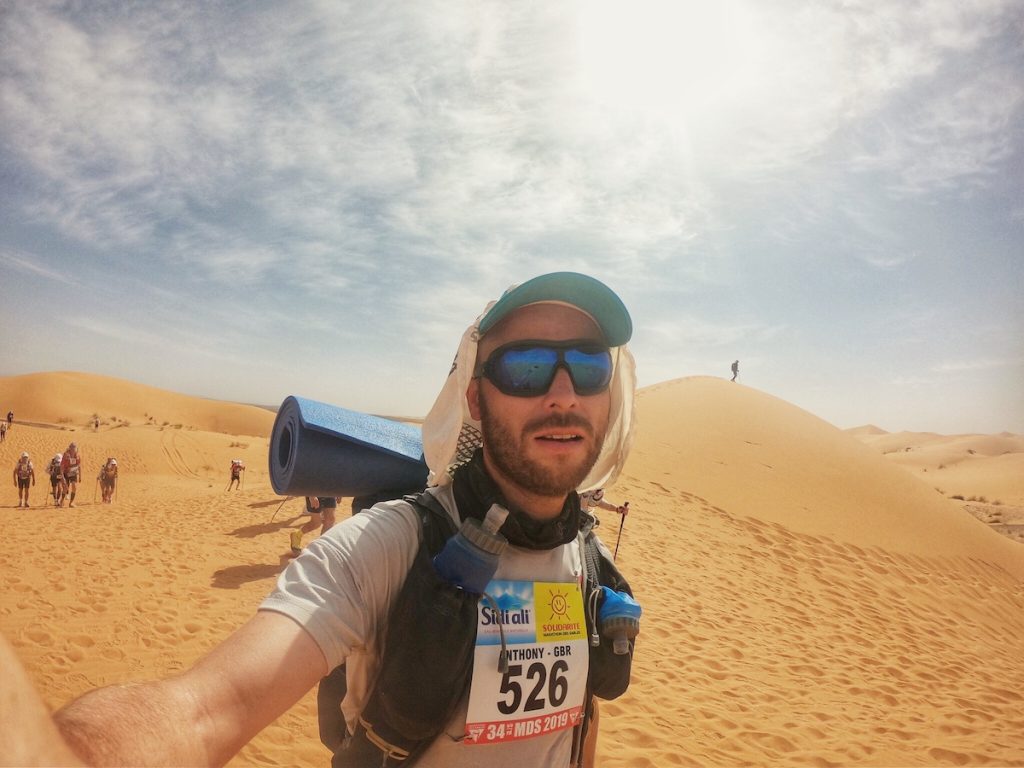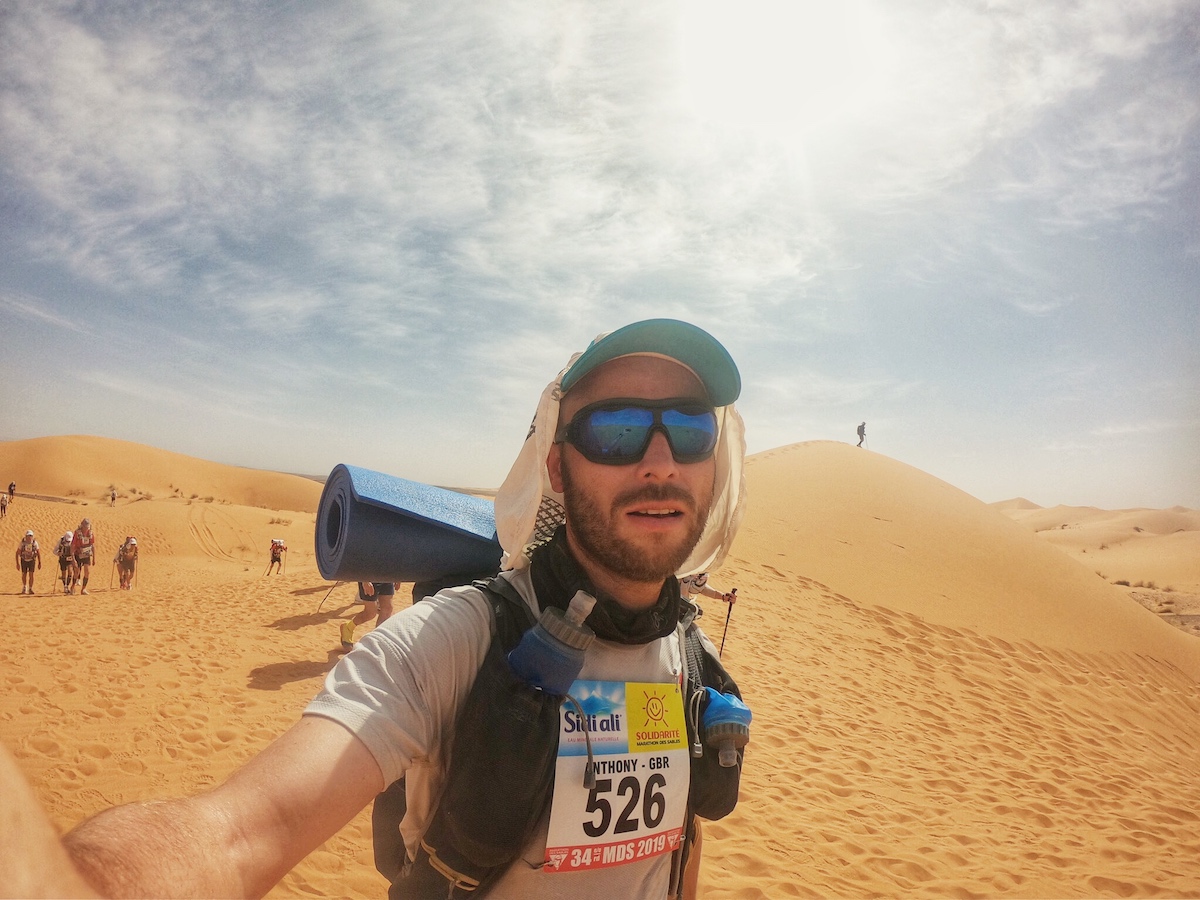 I immediately took off my socks and was happy to see I had no blisters. Sweet! Later that night we went to watch the last few people come in over the line. The rule is that if you fall behind a chosen camel (sometimes a Jeep) then you are out of the race.
It was touch and go, and the last remaining person was an 83-year-old man from Corsica. He made it just in time, and we all gathered to give him a rousing round of applause.
He celebrated by simulating a golf shot with his hiking stick on the finish line. What an absolute boss!
Day 2 of Marathon des Sables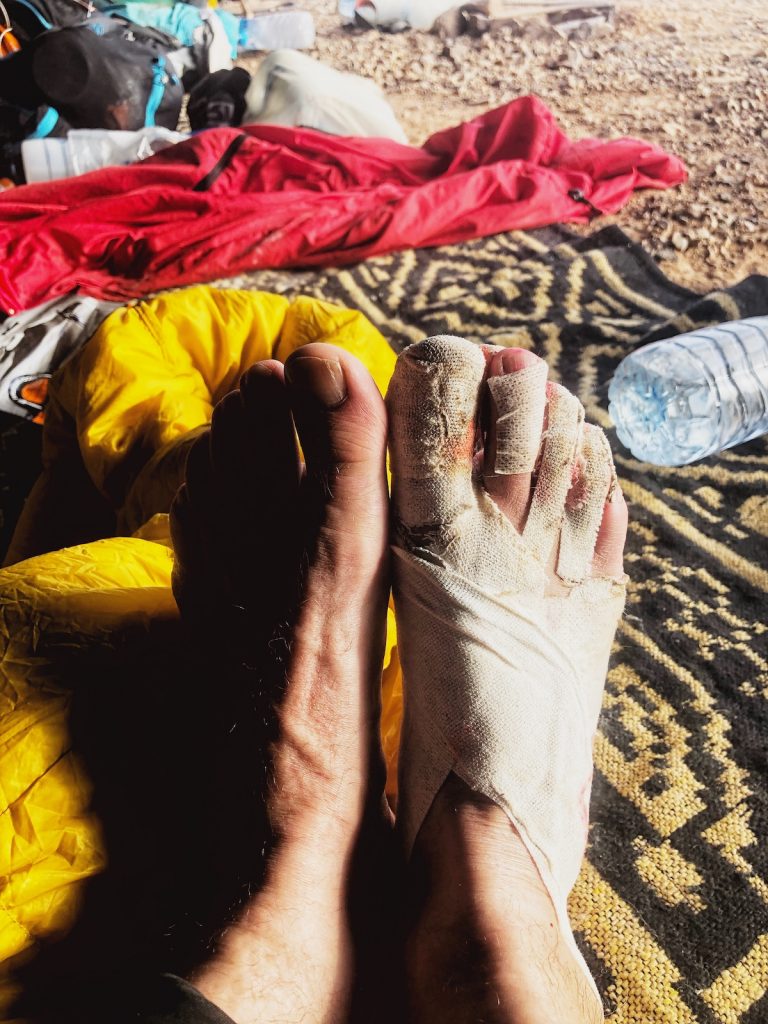 I really want to just write "fuck you, Marathon des Sables" a thousand times for this day, but I don't think it'd be very helpful.
Climbing massive dunes turned out to be a bit more of a weakness for me than I had anticipated. I clearly put too much emphasis on cardio in my training and not enough into leg power and strength. My skinny little pins were no match for the mammoth dunes which, cruelly, were all soft sand – an absolute nightmare to navigate and get up.
Stupidly, I also didn't hydrate properly at the stations, impatiently wanting to just get on with it and get the day out of the way. I found myself completely parched for what seemed an eternity before I got to the 3rd checkpoint.
Pretty much everyone who overtook me (it must have been hundreds, I was so weak and dehydrated) asked me if I was ok. I was wobbling about and must have looked very worse for wear.
A guy from Sunderland checked up on me with a few miles to go and chatting with him helped me forget about my predicament for a fleeting moment. These random acts of kindness and consideration for the welfare of others were commonplace during the daily races of the Marathon des Sables.
A little gift from man's best friend, 'Cactus the dog' who became so viral online that he got his own column in the Independent and Business Insider (to name but a few) helped me out half way through the race. Other than the occasional lizard, he was the first animal I'd seen that week and does it really get better than a dog to lift the spirits?!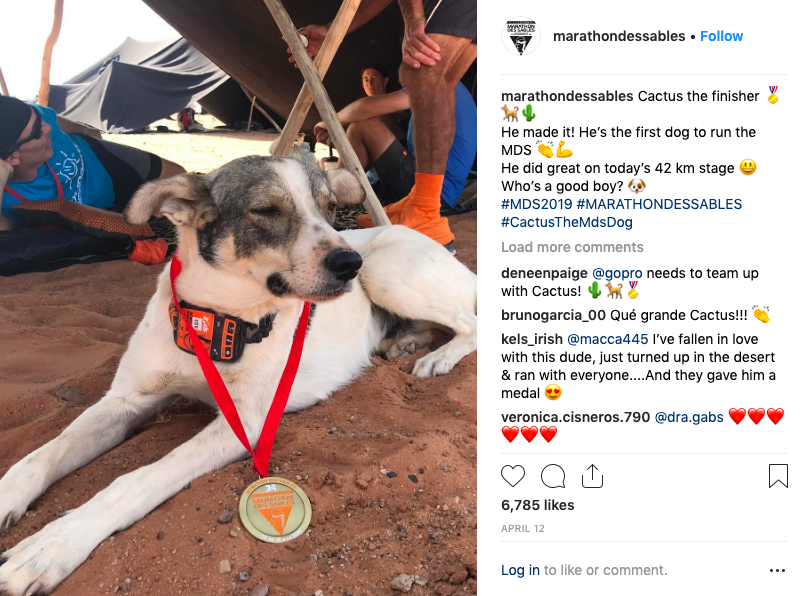 I stumbled back to my tent after 07:25:27. I was so happy to be back. As I was getting my bag ready for the next day I looked across and noticed we were sitting opposite the Moroccans – the professionals who absolutely smash the race by a country mile. The younger brother who usually finishes second to his older brother smiled over and offered us a cup of tea.
I'm very rarely the man to turn down a cuppa, but I politely declined as my feet were a wreck and I needed to get to the medical tent, but the gesture itself warmed my heart and gave me a lift. In the morning, the main man, Rachid, made an effort to smile at me and put his hand on my shoulder as I passed him. He did the same to others hobbling about. He knew we were hurting, and this tiny gesture spoke volumes about the man.
A champion in more ways than one.
Day 3 of Marathon des Sables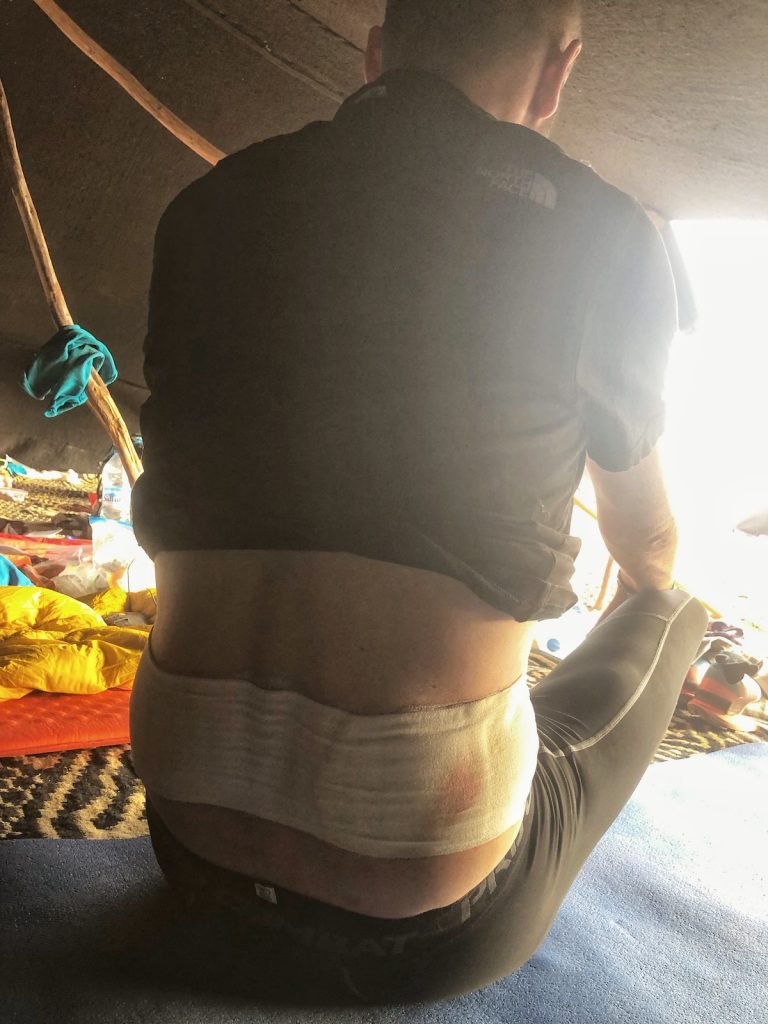 More stupid, slutty sand dunes. Not massive ones like on day 2, but sneaky, medium-sized dunes with soft sand. I didn't make the same mistake as the day before, or for the rest of the race, staying well hydrated at every opportunity.
I was in a bad way though, with blood starting to show through the back of my t-shirt. My bag was rubbing against it, and on top of this I had horrendous blisters on my toes.
Damian sacrificed his time to help bandage me up on the sidelines to stop the blood pouring from my back – an absolute superstar move.
I tried to ignore the pain and cracked on. However, I was overcompensating by putting more pressure on my left foot as my right foot had so many blisters, and 5 km later I sprained my left foot.
It's hard to feel too sorry for yourself at Marathon des Sables when there are so many disadvantaged heroes just getting on with it. When I was hobbling I saw a lower leg amputee lady absolutely gun it up a big dune. She blew me away and lifted me up at the same time, her warrior spirit radiating its way into me.
I sucked it up and hobbled over the finish line, a hard 20 km later. Another long day of scrambling through the Sahara Desert in 07:33:39.
(No photos were taken on this day, the priority was getting over the line. I was not in the mood for dune selfies on this day).
It's important to note at this point that every night we received sheets of A4 paper containing emails from our loved ones. I can't speak for everyone else there, but this really lifted my spirits when I was ever feeling dejected, or worried and it made the world of difference to my mood and resolve – a nice touch from the Marathon des Sables organisers.
I've already resolved to email the person who will adopt my race number next year and send daily notes to help them through. Knowing that people out there spared a thought to care about me and were aware that I was still cracking on really helped me out during some times when my internal self-dialogue wasn't the most chipper.
Day 4 of Marathon des Sables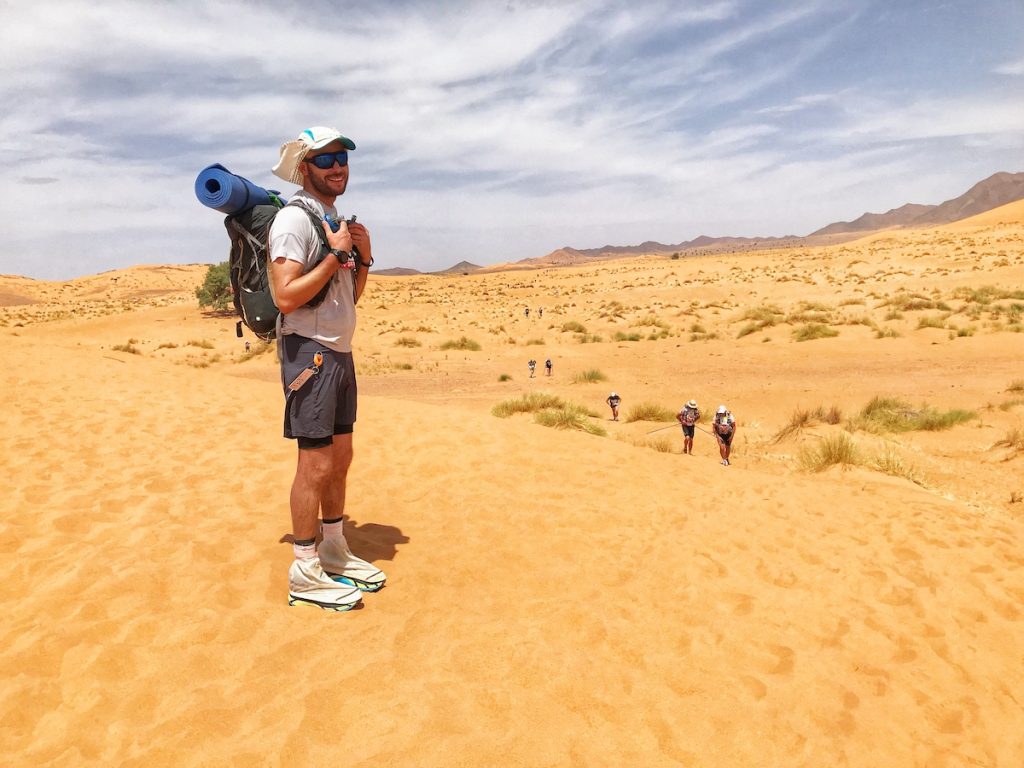 This was the Big Mac, Daddy Day of the week! A whopping 76 km ultramarathon in the Sahara Desert!
To say I was concerned would be an understatement, but the medical team had bandaged me up good and proper and I was able to run a bit more comfortably, supported by the false sense of security that came from a host of painkillers.
This was a day of marching, running and battling sand dunes, which took me just under 17 hours to complete!
The painkillers could only do so much, and I had to just ignore the aches. I started the race with a very slow run to conserve my energy, running with Eamonn for a few hours. He was a really strong runner and it pushed my limits, but I happily covered a lot of ground while keeping up with him.
I was in a lot of discomfort later on and I had an issue with my sleeping bag – it kept falling out of its compartment from my bag and onto the sand.
This might not seem like too much of a drama to anyone reading this but, trust me, when you constantly have to take off your bag and rearrange your kit when you're in the middle of a 76 km ultramarathon in the sweltering heat, it becomes physically and mentally exhausting – a daunting task which saps away your precious energy.
In my opinion, Marathon des Sables is roughly 85% mental and 15% physical. You really have to be positive and shut down any negative internal dialogue, and this was testing me as I was limping on. At this point I also had a new injury and, not meaning to be crass, I had been bleeding out of my asshole (thanks for asking) for the last few days and it was really painful down there.
It seemed that Marathon des Sables was trying to break me, but I was not ready to be broken.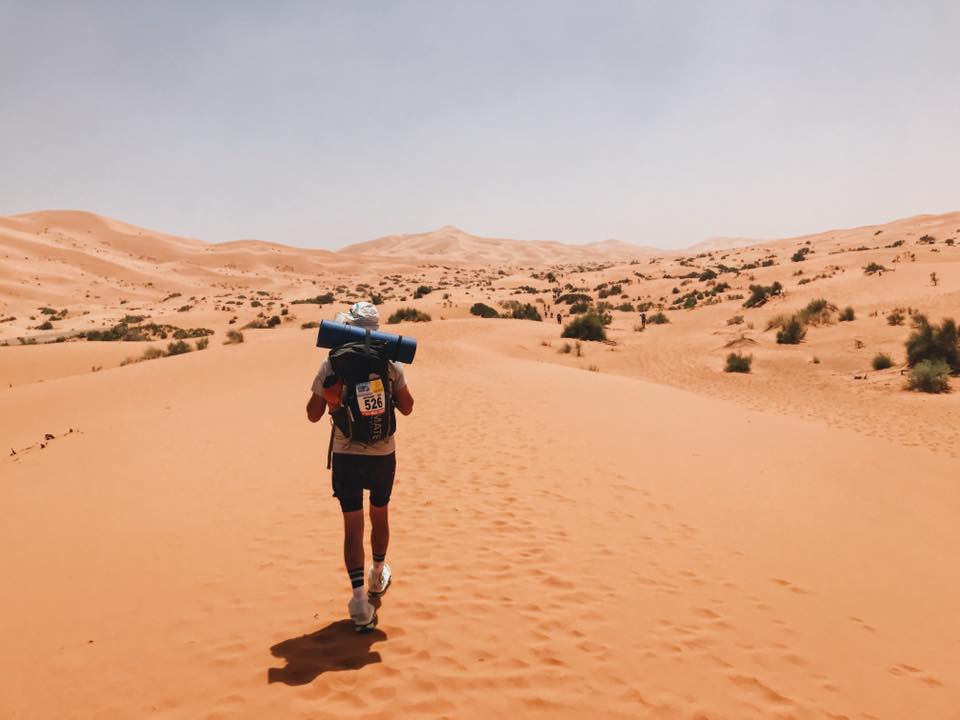 Later on, I caught up with Johnny who had a strong march going on. I wasn't able to run but I figured that if I could keep up with him then I'd be able to get the ultramarathon done sooner rather than later.
7pm arrived and we had to put our head torches on to navigate through the desert. On this occasion, we opted to eat our high-calorie dinner during the race as opposed to at the end of it when we would just want to crash into 'bed.'
Hours later, while we were still in the race, I would hallucinate that I saw a curled-up snake below my feet, which made me leap in the air like a cat in a viral internet video. I also imagined that an Arab man was serving tea and offering me it.
I said to Johnny with delight: "they have tea, get in!" He had no idea what the hell I was taking about because, of course, I was talking nonsense. Delirium was hitting and I needed to finish so badly, but we never lay down at any checkpoint – I didn't trust myself to get back up due to pure exhaustion.
Speaking of delirium, two kilometres from the final checkpoint of the 76 km ultramarathon (the one before the finish line), the sick bastards at Marathon des Sables decided to create a route where we had to climb over not one but two steep mountains.
On the way to checkpoint 5 we bumped into our tent mate, Damian, who was even more delirious than me. Almost incoherent and pale as a sheet, he barely recognised us. We walked him to the checkpoint where he rested before taking on the final 5 km, which must have felt like climbing Mount Everest for him considering the state he was in.
Johnny and I cracked on and made it back around 2am. We'd been going non-stop since 8am the day before and we felt it, hobbling in at 16:48:28.
I crashed into my sleeping bag, knowing that I'd be spending a decent amount of time on the rest day in the medical tent. I woke up 2 hours later with a throbbing pain in my IT band – running down the side of my right leg.
Marathon des Sables had really done a number on me, but I took a big scalp from it after completing the ultra.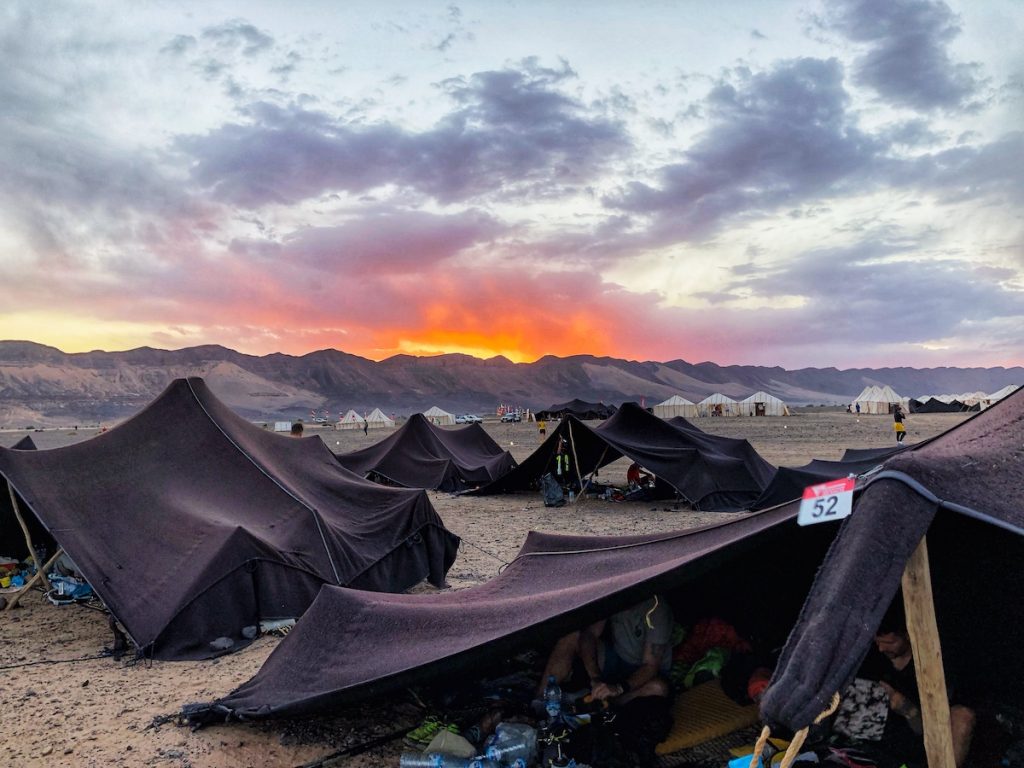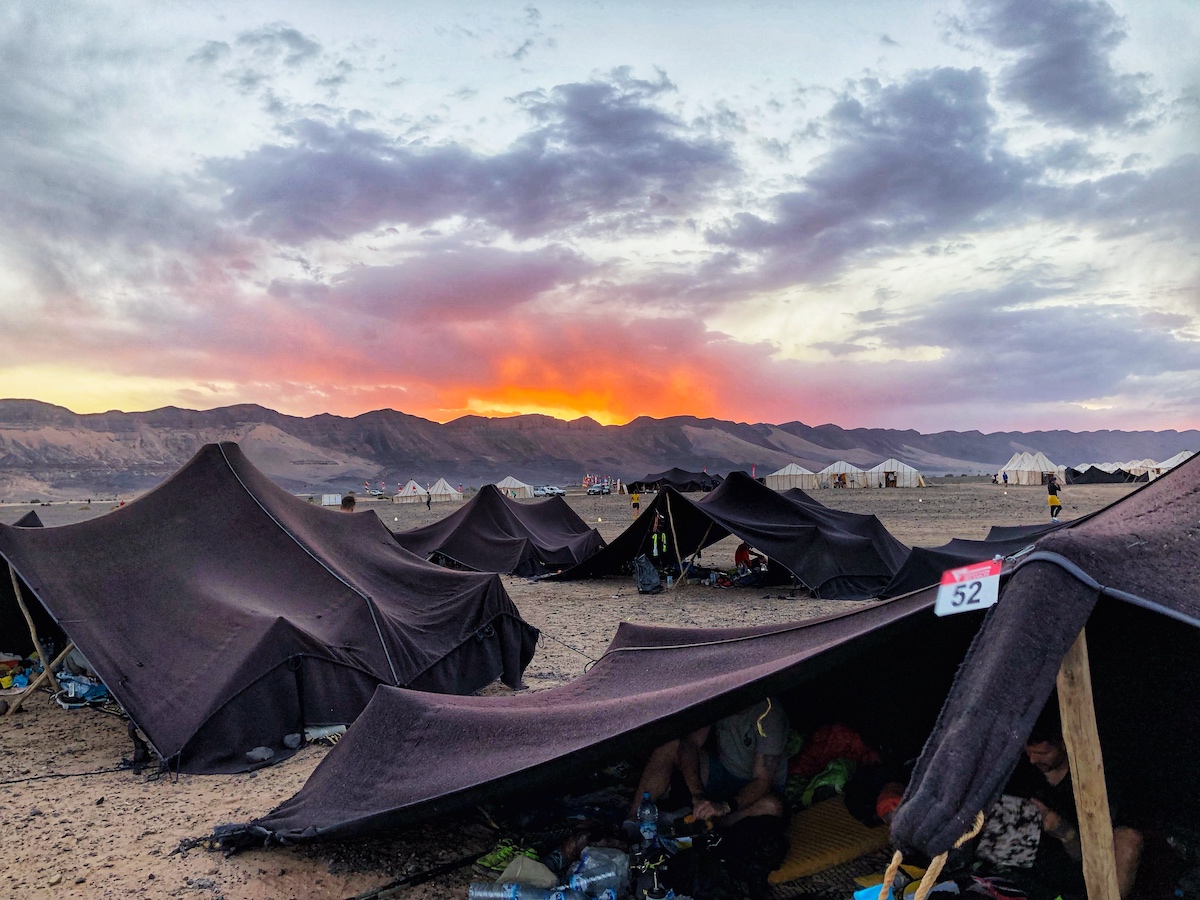 Day 5 of Marathon des Sables
Rest day. Time to get fixed up by the amazing French volunteers who sorted us out in the medical tent, rehydrate, refuel and get ready for the final countdown the following, and final, day.
I was a mess. Sprained left ankle, blisters on top of blisters on my right foot, a bleeding bum and back, and during the night I had also developed sickness and diarrhoea. Sexy!
The camaraderie in the tent was fantastic though and while we all had our own issues to deal with we pulled through because we all gelled so well.
Day 6 of Marathon des Sables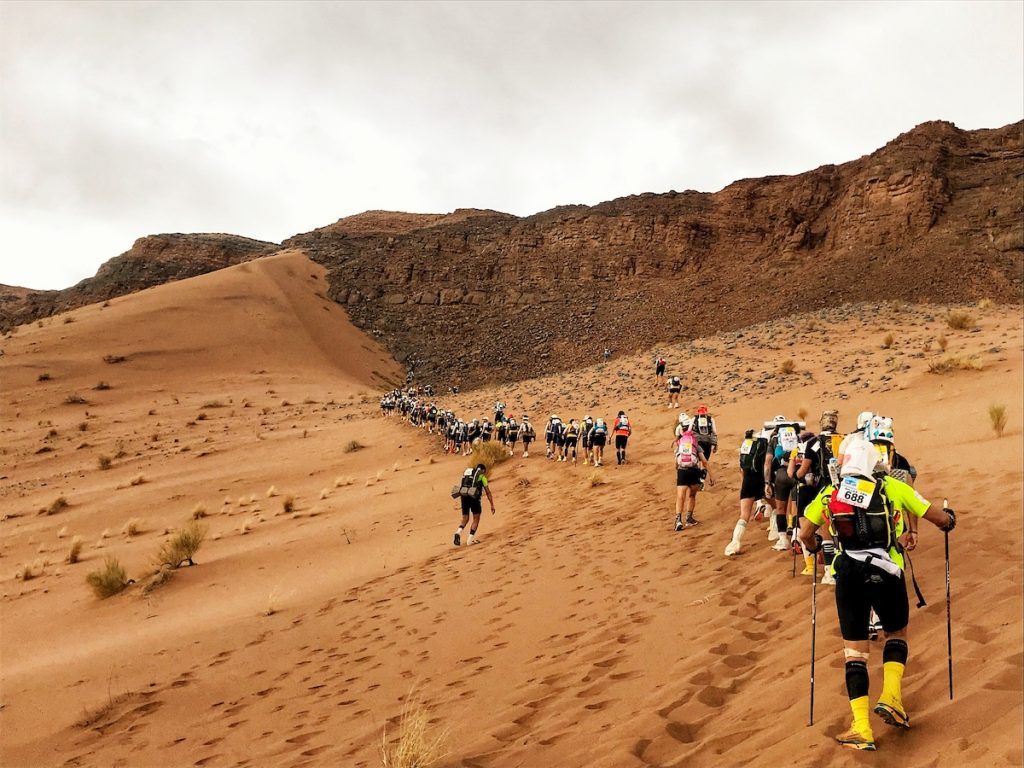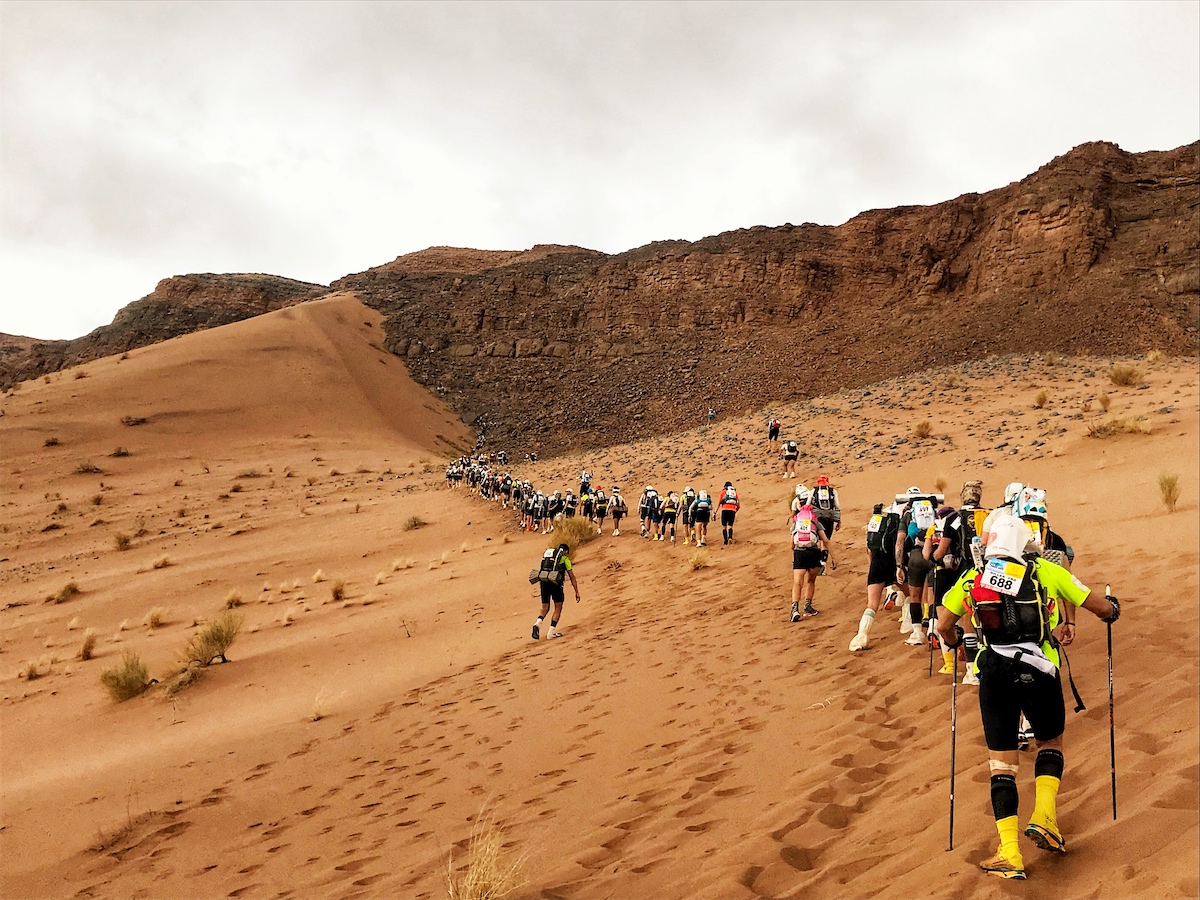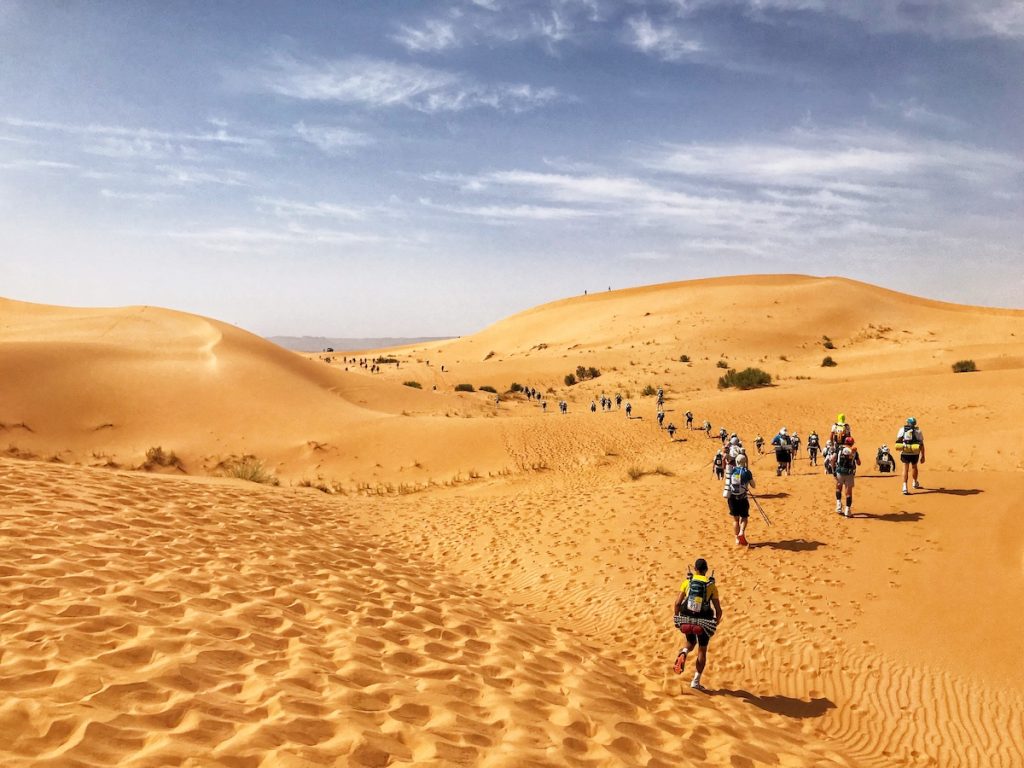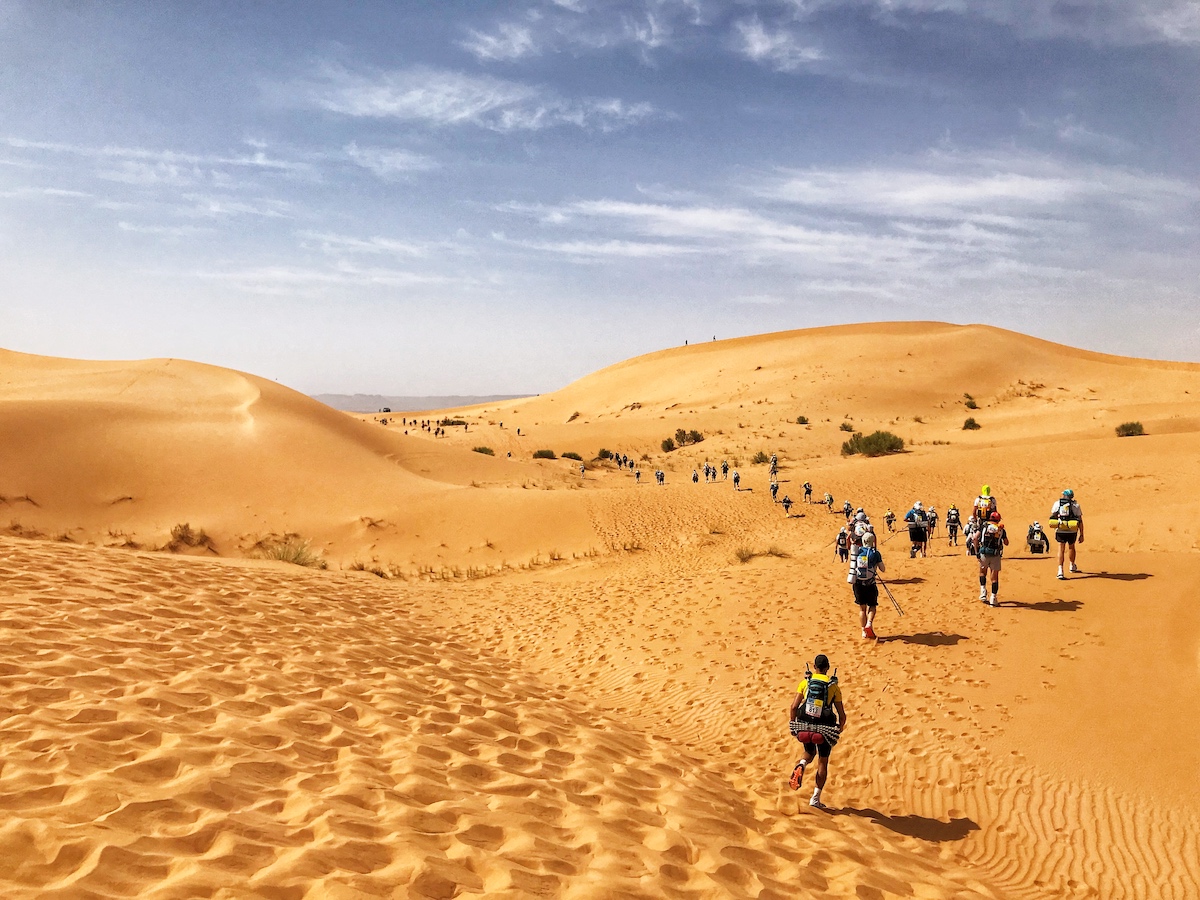 One more race! Just 42 more kilometres to go, starting at 7am. Time to ignore the pain and get through it. And that's exactly what we did.
Until I met the dreaded dunes which slowed me down quite a bit.
Johnny started the whole Marathon des Sables injured, and he decided to run the last two legs of the final marathon despite his stress fracture. This inspired me to hurry, to try and scramble to catch up and to dig deep in the dreaded dunes, which actually turned out to be his forte.
For me, the most beautiful part of Marathon des Sables, was finishing the race with Johnny, running strong for the final 8 km or so. The finish line was visible for 5 kilometres – the final cackle of evil genius by by Marathon des Sables.
A lung-busting effort on the final two kilometres saw us over the line with physical exhaustion and complete emotional elation.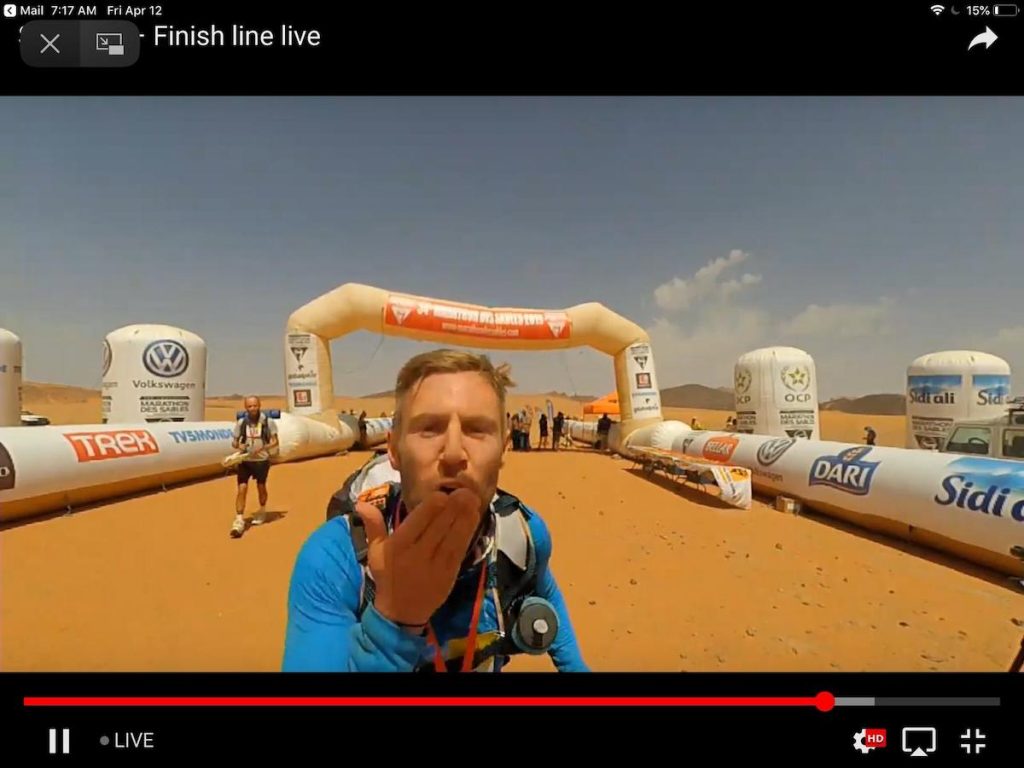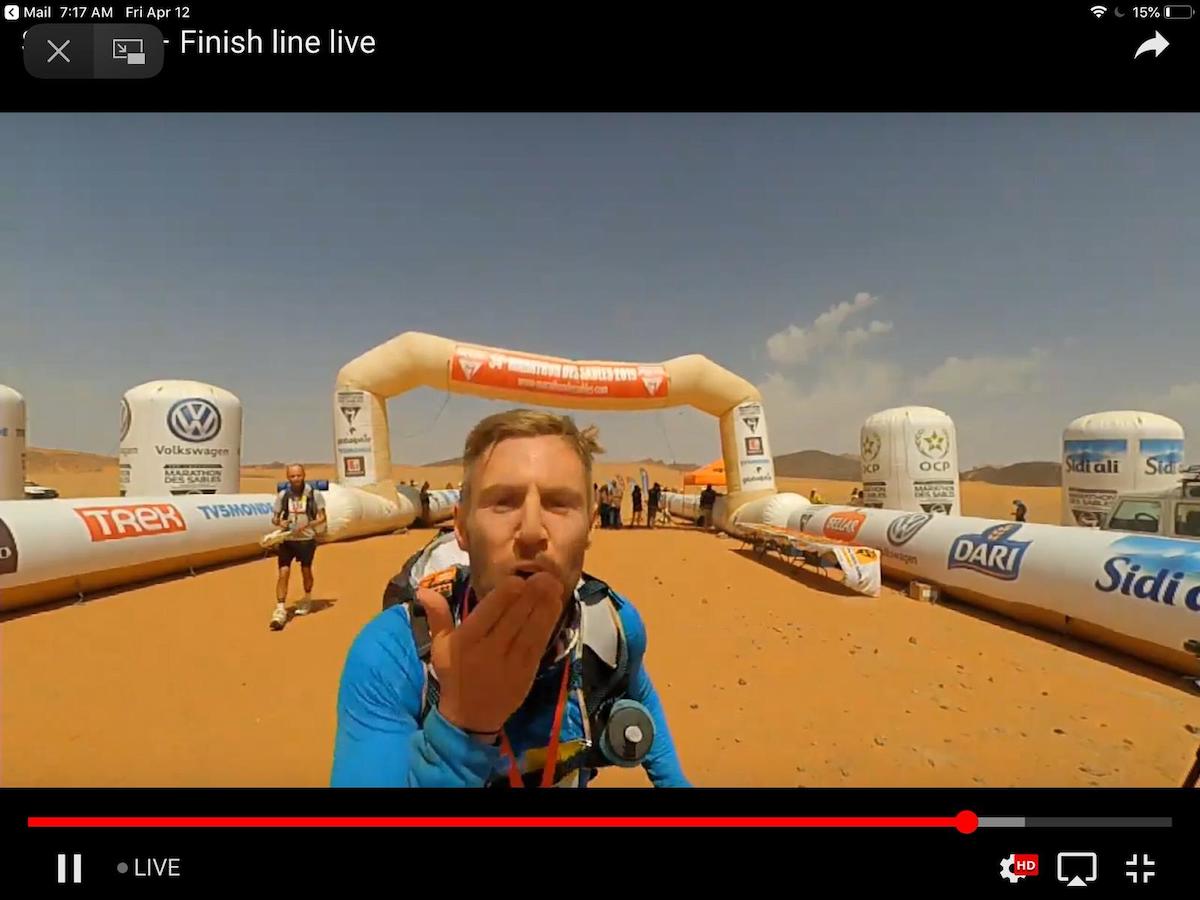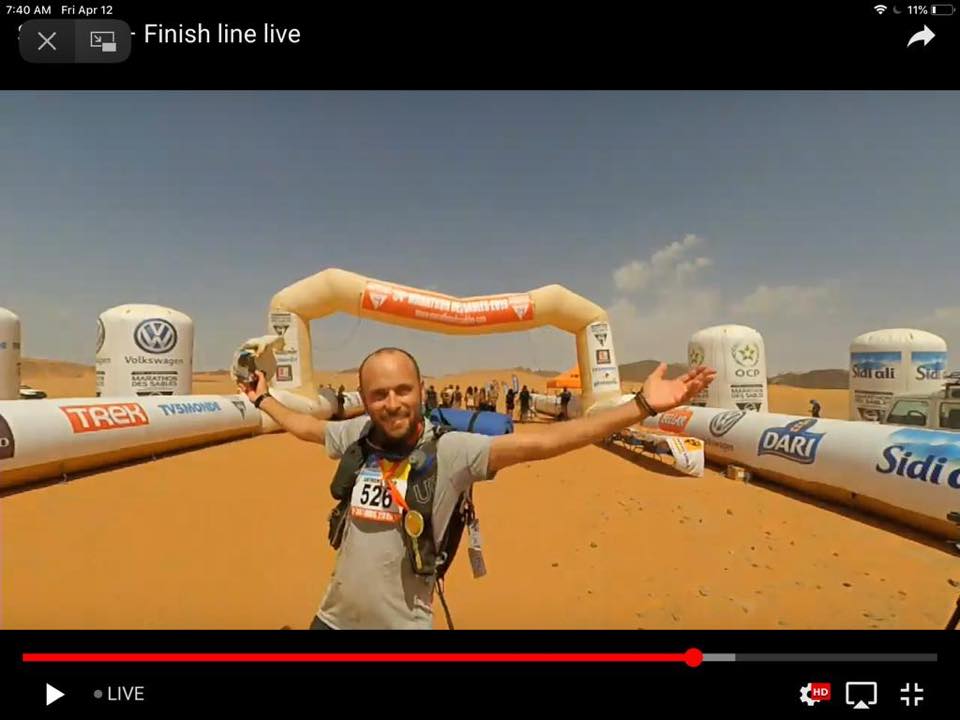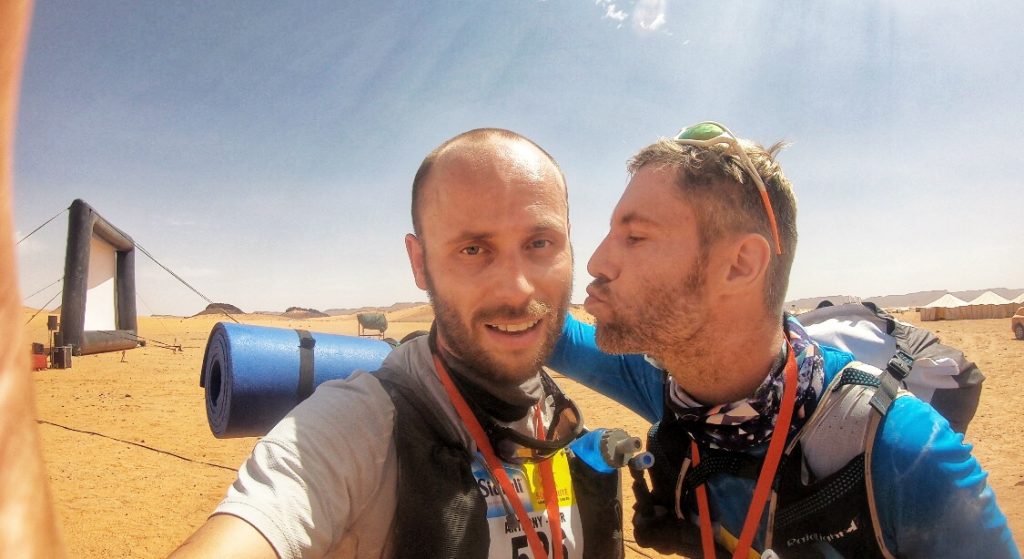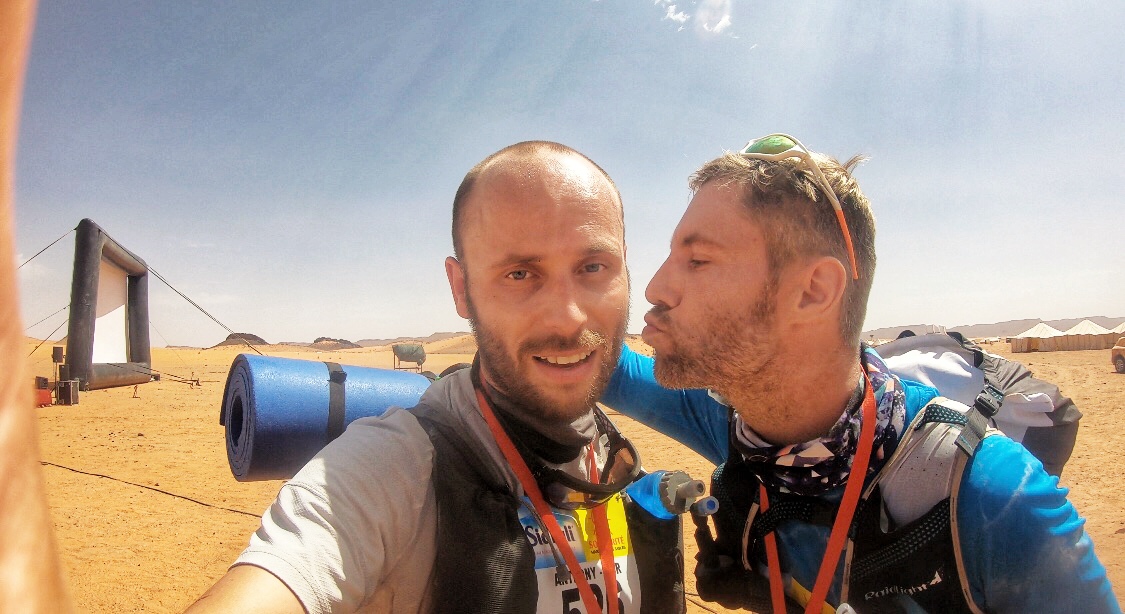 The older I get, the more I want to share experiences with people who are important to me. Lone Wolf mentality has its positives, but it can often feel hollow. Crossing that final finish line with one of my best mates is something that I'll never forget. I was so relieved to get that medal around my neck.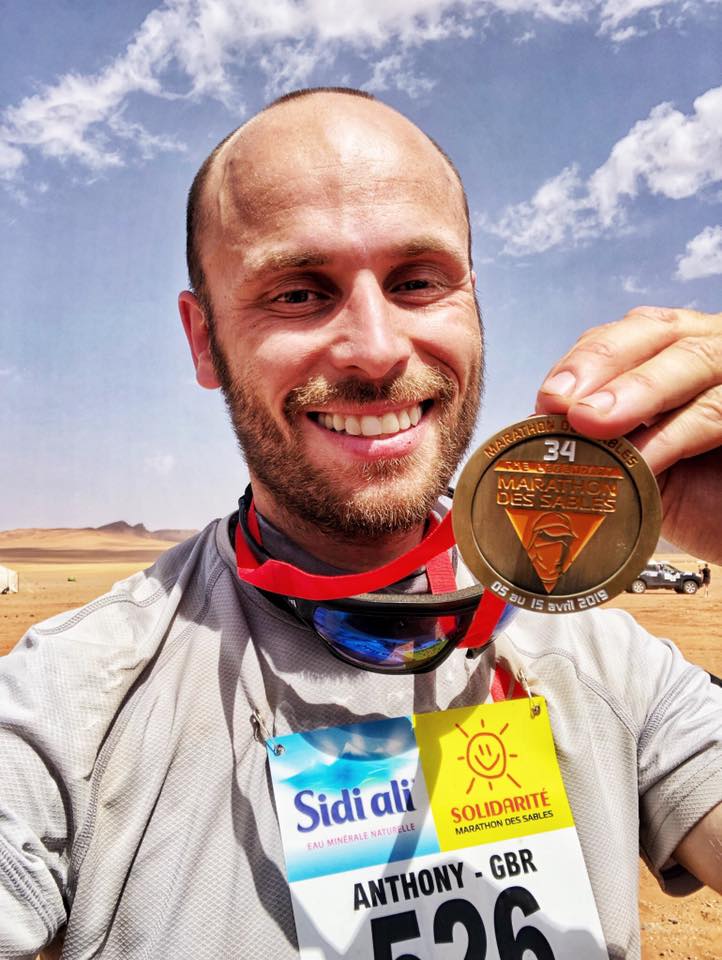 My first and final days turned out to be my best performances for the Marathon des Sables, with us getting in at 06:33:56 for the last marathon.
After finishing we continued that beautiful Marathon des Sables tradition of going to cheer and applaud the final finishers.
A middle-aged lady-warrior broke down in tears as she crossed the finish line, tears that were infectious to all of us watching.
A Japanese man in his 70s followed her, smiling away and almost collapsing with exhaustion at the end as he clambered over the finish line.
A couple of hours before that, a blind man crossed the line with his guide. What an unbelievable calibre of humans at Marathon des Sables!
The energy that night was euphoric beyond description. The whole of tent 52 survived and the walking wounded back in my second home (the medical tent) felt triumphant. The only thing that ruined the party in our team tent was a massive, creepy, gatecrashing camel spider!
"Dad" sorted that one out of course with a heroic catch and release effort.
The day after we had to take part in the obligatory 6 km charity run and then we went back to the hotel to celebrate in style!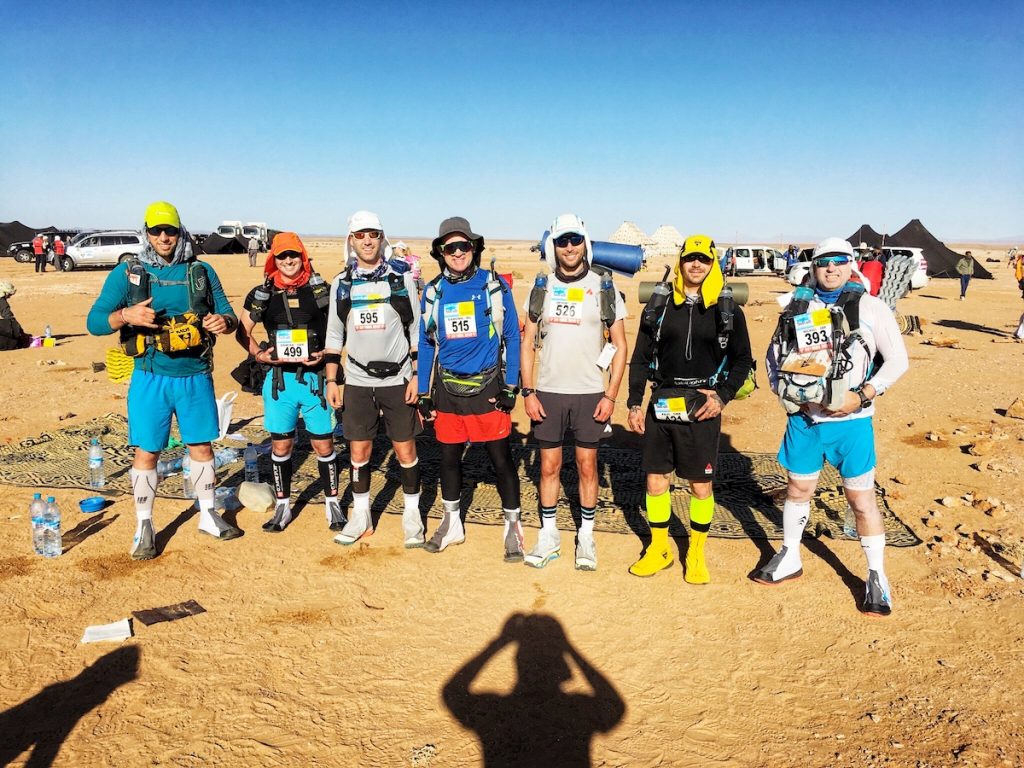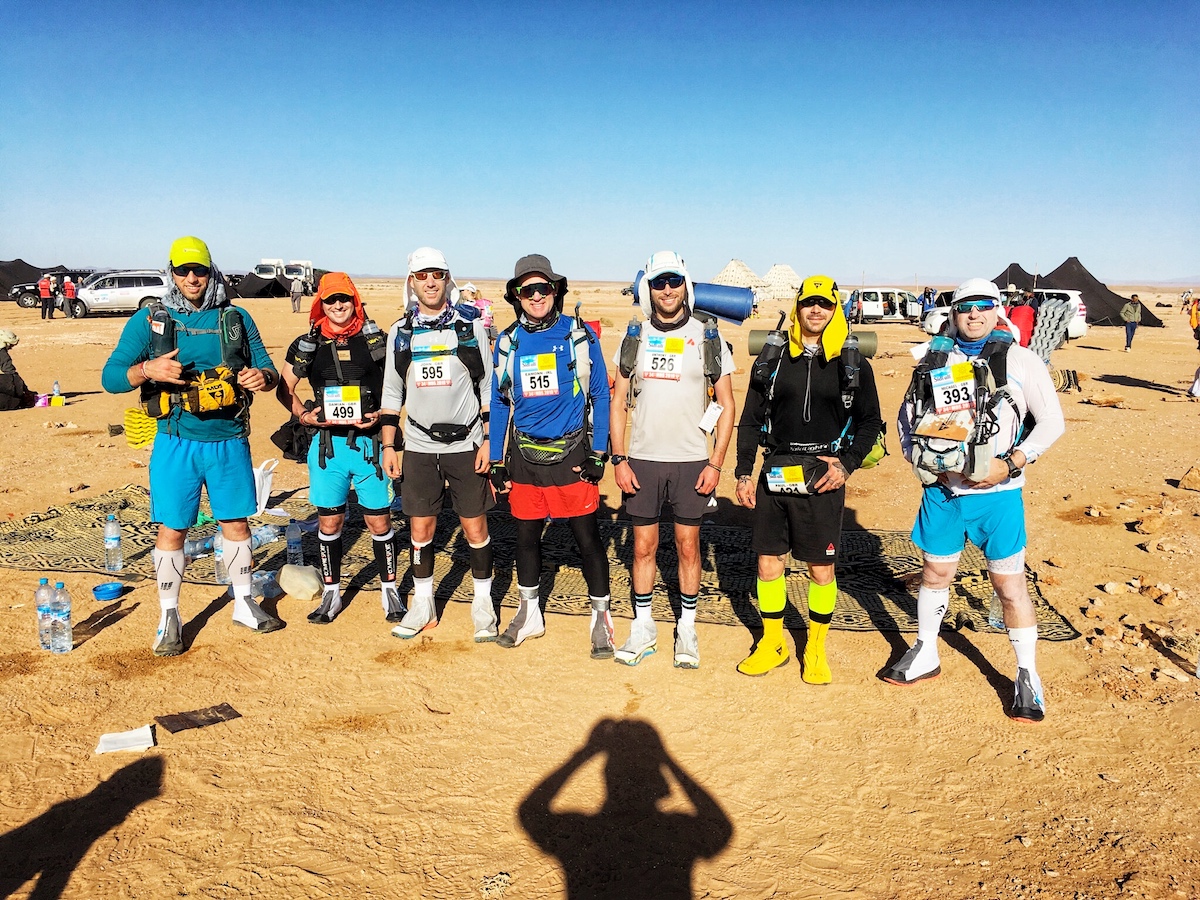 Would I have done anything differently?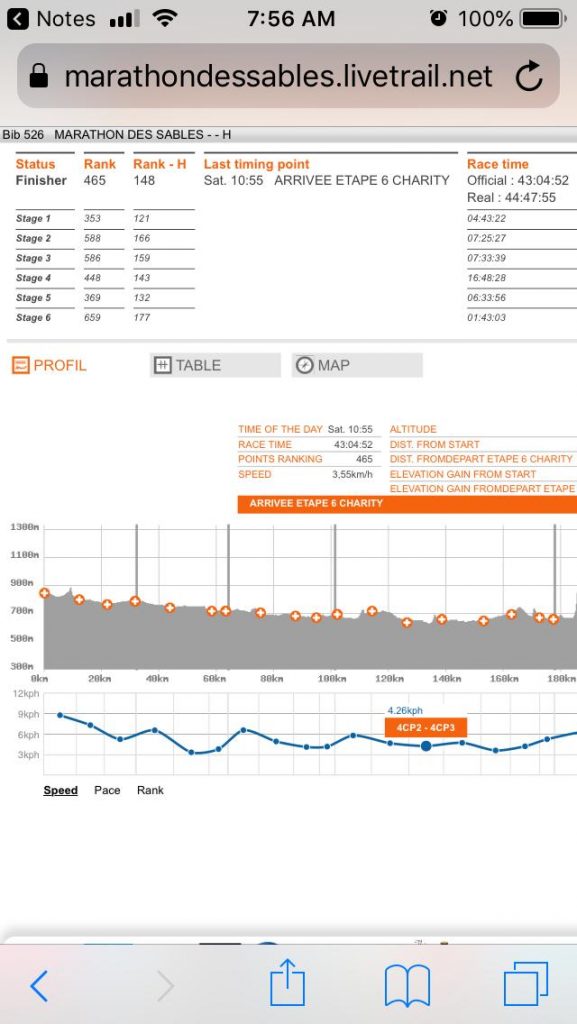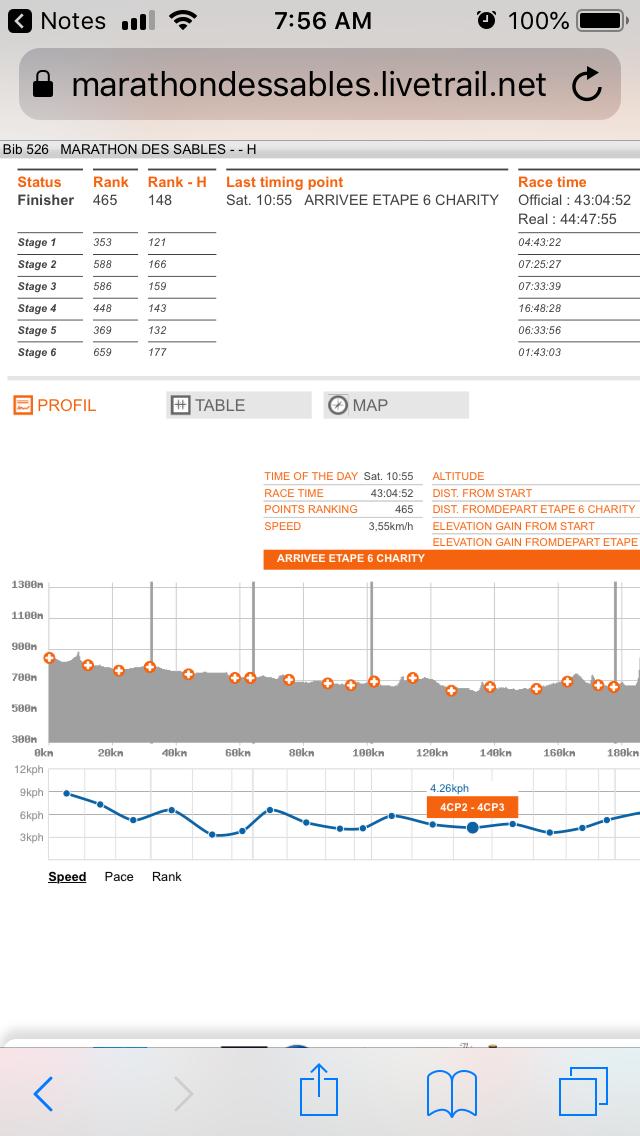 Of course, it was my first time and even with the amazing advice from Tobias I would still learn things in the process of Marathon des Sables so that I could perfect my performance if I were to do it again.
Spoiler alert: I will not be doing it again. I will be writing a book this year though for first-time Marathon des Sables participants. There's not an awful lot of information online and I think it'll be a fun book to write.
I really want to make this happen, so I have put it here to make me publicly accountable. If you see me in 2020 and I haven't written this book; feel free to egg me in the streets.
What I took away from the Marathon des Sables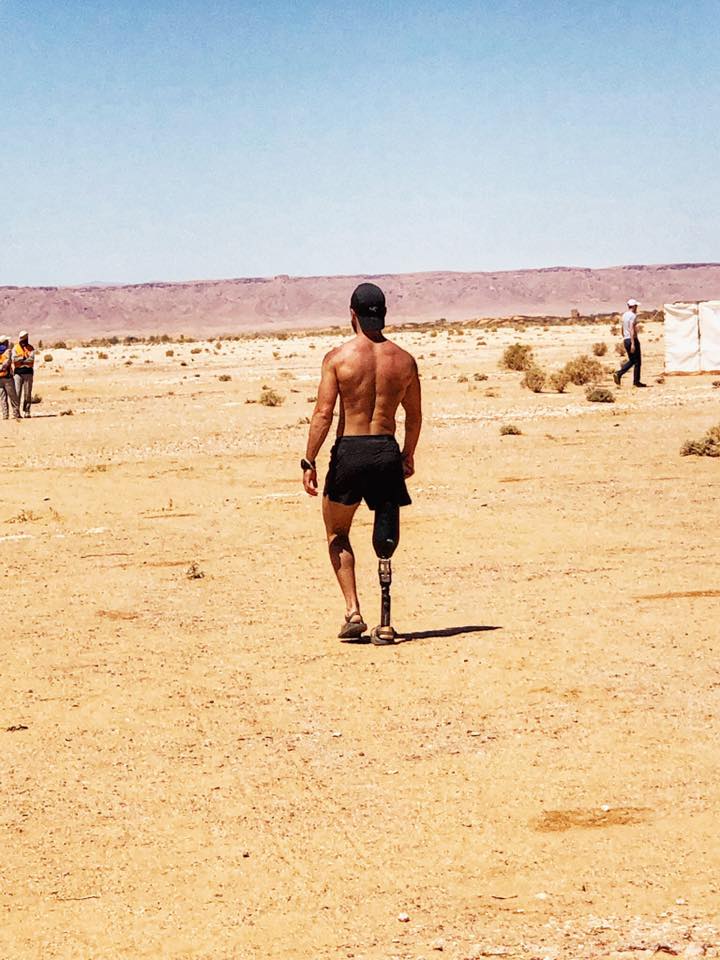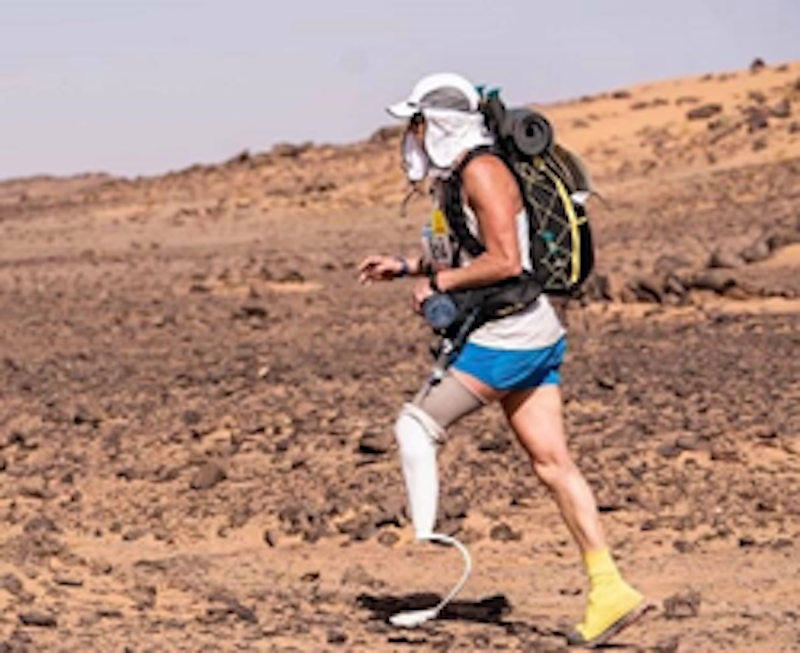 Believe me when I say that every penny of the £4,250 and every drop of the blood, sweat and tears was completely worth it.
The spirit of the people at Marathon des Sables is something that I am very grateful to have been around. It was humbling, inspiring and captivating.
It's so much more than just a couple of hundred plebs running a mad race in the desert. Marathon des Sables asks questions of you, wants to know who you are and what you're made of; it challenges you by beating you down to your knees, but its double-edged sword is that it's designed to lift you up when you find the strength to overcome its challenges.
Other highlights were meeting the utterly brilliant Rob Pope, AKA "The Real Forrest Gump," pride of Liverpool, who finished 14th place in Marathon des Sables despite having some difficult news about a loved one back home.
Then there was the story of the amazing amputee lady on the final day, hammering it through the sand like she did every day – the top four runners from Morocco stopped mid-race to give her a hug and a kiss on the cheek, affirming to her how incredible she was and that she was almost there!
I met so many real-life heroes at that event and, of course, the people who you share the experience with make all the difference.
Looking at the team in our tent was like watching a delicate orchestra, every member in smooth sync, creating an organic and perfect harmony and the happiness was shared out accordingly.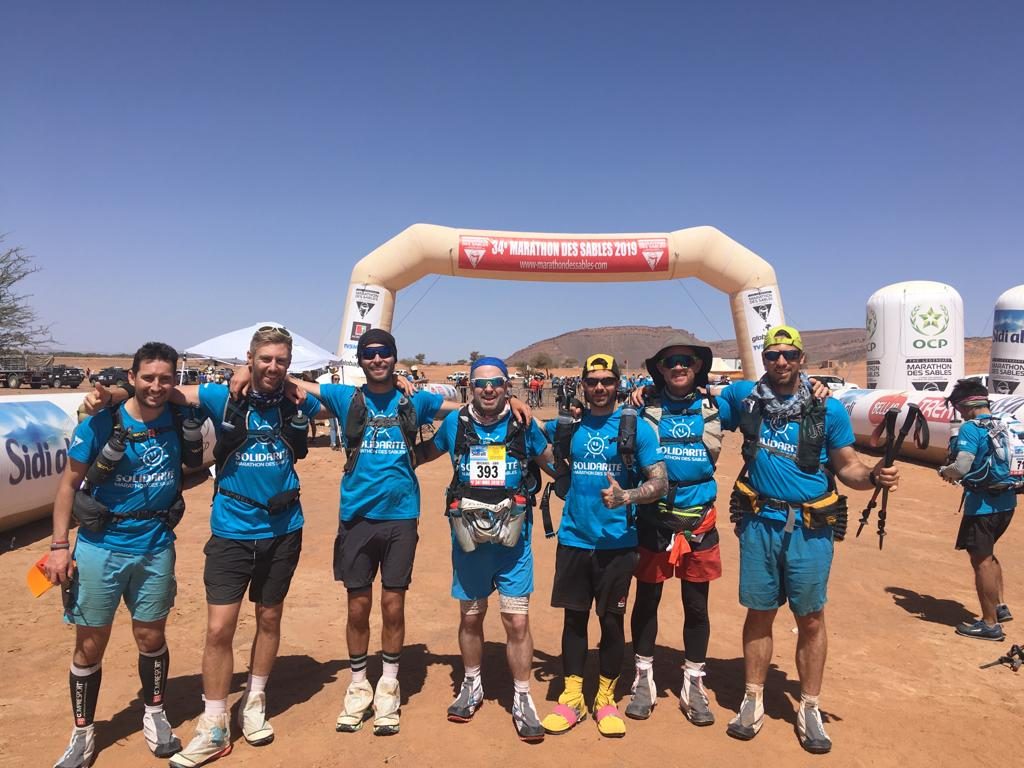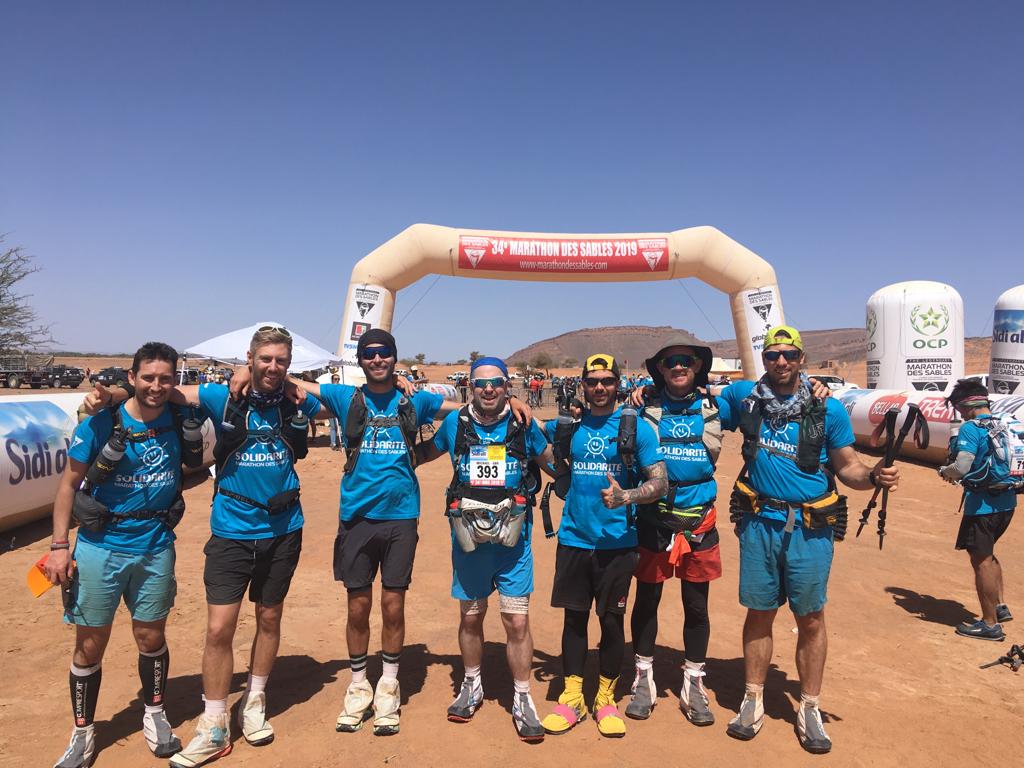 None of us could truly rest at night until every member of tent 52 had arrived back from a race. Johnny and I were saying on the final day just how much we wished we could bottle up the good vibe emotions that we felt on that final day; it's not possible of course, but I'm going to simply continue pushing myself and my limits and live for those moments.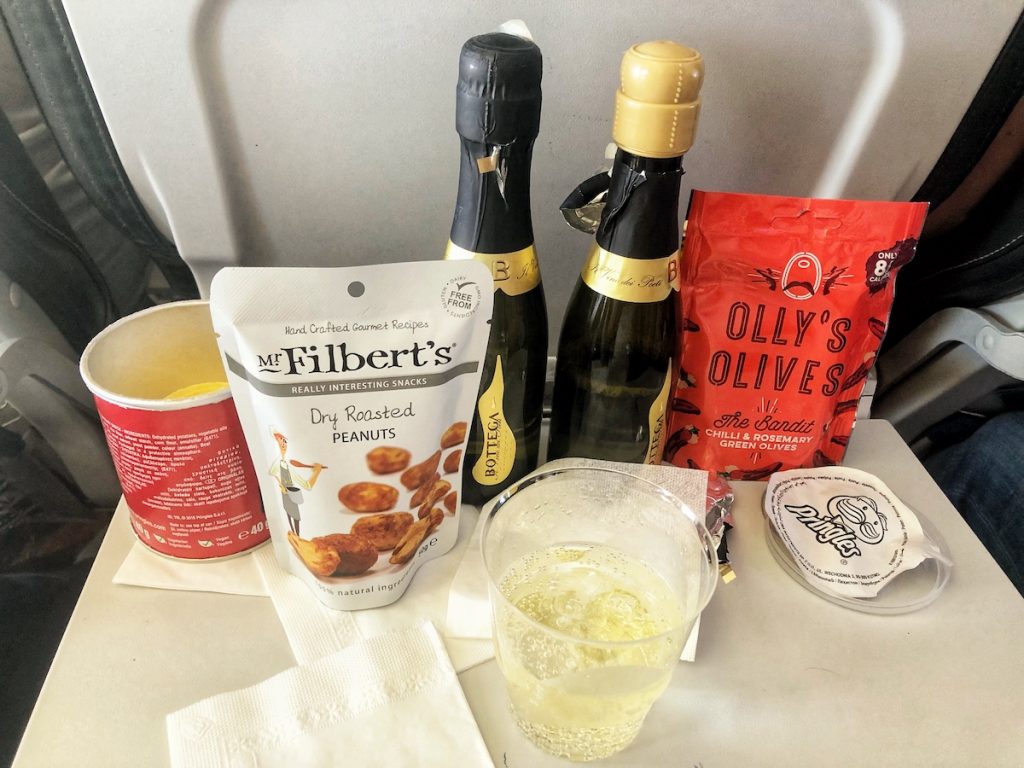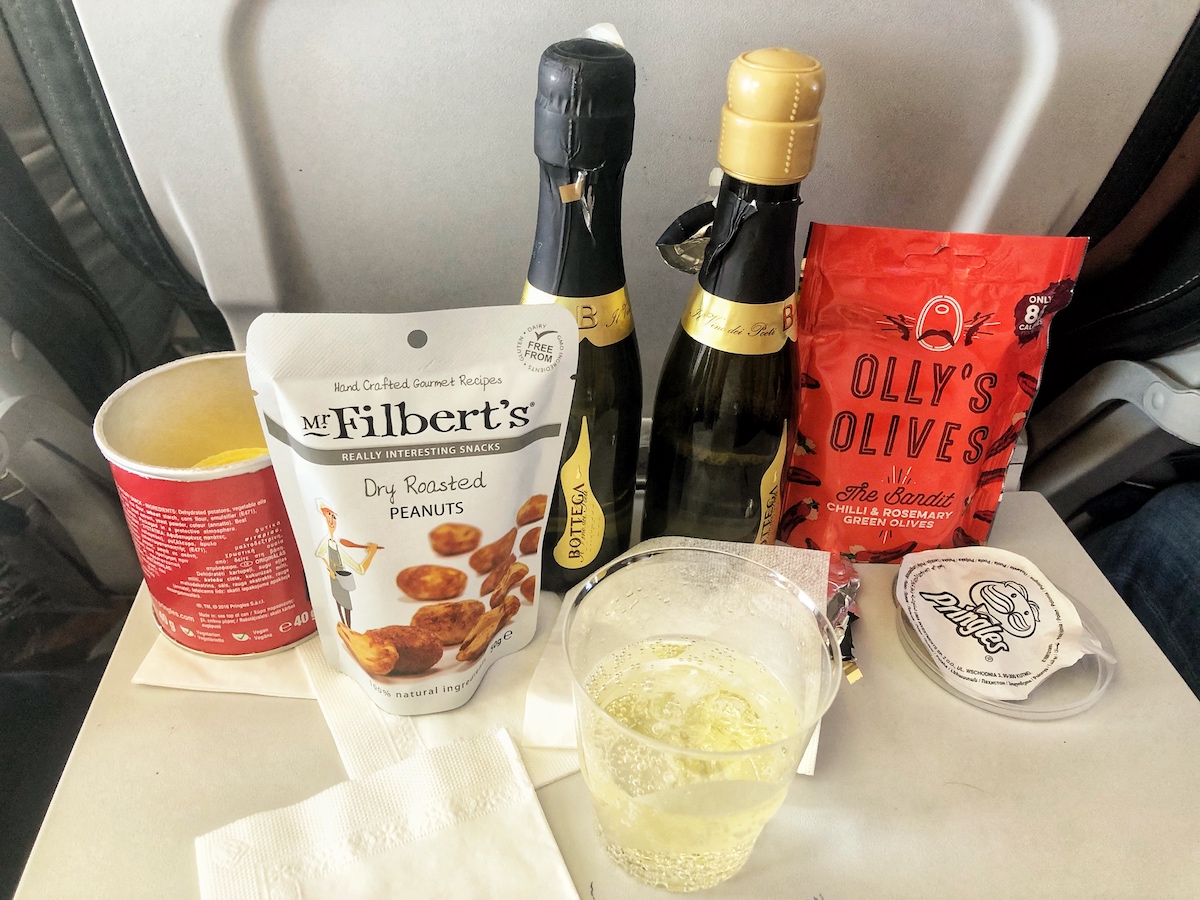 In a weird way, as I write this post on a flight (brain fuelled by champagne and pistachios), I'm a little sad that it's over. The ending of a beautiful chapter of any poignant story always has the potential to make us feel like that – I don't mean an anti-climax, but realising the absence of a heightened emotion that recently made us feel human again.
But instead of pining for it to return, let's just be grateful that we had it and try our best to recognise it the next time its staring us in the face.
Would you consider running the Marathon des Sables? If so, are there any questions you'd like to be covered in a book about it?
Documentaries about Marathon des Sables:
. Toughest Race on Earth with James Cracknell – Double Olympic Gold Medalist James Cracknell pushes his body to an extreme level in pursuit of an MDS top 50 place.
. Running for Good, The Fiona Oakes Documentary – An inspiring story of Fiona Oakes, the record-breaking vegan marathon runner, who runs an animal sanctuary during the day.
. Episode 5 of 'Losers' on Netflix – The jaw-dropping story of Mauro Prosperi, the Italian athlete who got lost for nine days in a sandstorm during the MDS and almost died.