What to choose when going on a trip: the backpack vs suitcase (with wheels, because it's not the 1960s), the age-old question and a classic traveller's conundrum.
Packing for an upcoming trip can be stressful in itself, but knowing which type of luggage to travel with can be an extra burden to carry.
It's not quite as complicated as you might be led to believe and I personally prefer to drop the one-size-fits-all claims of what is "better," and frame it like this; what is a better choice for you and the type of trip that you are about to embark on?
I have travelled with both of these bad boys to over 100 countries (rarely at the same time) and there are usually a lot of factors to take in before committing to your luggage of choice.
The good news is that I'm going to lay out the pros and cons to both, so you'll be in a much better position to know which is better for your journey.
Backpack vs Suitcase: The Pros and Cons
With all the above being said, I do love a good hard-fought battle and to get down to the nitty-gritty of the superior luggage argument, we need to be aware of the fact that both types of luggage come with their own bragging rights.
So let's take a look at the good and bad attributes of both the backpack and suitcase…
10 Benefits of Travelling With a Suitcase
Protection and durability. Unless you didn't get the memo, most people use hard-shell suitcases nowadays. They're more secure and can take a bit of a bashing by moody/careless baggage handlers.
Better for packing. While packing cubes are often a godsend to a backpacker, suitcases tend to come with a 50/50 split opening which makes packing simpler and much easier to find your stuff when opening it up compared to a messy backpack.
Less of a load to carry. If you're using a suitcase with wheels and it's well designed you can simply walk alongside it with little strain, as opposed to a backpack weighing you down.
More space. With a hard-shell suitcase you can bring more items, squeeze them in if you really need them; it's harder to do that with backpack material.
You can buy nostalgic gifts. I buy more sentimental things for my home in Thailand, or for my loved ones when I travel with a suitcase as I have more space, and the hard-shell cover makes it less likely that those gifts will break.
Your clothes will crease less. They won't remain perfectly ironed, but they'll be held together much tighter than they would in your backpack, so you can look less of a degenerate in a shorter time when you go out somewhere fancy.
It makes a comfy seat. My rolling suitcase transforms into a stool when I'm waiting in lines. It also holds my last-minute coffees and beers. Gold!
Better security. Most wheeled suitcases come with a numbered locking system, protecting you from bad guys all over the planet!
Easier upkeep. Wipe away frustrating stains and spillages and get on with your life.
It's better for your back. No explanations needed here.
10 Negatives of Travelling With a Suitcase
Wheel breakage. If you're travelling with a suitcase with wheels, there is a chance that a wheel could come off. Small chance, but it'll probably happen to you at the most inconvenient time.
No-go in developing nations. Most places outside the western world aren't affluent, with nice roads, pavements and easy-to-use transport systems. A suitcase can be a logistical nightmare depending on your level of adventure and desire to leave your comfort zone.
Stairs become nightmares. You might have enjoyed your sardonic grin watching those backpackers slump over their map as you skip to your next AirBnB, but they get the last laugh every time you come across a flight of stairs.
Only one hand free at all times. Bit of a pain in the arse when you have to stop in your flow to look at a map, take the tickets you've just purchased etc.
Troublesome terrain. Good luck rolling your sleek, 4-wheel suitcase over cobblestones or sand.
Broken handle. Bloody nightmare!
You can't walk far with a suitcase. They're built more for a sprint, as opposed to a marathon. Walking far with your suitcase can become annoying very fast.
Suitcases are heavier. With all that extra security comes more weight, so you have to be more tactical with baggage fees if you're on a budget.
More chances of extra baggage fees on return. If you're anything like me and you're trying to force last-minute bottles of local wine and cultural artefacts in to your suitcase, you will get a surprise with additional fees, whereas with a backpack you won't have that seductive option.
Cumbersome. As the shell is hard and the shape is immovable, you won't be able to keep it with you on that train or bus journey by pressing it into an overhead compartment.
10 Benefits of Travelling With a Backpack
Easier to manoeuvre. If your booked apartment/hostel doesn't have a lift, then getting your gear up on your back is much easier with a tight-to-your-body backpack.
You can go anywhere with a backpack. Backpacks are much more of an all-around hero of luggage when it comes to a wider variety of destinations and different environments.
Less claustrophobic. Travelling on busy streets during peak season or in highly populated cities with a suitcase is rage-inducing and you're less likely to feel overwhelmed with a backpack in this situation.
Take it with you on transport. Some smaller backpacks fit in overhead lockers on a plane. Even if they don't, they're easier to keep with you on buses and trains and you can move them when you see fit. It lowers travel anxiety levels knowing all your gear is there in your line of vision or loving arms.
A Minimalist's dream. Admittedly I'm not one myself and my attempt was a mere dalliance into that world, but if you're that way inclined, there's something admittedly cool about the "less is more" attitude, with all you need on your back.
Better for impatient people. I am one of them. I hate waiting about when I don't have to. With the right backpack you can go forward with more momentum like a man on a mission. Ready for action with both arms and with even distribution on your body if you pack smart. No messing about!
Less waiting about. Even larger suitcases can fit into tighter spaces. Once you get to your journey you can pick up your beloved backpack and move the hell on.
It's multipurpose. You can't go hiking with a suitcase, you can with a backpack. You can walk further, use it whilst climbing mountains, take it to the gym…and much more.
It has extras to hang things off. A proper backpack will come with additional cool straps and zips and all sort of bells and whistles.
It's more romantic. I know, I know. It sounds a bit wanky to some readers, but every time I opt for the backpack I am immediately taken back to when I first left home all those years ago, evoking feelings of adventure, fear and a "bring it on" philosophy.
10 Negatives of Travelling With a Backpack
It can tear more easily. Some backpacks are built from tougher material than others. When I bought my Macpac in New Zealand the shop assistant bragged to me that his "mountain parrot" tried to rip this very same backpack with no success. This may be true, but even the best backpack won't have as strong a cover as a hard-shell suitcase.
Backpacks without front-loading systems suck. Also known as panel-loading, this is a backpack that opens up like a suitcase. If you don't have it, you'll spend a good percentage of your trip rummaging through your travel gear from the top of your sad, pathetic backpack.
Forced into a minimalist lifestyle. Note that I put this into the cons category, but it's a matter of perception and preference. Maybe you'll like it (I don't) but it's worth knowing this when it comes to making up your mind.
You'll sweat more. You'll sweat in places where you didn't know you had sweat glands, especially in new types of heat that you've never experienced before.
Injuries. If you have an old (or upcoming) back, shoulder or neck injury then you will need to be extra careful with ragging your backpack around.
Backpacks are awful to pack. And unpack… yes you can (and should) invest in packing cubes, but if like me, packing stresses you out then backpacks lag seriously behind a suitcase in this category.
Your clothes will crease. If you're a happy-go-lucky hippy then this does not concern you. But even on the most adventurous of journeys we can be invited to an impromptu, more "fancy" venue and the thought of having to do some extreme ironing on the road actually turns my stomach.
Less Security. Wandering hands can easily sneak in and take your belongings if you don't take extra precautions such as purchasing backpack locks or a steel net.
Travel backpacks are more expensive. There's a common belief that it's the other way around, but I'm afraid you really have to splurge if you're wanting a legitimate backpack for travel, that has all of the pros of a solid one.
Rain. Sure, some backpacks are waterproof but you'll have to pay for that privilege and even the most waterproof bags have trouble withstanding tropical rainstorms.
And the winner of the backpack vs suitcase war is…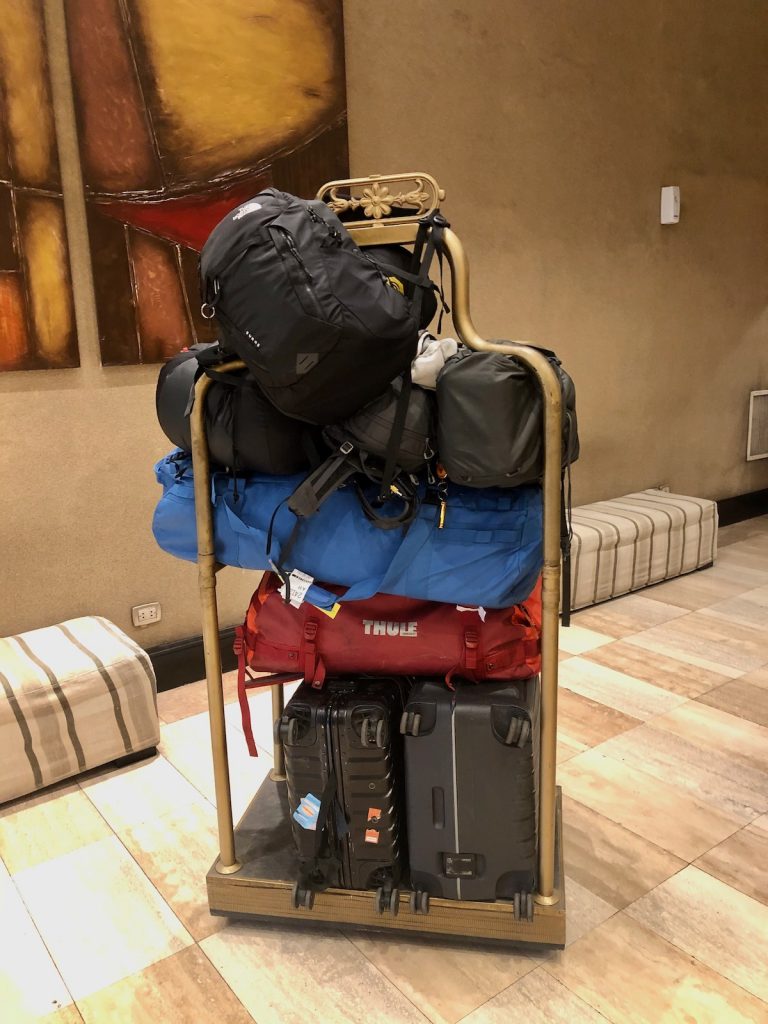 It's the mighty backpack for me.
I absolutely love my suitcase on wheels, but this article is called "backpack vs suitcase" after all and a pet peeve of mine is that a lot of these types of posts usually finish with the author concluding with something hesitant such as "just do what's best for you."
Weak sauce.
While there are obviously pros and cons to both, if I had to choose one and one only for the rest of my travels I would choose the backpack because of my personality and personal plans (I have a lot of developing nations and adventure travel items on my list).
I adore a bit of luxury (and don't make any apologies for that, I earned it) so the suitcase almost swayed me, but the ability to be keep on moving and the flexibility of the backpack just edged it, however it was an incredibly difficult decision.
As you can see, it's often a case of location, location, location and other personal factors. If you're going to very poor nations with bad infrastructure systems and broken footpaths, leave the suitcase at home and rock the backpack. Just make sure it's a good one so that you get to reap all of the benefits of the 10 backpack pros above.
If you're sold on team backpack, here are some guides that I put together to help you choose the very best backpack for your trip:
If the backpack life doesn't sound like your cup of tea, you're doing luxury and will be spending time in swanky places where you want to look your best (and/or you won't be on the move too much) then bring along a hard-shell, sturdy suitcase on wheels.
No one's judging you on your choice and if they are, their opinion doesn't matter anyway.
This article will guide you to find your ideal suitcase on wheels, good luck: