The people of the Philippines make it worth visiting. I find myself saying that quite a lot about Southeast Asian countries and it's starting to sound a bit cliché. Even though it's true. The likes of Malaysia, Japan and the Philippines are full of people so polite and cordial that it's almost overwhelming to us miserable westerners. But it's a little different in the Philippines. They speak excellent English and have a sharp and cheeky sense of humour – which provides a wonderful concoction of good manners with excellent banter!
As usual with animals of land, air and sea – I was a little apprehensive because I didn't want to contribute to any animal cruelty. (And trust me, I've seen a lot on the road). But it's way more complex than that. Sometimes what looks normal, is very far from it. The dolphin's smile is very deceptive. Elephant trekking has a really dark side and I already f***ed up by visiting 'Tiger Kingdom' during my novice travel times but I had read enough by field experts to make me feel comfortable with my choice.
Gentle Giants
Although the Whale Sharks (affectionately known as 'Butanding' to the filipinos) are absolute monsters in size – they live up to their nickname – 'Gentle Giants.' Make sure you do not touch them, or swim too close to them though – because their mouths are big enough to accidentally swallow you in! As my travel partner almost found out 😛 I was very supportive and continued recording while creasing with laughter. Only for the karmic balance to immediately restore – when I found myself not only sandwiched by two Butandings, but directly above one which gave me a gentle 'nudge' out of the way.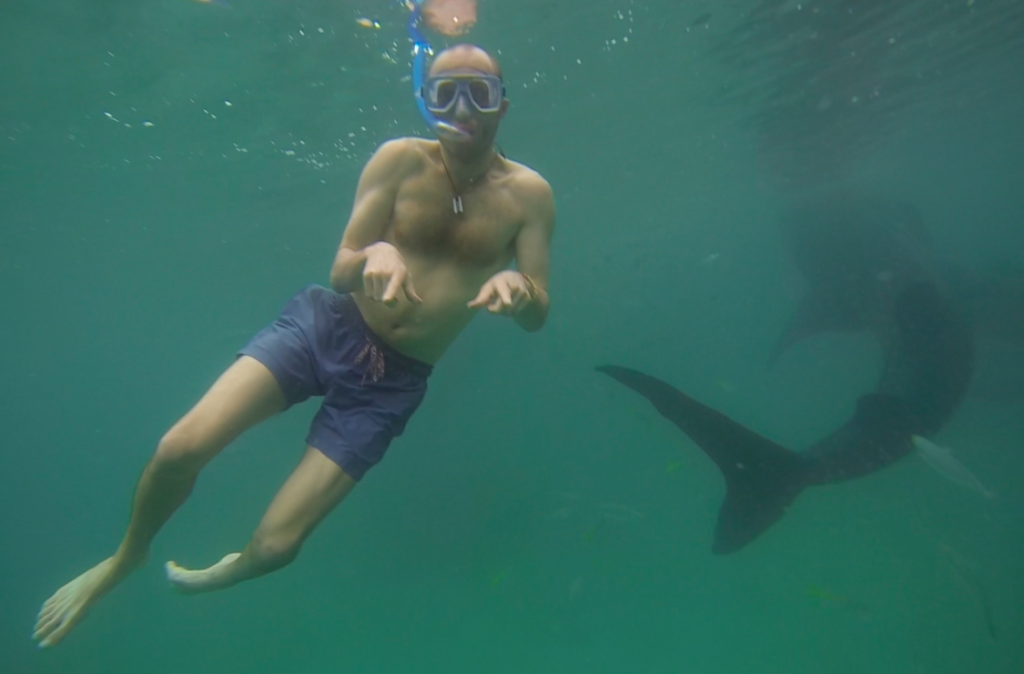 The best place in the Philippines to swim with the whale sharks is a small fishing village called Oslob, in Cebu. You can get the bus from Cebu city centre and feel free to email me for details for a beautiful room in a heavenly house which overlooks the ocean on a private beach.
For half an hour snorkelling with the whale sharks – you pay $35. The added beauty of it is that this event in Oslob is not rife with tourism. So no queues. No tricks. Go, snorkel, see and be happy.