Scratching your head, looking for a Sri Lanka Itinerary? I've got you.
The island nation of Sri Lanka is a world of mystique, South Asian divinity and a strong Buddhist culture. For a country that's just over 25,000 square miles, the island is jam-packed with mystical and natural sights, affable people, underrated cuisine and a long timeline of ancient history.
While thousands visit every year, the country still retains its appeal and has managed to keep its strong identity, untouched by the hordes of travellers who want a slice of that sweet Sri Lankan pie.
With bustling cities, gorgeous coastlines and a beautiful mountain interior, a Sri Lanka itinerary should have options and directions to make the most out of your trip.
Let's get into it!
Is it Safe To Visit Sri Lanka?
Sri Lanka has gone through its fair share of hardships throughout its modern history, so it's only natural that some of you may be worried about travelling there if you're well read and remnants of its painful past are still locked within your psyche.
Ripped apart by civil war between 1983 to 2009, the Sri Lankan government was involved in suppressing the island's minority Tamal population. Fighting back was the Liberation Tigers of Tamil Eelam, a militant organisation seeking to create an independent Tamil state in northern Sri Lanka.
While this conflict has since ended, a deep-rooted divide still exists within the country. Saying that the possibility of violence erupting from this group is highly unlikely.
More recent instability in Sri Lanka has been a result of Islamic extremism. This threat raised its ugly head in 2019 with the Easter Sunday bombings of two Catholic churches and three 5-star hotels.
Since these terrorist attacks, the country has regained its stability and the risk of Islamic extremism and the likelihood of a terrorist attack is arguably no higher than in any westernised country.
When it comes to any travelling experience, you really have to weigh up the safety risks and the likelihood of actually falling into unsafe situations.
It's undeniable that Sri Lanka has gone through difficult times and decades of violence, but its developing reputation for tourism has grown, and the likelihood of danger when visiting is not as high as its turbulent history may suggest.
Getting To Sri Lanka
At the moment, the only way to get to Sri Lanka is to fly directly to the island. Most international flights fly directly to the country's international airport at Katunayake, just north of Colombo. Even better, Sri Lanka's main airline, Sri Lanka Airlines, flies direct to a lot of major cities around the globe.
If you're heading from a big city in Europe, like London, it's pretty easy to find a direct flight that will have you touching down in Colombo in 11 hours. Alternatively, a lot of the Arabian peninsula airlines such as Emirates, Qatar Airways, Oman Air and Etihad offer one-stop flights to Sri Lanka via their airports in the Gulf. A return flight from London to Sri Lanka currently sits around £500, for an economy seat.
If you're flying from the USA or Canada, you need to prepare yourself for a pretty long journey; around 20 hours of flight time. Flying from the east coast, you'll, no doubt, have to catch a connecting flight in Europe, with London being the best option. From here, you can fly directly to Sri Lanka.
Travelling from the west coast, you will need to catch a connecting flight in Southeast Asia, usually connecting in ​​Hong Kong, Kuala Lumpur, Singapore, Bangkok or Shanghai. Flights will usually cost you around $960 USD.
Those who are travelling from the Land Down Under are in luck, as you can grab a direct flight from Melbourne to Colombo that takes around 11 hours. You can also jump on connecting flights from most other Australian destinations, connecting in Singapore, Kuala Lumpur or Bangkok.
I flew to Colombo on a one-way ticket, from New Delhi via Sri Lankan Airways for $160 USD.
Best Time of Year To Visit Sri Lanka
For a relatively small island, Sri Lanka has an impressive range of climates and weather systems that affect different parts of the island at separate times of the year. And, with a lot of the activities taking place outdoors, you're going to want to have the weather on your side for your Sri Lanka itinerary.
There are two monsoons that affect the island's climate: the north-east monsoon can sweep across the whole island, while the south-west monsoon generally only impacts the climate in the southwest and Hill Country. It's these monsoons that you'll need to pay close attention to when you're choosing when to play your trip.
Really, the best time of the year to visit Sri Lanka depends on where on the island you want to go.
For the west, south coasts or hill country, visit between December and March.
For the east coast and the north, visit between April and September.
The shoulder season in Sri Lanka is considered to be around September and October and is the lull between the two monsoons. Putting your Sri Lanka itinerary into action during September is a popular option as you'll (hopefully) avoid the heaviest rainfall.
How To Get a Tourist Visa For Sri Lanka
If you're not one of the 37 countries that don't need a visa to visit Sri Lanka, then chances are you'll need to apply for one online before your trip.
Around 170 different sovereign states, including the USA, UK, Canada, Japan, and all EU countries, are eligible to apply for an Electronic Travel Authorization online (official government website and digital form linked above). This visa will give you 30-days in the country, with the chance to apply for an extension of up to 90-days on arrival.
Why Did I Choose 2 Weeks Sri Lanka Itinerary? (Is it Enough?)
If I'm being straight with you, two weeks is not enough time to see everything that Sri Lanka has to offer, even if it is tiny. But it's more about quality than quantity on this action-packed, modestly-sized island.
It was about as much time that I could spare when it came to heading back to Bangkok to catch up on online work, after 6 weeks in the colourful and chaotic country that is Sri Lanka's closest neighbour; India.
In this first Sri Lanka itinerary of what I hope is one of many (I LOVED it over there) I don't cover the east coast, but I've included plenty of interesting and unique stuff to fit into a two-week Sri Lanka itinerary in the west coast and mainland, and even that is pretty intense.
Checklist Before Heading To Sri Lanka
Before heading off to start your Sri Lanka itinerary around the island, it's important to make sure you're fully prepared. Here are a few things to consider:
Phrases to learn for travelling Sri Lanka
Three-quarters of the Sri Lankan population speak the Sinhalese language, and learning a few phrases will help you get by when you're travelling through Sri Lanka. Plus, it's always nice to get a few smiles from the locals.
'Ayubowan' (Aayu-bo-wan) – Hello
'Bohoma Istuti' (Bo-hoh-mah Iss-too-tee) – Thank you very much.
'Karunakara' (Karu-nah-kara) – Please
'Oyate Ingrisi Katha Karanna Puluwanda' (Oyate Ingrisi Ka-tha Karanna Pulu-wanda) – Do you speak English?
To the north of the country and much of the central east coast, the population speaks the Tamil language. Learning a few Tamil phrases will go a long way when visiting these parts of the country.
Romba Nandri – Thank you very much.
You can't know the ethnic background of each person you meet on your Sri Lanka itinerary, of course, but once qualified these pleasantries can go a long way in an already warm and welcoming country.
Religious respect
In a deeply religious society like Sri Lanka, it's important to be aware of our actions, and how they can be perceived, particularly around religious sites. With numerous Buddhist and Hindu temples scattered across the island (and a significant Muslim population), you will undoubtedly visit many of them.
Usual rules apply to these big 3 religions when visiting their sacred sites; both men and women should dress modestly, covering their knees and shoulders, and act respectfully on the very grounds temples are built on.
Currency in Sri Lanka
Sri Lanka's currency is the Sri Lankan Rupee. It's a closed currency, which means it can only be obtained within the country and nowhere else. So, you'll need to head to the nearest ATM or money exchange bureau when you land.
In an inflated currency, $1 USD is equivalent to around SLR 200. Banknotes come in 10, 20, 50, 100, 200, 500, 1,000, 2,000, and 5,000 denominations. There are also a number of coins in circulation, with one, two, five, 10, 25, and 50 cent denominations.
Getting a Sim Card
While a lot of hotels and hostels have pretty decent Wi-Fi in Sri Lanka, it's always worth getting a sim card for your phone. It'll help you get about when you are Wi-Fi-less and can help cure some boredom on those long bus journeys.
It's easy peasy to get a sim card from the airport when you land, with Dialog, Mobitel, Airtel, and Hutch being some of the most popular choices amongst travellers, offering great deals on data and decent coverage.
Day 1 – 3: Arrive and Explore Colombo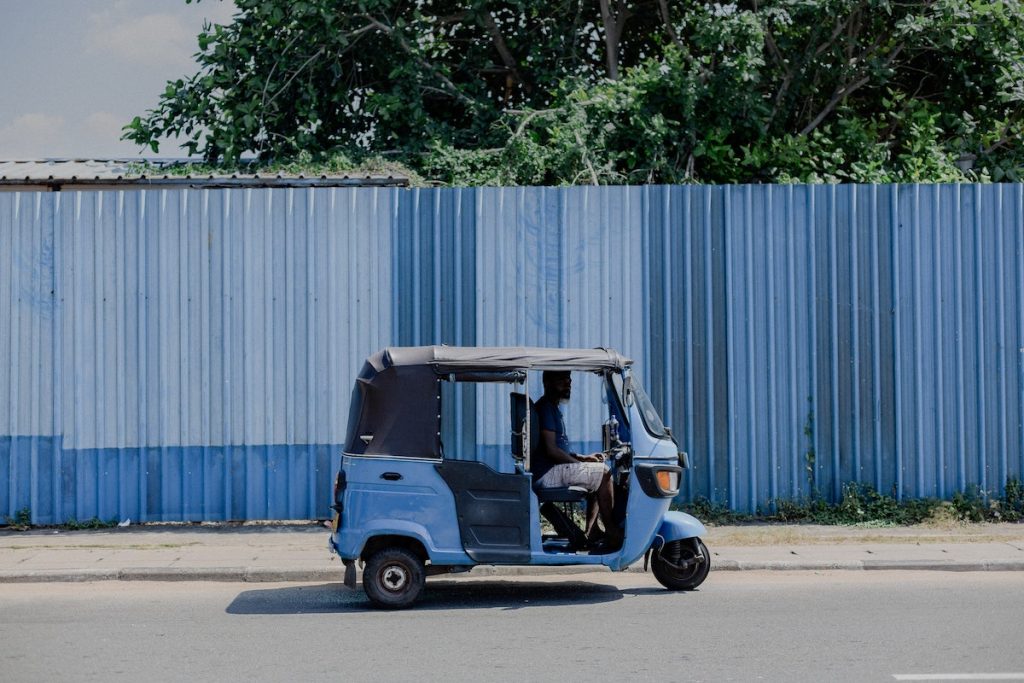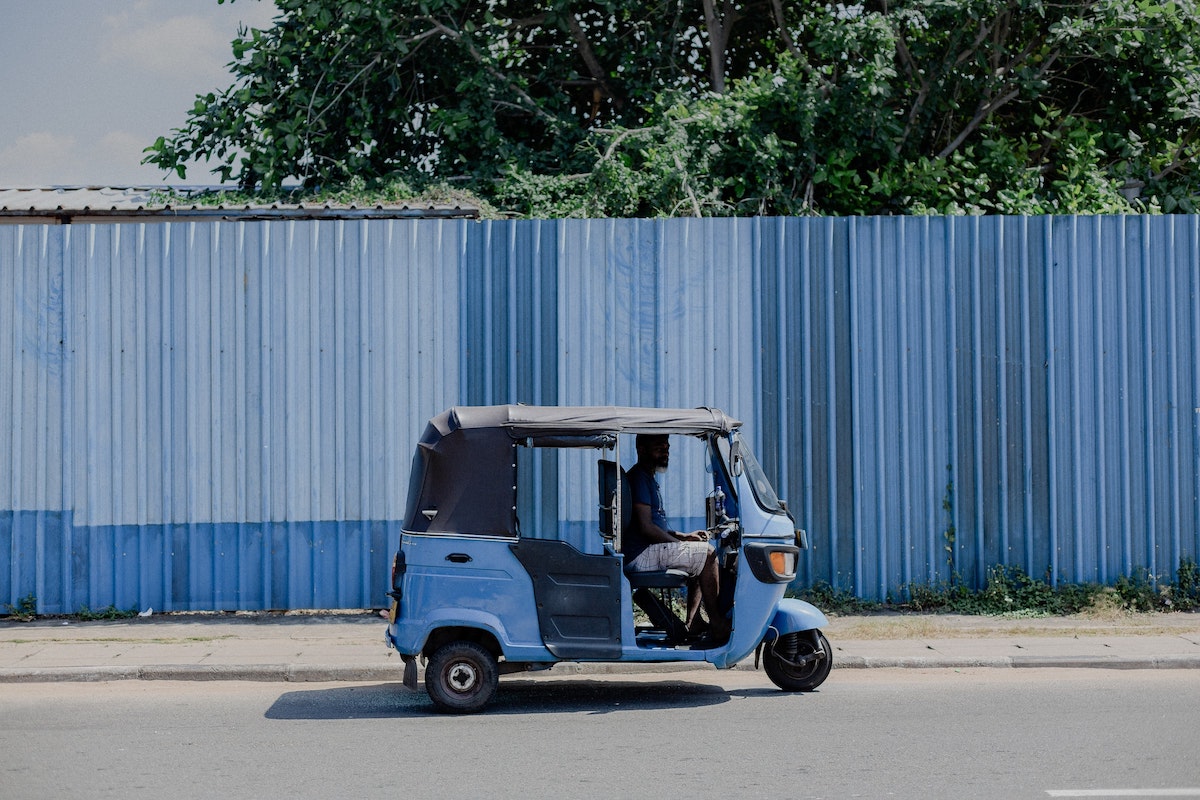 Your entry point and the start of your Sri Lanka itinerary will be the country's largest city, Colombo. After the long flight to get here, you're probably going to want some downtime and a few hours to get over the culture shock.
Soaking up the atmosphere of the city and trying your first samples of Sri Lankan food will no doubt be at the top of your to-do list. Spend the first couple of days exploring this metropolis, taking in its many sights, including religious buildings, the city's waterfront and its many other attractions.
First Night: Galle Face Green
Galle Face Green is a ribbon of green land located on Colombo's waterfront. As the largest open space in the city, Galle Face Green has become the epicentre for people wanting to escape the hustle and bustle of the city and surround themselves with a little greenery.
Originally, the space was used to host a number of sports including cricket, horse racing and football. Today, the space is mainly used as a sociable gathering place, only increased by the number of street food stalls and vendors.
Visiting Galle Face Green on your first night allows you to enjoy the stunning sunsets over the coast of Colombo. You can also try your first taste of Sri Lankan food, with masoor dhal being my personal favourite.
Know before you go:
Location – Galle Face Green is located to the west of the city centre, along its coast.
Opening hours – 24 hours, though it gets busier from 4 pm onwards.
Time needed – You'll need a good few hours here to peruse the stalls and watch the sunset.
Getting there – A thirty-minute taxi journey from the airport. There are also three railway stations located within a 15-25 Mins walk near the Galle Face Green.
Day 2: Visit the city's top religious sites and end your day in Mount Lavinia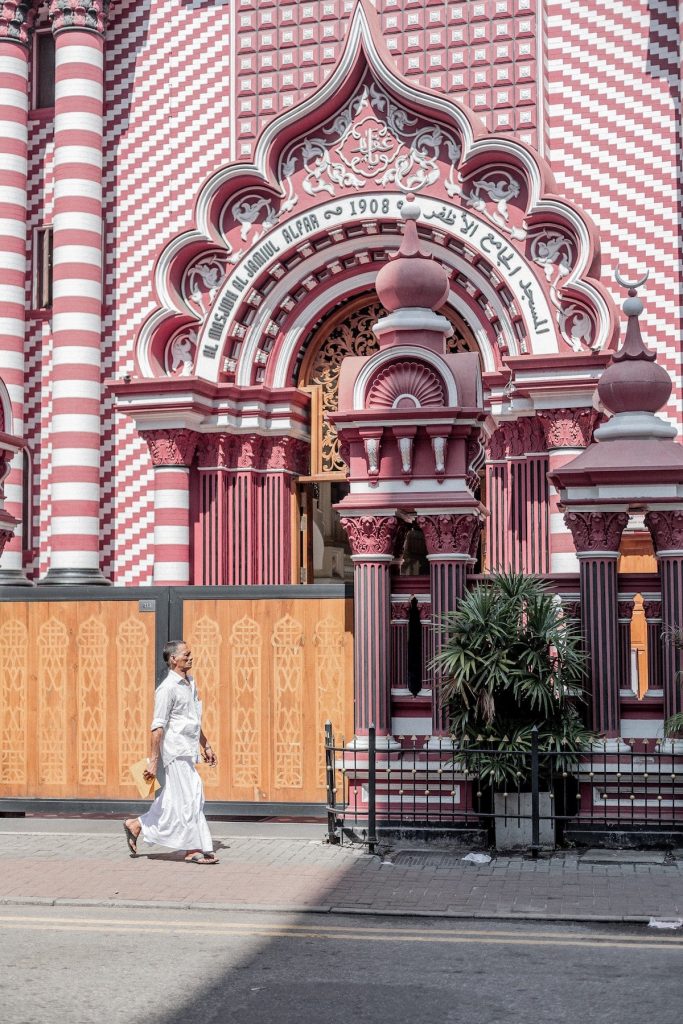 Your first full day in Colombo and the first real introduction to your Sri Lanka itinerary give you the chance to visit the city's most popular sights, many of which are funky religious buildings.
Sri Kailawasanathan Swami Devasthanam Kovil
The first is the Hindu Temple of Sri Kailawasanathan Swami Devasthanam Kovil in the north of the city. Built in the late 18th century, this is a perfect example of the beauty of Hindu temples. This place can get very busy during the two huge Hindu holidays; The Holi Festival and also The Thaipusam Festival, but that means they will also be even more interesting!
Sri Kailawasanathan Swami Devasthanam Kovil is adorned with an overwhelming amount of Hindu sculptures and art. It's actually one of the most popular temples in Colombo, visited by tens of thousands of devotees each year.
Red Mosque
From one Hindu temple to an Islamic one, the Red Mosque is another of the city's most beloved rigorous sights and stands just a forty-minute walk north of the Temple of Sri Kailawasanathan Swami Devasthanam Kovil.
The Red Mosque or the Jami Ul-Alfar Mosque, to give its proper name, is one of the oldest mosques in all of Colombo. Constructed in the early 20th century, the Red Mosque was commissioned by the local Indian Muslim community and has elements from native Indo-Islamic and Indian architecture mixed with more western Gothic and neo-classical designs.
Its red and white striped exterior makes it stand out proudly amongst its surrounding neighbourhoods as it is worth a visit for its beauty alone.
Wander Fort Area
Projecting out to sea in the city's northwestern neighbourhood is the Fort area of Colombo.
Built under British rule during the 1860s, the area was once a fortified building full of walled ramparts and with a much more military feel. Not much of the original fort remains here, with the exception of the Delft Gate.
Much of the area has now been turned over to business, making it the centre of Colombo's business district and financial centre. Wandering around the Fort area, you'll still catch sight of numerous colonial buildings mixed in with the more modern architecture.
Mount Lavina
During the evening, the southern suburb of Mount Lavina is the place to be. The largest suburban neighbourhood in the city, Mount Lavina is home to some of the best nightlife in the city. This, mixed in with its miles of intact beaches and shoreline, makes it the place to go after a long day exploring the city sights.
Know before you go:
Location – The temples, mosques and Fort neighbourhood are located in the northern Pettah neighbourhood of the city. The suburb of Mount Lavina is located southwest of the city.
Cost – The temples are free to enter.
Opening hours – Temple visiting hours range from 6 am – 10 am and 5 pm – 9 pm. Mosques around the world tend to be busier and not open for non-Muslims on Fridays, so bear that in mind with your holy-hopping plans.
Time needed – You'll need a whole day to make your way around these popular sights.
Getting there – Taking a local taxi or tuk-tuk is the best and speediest way to visit the sights.
Day 3 – 4: Base Yourself in Sigiriya
Heading out of the big city of Colombo, your first inner-country travel experience will take you 100 miles north to the ancient rock fortress of Sigiriya.
Basing yourself around Sigiriya will allow you to explore the stunning landscapes that surround the area. With ancient rock fortresses to climb, magnificent landscapes and wildlife, Sigiriya is one of many beautiful areas on the island and fully deserves its place as a mainstay on travellers' Sri Lanka itineraries.
The best way to get from Colombo to Sigiriya is to take the train to the nearby town of Dambulla, taking around one hour and thirty minutes and costing about LKR 800-1,200.
Climb Pidurangala Rock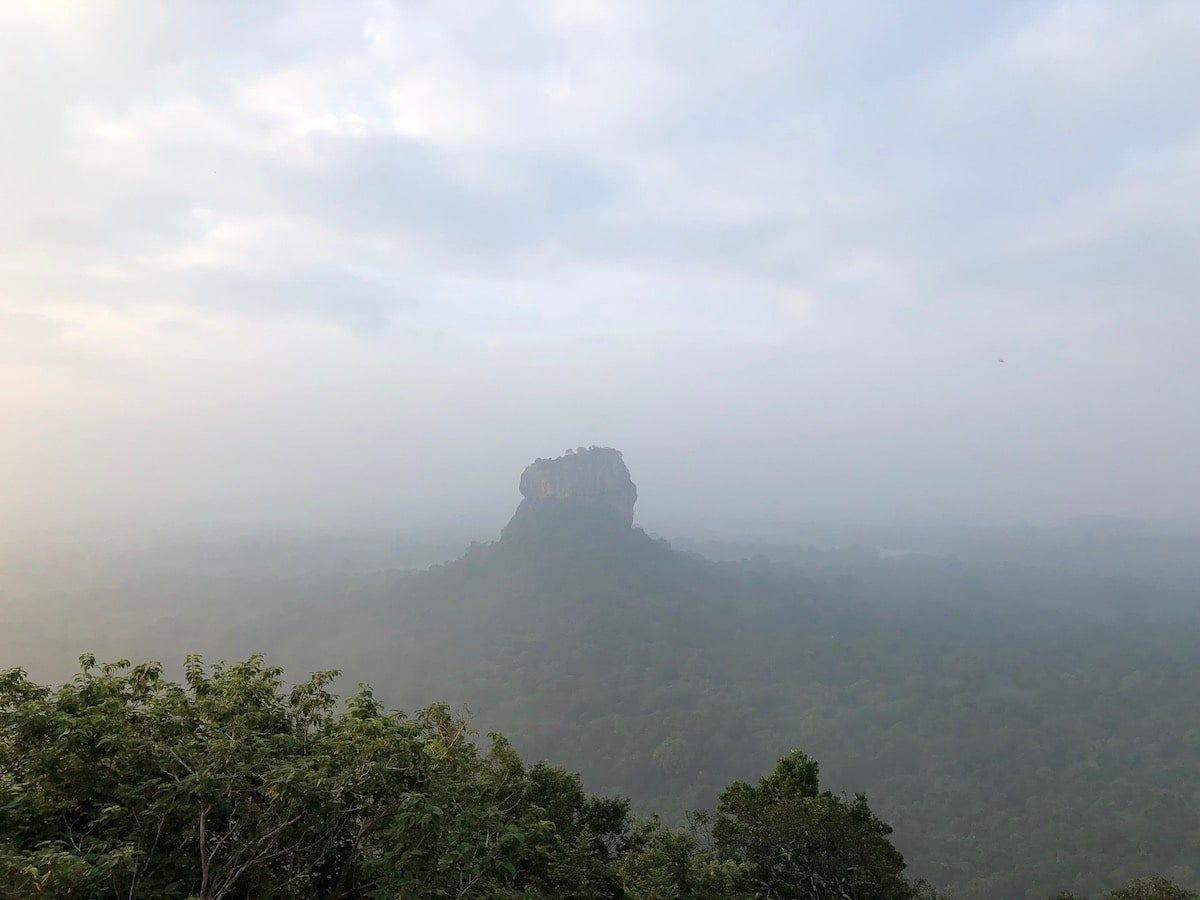 Pidurangala Rock is an ancient rock formation that rises up over the stunning landscape below. Hiking up to the top of the rock will give you a stunning panoramic view of the valley, endless vegetation and the Sigiriya rock fortress below. At just 200 meters tall, it shouldn't take more than 45 minutes to scale the rock.
While Pidurangala Rock doesn't have the historical element Sigiriya rock has, it is a fantastic way to immerse yourself in the surrounding nature and take part in one of the most picturesque hikes in your Sri Lanka itinerary.
It's best to hike to the top of Pidurangala Rock in the early morning or early evening to avoid the scorching midday sun. Hiking Pidurangala Rock during these times also provides stunning views of sunrises or sunsets over the surrounding landscape.
Know before you go:
Location – Pidurangala Rock is located northwest of Sigiriya.
Cost – 500 LKR entrance fee
Opening hours – 24 hours
Time needed – To climb up and down and take in the surrounding area, at least 3 hours.
Getting there – The easiest way to get there is via a tuk-tuk from Sigiriya, costing around 200 LKR.
Explore the Sigiriya Rock area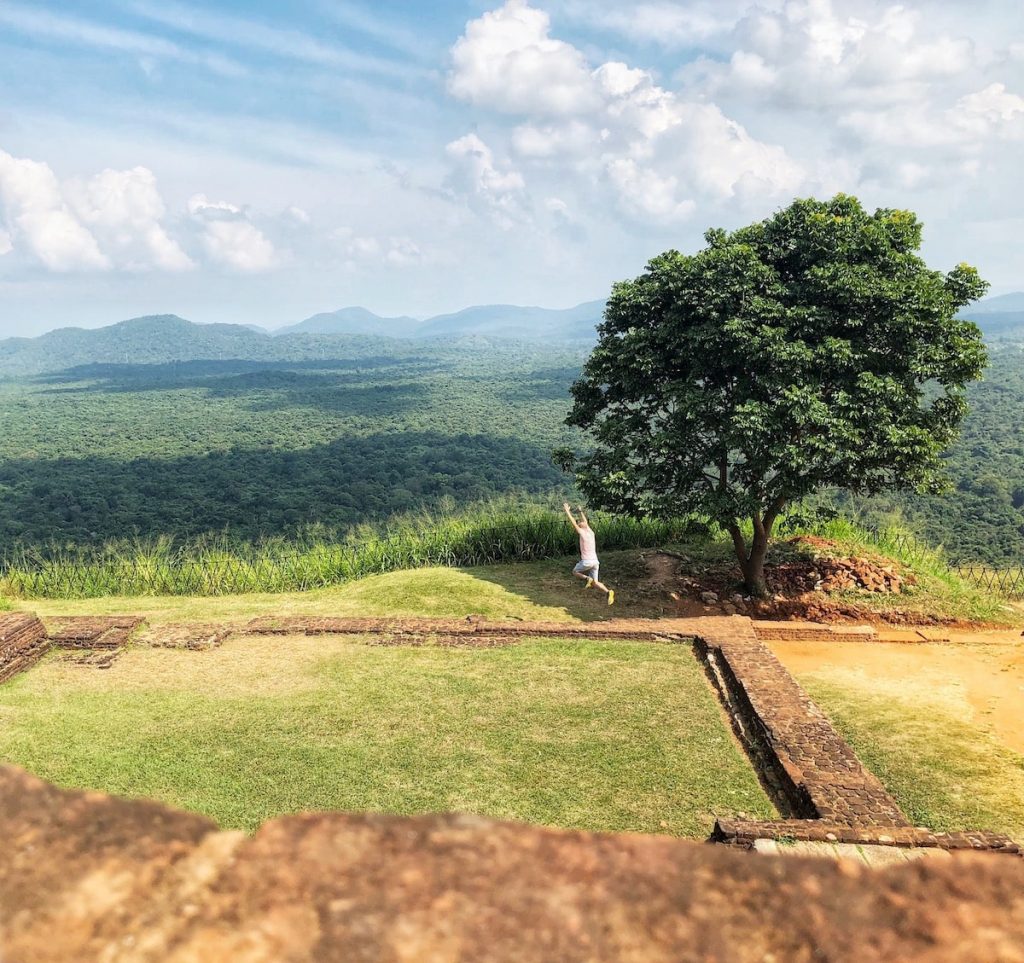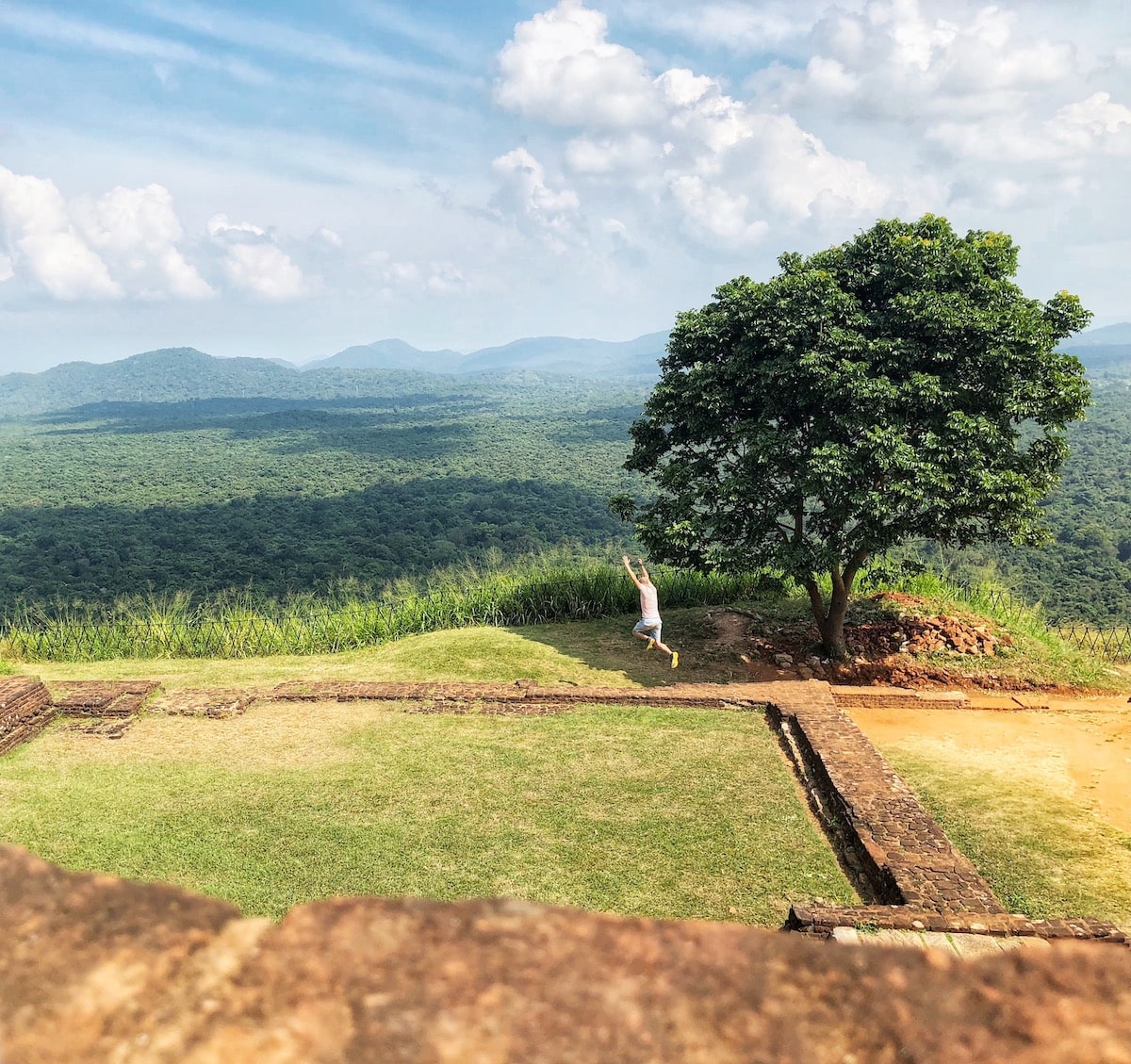 One of the main attractions in this area is Sigiriya Rock, an ancient rock fortress that looms large over the horizon, rising up to around 590 feet.
Built in the 5th century, the Sigiriya Rock Fortress is one of the country's most ancient sites. Sigiriya which translates as "Lion's Rock," was designated a UNESCO World Heritage site in the early 1980s and gave visitors an insight into the long history of Sri Lanka.
Lost to the jungle for centuries, similar to the situation with Angkor Wat in Cambodia, it was then rediscovered by European historians during the 19th century. The overwhelming beauty of the site is enhanced by the numerous ancient frescoes painted on its walls and the giant lion paws carved out of the rock to form its entrance.
Arguably considered one of the wonders of the ancient world, visiting Sigiriya Rock really takes you back centuries, when the island was run by the Sinhalese dynasty. At the foot of the rock, you'll find elaborate water gardens, only adding to the beauty and mystery of the site.
Know before you go:
Location – Sigiriya Rock is located northeast of the town of Dambulla.
Cost – Around 6,000 LKR.
Opening hours – 7 am – 5 pm.
Time needed – It takes around an hour of climbing to get to the top of the rock, and you'll want a couple of hours to explore the site once at the top.
Getting there – Taking a tuk-tuk from Dambulla is the quickest way to get there, costing around 1000-1600 LKR.
Day 4 – 6: Kandy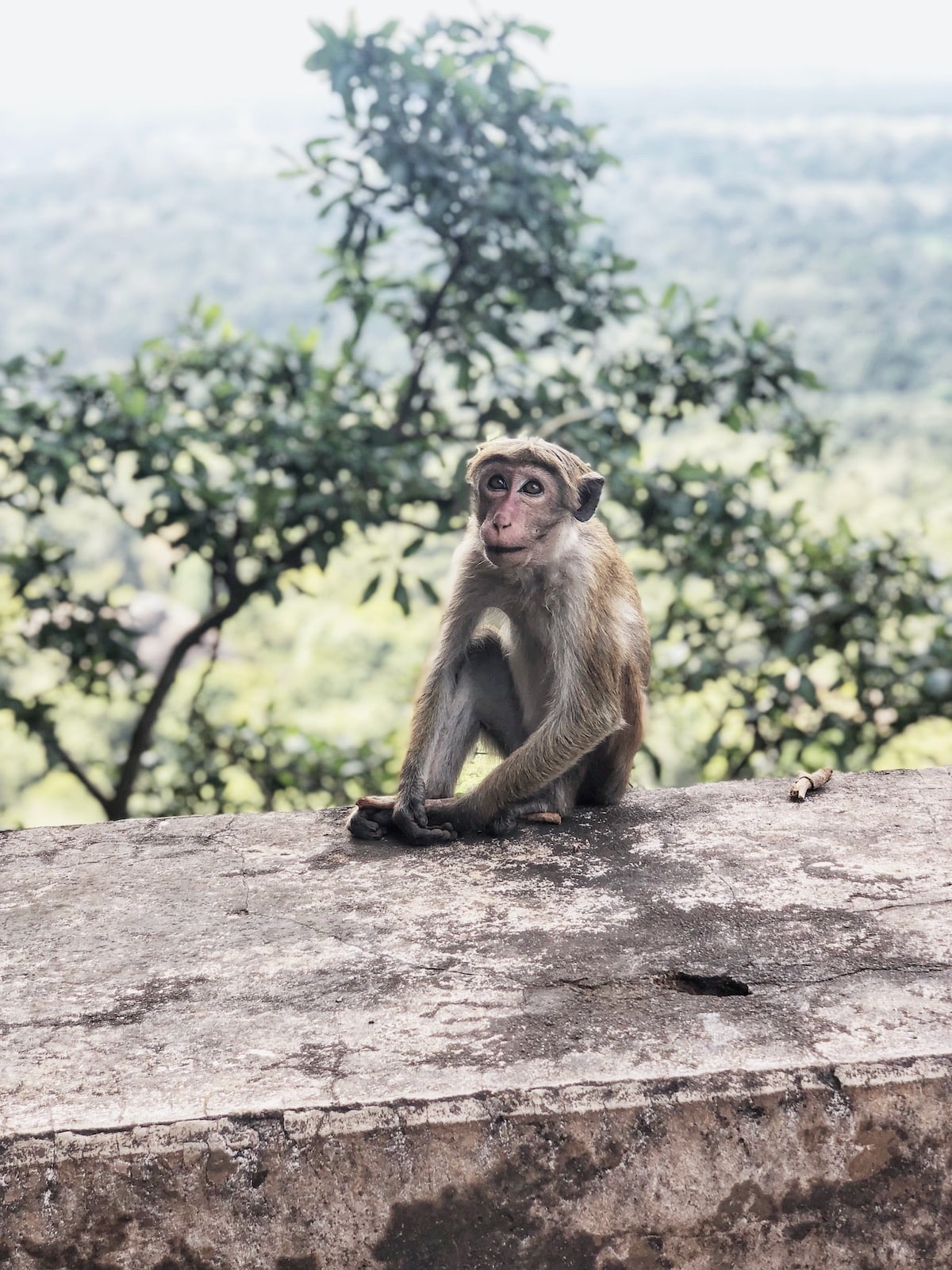 After your visit to Sigiriya Rock, the next leg of your Sri Lanka itinerary takes you 56 miles south to the city of Kandy, the ancient capital of the country and one of the island's major cities.
Arguably one of the most popular locations in Sri Lanka, there is so much to see and do in Kandy and its wider area from old town markets and ancient temples to stunning natural features.
You can take a 2.5-hour bus journey from Dambulla to Kandy, costing around 100 LKR.
Temple of the sacred tooth relic
The Temple of the Sacred Tooth Relic or the Glorious Tooth Temple, as it is also known, is a Buddist temple in Kandy with a difference; the temple's sacred reputation has been built around the fact it is said to be home to one of the Buddha's teeth.
Originally built by the Kandyan Kings between 1687 and 1707, the Temple of the Sacred Tooth Relic is made of white stone buildings and brightly coloured red roofs. This plain exterior is in stark contrast to what you see once you enter inside.
Inside the temple, you'll be blown away by the elaborately carved wooden walls, brightly coloured gold and huge ivory tusks. You can either wander through the temple by yourself and read the English storyboards, explaining the history of the temple or pay for a guide to take you around.
Know before you go:
Location – The Temple of the Sacred Tooth Relic is located to the east of the city centre.
Cost – LKR 1500 per person.
Opening hours – 5:30 am – 8 pm.
Time needed – Around an hour or so will be plenty to see the temple.
Getting there – Being so close to the city centre, it is possible to walk to the temple from Kandy.
Royal Botanic Gardens
Around three miles west of the city centre of Kandy is the Royal Botanic Gardens. Home to 4000 species of plants, including orchids, spices, medicinal plants and palm trees, these are some of the most decorative gardens in Sri Lanka.
Built in the 14th century, the gardens are some of the most visited anywhere, welcoming millions of Sri Lankans and half a million tourists every year. Aside from the plethora of plants on display, the gardens are a great place to escape the rush of the city, breathe in the fresh air and relax.
Know before you go:
Location – The Royal Botanic Gardens are located three miles west of the city.
Cost – LKR 1500
Opening hours – 8 am – 5:30 pm.
Time needed – At least two hours to see the entirety of the gardens.
Getting there – Take a tuk-tuk from Kandy to the gardens for around LKR 200-250.
Hike to Bahirawakanda Vihara Buddha statue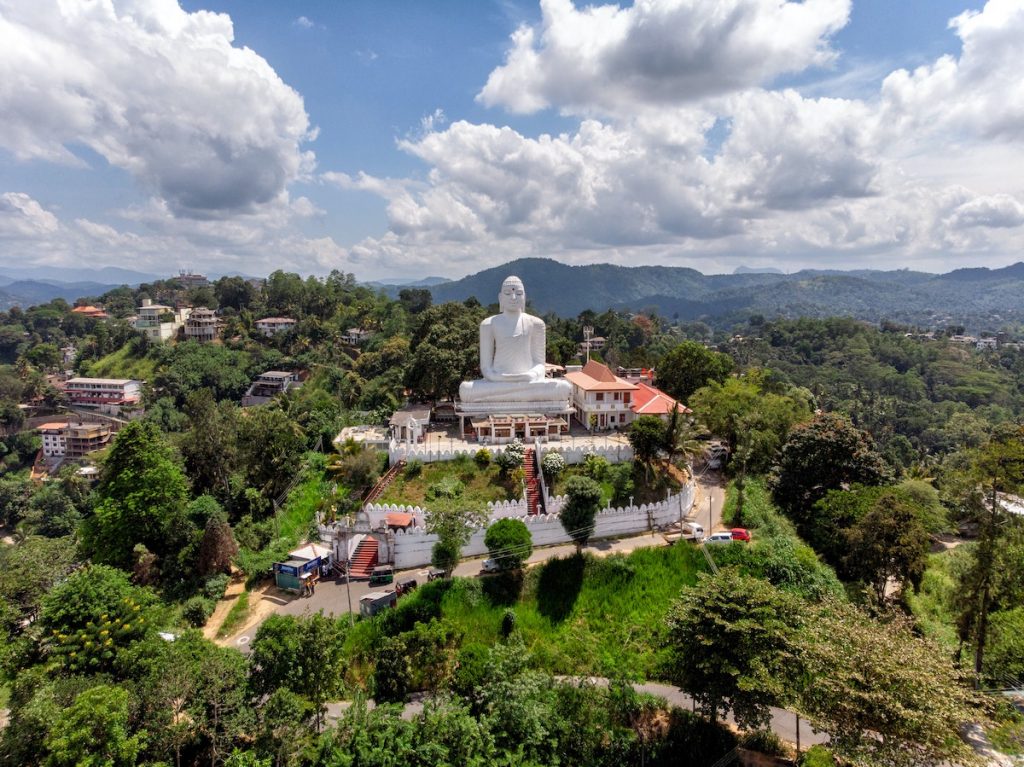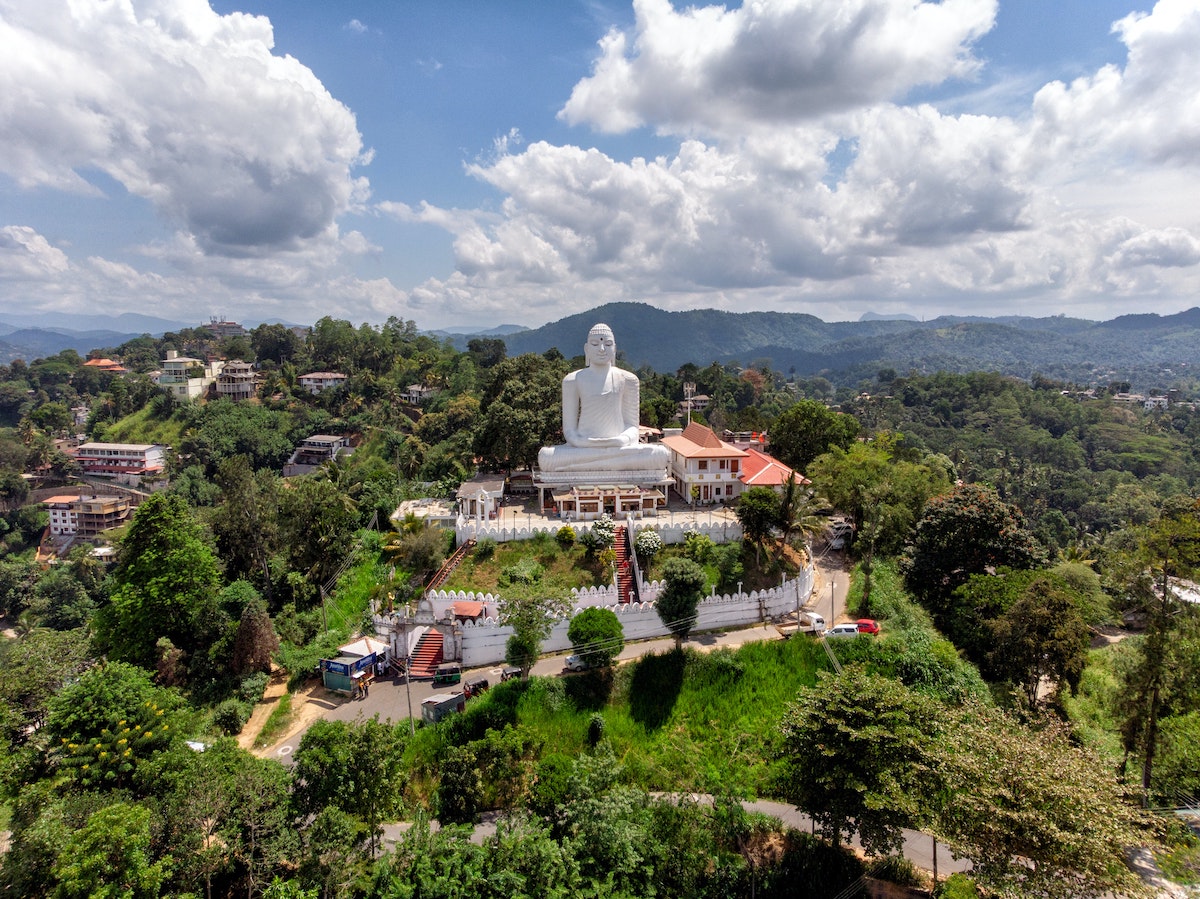 Looming large over the city of Kandy is The Bahirawakanda Vihara Buddha statue, a sight that can be seen from nearly every point in the city.
Perched upon a hill, the large white marble statue of the Buddha rises up around 82 feet and is a sight to behold. Although the statue itself is highly impressive and visiting a temple always has its own rewards, it's the views from the temple that really make a visit here worth it.
Know before you go:
Location – The Bahirawakanda Vihara Buddha statue is located in the northwest neighbourhood of Kandy.
Cost – Free to enter.
Opening hours – 24 hours
Time needed – Around an hour to soak in the sights.
Getting there – Being so close to the city centre, walking to the Bahirawakanda Vihara Buddha statue is easy.
Take a Walk Around Kandy Lake
Close to the Temple of the Sacred Tooth Relic is one of the most scenic locations in the city, Kandy Lake.
Beloved by both tourists and locals, the lake is a prime walking and jogging spot for many. This artificial lake was constructed in 1807 by King Sri Wikrama Rajasingha and is protected by many laws, including a ban on fishing.
All of this gives Kandy Lake a natural and calming feel, the perfect place to escape the city dust and take in a bit of nature. The paved pathway that circles the lake gives walkers a perfect route around the water.
Sunset Kandy Viewpoint (Night)
When the sun goes down over the city of Kandy, there is one spot that is loved by locals and tourists alike, and that is the Kandy Viewpoint.
It stands on a hill overlooking the city, close to Kandy Lake and the Temple of the Sacred Tooth, which makes it easy to fit in all three sites in one afternoon. This viewpoint is the perfect place to watch the sunset over the city and mingle with the locals doing the same.
Know before you go:
Location – The Kandy Viewpoint is located in the Rajapihilla Mawatha area of the city, just above the lake.
Getting there – It's a 1km climb up the road to the viewpoint, or you can take a quick tuk-tuk to the top.
Kandy Old Town Markets
Located between Sri Dalada Veediya Road and Colombo Street, the old town of Kandy is one of the city's most popular places to visit.
The area is made up of endless market stalls, selling everything from incense and textiles to food and clothes, making for a real sensory overload. Whether you want to sample some traditional Sri Lankan street food, or stock up genuine spices that have made this cuisine so famous across the globe, Kandy Old Town markets are the place to do it.
Even if you're not quite ready to put your bargaining skills to the test, just walking around the old town and its markets is something that shouldn't be missed. Visiting here will give you a real insight into the ways of life for the locals of Kandy.
Eat at Balaji Dosai (Night)
For some of the best vegetarian food or just the best food, in Kandy, head to the Balaji Dosai restaurant.
With much of South Asian cuisines based around vegetarian food, the Indian subcontinent and Sri Lanka are some of the best places to try it, thanks to their deeply-ingrained Hindu roots. The Balaji Dosai restaurant specialises in dosa, a thin pancake or crepe made from a fermented batter predominantly consisting of lentils and rice.
This is accompanied by a range of vegetarian bhojanam or thali – multiple small bowls of veg, sauces and spice. This is the perfect stop for an evening meal, and Kandy is home to several outlets.
Know before you go:
Location – Kandy is home to a number of Balaji Dosai outlets, scattered around the city.
Cost – Items on the menu start from LKR150.
Opening hours – 7am – 9:30 pm
Getting there – The main outlet in Kandy sits along the Kandy-Jaffna Highway, which is easily walkable from anywhere in the centre of town.
Day 6 – 7: Kandy to Ella Scenic Train Ride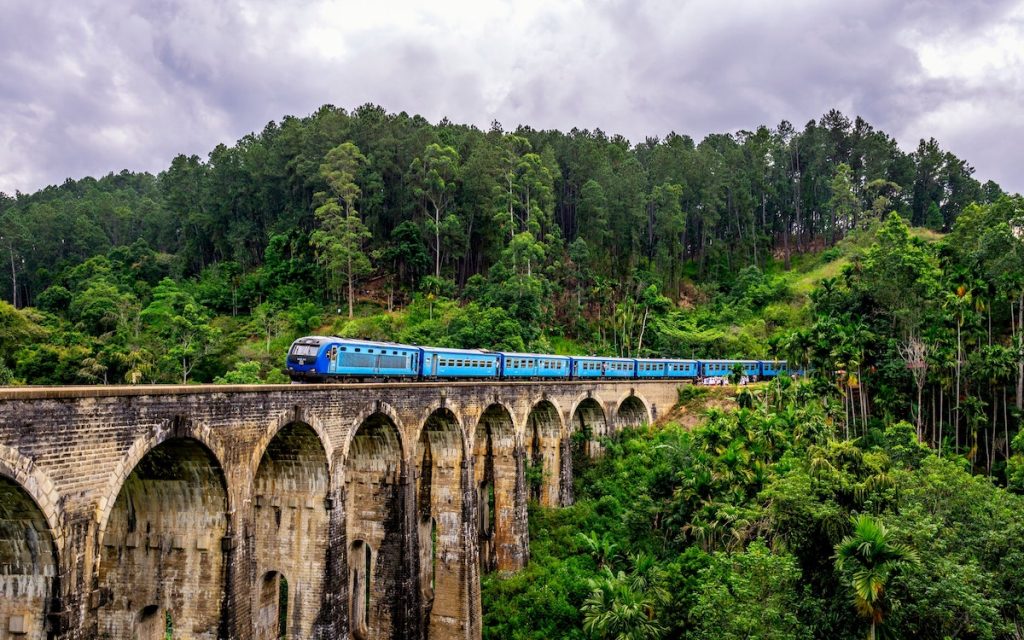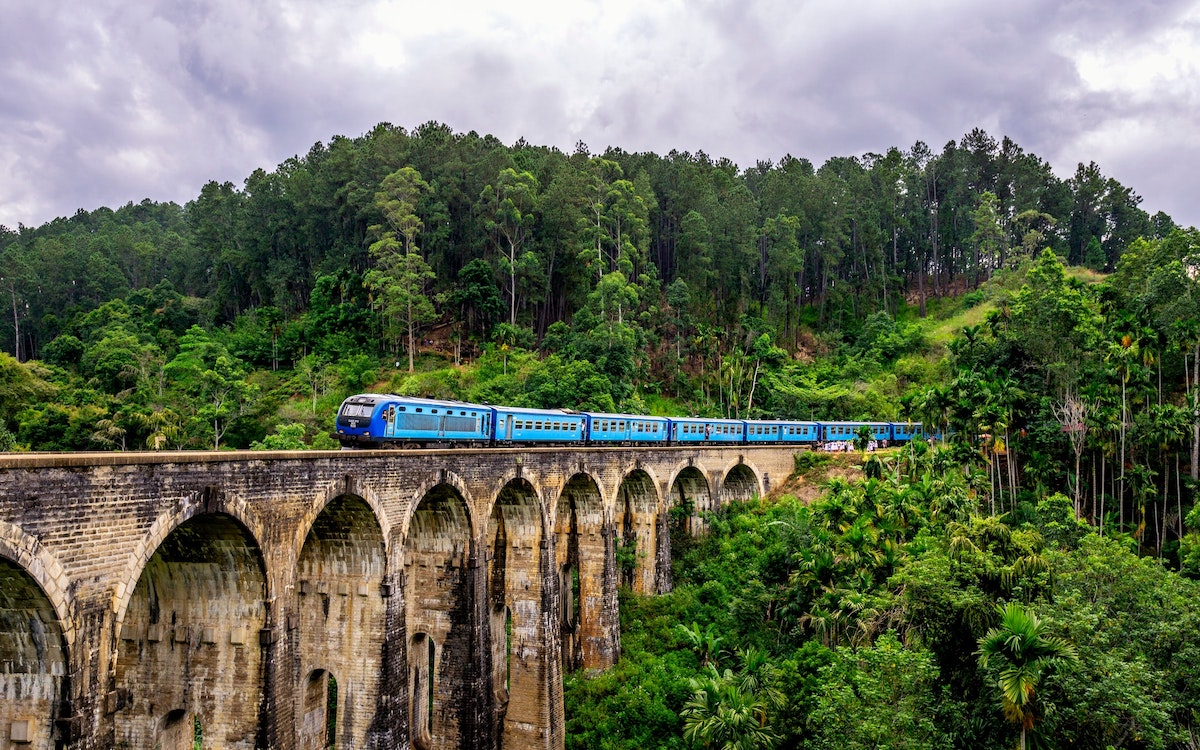 One of the chief highlights of any Sri Lanka itinerary is the scenic train journey between Kandy and Ella. Views from both sides of the train are some of the most breathtaking you'll find in the country; you've more than likely seen attractive women hanging out of their moving carriages, over on Instagram.
The route passes by vast swathes of tea plantations, farms and picturesque villages. This scenery is constantly changing as the train makes its way south; one moment, you're passing endless green farmlands, the next it's woodlands or the occasional tunnel.
Many of the foreigner travellers on the train opt to give up their seats and seek out an open door, to watch the scenery go by, or even sit down in the door and dangle their legs over the edge.
The train sells three sets of tickets, 3rd class, 2nd class and 1st class. Tickets can either be bought from the station on the day of travel, secured through your accommodation or even purchased online.
If you're not too fussed about which class you want, it's usually ok to leave buying the ticket for the day of travel, however during peak season (December to March) you should plan ahead, or you could leave with a heartbreaking "didn't do it" chapter in your Sri Lanka itinerary story.
Know before you go:
Location – The train station is located on the William Gopallawa Mawatha Road in central Kandy.
Cost – 1st Class LKR 1,500, 2nd Class LKR 230, 3rd Class LKR 125
Time needed – The journey takes around 7 hours.
Day 7 – 9: Ella and a Day Trip to Buduruwagala Buddha
Arriving in the small town of Ella, you'll find yourself in one of the most beloved areas of Sri Lanka. The Badulla District that Ella resides in is a district devoted to farming and raising livestock.
This agricultural feel is only bolstered by the breathtaking land that surrounds the town and district. With rolling fields and foothills galore, exploring Ella and its surrounding area really immerses you in the natural world of Sri Lanka.
Hike Little Adam's Peak (NOT the same as Adam's Peak)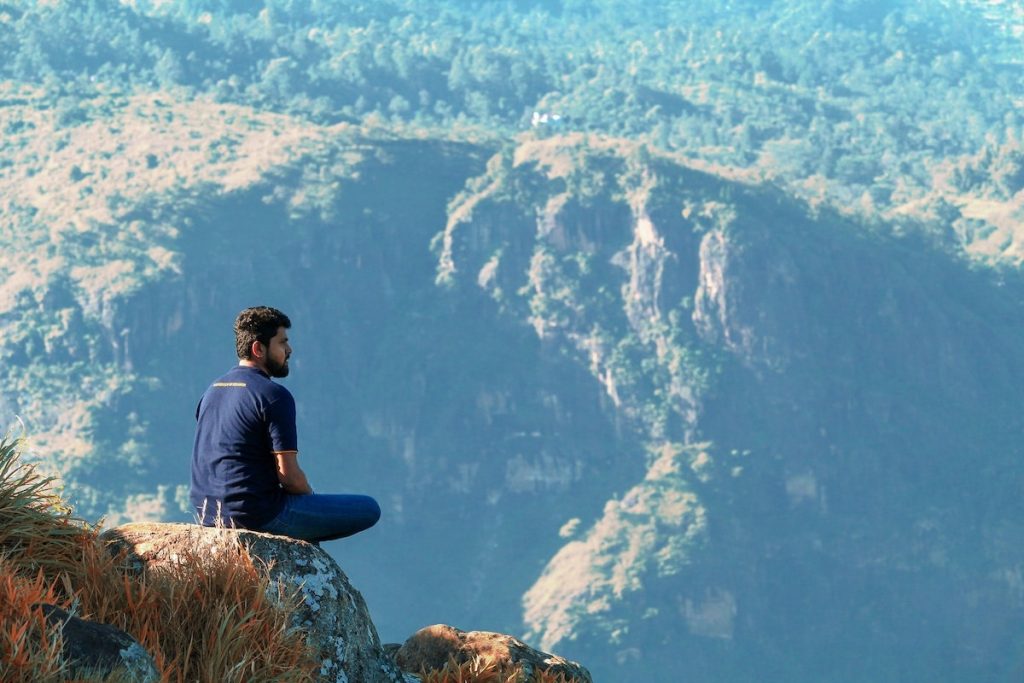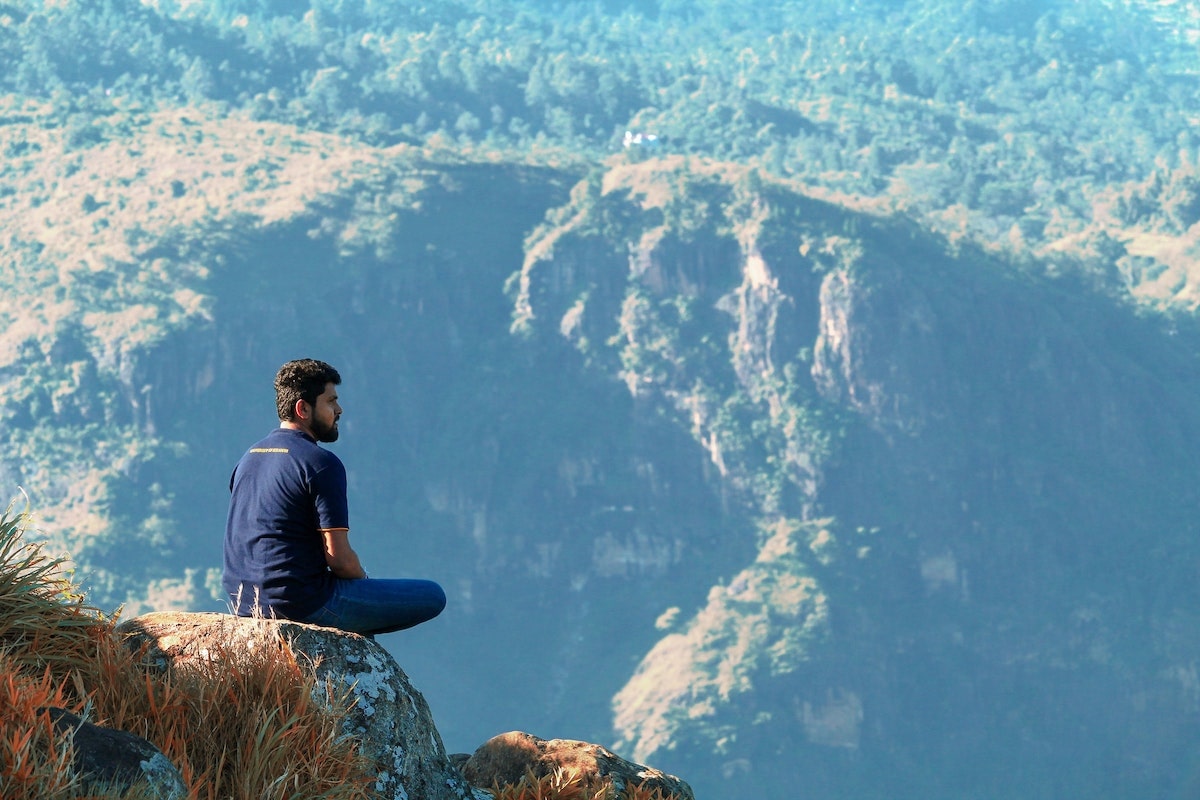 You may have heard of the slightly menacing Adam's Peak, but hiking its younger brother Little Adam's Peak can be just as rewarding for aesthetic reasons.
Rising up southeast of Ella, the hike up Little Adam's Peak only takes around an hour to complete. There's a marked path that begins by Ella Flower Garden Resort, and leads you up the mountain, with plenty of signposts to show you the way. Hiking to the top is about as simple as it gets.
Beginning at the tea plantations, the route offers stunning views of rural Sri Lanka, and the higher you climb, the better the views get. Hiking up Little Adam's Peak in the early morning is a great way to catch a stunning sunrise. For an even better view, you can carry on down to Nine Arch Bridge, another fantastic scenic spot.
Know before you go:
Location – Little Adam's Peak is located just southeast of the town centre.
Cost – Free
Opening hours – 24 hours
Time needed – At least two hours for the ascendant and descent.
Getting there – The start of the trail is in the centre of town, so you should have no problem walking there.
Sunrise at Nine Arch Bridge
One of the most popular places to visit near the town of Ella is the Nine Arch Bridge.
Constructed in 1921, the bridge was built without reinforced steel and instead, is made entirely from stone and cement. It's one of the best examples of colonial-era construction and has become one of the most beloved scenic sights in Sri Lanka.
Surrounded by thick jungle and tea plantations, the scene is straight out of your Sri Lankan postcard dreams and with a sunrise thrown in, it's one of the more remarkable spots in Sri Lanka.
Visiting Nine Arch Bridge for sunrise is well worth the early morning alarm clock. Surrounded by the idyllic jungle and tea plantations, the light rises from the horizon and catching the bridge in all its splendour is a sight you won't soon forget in a hurry.
Wander Around Ravana Falls
Just under four miles south of Ella is another of the country's most scenic spots, Ravana Falls. This waterfall is one of the country's widest and is around 25 m (82 ft) in height.
Cascading from the rocks above, Ravana Falls really gives you a sense of Sri Lanka's wild and wonderful nature. Named after King Ravana, from the Indian epic Ramayana, legend has it that the caves at the back of Ravana Falls are where King Ravana held Sita captive before being rescued by Rama.
As well as simply enjoying the views, Ravana Falls is the perfect spot for a bit of wild swimming.
Know before you go:
Location – Ravana falls are located four miles south of Ella.
Cost – Free
Opening hours – 24 hours
Time needed – A good few hours are needed to travel and enjoy the falls.
Getting there – Catch any bus from the centre of town heading to Wellawaya and ask the driver to stop at the falls. Alternatively, grab a tuk-tuk for 450 rupees.
Hike Ella Rock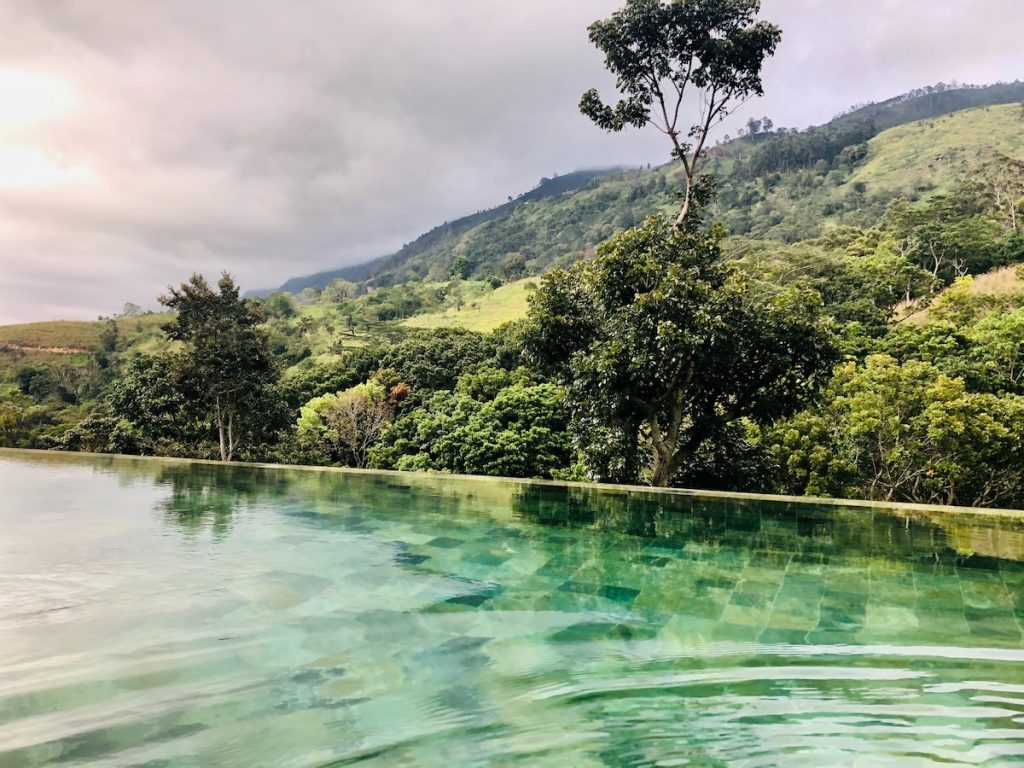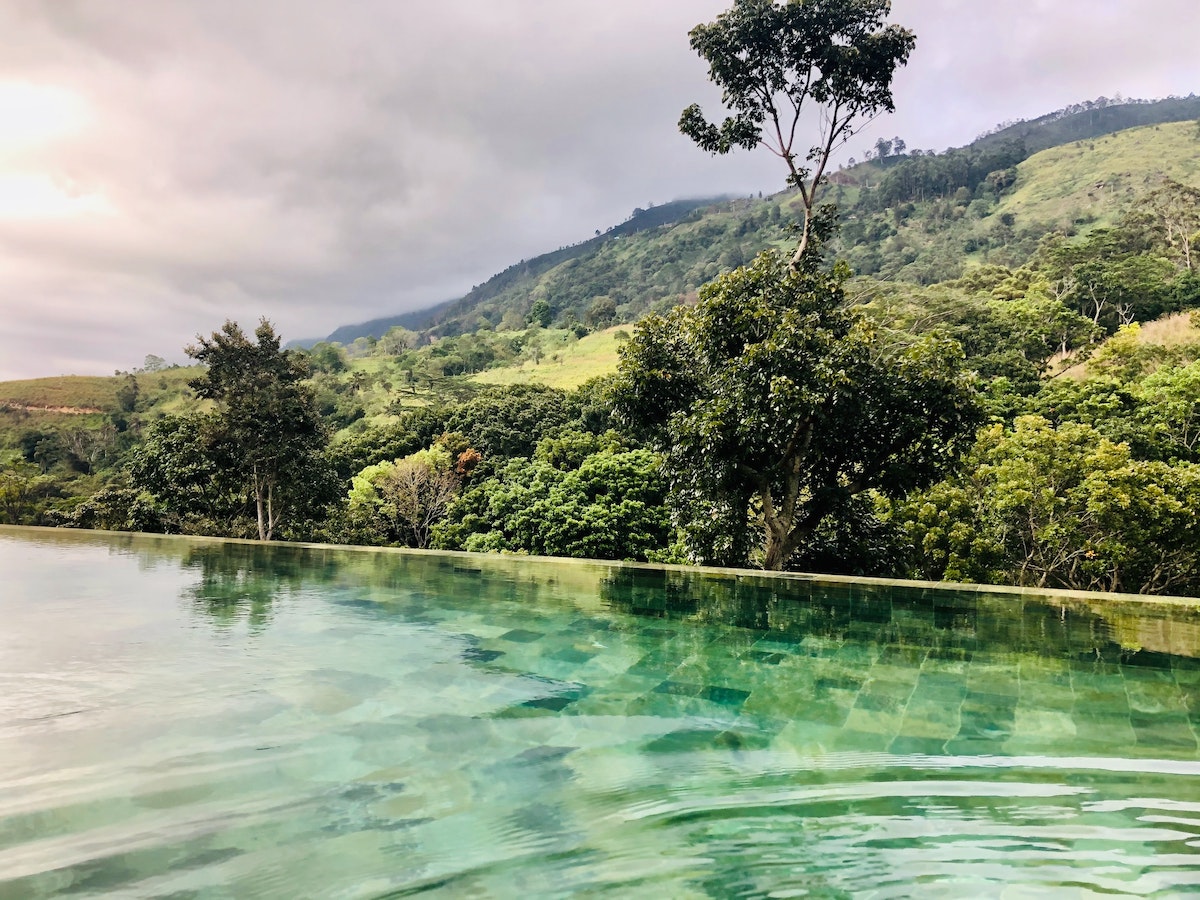 Just under two miles south of Ella, Ella Rock provides epic views of the surrounding landscape.
It takes around four hours to climb up and down the rock, but the climb itself is gradual and provides an ever-changing landscape in which to explore, including waterfalls, rubber tree forests and tea plantations. The views from the top of Ella Rock make the whole hike worth it, giving you jaw-dropping views of the whole district below.
Ella Town (Night)
The small town of Ella is quite unassuming, but the influx of backpackers and tourists has changed the town considerably; some argue for the worse, while a part of the local population welcomes the employment oppoertunities.
This being said, the high number of visitors to the town has made it a hub for nighttime revelry and dining. Its street is the main focus of nightlife in Ella Town, with bars and restaurants packed with partygoers, some well into the early hours.
Cafe Chill is one of the more popular hangouts, serving both Sri Lankan and western food, cocktails and an upper deck of bars and lounges.
Day 10 – 11: Nuwara Eliya
Nuwara Eliya is 30 miles west of Ella and is most famous for being the home of Sri Lanka's tea-growing industry. Mackwoods Labookellie Tea Centre is probably the most famous tea plantation in the country, its notoriety born out of its satirical Hollywood-like sign displayed on the hills surrounding the plantation.
You can explore that plantation and learn about the long history of tea growing in the country, an unmissable experience from your Sri Lanka itinerary. Basing yourself in Nuwara Eliya is also a great way of exploring the wider area of Sri Lanka's central province.
Know before you go:
Location – Nuwara Eliya is located 30 miles west of Ella.
Cost – The train journey will set you back around LKR 1,000 one-way.
Time needed – The journey takes around two and a half hours.
Getting there – Taking the train to Nuwara Eliya means you can take in even more beautiful views of the Sri Lankan landscape, but you can opt for a private transfer if you'd prefer.
Day 11 – 12: Climb Adam's Peak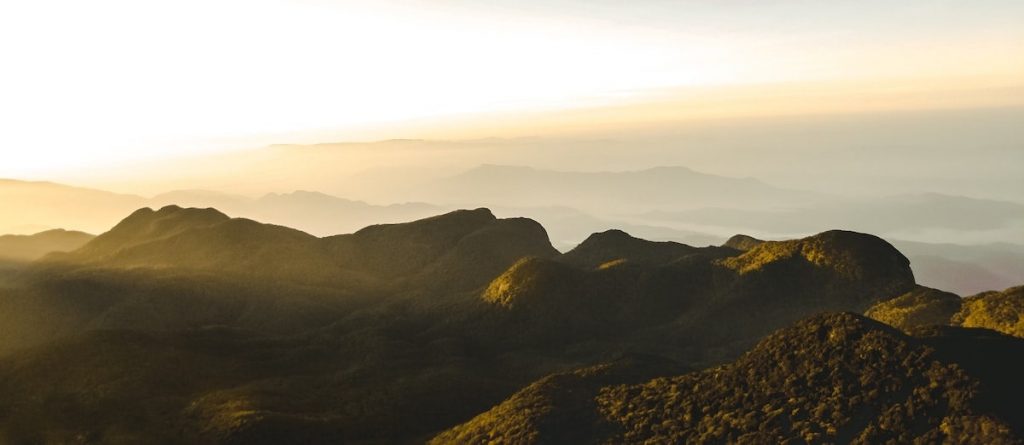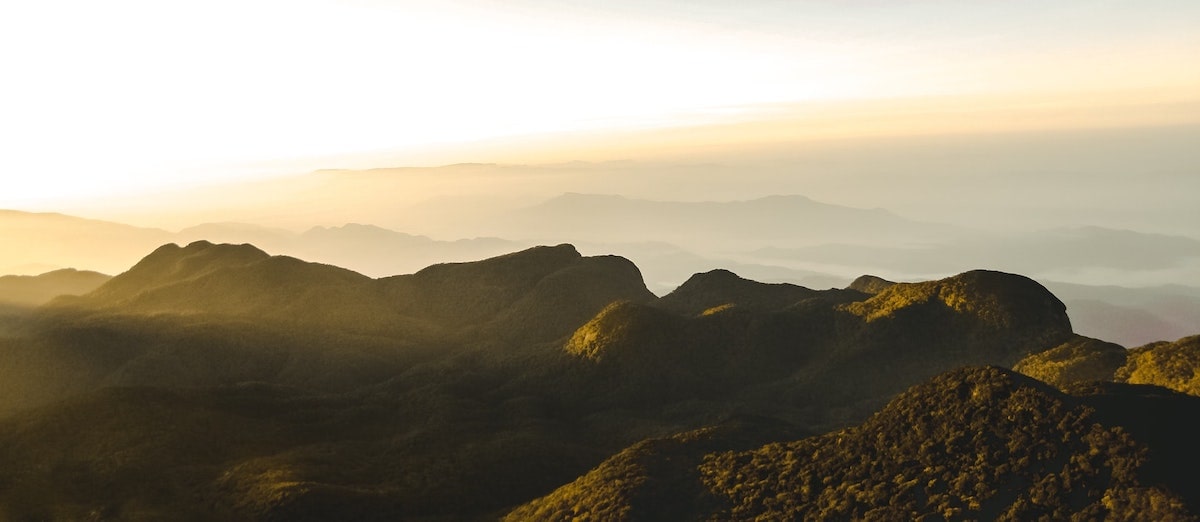 Arguably one of Sri Lanka's most famous spots, Adam's Peak or Sri Pada as it is also known, is a 7,349-foot (2,240 metres) conical mountain. The mountain has divine connections in four major religions, based on a footprint mark at its summit.
Buddhists claim that it is the footprint of the Buddha. Hindus that it is actually the footprint of the god Shiva, while Muslims and Christians hold a counterclaim that it's indeed the footprint of mankind's first man, Adam.
Though not a technical climb, at Adam's Peak you'll need to tackle between 5,000 and 6,000 steps to get to the top. The climb can take between two and four hours to climb and one to two hours to descend.
The peak is adorned with the Sripada Temple, and although climbing is free, you may wish to donate to the monks, with the mountain being such an important location for Buddhists.
Know before you go:
Location – Adam's Peak is located half a KM west of the village of Dalhousie
Cost – Free
Opening hours – 24 hours
Time needed – Several hours for travelling, climbing up and down and exploring.
Getting there – Tuk-tuk ride from Hatton to Dalhousie, will take roughly 60 minutes and costs around 2,000 LKR.
Day 12 – 13: Udawalawe National Park
Located 90 miles south of Nuwara Eliya, Udawalawe National Park in southern Sri Lanka is one of the most rewarding national parks in the whole country.
Opened in the early 1970s, the national park was created to provide a sanctuary for wild animals displaced by the construction of the Udawalawe Reservoir on the Walawe River. 
The entire park covers a great 119 square miles and is home to numerous water birds and herds of Sri Lankan elephants. Alongside the much-loved Sri Lankan elephants, you may also catch sight of wild boars or packs of golden jackals as well as the country's national bird, the Sri Lankan junglefowl.
Even after the seemingly endless natural spots that you'll visit during your Sri Lanka itinerary, visiting Udawalawe National Park really comes out on top. With protected nature and a plethora of wildlife, Udawalawe National Park is one of the best places to say goodbye to rural Sri Lanka.
Know before you go:
Location – 90 miles south of Nuwara Eliya
Cost – LKR 3,000
Opening hours – 6 am – 6pm
Time needed – Set aside the whole day to explore Udawalawe National Park.
Getting there – Getting to the national park isn't super easy, and includes a few changes on public transport. Most people opt to join a tour instead or hire private transport after striking a deal with a local operator/opportunistic driver.
Day 14: Make Your Way Back To Colombo For Your Flight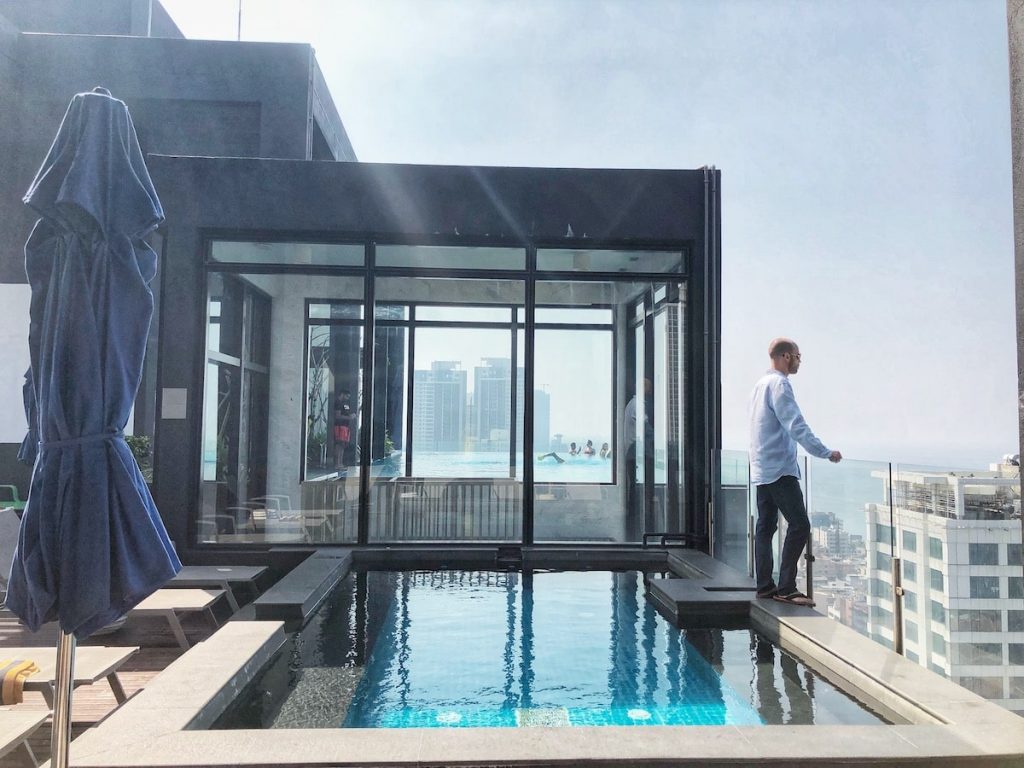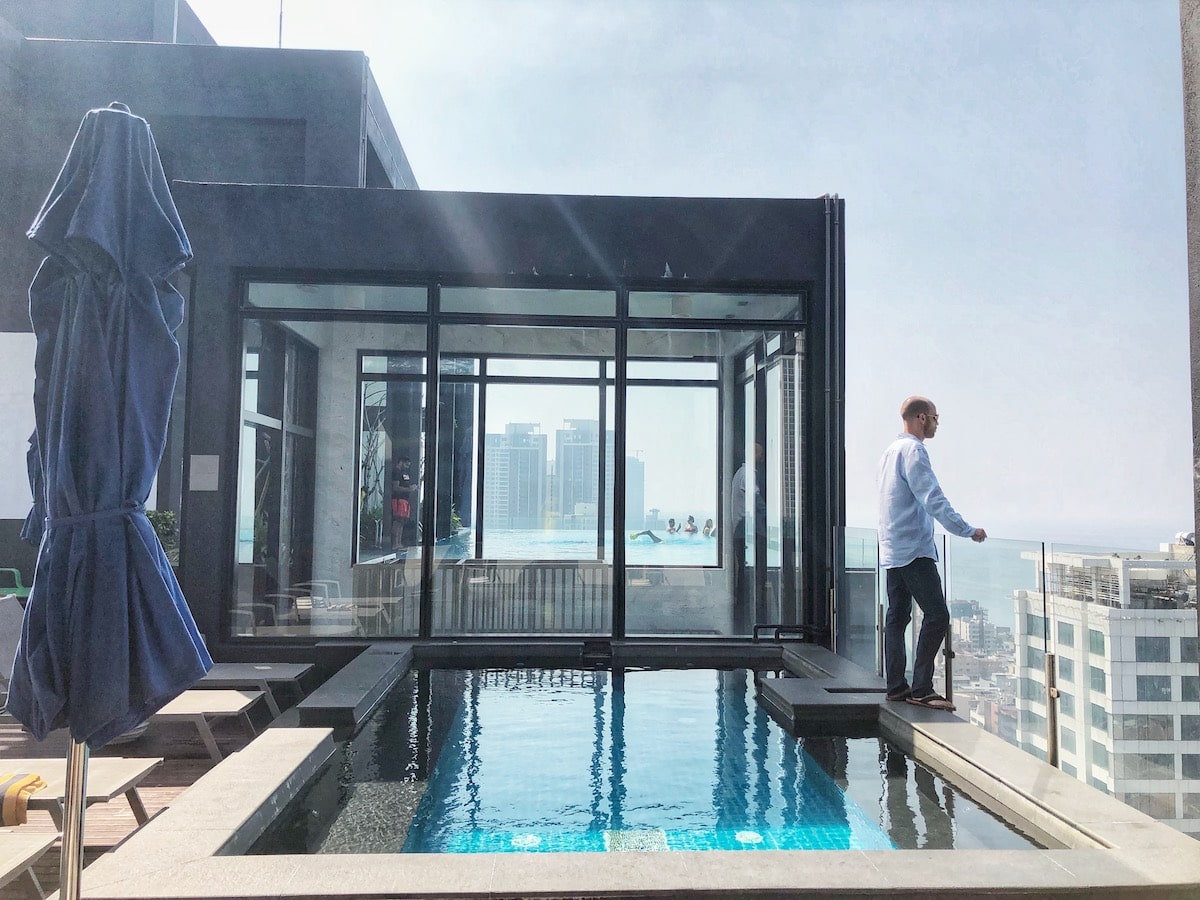 To end your Sri Lanka trip, you can maybe take one last scenic train ride back to where you began, in the country's largest city, Colombo.
Here you can soak up the hecticness of the city before making your way back to the airport, and saying farewell to one of the most rewarding islands in South Asia, with another meal that had escaped your attention on your first leg of your Colombo leg…a perfect swan song to your 2 weeks Sri Lanka itinerary.