Hidden away in the far southwest of the Bolivian desert lies the Salar De Uyuni, better known in the English speaking world as the "Bolivia Salt Flats."
It's one of the most unique landscapes on the planet and even though I often have disdain for Instagram culture, I concede that exploring this mystical plain is an experience best done with a camera.
You may, or may not have seen the unconventional image-distorted photographs of tourists at the Salt Flats online. If you have, I can confirm that it really is as fun as it looks, but there are some pressing logistics challenges such as costs, weather and of course…how to get those funky photos for a distinctively memorable travel relic.
So let's jump right into the Bolivia Salt Flats and see what exploring this salty terrain involves and how you can get the best out of your time there.
Meet Salar de Uyuni: The World's Largest Salt Flats
At just over 4,000 square miles, Salar De Uyuni makes up the world's largest salt flat – that's a vast expanse of salt and other minerals caused by high levels of evaporation and low levels of rain.
To be more specific, the Bolivia Salt Flats have formed between several prehistoric lakes and with the rate of evaporation higher than rainfall, a large expanse of the salt crust has formed over the flats. This salt crust leaves an extremely flat landscape, with the land barely rising up over a metre across the 4,000 square miles of the flats.
Along with the huge sheet of salt, the Bolivia Salt Flats are also made up of a thin layer of brine, which is rich in Lithium. While the region sees little rainfall throughout the year, when it does experience rain, the combination of the salt, brine and calm pools over water turn the Salar De Uyuni into the world's largest mirror.
Eighty miles across, the calm water reflects everything in its sight, creating almost perfect reflections.
The Bolivia Salt Flats are so out-of-this-world that they have appeared in a number of blockbuster movies, including Star Wars, to represent hypothetical life on other planets.
Visiting the Bolivia Salt Flats, or "Salar de Uyuni" as it is known locally, is one of the most rewarding travel experiences possible for those that desire something a little out of the norm.
It's not exactly a secret at this point, or off that well-beaten track, but it certainly belongs to the more weird and wonderful kinds of trips. If you're heading to Bolivia or putting together your South American itinerary, I'd really recommend putting this at the top of your list if you have to chop and change a bit.
Much like the extreme nature of the poles, the deserts and the great ocean reefs, the Bolivia Salt Flats are truly one of the world's most fascinating natural wonders.
Best Time To Visit The Bolivia Salt Flats (Salar de Uyuni)
Your experience of Salar de Uyuni is hugely dependent on what time of the year you're visiting. Theoretically, you can visit the salt flats at any time of the year; it all depends on what you want out of your experience.
Here are a few key times to visit.
Dry Season in Salar de Uyuni
If you're not too fussed about snapping some mirror-esque photos, and would rather soak up the beauty of the flats themselves, you might want to consider visiting between May and November.
Considered to be the dry season, rainfall is non-existent, and the salt flats reveal the spectacular crystalised formations that they are so famous for.
While you won't be able to enjoy the photos that have made this place go viral, you will have better luck visiting some of the surrounding attractions which can flood and be completely off-limits during the wet season.
Let's be real though, most of you reading want those reflective shots to go along with the others, and those of you who don't care are outliers.
Wet Season in Salar de Uyuni
If experiencing the famous mirror-effect of the salt flats is high on your bucket list, then the wet season is the best time to visit Salar de Uyuni. In this part of the world, it runs from December right through to April.
During this time, the rain completely transforms the landscape. With the wet season rainfall scattered across the Bolivian salt flats, combined with a lack of wind and clear skies, you can see the glass-like desert in all of its glory.
The one drawback of visiting Salar de Uyuni during the wet season is the same thing that makes the mirror effect so great – the rain! Heavy rains during the wet season mean that many of the other areas and attractions in Bolivia can become flooded meaning they are sometimes off-limits to visitors.
You'll also notice a lot more visitors during this time, but the plains are so vast, that you'll almost always be able to find a private spot to yourself.
Is It Better To Visit During the Day or Night?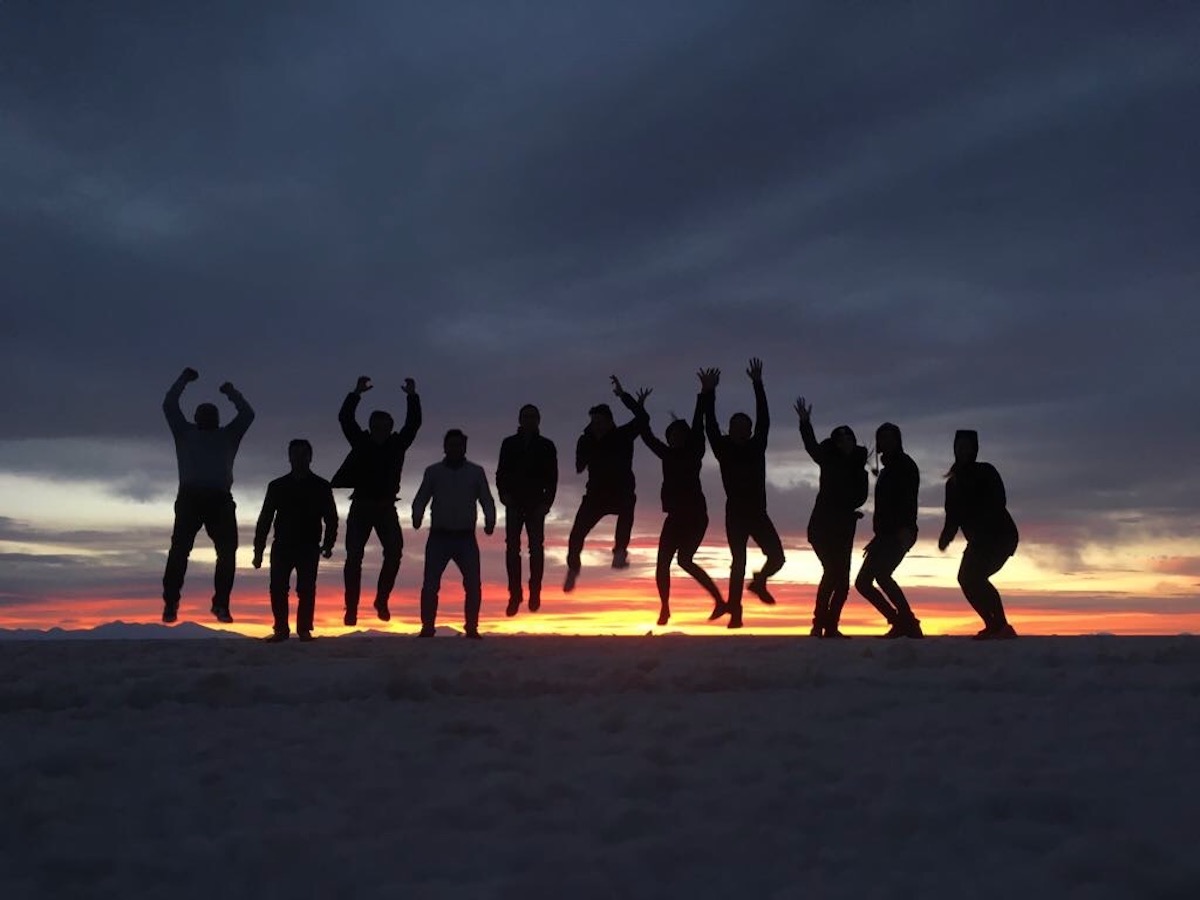 Most people choose to visit the Salar de Uyuni during the day, purely because that's when you're going to get the best snaps to show off on Instagram. Saying that visiting during the evening has its advantages too. With miles and miles of flat landscapes ahead of you, sunset is pretty spectacular at the Bolivia Salt Flats and is worth considering too.
While I did not sleep over in the desert, I did experience it during the day and the nighttime; pure bliss on both accounts.
How To Get To The Bolivia Salt Flats
You'll find the Bolivia Salt Flats of Salar De Uyuni in the extreme southwest of the country, only a few miles from its international border with Chile. Its location doesn't make it the easiest place to get to, but it's not too much of a pain in the bum either.
Your first job is to get to the closest city to the flats, Uyuni, which stands on the eastern edge of the salt flats and acts as the gateway to Salar De Uyuni.
Depending on where you are travelling from, be it from inside Bolivia itself or from abroad, there are several ways of travelling to Salar De Uyuni. You can take a bus, train, plane, or a combination of all three, all depending on your time and budget.
Travelling to Uyuni From La Paz
Most people make their way to Salar De Uyuni from the Bolivian capital of La Paz (well one of them, Bolivia is so unique that it actually has two!) There are a handful of international flights that head into La Paz, but chances are that you'll need to change in Mexico if you're arriving from Europe or the USA.
Try not to rush La Paz if you can help it. I was a big fan and adding the Bolivia Death Road to your itinerary on top of the Bolivia Salt Flats is a week worth remembering.
By Bus
La Paz lies 340 miles north of Uyuni and the Bolivia Salt Flats, so it's not a journey to take lightly. If time is on your side, you can catch a ten-hour night bus from the main bus terminal in the capital to Uyuni, which will cost around USD $25.
Unless you are planning to visit the salt flats during a national holiday, it's possible to simply walk into the local bus station and catch the bus to Uyuni with ease. This being said, it's worth pre-booking your tickets to ensure you get a seat, especially if you are taking a night bus and want something a little more comfortable.
By Train
If travelling by train is more your thing, you can take a shorter bus ride (around 4 hours) from the capital La Paz to the town of Oruro. From here, you can enjoy a scenic train journey down to the city of Uyuni and its neighbouring salt flats.
The train leaves Oruro four times a week, and the more expensive but more comfortable Expreso Del Sur departs Oruro on Tuesdays and Fridays at 2.30 pm (~USD $25). The cheaper Wara Wara del Sur departs Oruro at 7 pm on Wednesdays and Sundays (~USD $18).
By Plane
If you're short on time, you can fly into Uyuni from La Paz, which takes just one hour. Just one operator, but possibly the title for the coolest name – Amazona Airlines, runs the route, charging between $170-250 USD for a return ticket.
Depending on the time of year, you'll find between two and four flights leaving each day, starting from around 6.30 in the morning.
Bolivia Salt Flats Without a Tour: Expectation vs Reality
If you're one of those annoyingly multi-skilled travellers, who is incredibly talented at photography, you can do this quite easily at the Bolivia Salt Flats.
However, us fellow plebs travelling there with the starry-eyed dream to take stunning photos of the famed mirror reflections should opt to join a tour, simply to have the expertise of an adept local who knows what they're doing.
Capturing the moments you see strewn across Instagram isn't as easy as you might think.
When you have the advice of your guides, you'll be shown exactly where you can take an impressive snap and have a spare person to take the photo for you – that way no one's left out of the fun.
Realistically, the expectation of capturing these stunning photographs by yourself and the jaw-dropping views of the Salar De Uyuni salt flats probably won't come to fruition unless you're highly skilled and in possession of a top camera.
By joining a tour, you can forget about such frivolous things and enjoy Salar De Uyuni without worrying about navigation and finding the perfect shot; as they will take care of that for you.
For a point of reference, I am famous for my violent hatred of onions. I tried to capture this lifetime of horror on the Bolivia Salt Flats, with the devious root vegetable as the main feature. This is how it turned out in my DIY effort…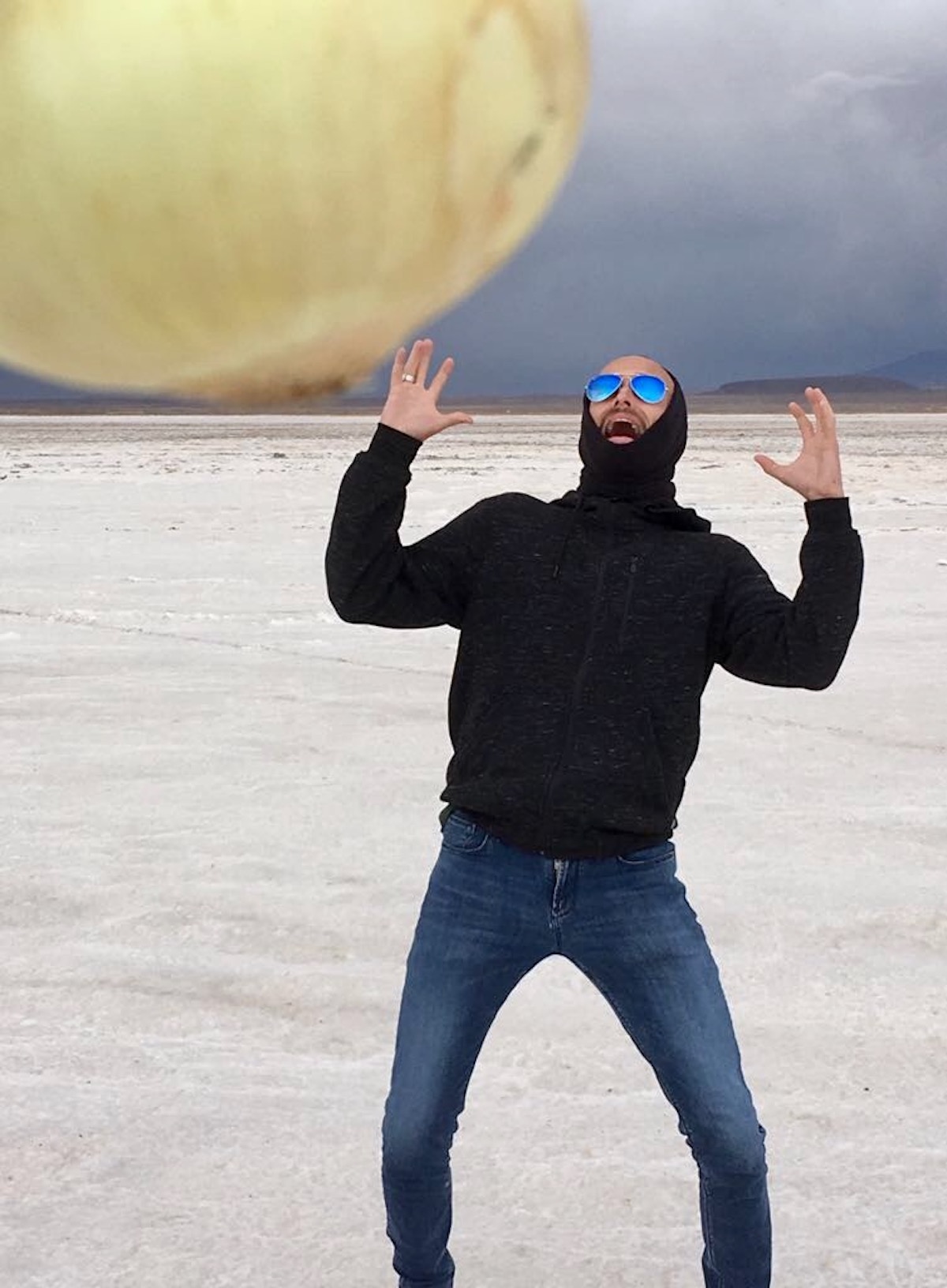 Pretty awful effort, eh?
This is how it turned out with my tour guide…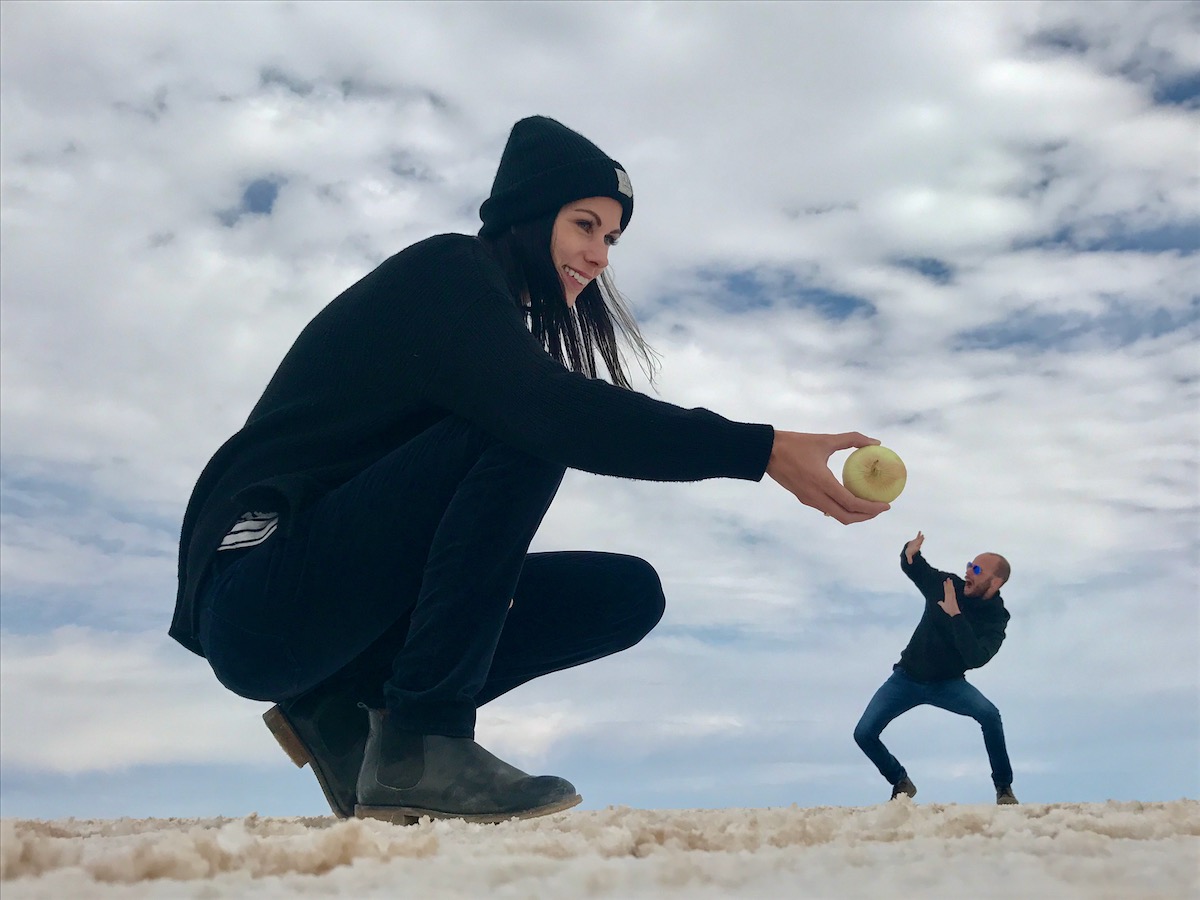 Point. In. Case.
3 Bolivia Salt Flat Tour Options (With Costs)
As one of the most popular tourist destinations, not only in Bolivia but across South America, there are tonnes of tours to choose from, which can all get pretty overwhelming.
Finding the right tour for you will all depend on the amount of time you have in Uyuni and how much cash you've got to splash.
One thing to be aware of is like in any country, there are plenty of opportunists out there that will try and scam tourists. Double-check reviews online before you book a tour, and try and go on recommendations from other travellers where possible.
Here are a couple of options for you to take into consideration.
Option 1: One Day Tour
Cost: Between 480 and 620 Bolivianos.
One of the easiest, and most time-efficient, ways to experience Salar De Uyuni is to join a one-day tour from the nearby town of Uyuni. Beginning from this gateway town, this tour makes the most out of 4x4s; the best way to travel over this often hostile environment of the salt flats.
Most one-day tours include a stop at the train graveyard, a cemetery of used trains from the long history of rail travel in Bolivia, a quick visit to the small settlement of Colchani and a stop-off at the salt miners' workshops next to the plains. Here you can see handicrafts made from the salt itself, as well as textile art made of llama and alpaca.
You'll usually spend the rest of the day exploring the great expanse of the Bolivia Salt Flats, including the Los Ojos de Agua Salad, or the saltwater eyes, along with a visit to a hotel crafted completely from the salt that surrounds the flats.
Another popular stop-off is the Isla Incahuasi, a rocky island in the centre of the salt flats – though this isn't always easy to get to during the rainy season. Made up of huge cacti and petrified coral, you can hike to its "peak" and check out the views from the top.
I chose this option but got it cheaper (about 400 Bolivianos) as I was already staying at the aforementioned salt hotel and our tour had fewer bells and whistles, which I purposefully chose because I wanted to see a lot of those other sites mentioned above without a guide.
It did include me seeing the Bolivia Salt Flats during the day and night though…I'll explain more about that in my experience at the end.
Option 2: Three-Day Tour
Cost: Between 1,500 and 2,000 Bolivianos.
If you're after a deep exploration into the world of the Bolivia Salt Flats, I'd really recommend joining a three-day tour. Similar to the one-day tour, it begins in the town of Uyuni and makes use of the only way to travel across the flats: four-wheel drive jeeps.
Like the one-day tour, you'll visit the must-see sights along the way, including the train graveyard, settlement of Colchani and the salt miner's workshops. But this tour includes something quite special: a night in one of the salt hotels on the plains themselves.
Over the next couple of days, you'll discover the vibrant lagoons, a thriving population of flamingos and fascinating rock formations that call Salar de Uyuni home. During the evening, some tours provide camping tents; the ideal way to truly immerse yourself in the rugged landscape of Salar de Uyuni.
The Bolivia Salt Flats are completely free from any light pollution, giving you a private viewing of the star-strewn canopy above.
On a three-day tour, you can really soak up the best of Salar de Uyuni and take your time exploring the landscapes. Camping out under the stars also has its own unique appeal, truly creating an unforgettable experience.
Option 3: Four-Day Tour (Including Chile!)
Cost: Between 3,00 and 3,500 Bolivianos.
Following a similar itinerary to the three-day tour, this four-day tour will take you across the vast expanse of the Bolivia salt flats, exploring all of the must-see sights in the region and camping out under the stars.
What sets this tour apart from the others, is its final destination; instead of returning to the town of Uyuni, your 4×4 will carry on through Salar de Uyuni and cross the Bolivian – Chilean border to the town of San Pedro de Atacama.
Opting for this tour will not only allow you to see all that the Bolivia Salt Flats have to offer, and much like an adventurous Patagonia trip; you get to see two countries on the same trip.
Packing List for The Bolivia Salt Flats
Travelling out into the great expanse of Bolivia is an environment that demands attention. The region that surrounds the salt flats boasts some of the highest altitudes in Bolivia and conditions can go from hot and sticky, to cold and windy in the blink of an eye.
This being said, if you're prepared with the right gear, you shouldn't have a problem. Here are some things worth packing:
Thermals and warm gear – With nighttime temperatures often dropping to a bone-freezing -10C and below, packing the right clothes is a must. Warm clothes, including hiking boots, a scarf, warm socks, gloves, a blanket, a thermal shirt and a winter coat are essential when visiting the salt flats. It's also worth packing a scarf or face covering, as Salar de Uyuni can be an extremely dry and dusty place. I love a good warm hoody with a zip in such fickle conditions!
Torch or headlamp – Electricity is sparse to non-existent out on the salt flats; a good torch or headlamp is a necessity, especially if you are taking a multi-day tour and camping out here.
Sunscreen and sunglasses – Its high altitude and impressive reflections, make the chance of burning or hurting your eyes from the sun pretty high. A high-factor sunscreen and an effective pair of sunglasses are both essentials.
Cash! – ATMs are scarce in nearby Uyuni, and even the ones that are there are often unreliable. This being the case, it's important to bring enough Bolivianos to cover your expenses while travelling across the Bolivia Salt Flats.
How To Manage Altitude Sickness at The Bolivia Salt Flats
Salar de Uyuni sits on an elevated plateau, an Andean region that is known for its extremely high altitudes, reaching around 3,656 metres above sea level. Altitude sickness generally starts at around 2,500 metres above sea level, so it's not unlikely that you will develop some symptoms when you're visiting Salar de Uyuni.
I'm well versed in the condition thanks to tackling some pretty naughty mountains. Altitude sickness symptoms range from mild; mimicking those you may feel after a night's heavy drinking, such as a mild headache and drowsiness to severe; including vomiting, nosebleeds, migraines and severe shortness of breath.
Unless you have pre-existing health conditions that can be affected by altitude sickness, there's generally no need to worry. That's as long as you prepare yourself to tackle these unique conditions. If you have any pre-existing health problems or have experienced altitude sickness before, it's best to seek the advice of your doctor before setting out on this trip.
One of the best ways to prepare yourself is by spending a day or two in the town of Uyuni before you set out on the tour. The town stands at an elevation of 3,700 meters and is a huge jump in altitude, especially if you are coming straight into Bolivia from a low lying country.
I travelled to Bolivia after living in a high-altitude city, Mexico City and still got mild headaches and nosebleeds, adding to the already quirky/surreal things to do in La Paz. NO drama though, more of an annoyance than a disaster.
Alongside taking it easy and easing gradually into the higher altitudes, simple practices can also help with the symptoms of altitude sickness. These include staying hydrated, avoiding too much alcohol and getting a good night's sleep beforehand.
If you are really concerned; consider taking Diamox (AKA ​​Acetazolamide) like I did when I climbed Mont Blanc. Just know it gives you a tingling sensation in your fingers and you will make you wee a lot!
El Palacio de Sal: Staying in The World's Oldest Salt Hotel in Bolivia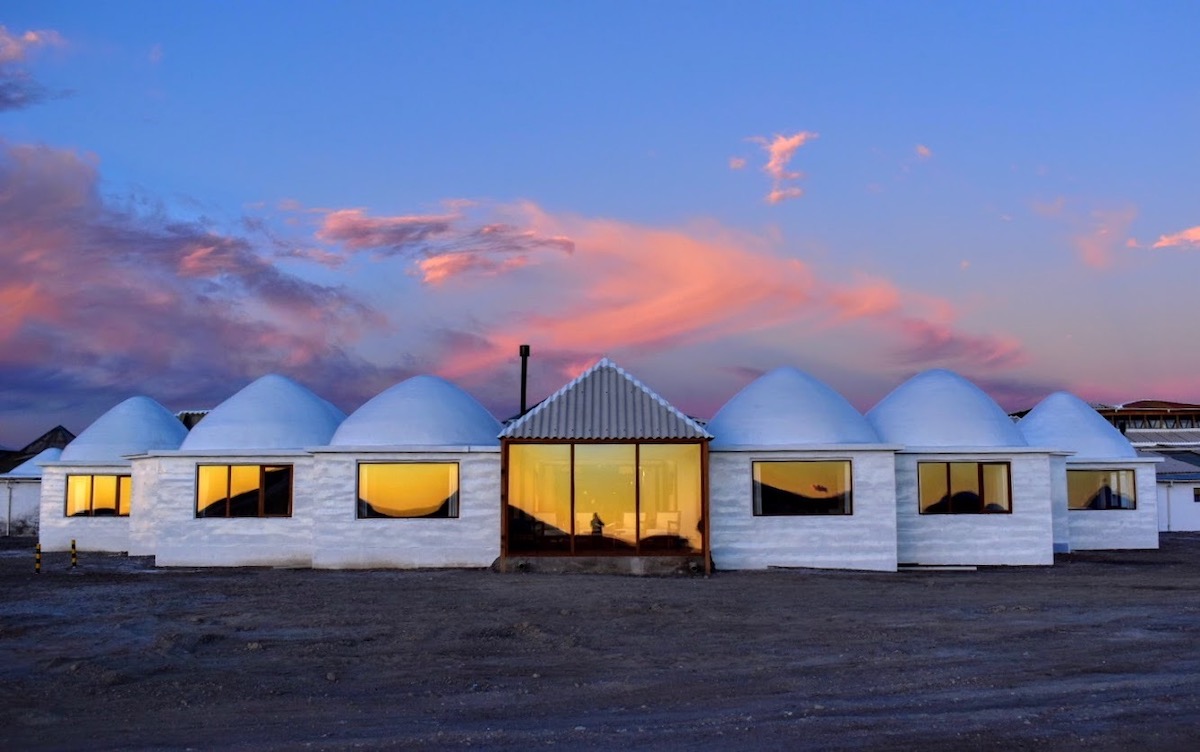 One of the most fascinating places in the region is the El Palacio de Sal, or the Salt Palace as it is known in English, is a luxurious hotel which is made entirely from salt. Utilising over one million salt bricks during its construction, the building houses 30 rooms and covers an area of 48,500 square feet.
Originally built in the early 1990s, El Palacio de Sal was the brainchild of Juan Quesada Valda, who had a dream of constructing a hotel completely from blocks crafted out of the salt that has made this region so famous.
Everything from the walls, floors, ceiling and even furniture such as beds, tables and chairs were built using salt extracted from the Salar de Uyuni. Much like any luxury hotel across the globe, El Palacio de Sal provides standard rooms, VIP rooms and larger suites – all with that trademark igloo-like domed roofs.
Originally located in the centre of the Bolivia Salt Flats, the hotel was poorly placed to receive supplies and get rid of its waste. In 2007 the hotel was rebuilt in its current location, on the eastern edge of the Salar de Uyuni.
When you're visiting the Bolivia Salt Flats, a visit to the El Palacio de Sal is a must and is usually included on Salar de Uyuni tours. Even if you don't plan to stay there, it's not every day that you see a luxury hotel crafted from salt bricks on the edge of a flat salt plateau.
The restaurant caters to absolutely everyone. I ate vegan with a 3-course meal of Bolivian Quinoa Soup, spaghetti bolognese with lentils and TVP, with chocolate cake and sorbet.
It's a 10/10 from me! Oddly, we were asked to not lick the walls as it apparently messes with the structure of the building.
The hotel is absolutely gorgeous and I used it as a base for my tour guide to pick me up from. I highly recommend this if you have the time and budget to make it happen.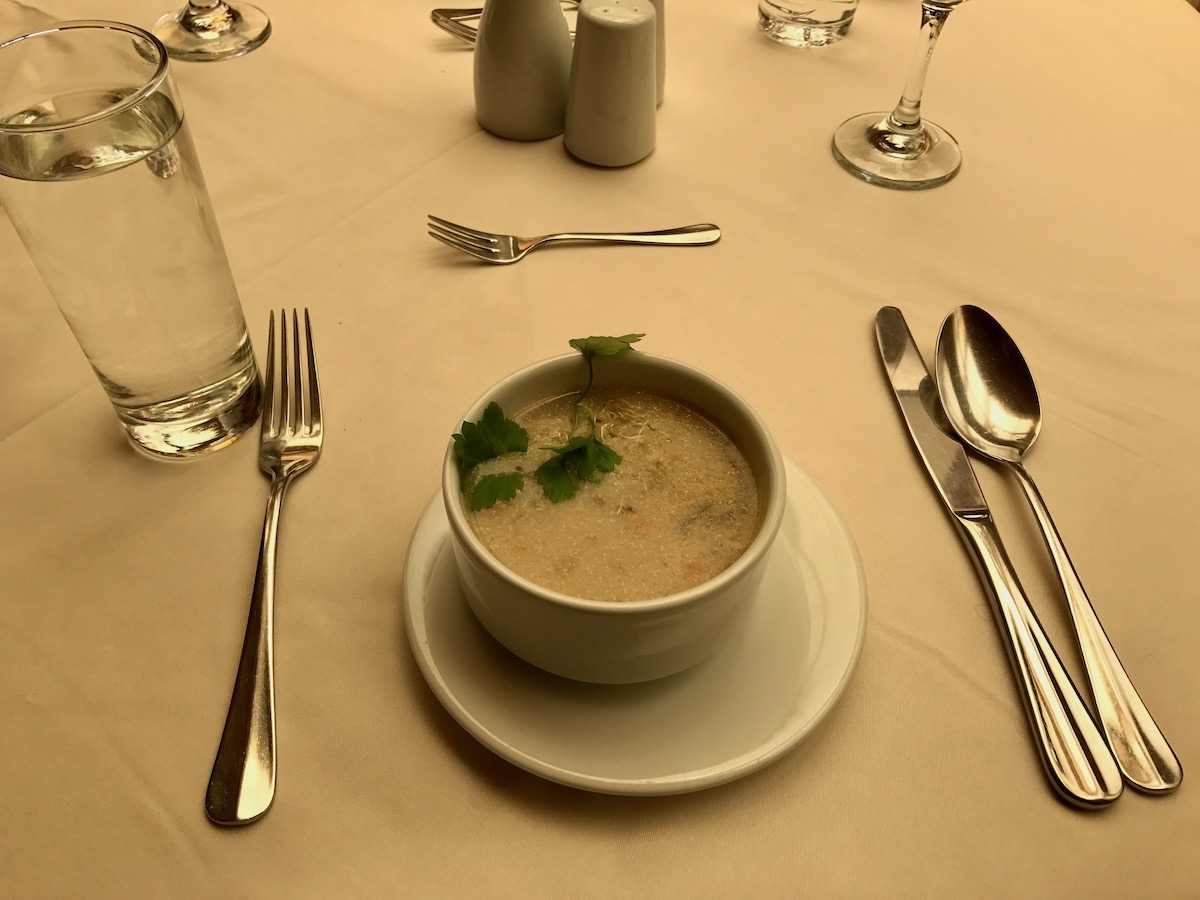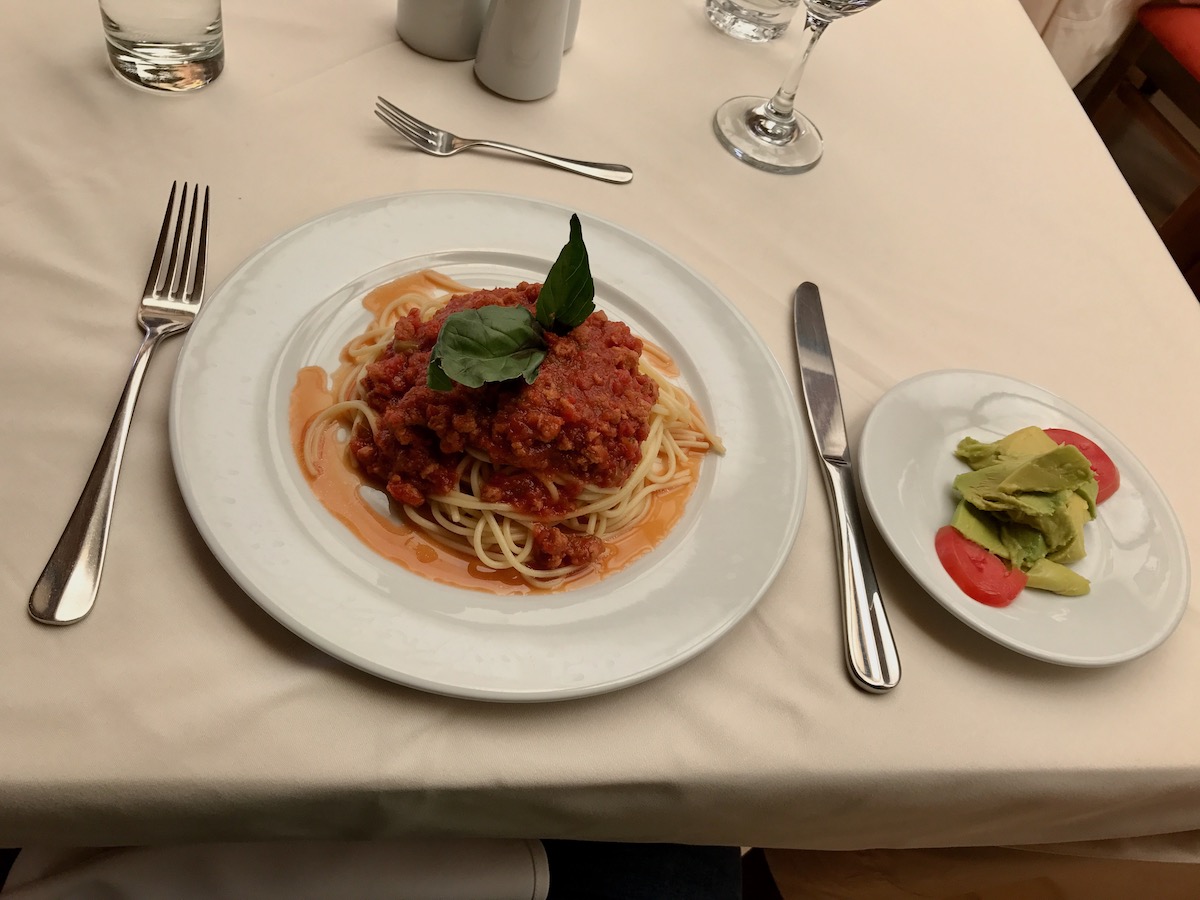 Know before you go:
Location – El Palacio de Sal is located on the eastern edge of the Salar de Uyuni, 16 miles northwest of Uyuni.
Cost – Rooms start from around 1,100 Bolivianos per night.
Opening hours – N/A
Time needed – At least an evening to soak up the unique experience of staying at the Palacio de Sal.
Getting there – The only real way to get to Palacio de Sal is by private taxi from Uyuni ($35-$40 each way). Getting back, the hotel can help you to arrange a shuttle bus; just ask at reception.
Other Things To Do in Uyuni
Aside from the magical allure of Salar De Uyuni, the town itself and its surroundings have a number of attractions that are worth popping into. Some require a good chunk of the day to visit and explore, while others are perfect for visiting at a leisurely pace.
These are ideal if you're killing time acclimatising to the high altitudes before heading to the salt flats or relaxing after a tour.
Check Out The Train Graveyard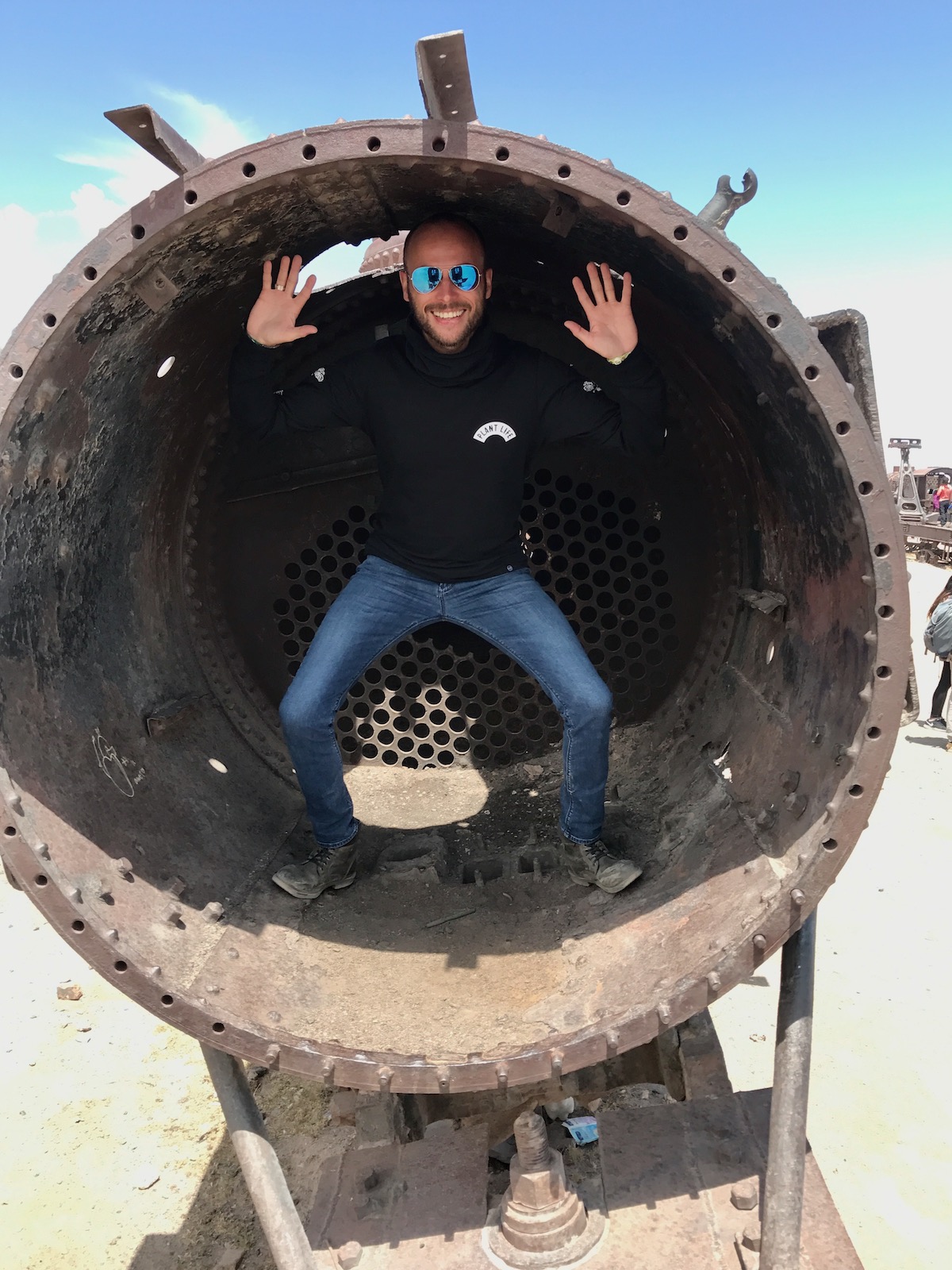 One of the most famous attractions in this part of Bolivia, aside from the Salar De Uyuni, is the hauntingly beautiful train graveyard. Throughout the 19th century, many European engineers and labourers attempted to connect the local mines to the northern capital and surrounding seaports via train.
This fever of railway expansion transformed the sleepy town of Uyuni into an important transportation hub for the entire region and country.
Fast forward to the 1940s and the mining industry in the area started to decline, eventually leading to a total collapse. This led to the Antofagasta and Bolivia Railroad Company abandoning many of its trains to the high altitude desert of southwestern Bolivia.
This has now created a huge expanse of abandoned train skeletons that litter as far as the eye can see. Much of the usable metals have been stripped away over the years, and locals have taken to graffitiing and adapting the engines.
This being said, the almost dystopian beauty of the landscape makes the train graveyard a stunning spot for capturing stunning photographs.
Many of the Salar De Uyuni tours will pass through the train graveyard as part of the itinerary, yet as many of these tours turn up at the same time, they can become overcrowded (hence my option to do it without a tour).
If you want to experience the site when it's quieter, visit during the very early morning; a quick taxi from the town centre will only set you back around 10 Bolivianos.
Know before you go:
Location – The train graveyard can be found just under two miles southwest of Uyuni town centre.
Cost – 10 Bolivianos for a taxi from town, but entry is free!
Opening hours – You can check the graveyard out at any hour you wish; it's open 24 hours a day.
Time needed – A good hour or so to walk around the site and take a few pictures. I'd recommend staying for sunset for some cracking photos.
Getting there – You can get to the train graveyard as part of a tour, take a quick taxi or even get there under your own steam with a 40-minute walk from Uyuni.
Explore The Siloli Desert
A little further south of Uyuni and the Bolivia Salt Flats is the Sioli Desert. With an altitude of around 4,500 meters, this is one of the highest deserts in the world, so you'll want to make sure you're fully acclimated before making the trip.
The vast expanse of the Siloli Desert has an overwhelming natural beauty all of its own, and with its lack of landmarks and notable points, you'll get that pretty eerie feeling of stepping foot on another planet.
Though it lacks significant landmarks, the Siloli Desert's rock formations are some of the most obscure and interesting found anywhere in the world. After millions of years of weathering and erosion, these stone formations have been naturally sculpted into what is known locally as Árbol de Piedra, or stone trees. The soft sandstone has been worn away, turning solid rock into what looks like trees made of stone.
Know before you go:
Location – The Siloli Desert is 160 miles south of Uyuni but can easily be visited on a day tour.
Cost – Costs can vary, depending on the tour company you go with.
Opening hours – 24 hours.
Time needed – Give yourself a day to explore this stunning landscape/
Getting there – Joining an organised tour is the best way to travel and see the Siloli Desert, as it can be a hostile environment without an experienced guide. If you'd like to visit by yourself, you can hire a private car to get you there.
Wander Around Plaza Principal Aniceto Arce
If you're looking for something to fill a lazy day while you're in Uyuni, the Plaza Principal Aniceto Arce might suit you well. Found at the crossroads in the very centre of town, Plaza Principal Aniceto Arce is Uyuni's main square and its beating heart.
Taking a walk around the square, you'll discover plenty of restaurants, cafes, bars and shops to pop into, ideal for securing a novelty souvenir or two. Uyuni is such a small town, the Plaza Principal Aniceto Arce is the perfect spot to soak up the life of the town while at the same time engaging in a little bit of people watching as you sip your favourite Bolivian drink.
Know before you go:
Location – The Plaza Principal Aniceto Arce is located in the very centre of the town of Uyuni
Cost – Completely free!
Opening hours – Though the square is accessible 24 hours a day, many of the restaurants have wound down by around 11 pm.
Time needed – It's good to spend a couple of hours here to explore as well as to sit back and enjoy a drink or bite to eat.
Getting there – Plaza Principal Aniceto Arce is within walking distance of most Uyuni accommodations.
Take The Train Onwards To Argentina
I have quite a stormy relationship with the country, but like most Sid and Nancy-esque love affairs, there has also been a lot of excitement too. Whether you're craving a glass of world-famous Malbec, a fervent football match, or trying your hand at a bit of tango; it's undoubtedly a country worth exploring…and you're already on the cusp of the border.
Tempting, surely?
I took an overnight train on the 'Expreso del Sur,' from Uyuni on my birthday to Villazon, which is the Bolivian border. I then took a 10 minute taxi to La Quica, the official entry point to Argentina, where I got a 90 days tourist visa, before exploring the beauty of this country for the first time out of 5 visits…I will be back for the 6th time to finally take down Aconcagua, mark my words!
My Bolivia Salt Flats Experieince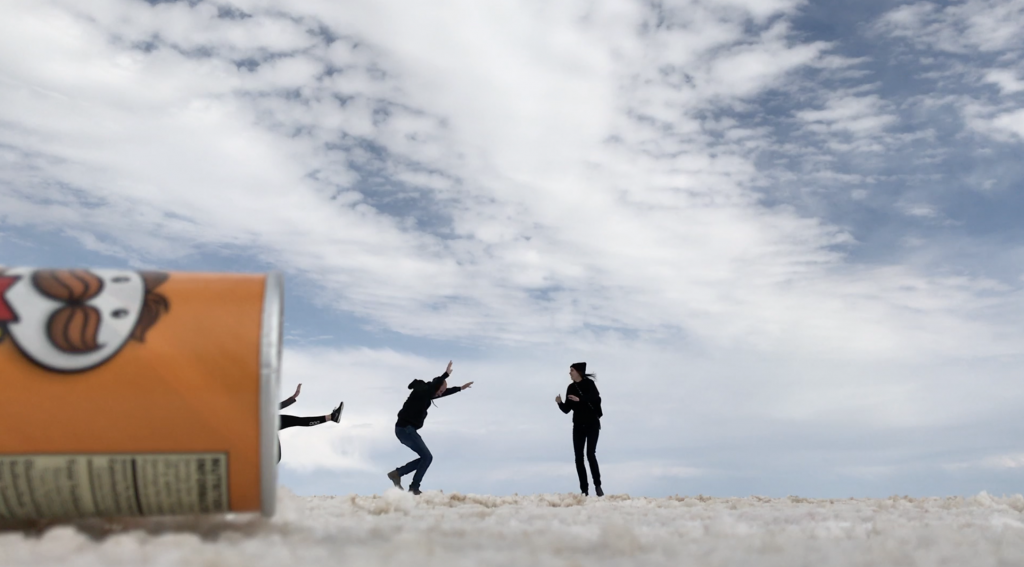 Our friendly tour guide met us at the wonderful Hotel Palacio de Sal and seemed surprised, and almost reluctant that I wanted to abandon the "must-see" sights that came with part of the package.
Some of these sights I simply didn't care about and others I planned to see on my own, in my own time. This is something that people need to be aware of when taking private tours, if it is a huge group tour, then you don't really have the right to customise (although the others on our tour had the same mindset).
However, remember if you do take a private tour (solo, duo or a group of mates at a premium); you are the boss as you are paying the money for their service. If you want to f**k off that stuffy, boring museum next time you feel obligated to visit it – just politely tell your guide it's not your cup of tea and that you'd prefer to spend your time elsewhere.
And that's exactly what we did; we put our distorted photos and mirror shots down as an immovable priority and we were not disappointed, taking an abundance of cool, staged photos and videos (I plan to publish that one very soon on Youtube), finishing off the perfect day with champagne in the most spectacular red sky sunsets.
The Bolivia Salt Flats is worth the hype and Salar de Uyuni fully deserves its plaudits…I'd honestly go back there in a heartbeat.