San Blas Islands: A Guide To Panama's Autonomous Paradise!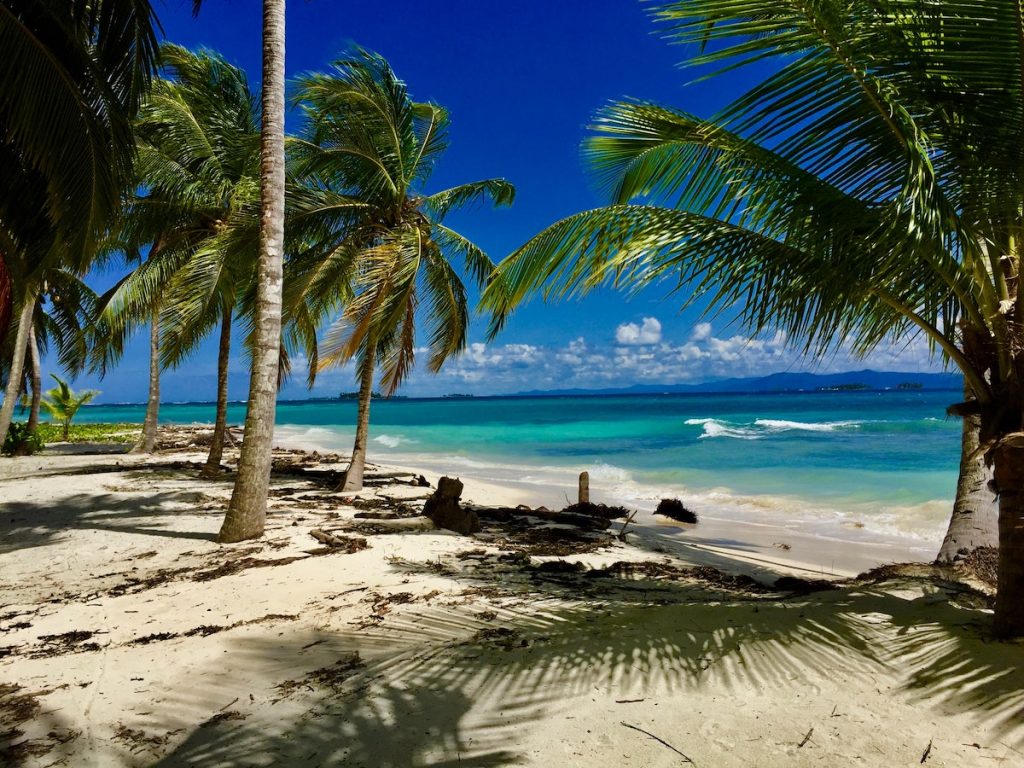 I'd never even heard of the San Blas Islands of Panama until I visited.
And although the secret is almost out about the beautiful archipelago with its impressively protected setup, overtourism isn't something to be too worried about any time soon (more on that later in the post), but you might want to start making this place a priority, so here is the ultimate San Blas Islands guide.
In this post, I'll break down the ultimate San Blas Island experience, including the unique history, how to get there, what to expect from such a place and how to enjoy your stay, should you ever have the pleasure of staying.
San Blas Islands: What's All The Fuss About?
Lying on the north coast of Panama, the San Blas archipelago is made up of over 300 islands and cays. Known as "Guna Yala" to its natives, it is home to the indigenous Kuna Indians, who live independently and autonomously, free from Panama since 1938 after their successful Kuna Rebellion, which started in 1925.
Usually, such a location of overwhelming Caribbean charm would slowly be eaten up by Starbucks and McDonald's on every corner, but not here.
The San Blas Islands have implemented a superb program of sustainability, focusing on ecotourism and a practical symbiosis between nature and the welfare of the local inhabitants. This means bans on fishing and coconut harvesting as well as a limit to the number of buildings on each island – I promise you won't be finding any soulless hotel chains here.
The combination of beautiful exotic islands, calming scenery and a strong attitude toward preservation makes the San Blas Islands one of the most coveted travel destinations for those craving something a little more uncommon.
The Indigenous People of San Blas Islands
The indigenous people of the San Blas Islands, (Guna Yala), are known as the Guna people/Kuna people interchangeably. Once prevalent across Panama, Colombia and much of northern South America, populations of Guna people were subdued by Spanish colonists over hundreds of years.
Creating the autonomous region of San Blas, the Guna people have been able to hang onto much of their own individual culture and way of life. The economy of the Guna relies mainly on agriculture, fishing, tightly-controlled tourism and the manufacturing of clothing.
Clothing is a defining part of the Guna culture and takes the form of unique patterned cloth known as Mola. Mimicking patterns the Guna once painted onto their clothless bodies, these clothes were a way of keeping their indigenous heritage without clashing with Spanish Christian missionaries.
While many of the Guna people now speak Spanish, everyday family interactions are done so in a language known as Dulegaya. This is an aboriginal American language, and although it is spoken widely by the Guna, it is considered an endangered language.
Apart from the culture, language and clothing, the Guna people differ from the Spanish speaking Panamanians in their choice of cuisine. Relying heavily on the waters that surround the San Blas Islands, so naturally, the Guna people eat a range of seafood. The culture-defining dish is one made up of red snapper fish and coconut flavoured rice – a true San Blas Island delicacy.
Best Time of Year To Visit San Blas Islands
The climate around the San Blas Islands is divided into two separate seasons, the wet and the dry. The dry season starts at the beginning of the year, lasting from January right up until May. The wet rainy season begins in June and continues until December at the end of the year.
I'd say that there's no real 'best time' to visit the San Blas Islands, as each season offers its own allure, and it all depends on what you want to get out of it.
Now, you might think that the dry season would be the ideal time to travel to San Blas, but this isn't necessarily the case. Although it is named the rainy season, being so far out from the coast, the islands are not prone to torrential rain, but rather an hour's quick downpour. Apart from the odd shower and light breezes, the rainy season isn't as unappealing as you might think.
The dry season promises no rain throughout the months, which is, of course, a huge bonus. However, the dry season is also the time the 'trade winds' appear. This is fantastic for sailing but not so much for clear water snorkelling.
How To Get To San Blas Islands
Being a remote island chain on the opposite side of the country, travelling from Panama City to the San Blas Islands isn't always a straightforward journey. Choosing your mode of travel will all depend on your budget and time frame; let's take a look at the most popular routes and methods.
1. Join an organised trip from the city
One of the most popular ways of getting to the San Blas Islands is to join one of the many organised trips that start from Panama City. The journey is divided into two stages; the first half is travelling overland, and the second is travelling over water via water taxi.
Leaving Panama City in the early morning (usually, around 5 am) you'll be driven northwards in a 4×4 – the journey from the city to the coastal port town of Carti will take around two and half hours. Winding through the jungle roads, some of which are unpaved, the journey is bumpy and full of views of the Panamanian jungle.
If you do suffer from car sickness, be prepared with tablets. When you reach Carti, you'll join a water taxi which will take you to your chosen island.
A journey of this type is likely to set you back around $80- $100, this includes the occasional island entry fee enforced by the local Guna people.
2. Take a flight from Panama City, straight to the islands
For those who are short on time and don't fancy the long journey across land and sea, it is possible to take a flight directly from Panama City to the capital of the San Blas Islands, El Porvenir.
These flights are usually undertaken by small aircraft, carrying around twenty passengers at a time, so it's important to book well in advance. Prices for these flights can vary depending on the time of year, the number of passengers and many other factors. Budgeting around $100-200 for the one-way flight will ensure you won't have any nasty surprises.
The flight from Panama City takes around an hour and lands on San Blas's capital El Porvenir. Now known by its indigenous name, "Gaigirgordub," the island is home to a (very short) runway, governmental offices and a museum or two. From El Porvenir/Gaigirgordub you can take water taxis to the other hundreds of islands that make up the San Blas archipelago.
3. Charter your own boat from Panama to Colombia
If you really want to splash out on a jam-packed experience, it's not uncommon to charter your own sailing boat and captain from Panama through the San Blas Islands all the way to the Colombian city of Cartagena. This sea route is extremely common for tourists visiting the two countries, as the alternative land crossing through the Darién gap is famously hazardous.
Starting from the port city of Colón, famous for being the entrance to the Panama Canal, your journey will take around four to five days, stopping off at the San Blas Islands of your choice. The luxury cost of this journey will be around $500-$700 (including a border tax of $100). Sharing this with a few fellow travellers will greatly reduce the price for each of you.
10 Things To Do in San Blas Islands
White sandy beaches, crystal clear waters and a welcoming indigenous community are just a few things that make the San Blas Islands an exciting bucket-list item. Once you arrive on the islands, you might want to fill every second with a new experience, or you might just want to relax and soak up the paradisiacal stillness.
Let's take a look at the top things to do on the San Blas Islands.
1. Surfing
Panama, as a whole, has a fantastic surfing reputation, and the San Blas Islands are no different. Though much of it is virgin territory when it comes to the wider surfing community, the surf around the islands in both the wet and dry seasons offers prime surfing conditions.
2. Snorkelling
With a fierce approach to sustainability and preservation of the waters, scuba diving is strictly not permitted by the Guna people. But with crystal clear shallow waters and lesser-trampled coral reefs, there are certainly worse places to "just" snorkel than the San Blas islands.
Using simple snorkelling gear, you can explore a plethora of marine life and coral reefs that can be found all over the archipelago. A fantastic place to catch marine life in all its glory is the shipwreck just off the coast of Isla Perro, or Dog Island as it's often called.
3. Sailing
With strong trade winds during the dry season, the San Blas islands turn into a sailing paradise. You can quite easily pay for a local sailing trip around the islands and if you're qualified, take up the task yourself. These sailing trips can also be interspersed with snorkelling, swimming and meeting the locals.
4. Stay On Your Own Deserted Island For a Night (Or Two)
With over 300 individual islands, it is easy to find your own deserted island, in true Tom Hanks Castaway style ("Wilson" is non-obligatory on our packing list). With a simple tent, you can make a little home for yourself and enjoy the peace and serenity of your own corner of the Caribbean Sea. Just be sure to give the water taxis clear instructions, or your Castaway experience may become a little too real!
5. Take a San Blas Islands Tour
It's easy to organise a tour of the whole archipelago or a few select San Blas islands. You can either set out from the mainland or even from one of the major San Blas Islands, such as Kikirdub. These will allow you to see as many of the islands as possible without being stuck in one place.
6. Enjoy The Stars
In an area of the world that has zero light pollution, seeing the unblemished cosmos canopy above you is easy. Simply lay back in your beach hammock and enjoy the endless constellations above you, a sight you will not forget in a hurry. If you come from a light-polluted city that hides the stars, this is something that has to be seen to be believed.
7. Become a Full-Time Beach Bum
A few months before my visit to the San Blas Islands I really thought I did a good job of being a beach bum while visiting Caye Caulker in Belize, but going off-piste brings relaxation to a whole new level.
Some of you may think, "how hard can it really be to relax?" Well, you couldn't pick a more perfect place to do this than the San Blas Islands. With less modern distractions and the gentle lap of the waves, the islands are the perfect place to get lost in a book, or simply do nothing.
8. Work Out
Have you developed a couple of love handles after enjoying all those culinary Caribbean delights, or one too many sleepless nights during your Cuba itinerary? I'm not judging. I know more than most people that there are more than enough fun temptations in this part of the world.
But if you have more time on your hands for a workout; why not let nature be your gym? The beach is the ideal place for a run, swim or even a few circuit exercises. No gym in the world can beat the stunning scenery that surrounds you and your Robinson Crusoe-esque press-ups.
9. Get To Know The Kuna People
It's not every day that you get to interact with a truly indigenous group of people (and if that sounds like your kind of thing, feel free to read about my experience staying with a tribe in Papua New Guinea). After all, this is their own country and where better to learn about the Kuna culture than on their own turf?
Whether it's cooking alongside them, trying out a few polite Kuna phrases, or breaking the ice by buying a few items of Mola clothing, there are lots you can do to bridge the cultural gaps.
Where to Stay in San Blas Islands
As the San Blas Islands are committed to low-impact ecotourism, you won't find any high rise hotel chains here. You will, however, find comfortable accommodation for all kinds of budgets.
Those looking for cheap accommodation can choose something simple such as a tent or a beach hut. This won't cut into the budget too much, and you'll get a truly immersive experience.
Spending a few more dollars, you can always book an Airbnb or on Booking.com, with stays ranging from a cabin on a boat to a simple wooden hut overlooking the water. By keeping resorts off the island, ecotourism and low impact approaches will sustain the island far better and will keep it at its best for generations to come.
San Blas Islands: Day Trip or Sleep Over?
Many visitors to the San Blas Islands take a simple day trip and return at the end, and though I can understand why many would choose this, I believe they're simply losing out.
A day trip includes hours of travelling, leaving very little time to enjoy the islands. The slow island pace is what truly makes the San Blas Islands, and with a rushed day trip, you simply won't experience that. By stopping here for a day or two, you can really get your teeth into San Blas. Interact with the local Guna people, snorkel along the coral reefs and enjoy a plethora of food as you do so.
5 Tips For Visiting San Blas Islands
1. Bring cash!
The San Blas Islands are truly isolated places, and as an obvious consequence, there are no ATMs. If you want to buy extra food and drink or enjoy some non-booked activities, you'll need to bring enough cash to last you.
2. Secure a Panama sim card
This one may not be for everyone. After all, you may be seeking the San Blas Islands purely to escape the demands of modern life – either way, it's important to know that the islands are Wi-Fi free. If you are in need of a little contact with the worldwide web, set yourself up with a Panama sim card.
Just remember, even with a sim, signals can be scarce so far out on the Caribbean coast, so best to manage your expectations. I personally went fully off-grid.
3. Don't tamper with the local ecosystem
Although that local coconut tree may look like a great opportunity to grab a fresh drink and free snack, forget about it. The Guna rely on the natural balance of the island's resources to live here in harmony with nature. There's no commercial fishing or 'help yourself' attitude here and doing so will both upset and anger the local community, which can even leave you with a fine on top of your slapped wrist and a walk of shame.
4. Plan before you go
With numerous islands to choose from, it's important to communicate clearly with water taxis about which islands you want to visit. Agreeing on a price with the boatmen beforehand isn't always the norm, so if you arrive somewhere you don't want to be, you may end up out of pocket rectifying the situation.
5. San Blas Islands are not Panama (Don't forget your passport!)
Although close to the Panama coast, the San Blas Islands or Guna Yala as it is correctly named in the Guna tongue, are independent of the national Panama government. This can affect a few different things; you will have to pay a fee when crossing into Guna territory, and you will be under the rule of the Guna people.
Most importantly, as you are now technically/legally entering an autonomous region, you will need your passport to enter. Oh and lock that bad-boy up in a waterproof dry bag, the trip on the water taxis can get a little wet and wild.
Conclusion: San Blas Islands (is it Worth The Hype?)
You've just read me gush about the sheer beauty of the San Blas islands and I can promise you that there is not one embellishment in my choice of words, it wasn't a complete utopia though (and nowhere in the world is).
Although there is a solid effort for conservation, you will find surprising amounts of trash in some areas and I saw a couple of tied up animals, mainly a traumatised monkey that was supposedly "rescued," but I wasn't buying that story.
Paradise often comes at a price, of course, so be prepared to get your hands in your pockets for a couple of days here. With all that being said, I personally feel like it was "worth it," due to the aforementioned rare charm of San Blas' limitations.
Sometimes the option of less really does offer you more.

It's not common to be around so much beauty with low human traffic, and it was a time on my travels when I wanted to really get off the grid for a bit of quiet contemplation. So if that's something that you're really craving, then a couple of days in San Blas Islands is definitely worthwhile, or even ideal in this situation.