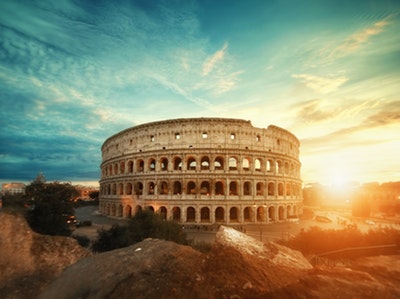 A whopping 420 million tourists visited Italy in 2017 alone. Rome attracted 27 million of those visitors, making it the most popular city to visit in Italy. And there's a good reason why.
Amazing food, tons of history, and a convenient location to other big cities are all reasons why people opt to base their vacation in Rome. If you've ever visited this wonderful city before, you may have fallen in love and decided to stay for good.
But living in Rome isn't quite as romantic and perfect as it seems. However, you can make your transition much easier if you're well-prepared before your big move.
Do you want some valuable tips to help you adjust? Then keep reading to learn more!
1. Learn the Language
If you've ever spent time in Rome, you may have noticed that seemingly everyone around you speaks English. But don't take this as an excuse to not learn the language.
Many of the people you were interacting with in Rome, like tour guides, shop owners, and restaurant employees, work in the tourism industry. Since a large chunk of tourists are English-speakers, it makes sense that these Romans would need (or find it helpful) to know English for work.
But don't make the mistake of thinking all of Italy, or even all of Rome is like this. While you're living here, you'll likely want to visit smaller towns in Italy, check out places away from the tourist scene, and make friends with locals. All of this will be a whole lot easier if you learn Italian.
Plus, learning the language is the best way to feel like you really belong. Otherwise, you'll likely feel like you're just a Brit, American, or Canadian that's been visiting for a while.
Consider taking a local class instead of learning online. Many people find it easier to learn in a classroom setting, and you'll meet other expats who can make adjusting to your new life a lot easier and less lonely.
2. Explore
Don't spend your free time in front of the TV or computer — you're in Rome, after all! While you don't need to do something every night after work, make an effort to explore at least during the weekend.
Don't be afraid to take some tours, like the ones offered by Finelli & Shaw, to learn more about the local history and culture. Then you can start taking weekend trips to the surrounding cities.
3. Be Prepared for Culture Shock
While you may find the Italian way of life quaint and romantic now, chances are, you won't forever. You'll begin to miss the way of life in your home country and feel stressed when you discover things aren't done the same way in Rome.
A few things to look out for would be the lack of public bathrooms, limited shopping hours, poor WiFi, and not-so-friendly customer service. Keep in mind that the driving culture in Italy is likely much different than you're used to, so consider waiting to get a car. Which brings us to our next point…
4. Live in a Good Location
If you're used to driving everywhere in your current home, the thought of going without a car may be nerve-wracking. But as we said above, the driving culture in Italy is very unique and aggressive. So, attempting to drive here when you're not used to it could result in a serious crash.
Instead, find a home or apartment that's in a good location. You'll want to live within walking distance to public transportation. Remember that Rome gets cold in the winter, so you don't want to plan on walking half an hour to the nearest bus station every day or biking to work all year long.
5. Don't Expect All the Conveniences of Home
Unfortunately, high-speed internet and public restrooms aren't the only conveniences you'll have to learn to live without. In fact, they're probably the least of your worries.
Many Italian homes and apartments don't have air conditioning, which can make summers unbearable. Washing machines and kitchen appliances are often old and not nearly as nice as what you may have had in your home country. It's important to go over with this expectation in mind, so you don't end up turned off or annoyed by what you find.
6. Know What's Included in Your Rental
When you go to rent an apartment or even buy a home in your current country, there are likely a few important things you expect to be included, like kitchen appliances. This is not the case when you move to Rome.
You will likely need to provide your own stove, microwave, fridge, and dishwasher, even if they were present when you viewed the property. Make sure you ask the landlord exactly what is provided in the apartment.
If you need to buy your own appliances, you may want to negotiate to leave them as part of your deal. This way, you don't have to take them when you leave, and you may even score a lower monthly rent.
Also, know that electricity is often not included, and it's expensive!
7. Write Down Foreign Restaurants
Part of the reason you wanted to move to Italy was probably all the delicious food. However, you will miss food from your home country eventually. If you come from a country where there are tons of foreign food options, this may be even harder on you.
Rome almost exclusively serves Italian food. Keep your eyes and ears out for foreign restaurants or markets and write them down! One day you'll be sitting at home wishing you could get a good taco or burger, and this list could help you out.
Best Tips for Living in Rome
Adjusting to the Italian lifestyle can be difficult, but expats from all over the world have found that they love their new home. Just follow these tips for living in Rome to make your transition a bit easier.
Are you torn about moving? Check out these signs that it's time to leave your city to help you decide if moving to Rome is the right move.