Unique and Unusual Things To do in Taiwan in 2021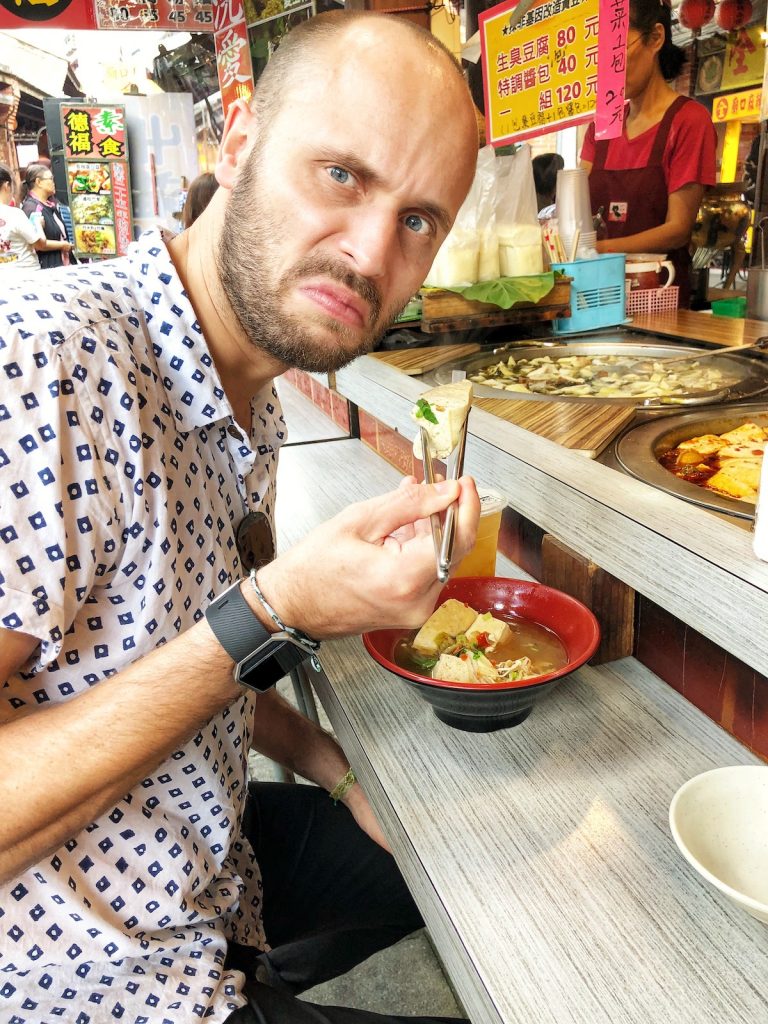 Every time I've encountered a Taiwanese person on the road they've always been a total legend of a human being, armed with charming quintessential Southeast Asian traits: gentle, warm, welcoming, humble, and all the rest.
I met a particularly lovely couple from Taiwan on my 30th birthday in Macau for the world's highest bungee jump from the top of Macau tower.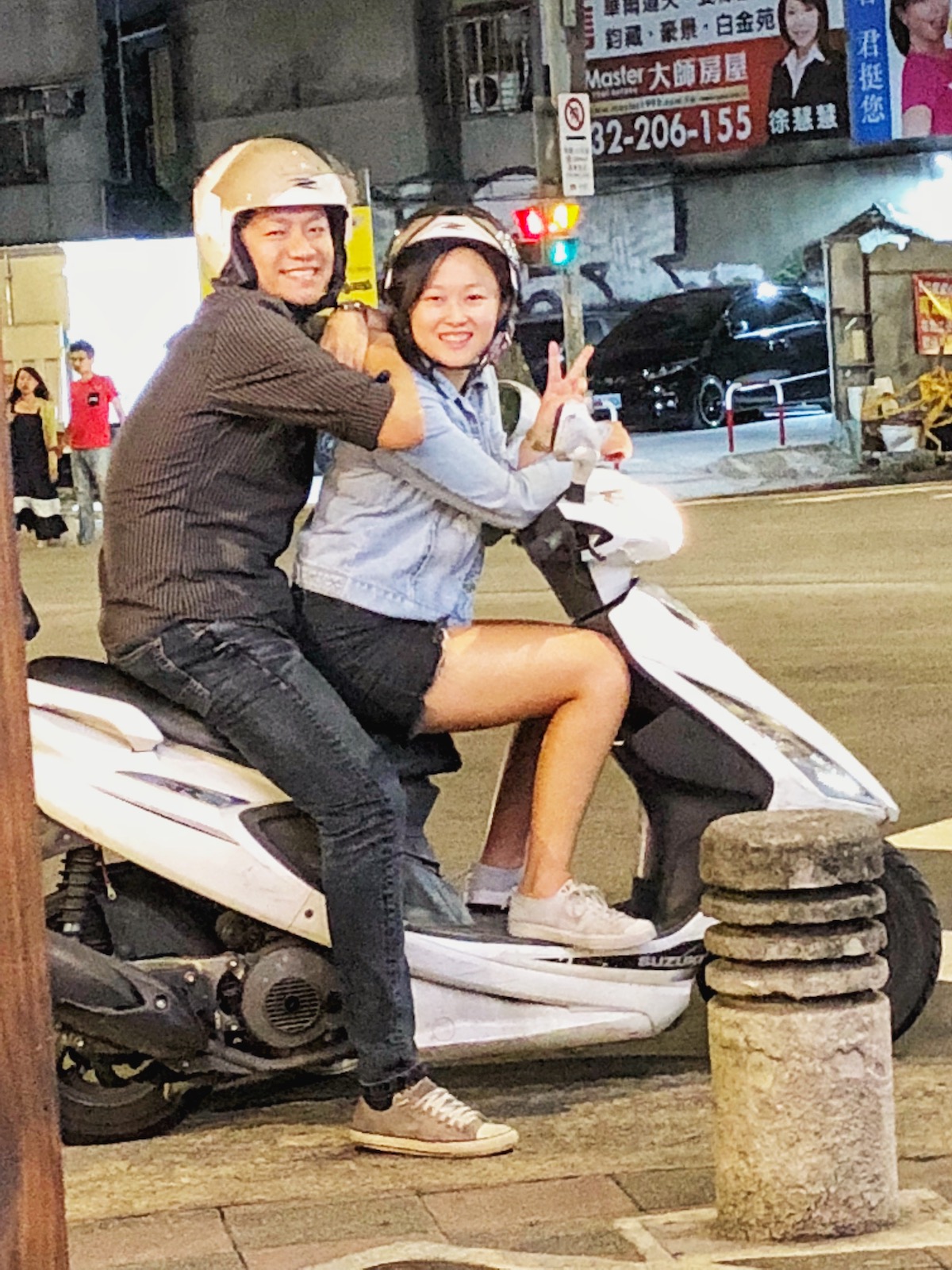 We exchanged contact details and they asked for my postal address. I thought nothing of it and three months later I received a "happy Chinese New Year" postcard in the mail from them. It lit up my cold, suspicious western heart and ever since that moment I've always wanted to visit the isolated little nation in the Pacific Ocean.
Basing myself in hot and humid Bangkok is a tactical move on my part at the moment, as in April I will be participating in "the World's toughest foot race" in the Sahara desert.
I arrived in Thailand on a 30-day tourist visa, which meant I had the option to either extend it for another month at the nearest immigration office or leave for a new country and reset the 30 days upon arrival back into Thailand.
The latter option has historically been my favourite choice, with my most expensive (and most awesome) visa run to date being a trip to the Easter islands whilst living in Colombia.
It was finally time for Taiwan and so I booked my USD273 return ticket from Bangkok with China Airlines after a night of researching the best available flights.
Where to stay in Taiwan
I spent only four days in Taiwan, basing myself in the capital Taipei, which (according to several sources) is the third safest city in the world. I got a funky room with green décor in a hotel called the Forever Inn in the Zhongshan District.
This doesn't even begin to scratch the surface of the country. Don't be fooled by that mere dot on the world map. I'll certainly be back here for my unfinished Taiwan shenanigans another time.
I was in very good hands. I had made friends with a Taiwanese guy who I studied Spanish within Colombia and, although he raised an eyebrow to my peculiar requests, he made sure that I got to see and do everything that I wanted to in his country.
Weird/cool/alternative things to see and do in Taiwan
Whenever I visit a country I try and experience at least one weird/obscure thing and Taiwan has an array of options to speak to your inner weirdo's heart.
1. Hello Kitty-themed café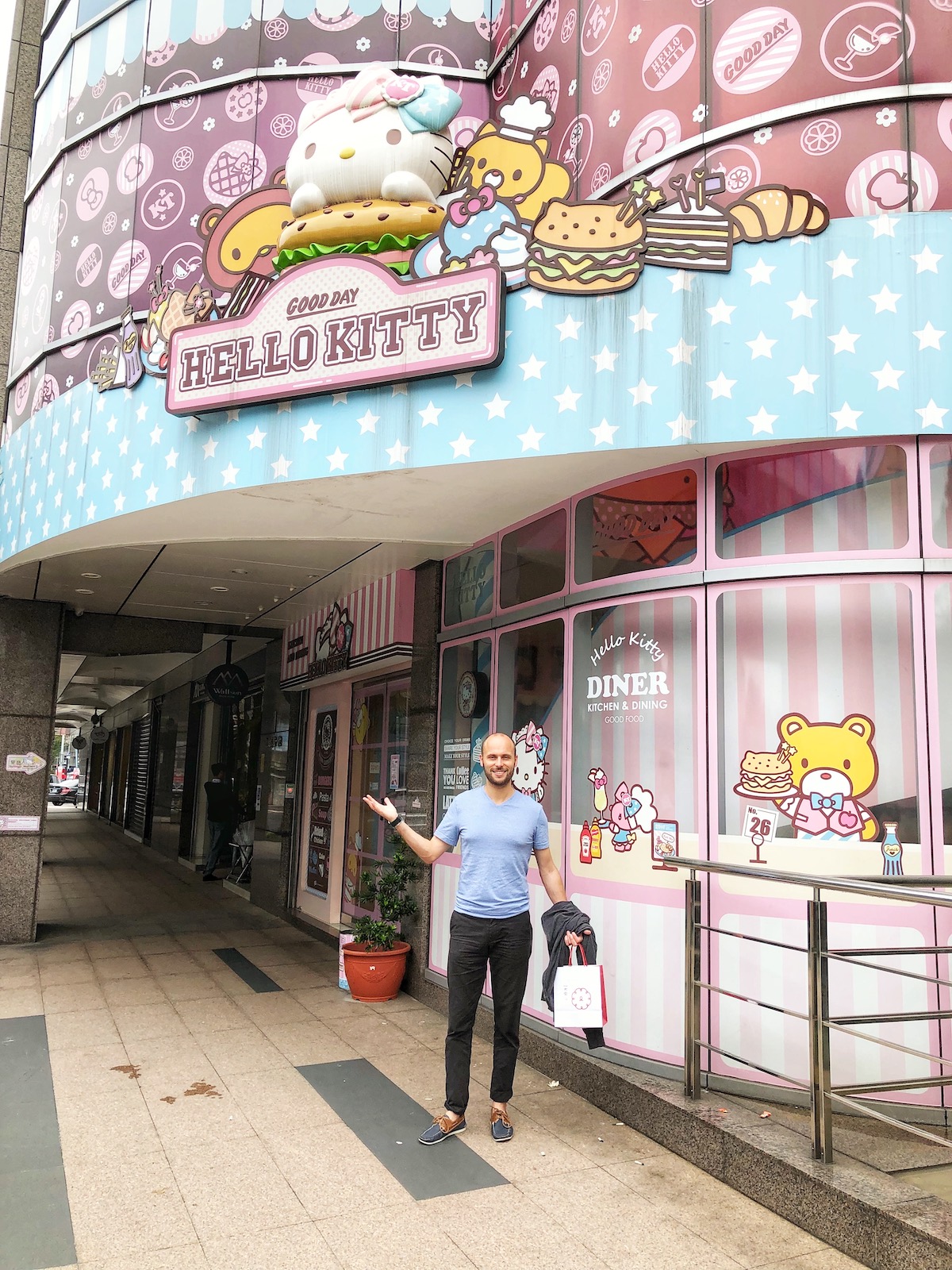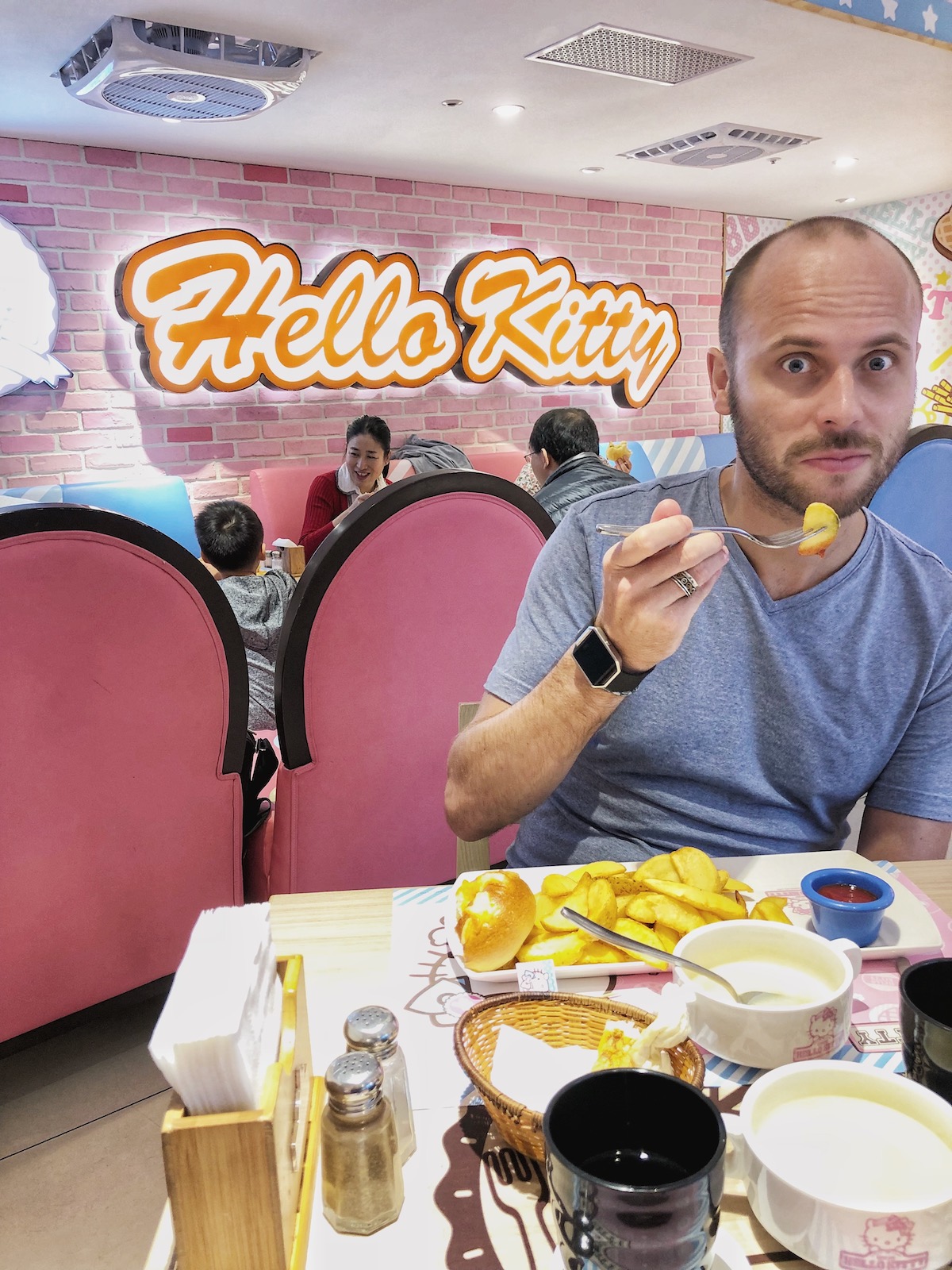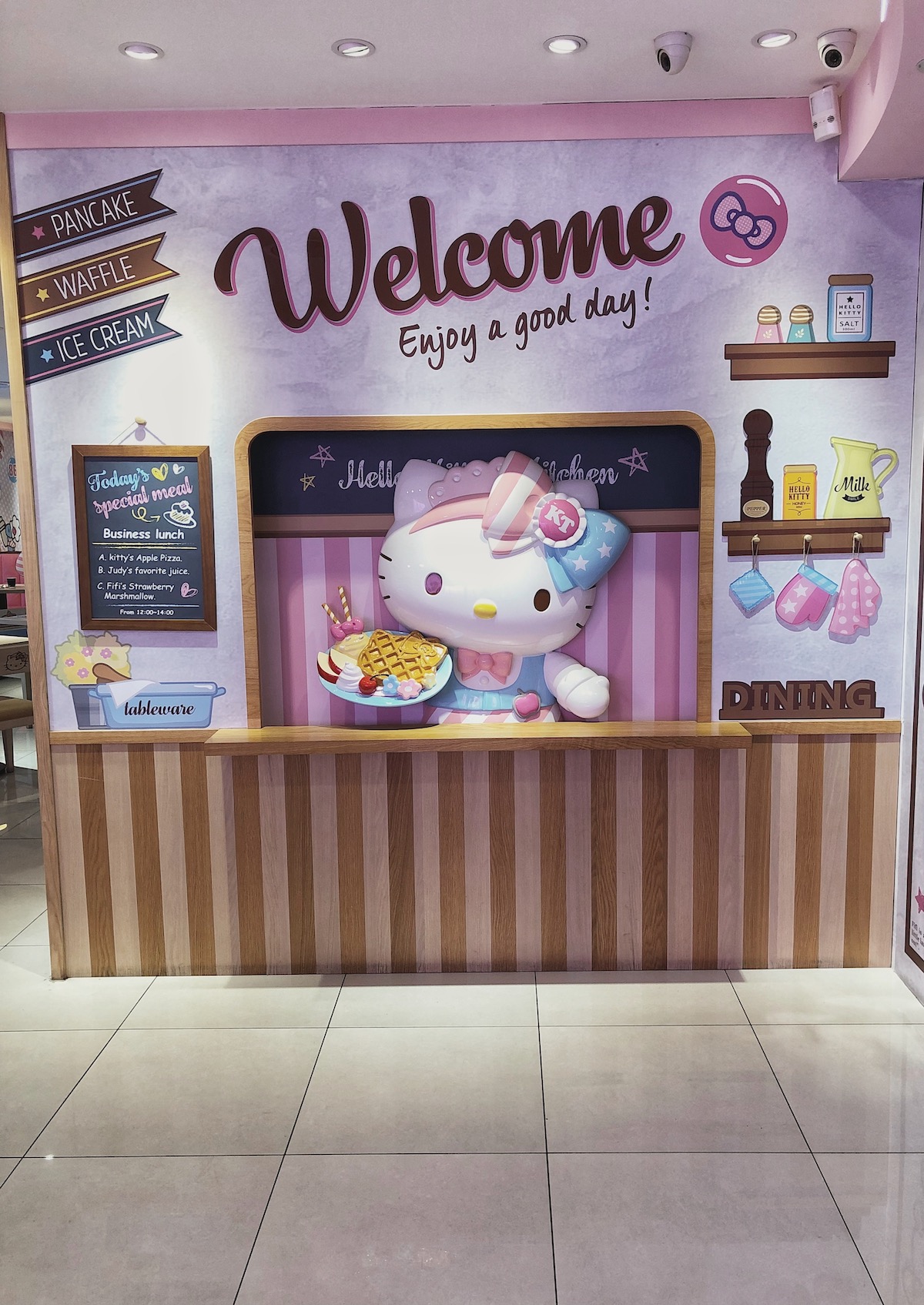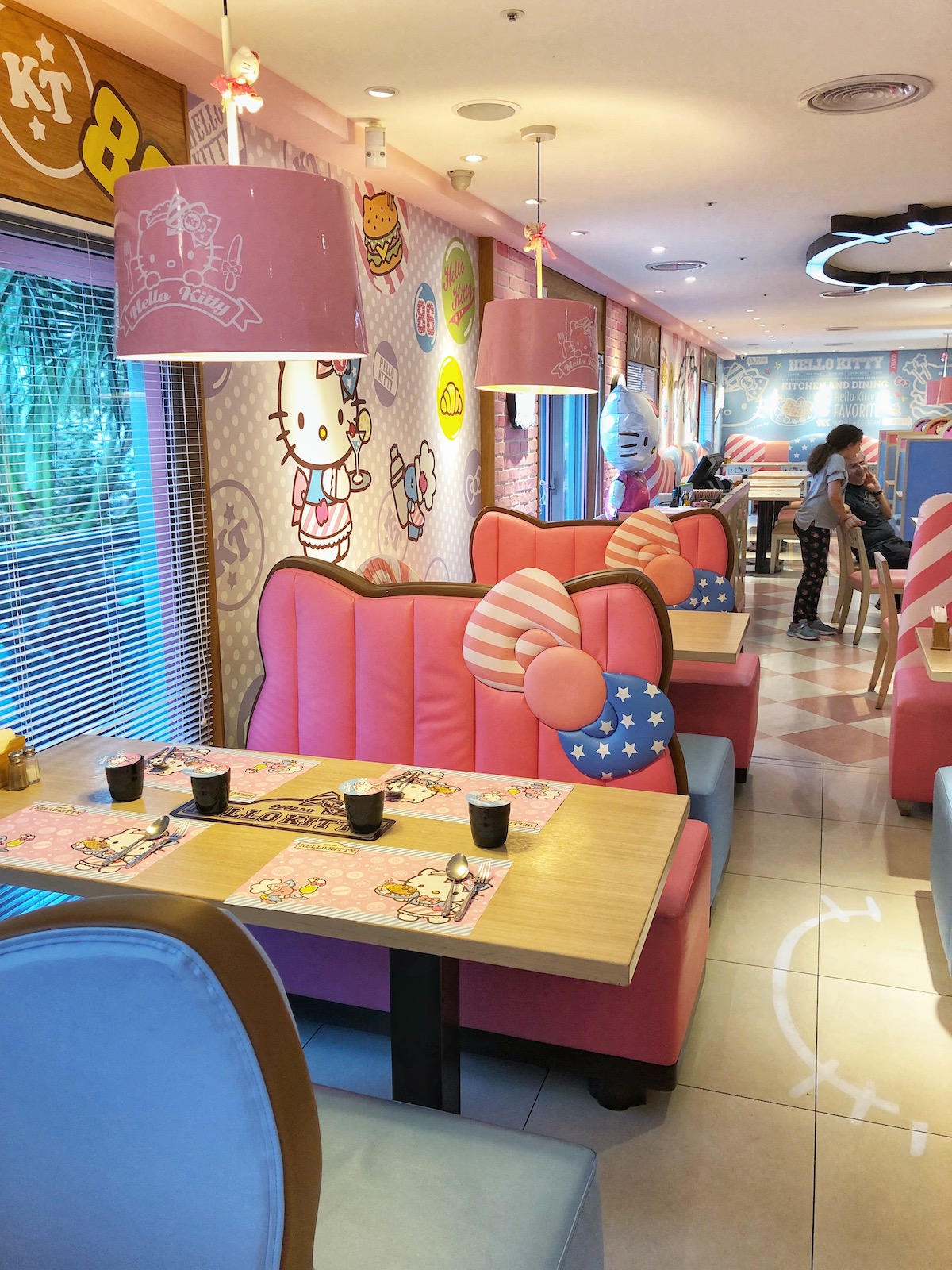 If you desire to reach the nirvana spiritual level equivalent of Japanese animated feline, then look no further than grabbing a table at the Hello Kitty-themed restaurant in Zhongzheng District.
The food isn't all that, it's innocently Instagrammable and the strangeness factor is on the slightly higher end of the spectrum. I got chunky chips/fries and a drink as I had already had breakfast and only went for the giggles.
Veggie and vegan options here are a veggie burger with eggplant or mushroom pasta (which is also vegan if you lose the sauce and ask for tomato instead). I was tempted by the burger but my loathing for onions and the possibility of them being included due to my lack of Mandarin was too much of a cross to bear.
There is a maximum stay time of one and a half hours here, but you only need 45 minutes…unless you're a hardcore Hello Kitty-er of course.
How to get to the Hello Kitty café, Taipei
Address:
Hello Kitty Sweets Café
Address: 90 Da-an Road Sec 1, Taipei, Taiwan
地址: 台北市大安路一段90號
Opening Hours/營業時間: 11:30~22:00 (週一到週日/daily)
Getting there: Zhongxiao Fuxing MRT station, Exit 3 (Less than 5-min walk) 捷運板南線「忠孝復興」站3號出口
Take the MRT and get off at the Zhongxiao Fuxing exit 3, it is less than 5 minutes away. I got an Uber (LINK) there.
2. Modern toilet restaurant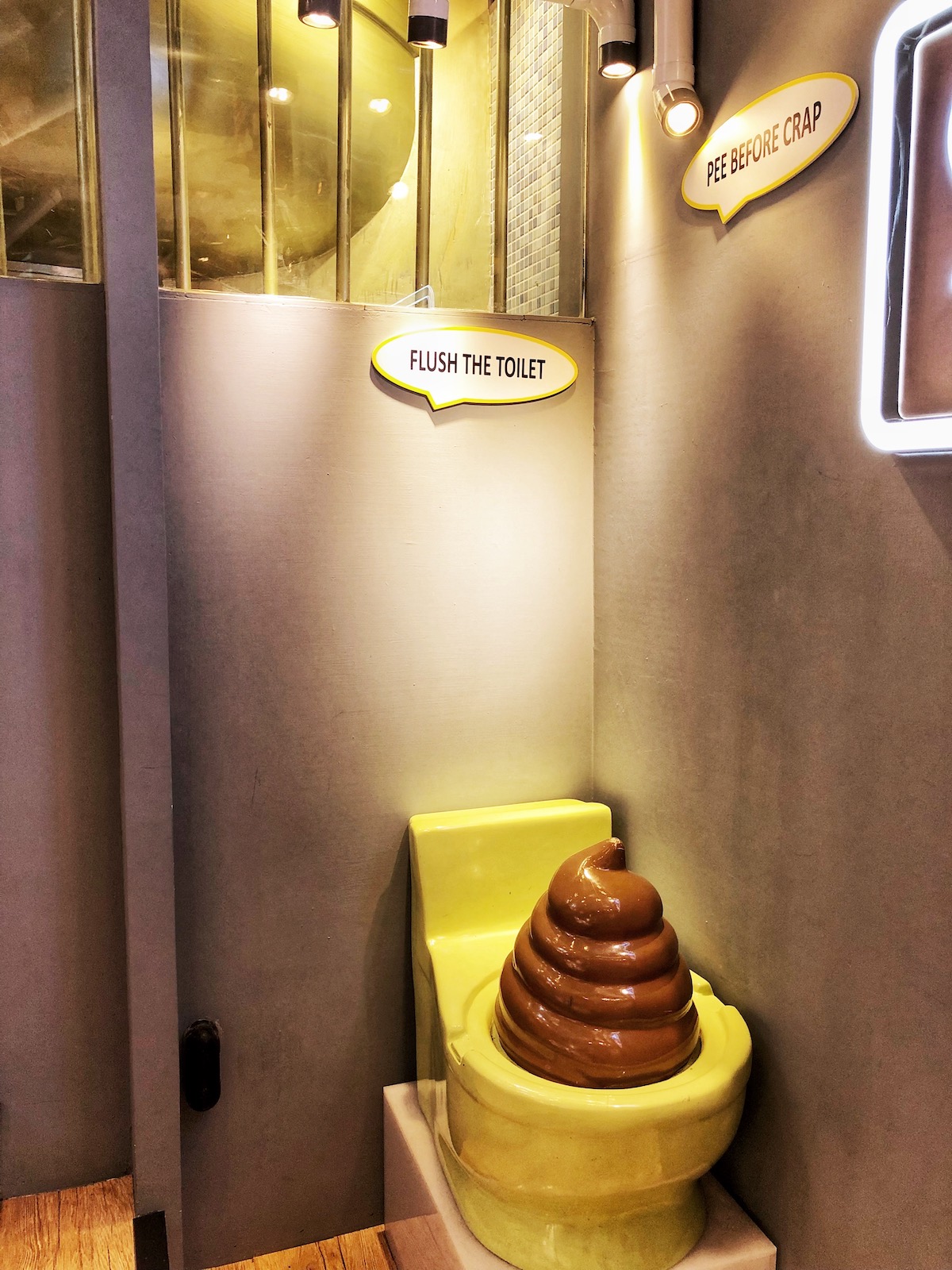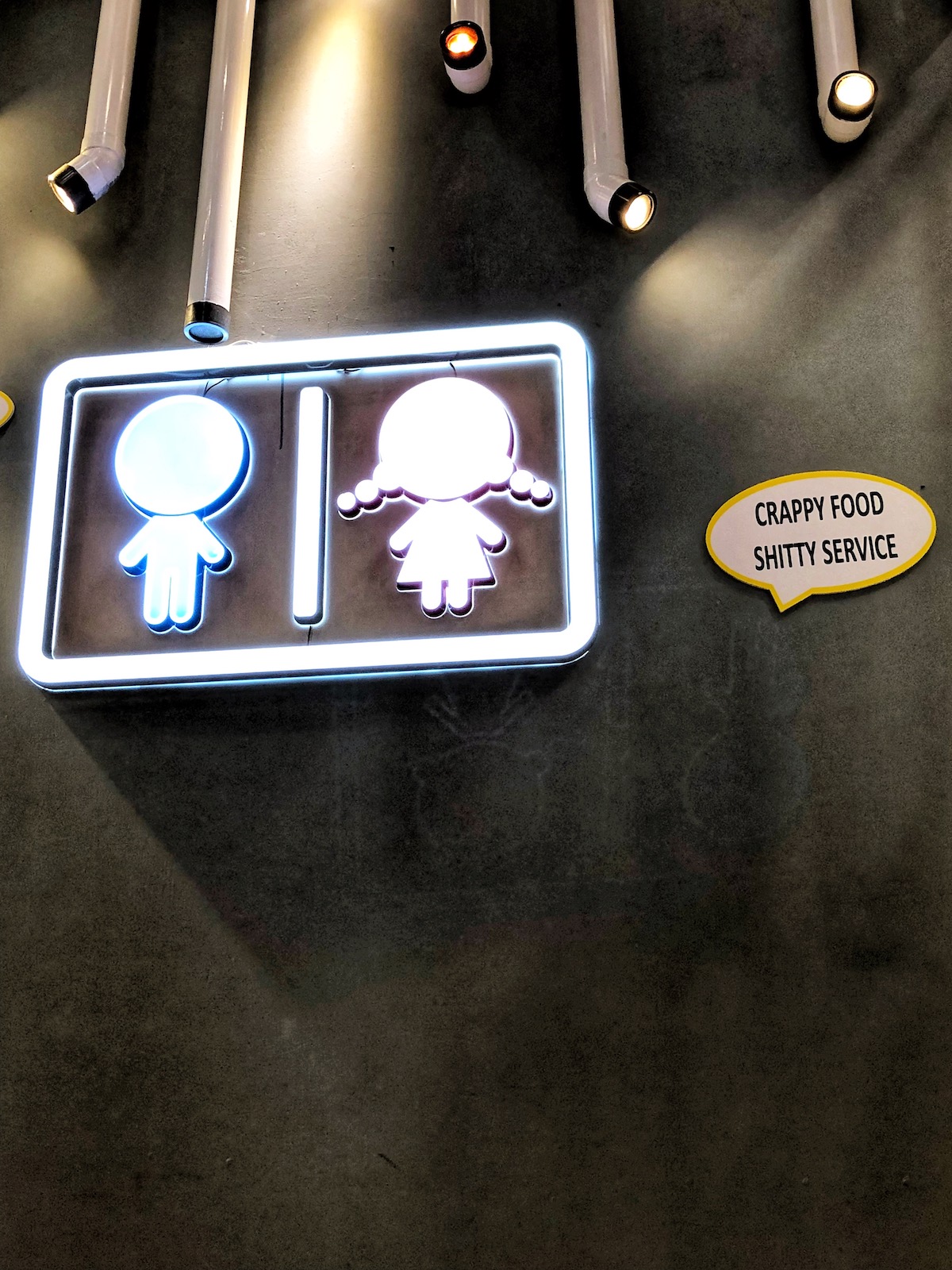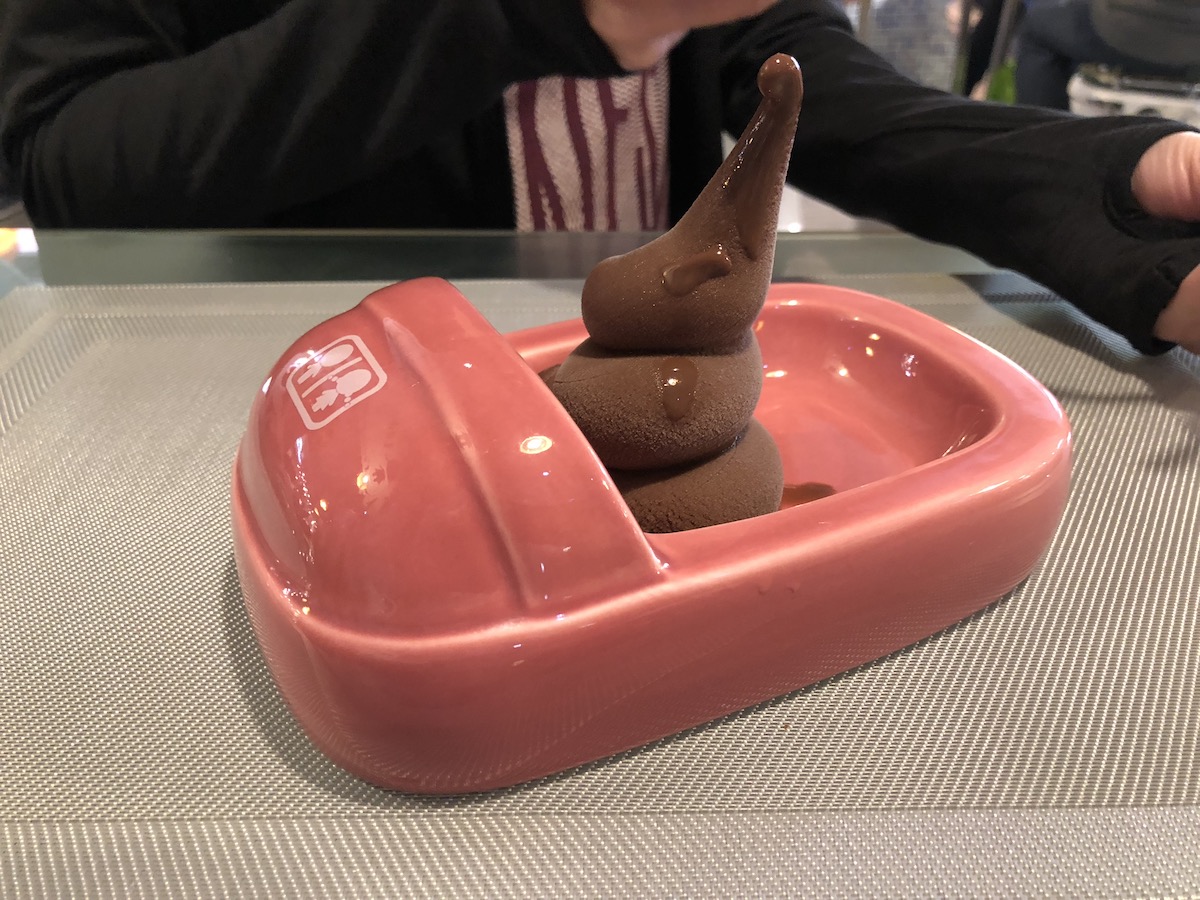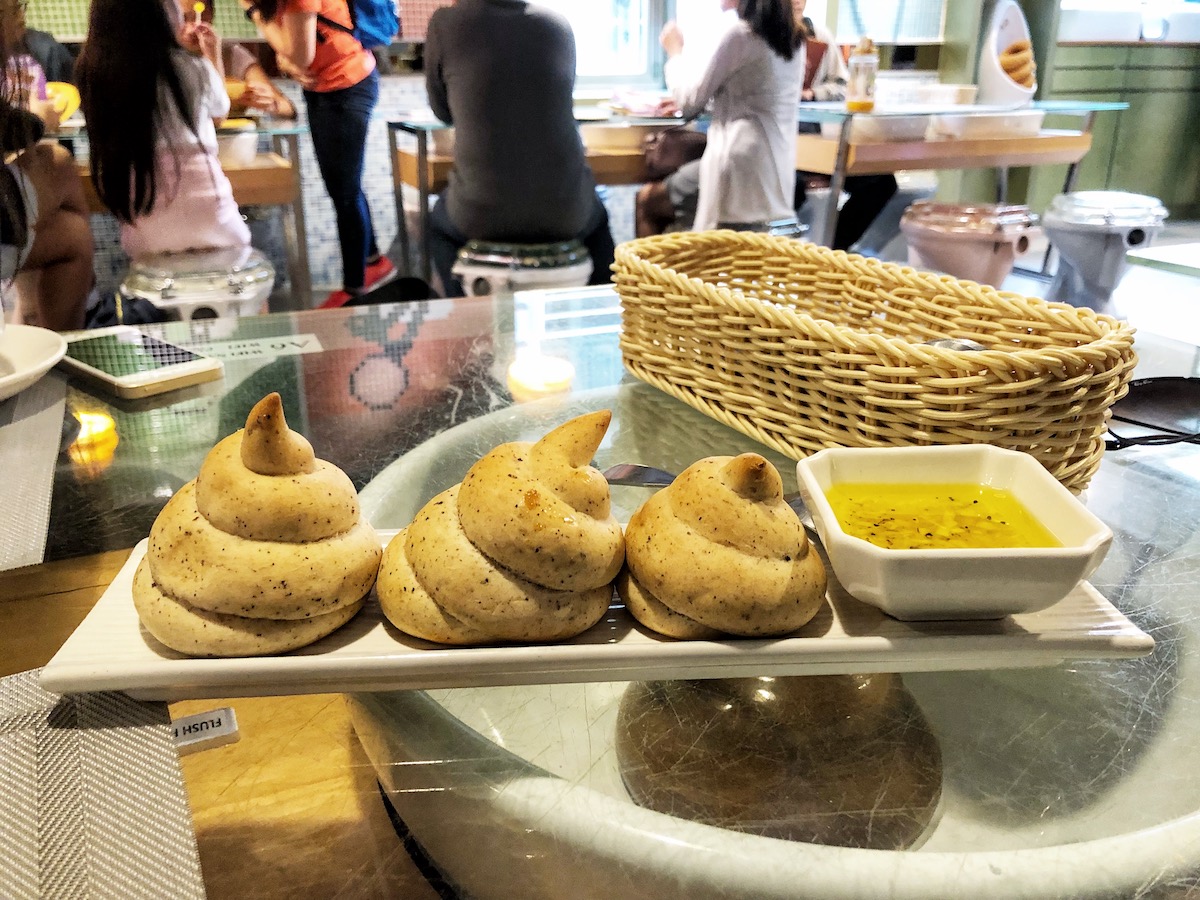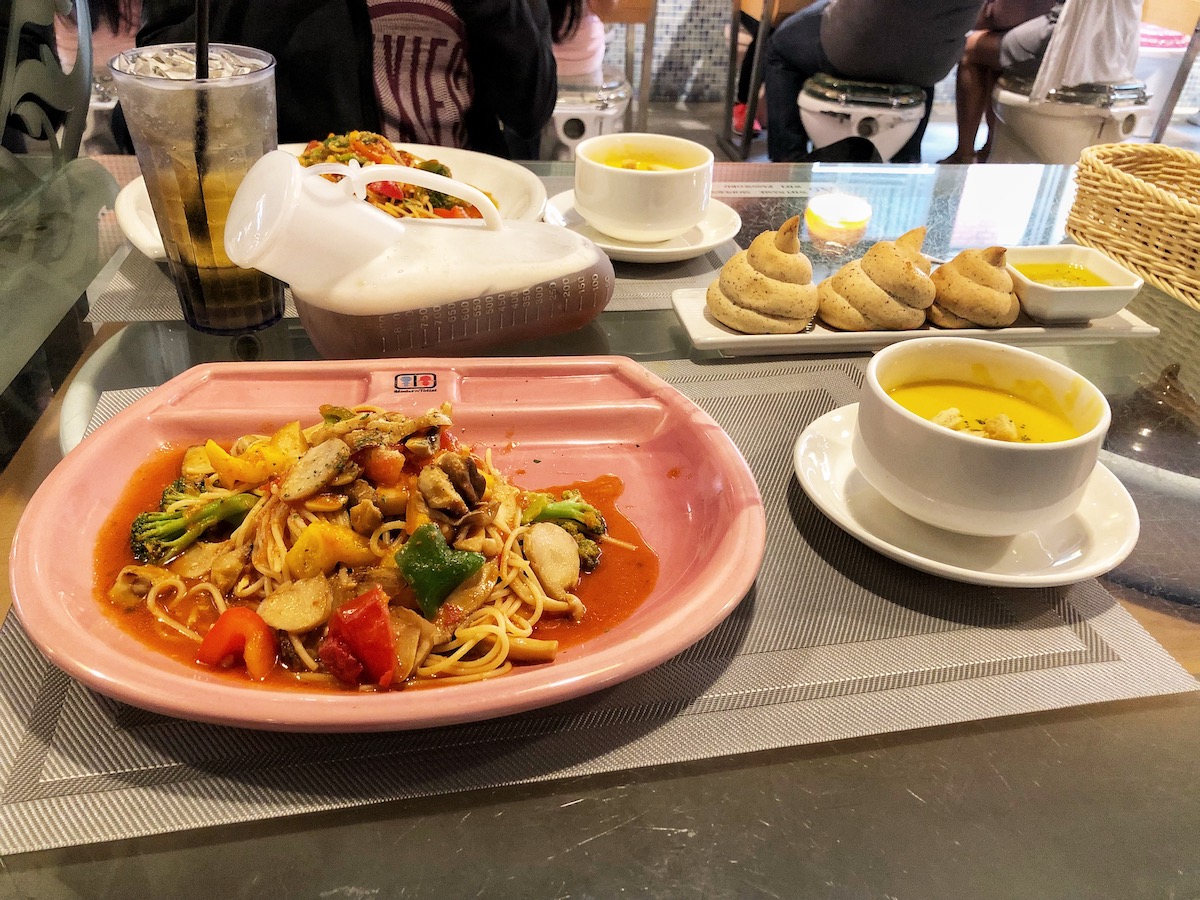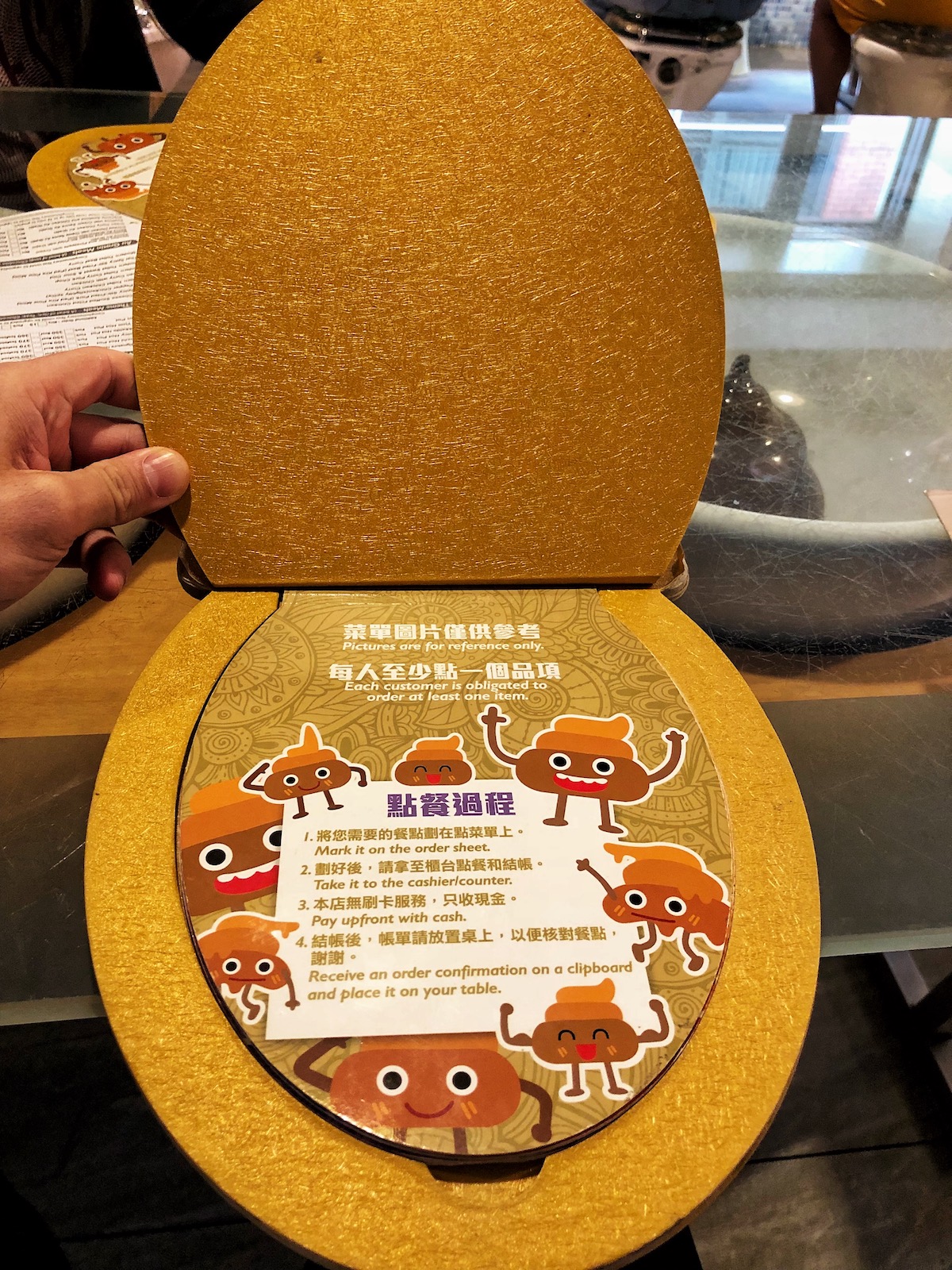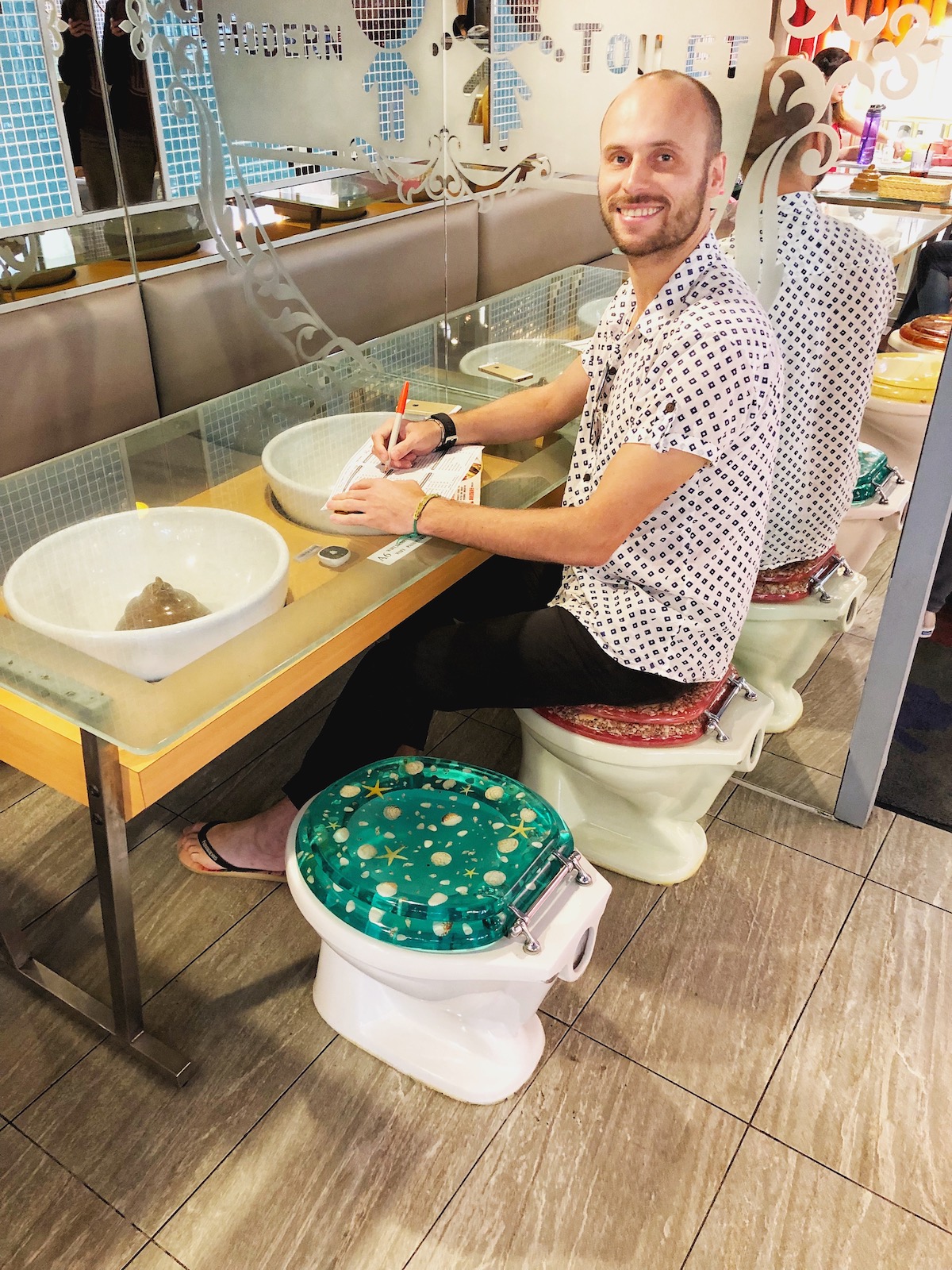 If the Hello Kitty restaurant wasn't quite weird enough for you then up the stakes with modern toilet – a poo-obsessed, toilet-focused outlet in Wanhau District.
Think again if you're too self-conscious to go due to the concern that it's full of kids. We weren't the only overgrown children in the place and you won't be either.
I didn't get the poo-shaped, chocolate ice cream or the hotpot in a toilet bowl, but my pasta on a toilet plate and tea in a bedpan were erm…pleasant?
How to get to Modern Toilet Café, Taipei
Address: No. 7號, Lane 50, Xining South Road, Wanhua District, Taipei City, Taiwan 10
Phone: +886 2 2311 8822
Take the MRT and get off at Ximen Metro Station exit 6, or grab an Uber.
3. Try the famous "stinky tofu" in Shenkeng Old Street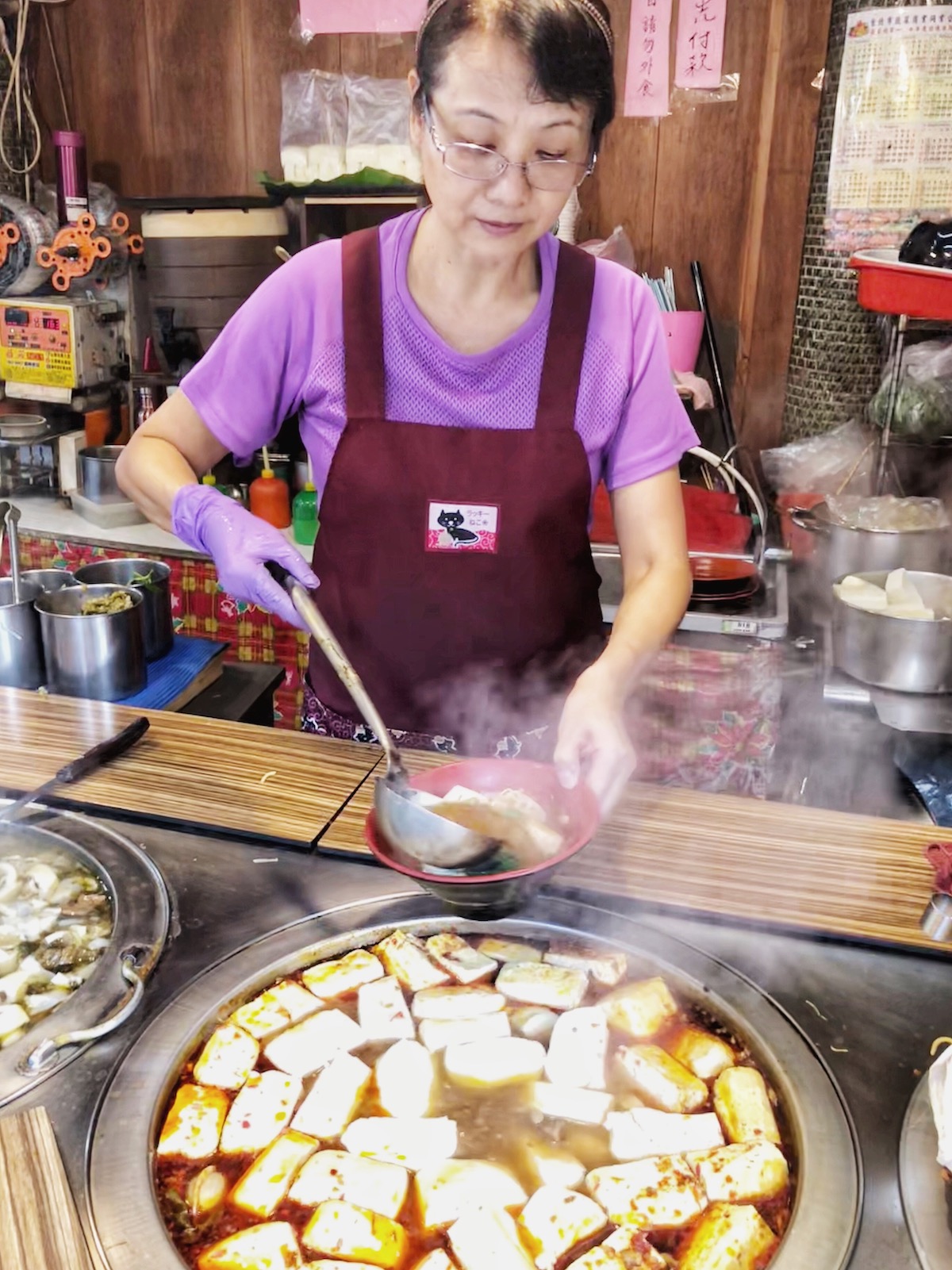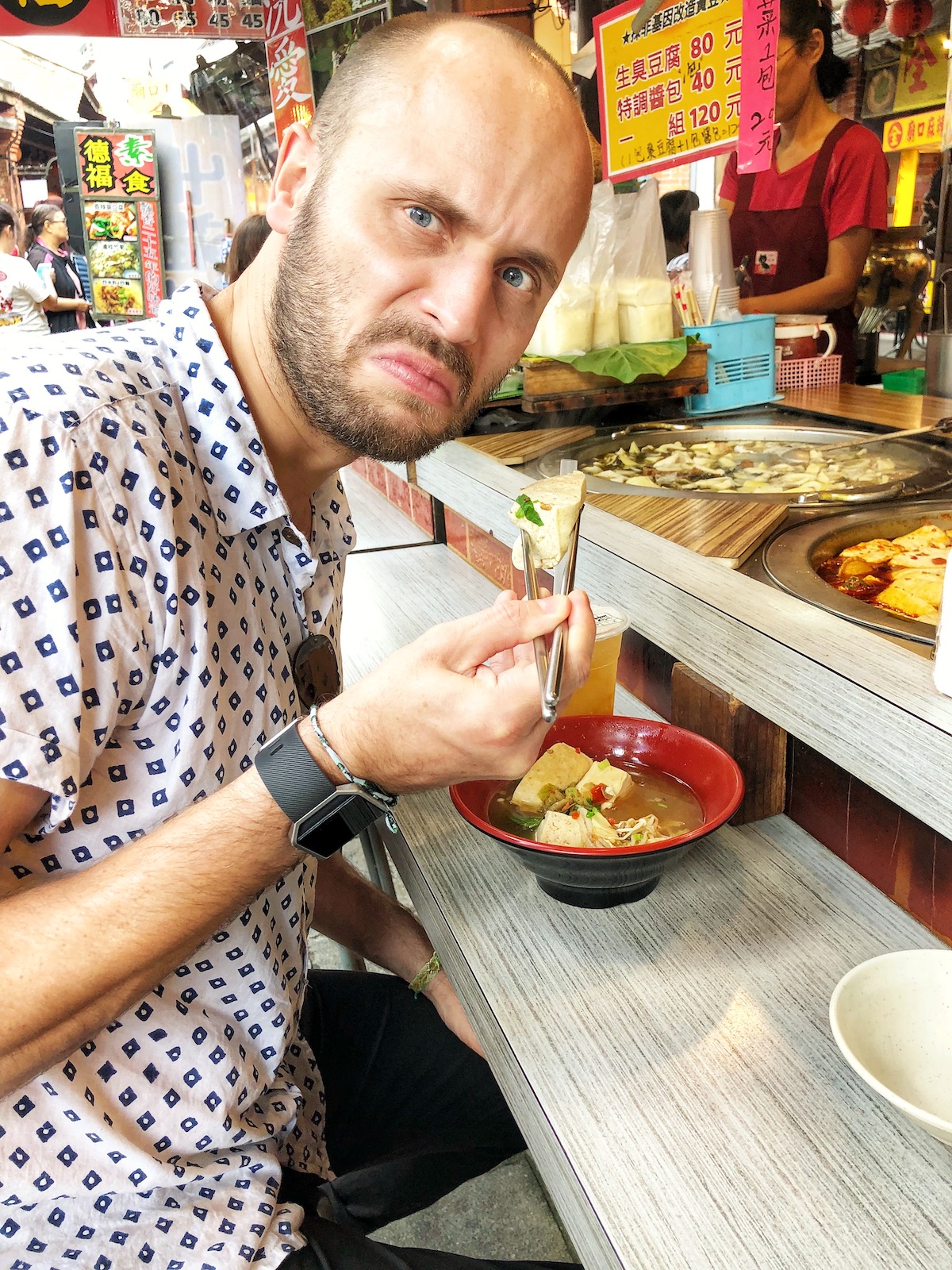 Tofu gets an unfair and bad rap in western culture, yet the slightly creepy, textured curdled soy bean has been sacred to the Chinese for thousands of years.
I've grown rather fond of the fermented bean in recent times, although I still have some work to do in the kitchen to be able to cook it so that it is as good as that found in some delicious Thai restaurant meals.
If you're up for being the main star in your own plant-based episode of "Fear Factor", then tuck your chopsticks into the famous Taiwanese street food dish, affectionately known as "stinky tofu".
History of stinky tofu
According to Chinese legend, the foul-smelling meal was created during the Qing dynasty by a scholar named Wang Zhihe, after storing a large quantity of tofu which he was selling on the streets of Beijing to make a living. The rotten meat-smelling cuisine was a hit with the Royals and was even served at the imperial Qing Dynasty palace all these years later and it's still doing the rounds in Mainland China, Hong Kong and Taiwan.
You can buy this notorious/divisive dish in most food markets across Taipei, but read on to find the best place to eat stinky tofu in Taiwan's capital.
The lady behind the counter couldn't stop laughing at me as my pointlessly stubborn nature enabled me to finish the foul-scented bowl. You will be disgusted by your own smell and when you burp for the rest of the night you will smell it once again through your nostrils and forget about any hanky-panky with your other half after completing this smelly food challenge. It's the antithesis of an aphrodisiac.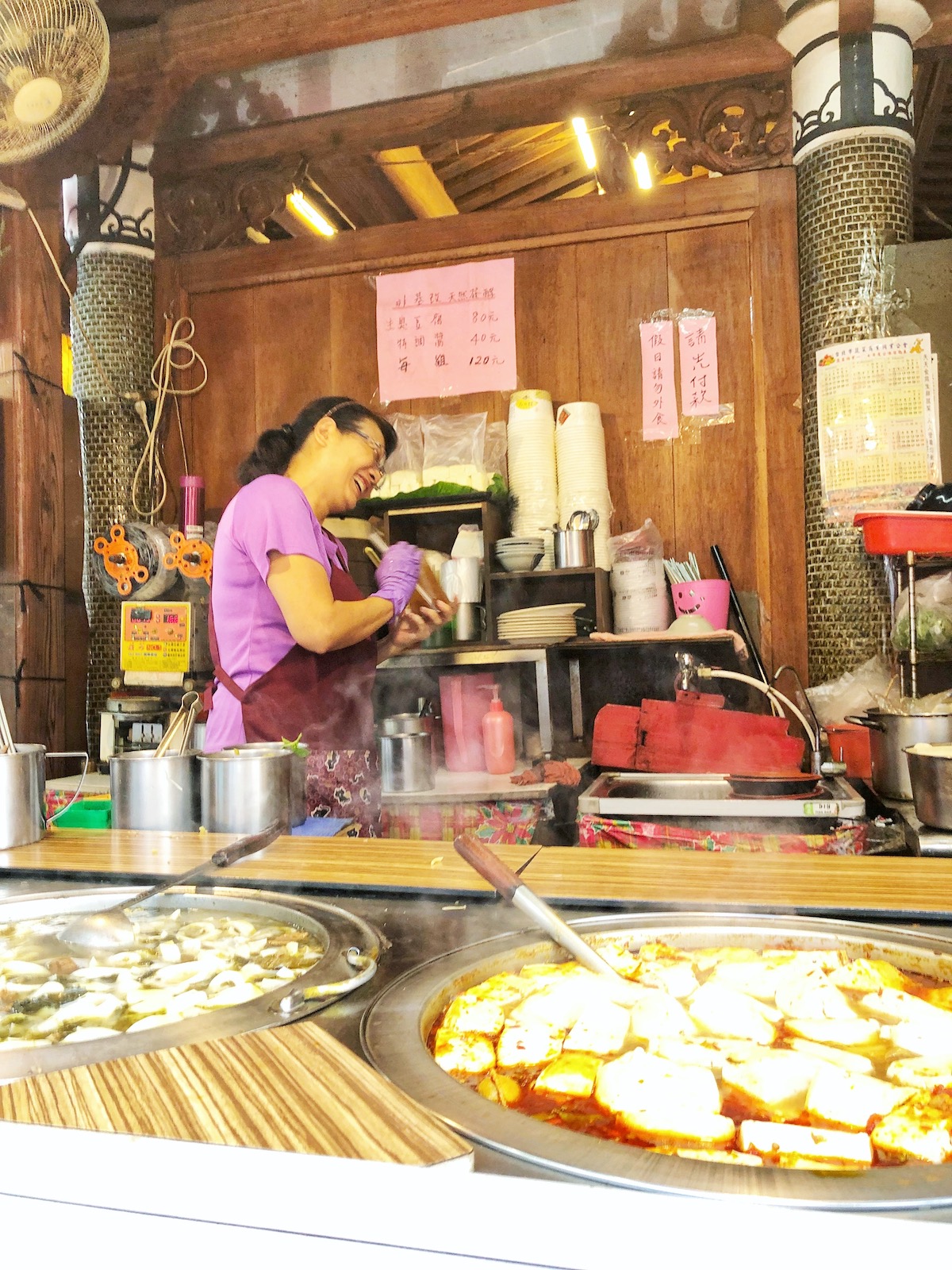 4. "Tofu street" of Taipei (Shenkeng Street)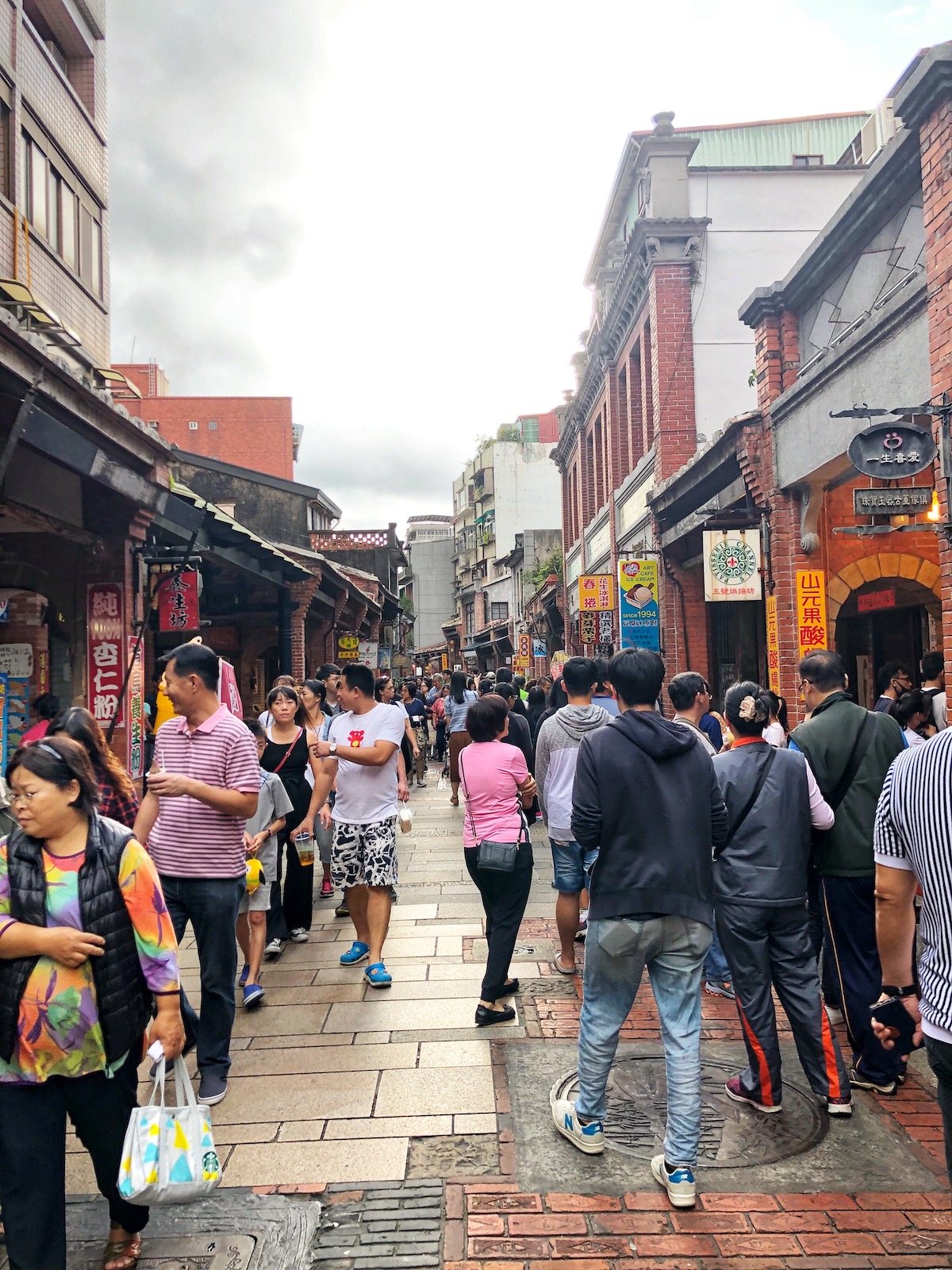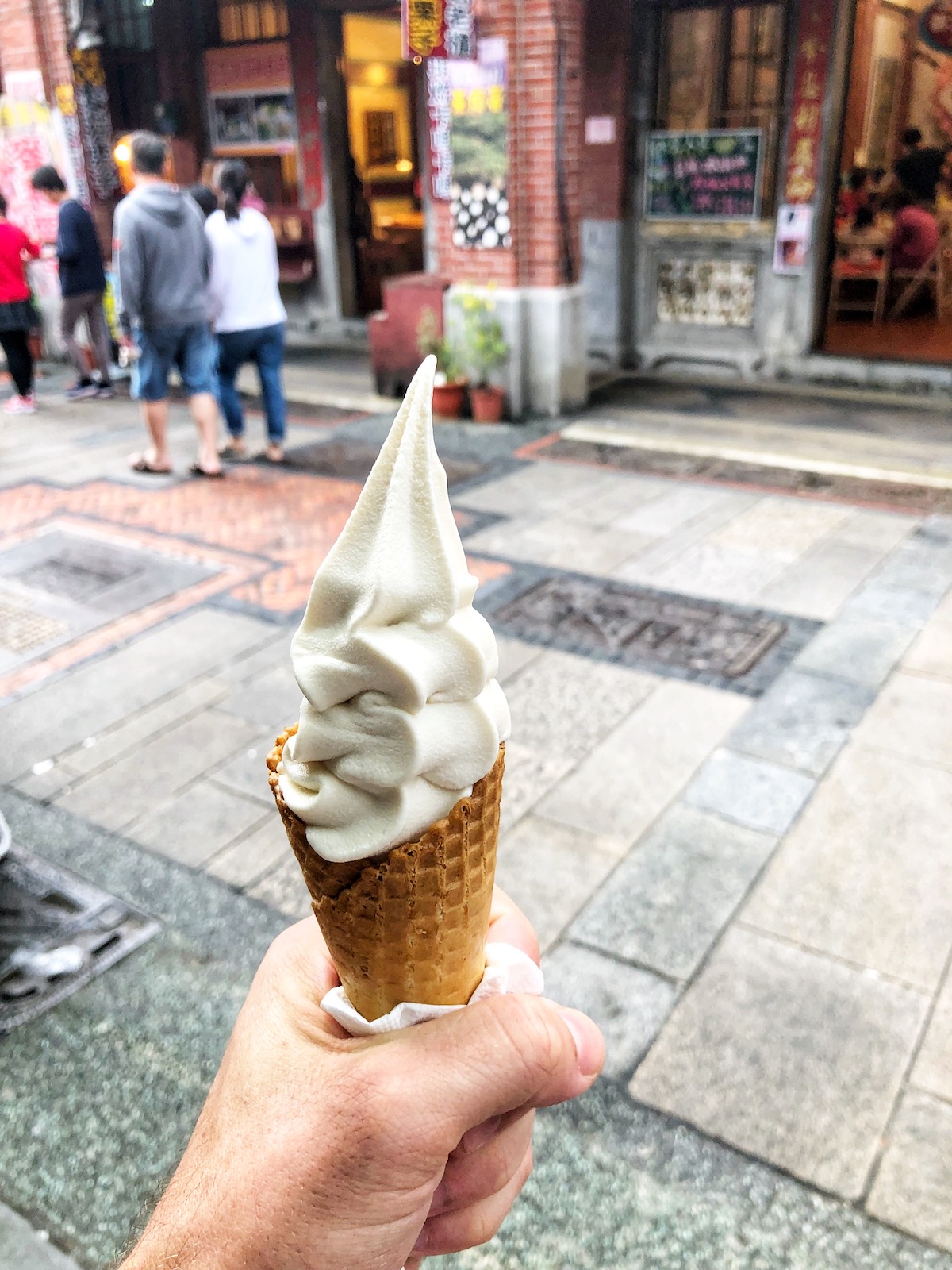 I read about a "street dedicated only to tofu" when researching strange things to do in Taiwan and the claims are somewhat of an embellishment.
Shenkeng Street is the place in question and it's also the street where you can have your stinky tofu experience. Even though the exaggerations about the tofu haven are slightly stronger than the reality, the street is roughly 80% tofu-focused with an abundance of the white stuff, and as it's small, an hour here (or two max) is enough for you to get your fix.
I had tofu ice cream – it was a six out of ten – however, I gambled too early; at the end of the street was a tofu and chocolate ice cream option. Needless to say I was all tofu'd out after this little trip. Next time I'll try the barbecue tofu…pretty much every local who I spoke to said that this was the best option in Shenkeng.
Other obscure Taipei shout-out: tea testing in the mountains
Taking a gondola up into the sky and then hiking up a mountain…all in the name of having a proper brew. Sounds like a hot date to me. Be still my beating heart.
The only reason I didn't visit was a lack of time. Go and do it so I can hate you.
Non-weird, cool things to see and do around the Taipei area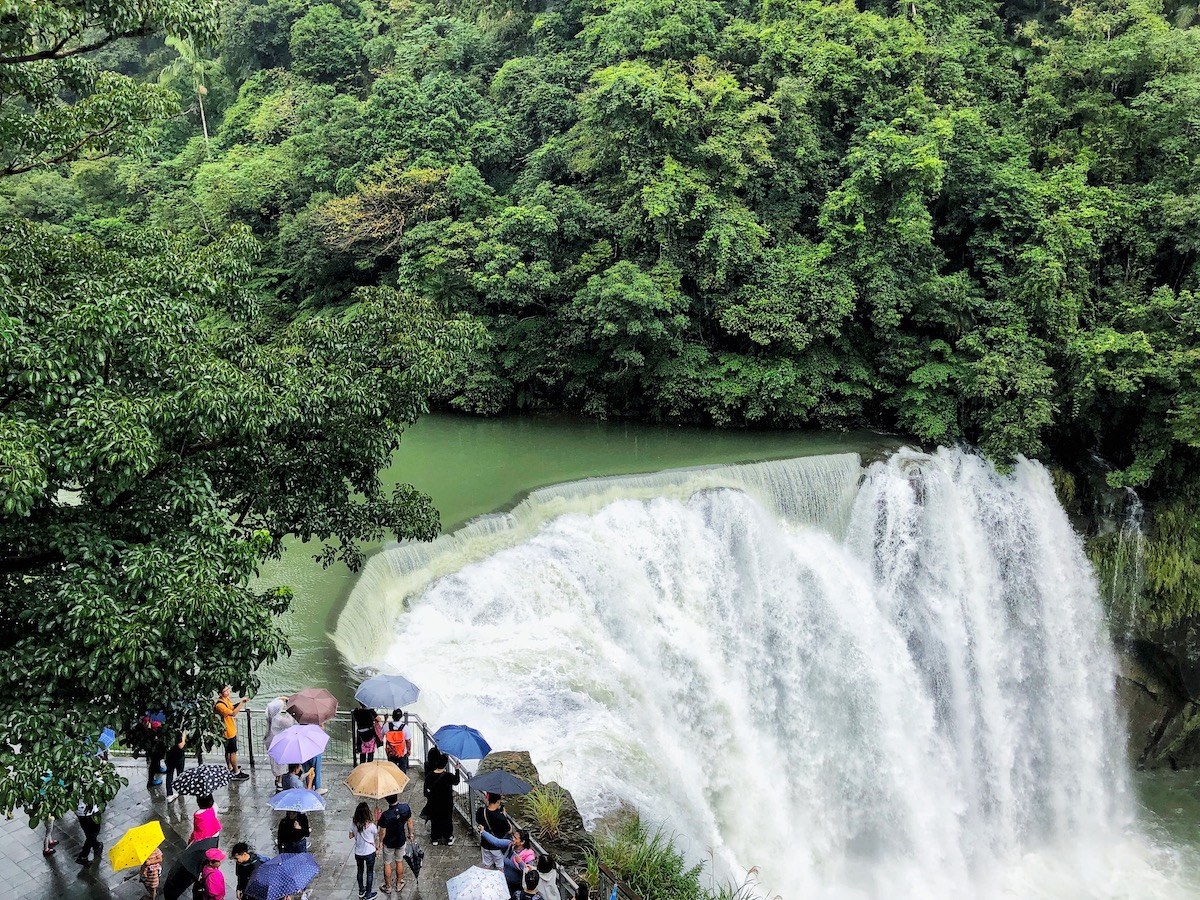 If you're in Taiwan and looking for the norm as opposed to the odd, then check out the Chiang Kai-shek Memorial Hall on Zhongshan South Road. It's like the much tamer, younger brother of the Forbidden City in Beijing. Then there is the 101 Observatory tower, which was the tallest building in the world until Dubai confirmed its massive building triumph in 2004.
Make a wish at Ping Xi Station – Light a massive lantern in a unique setting on a railway track. I didn't do this as my host told me it was bad for the environment, something I've admittedly not considered before.
If you're looking to do this you're better off doing it here as opposed to Shifen – a popular spot for lanterns – as it's way too crowded; Ping Xi is very peaceful.
A stone's throw from Ping Xi is the gorgeous Shifen Waterfall – we spent an hour and a half on the easy trail and went on a weekend. Opt for a weekend visit to avoid crowds.
On top of that there is an abundance of night food markets in Taipei, my favourite being Shilin night market where I got stuck in to deep-fried Oreos, sweet potato balls and a mixture of spicy mushrooms before creating our own tapas at one of the Jain stalls at the end of the market.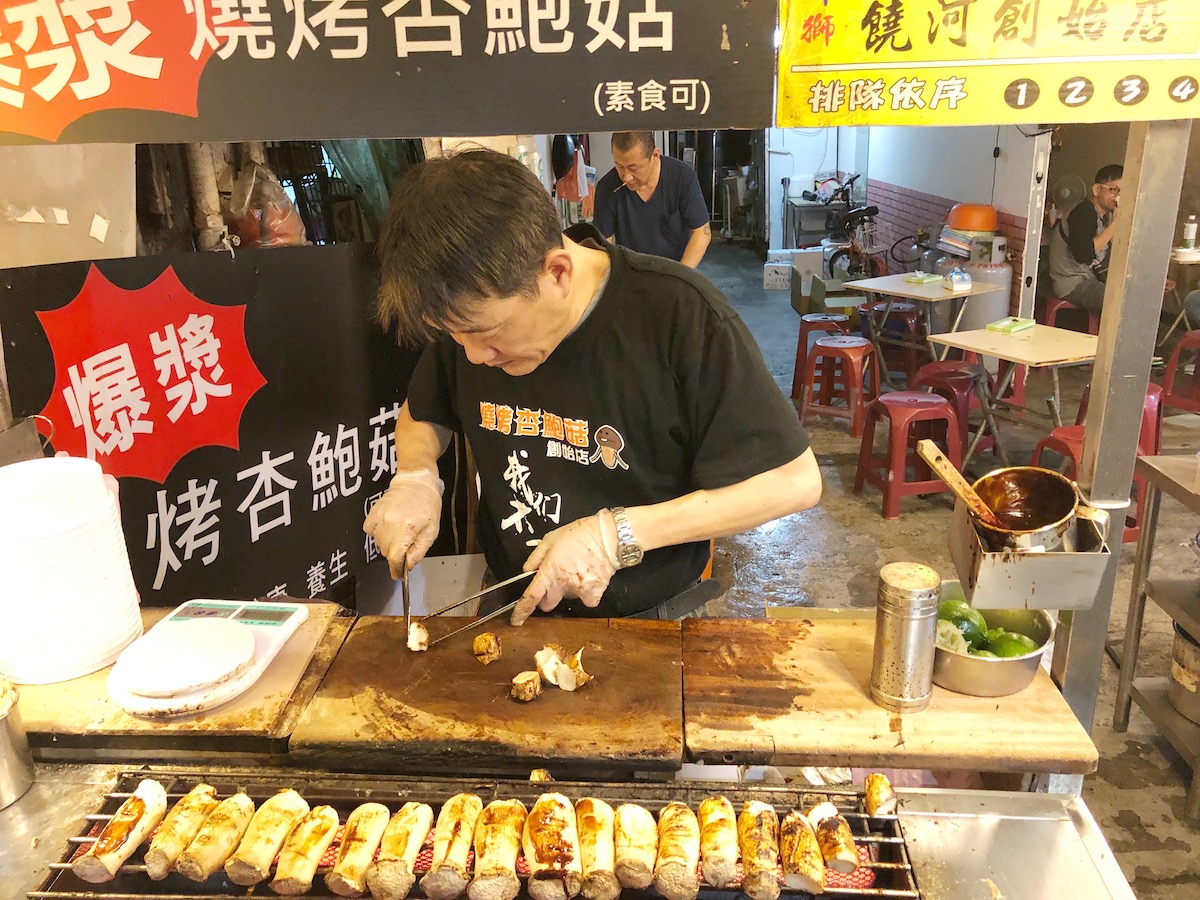 If you know a local like I did (or are willing to spend a bit more on an Uber) an option for another evening is to go for dinner or a delicious hibiscus tea at a restaurant called Sleepless in Chousan, located in Yang Ming mountain, a thirty-minute drive from Taipei's city centre with a beautiful view of the city from above.
There is also the option to do the things in Taipei and around the area that I didn't quite have enough time for such as Juifen – a decommissioned gold mining town with a coastline that's allegedly up there with Santorini, Greece, in terms of of gorgeous beaches.
I also didn't get to see Longshan Temple. I'll make sure to do that next time as Taiwan is firmly on my "will go back one day" list.
Did I miss out on anything that would be considered a cool and weird thing to see and do in Taipei? Taiwanese people are so friendly; consider staying at a homestay if you're visiting for an optimal experience of this pearl in the Pacific Ocean.