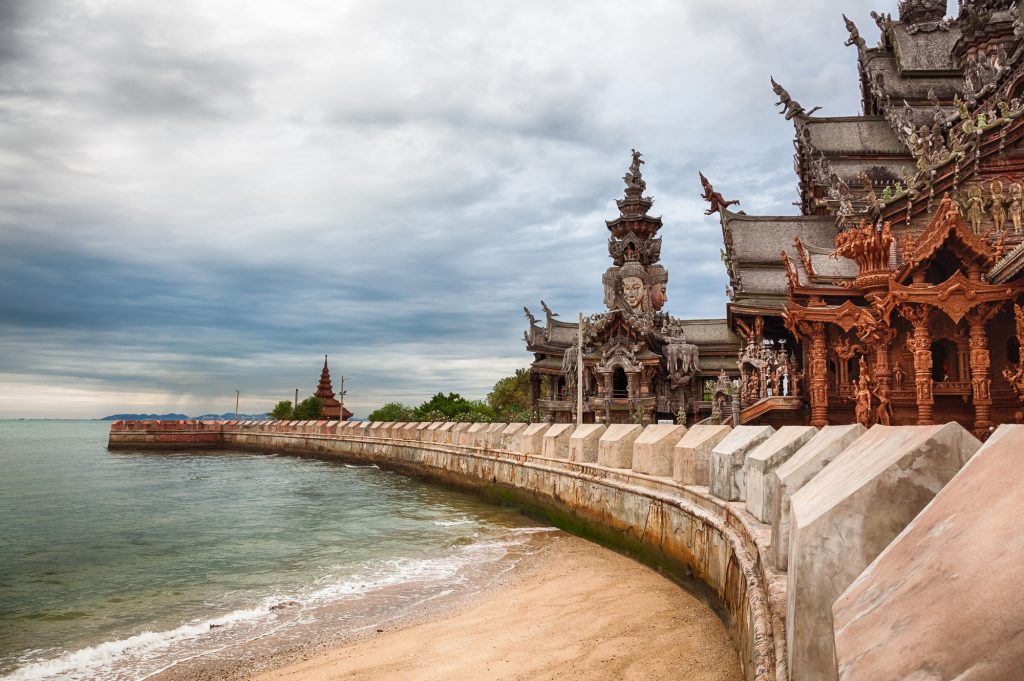 Southeast Asia is a beautiful area with magnificent cultures and natural wonders. In this guide, we'll show you the 7 best places to visit in Southeast Asia.
What are the best places to visit in southeast Asia?
If you're planning a trip to this part of the world, it's hard to know where to start. There are countless cities and islands to choose from in a long list of countries, each with its own unique appeal. You don't want to miss out on anything – but how can you narrow down your options?
In this guide, I'll give you what you need to know about the best destinations in the top countries in southeast Asia. You should focus on getting prepared and excited for travel, not stress about sifting through a long list of destinations. Keep reading to make planning your trip easier!
1. Angkor Wat and Siem Reap, Cambodia
Many over-popular tourist destinations don't live up to the hype. You might be tempted to skip Angkor Wat, thinking that attractions more off the beaten path might actually be cooler. But if you do this, you'll be making a huge mistake.
Angkor Wat's amazing temples really have to be seen in person to appreciate their full glory. This site offers incredible views and a taste of culture that's hard to get anywhere else.
However, while you're in the area, don't miss Siem Reap, the city that hosts this temple site. Siem Reap itself is beautiful, and you'll never forget the street life that you encounter there. It's colorful, wild, and teeming with vibrancy.
2. Hoi An, Vietnam
Next on our list is one of Vietnam's most unique communities.
Hoi An is about halfway down the country's South China Sea coast. However, it can feel like it's a world apart from Vietnam's other cities.
If you visit Hanoi or Ho Chi Minh, you'll notice the constant sounds and smells of motorbike activity. But in Hoi An, a slower pace of life remains dominant.
You'll find peaceful tea warehouses and old-fashioned tailors in this town. The Old Town section is marked by its cheery yellow storefronts, and winding canals run through the city.
In Hoi An's center, motorbikes and cars are actually prohibited, so this is the perfect spot for anyone passionate about biking. You can bike from the beach to the rice paddy to the temple, all without having to dodge motorized traffic.
3. Bagan, Myanmar
Bagan has its rough spots, but this attraction is incredibly lovely nonetheless. You'll love this ancient city even more if you learn some about its history.
It was first founded in the 2nd century and soon spread across the plains of the Ayeyarwady River with over 10,000 temples, monasteries, and pagodas. Today, about 2,200 of those ancient buildings still stand.
For a period of time in the 2000s, visitors to Bagan were actually incredibly rare. Not so very long ago, you could explore some of its most striking architectural features without another soul in sight. Today, this is no longer the case, but it still feels like a reprieve from some of southeast Asia's bustling cities.
If you've been wishing for a hot-air balloon ride all your life, why not take one of Bagan's famous balloon tours? Don't forget to book a classic bed and breakfast for your stay, too.
4. Sa Pa, Vietnam
If you're looking for breathtaking scenery, this is the place to go.
In the 1920s, the French designated this hilly area as the ideal destination to get away from the heat of the north. Recently, Sa Pa has only grown in popularity. And for good reason.
This is the ideal destination for the adventurous traveler, offering hikes to rice terraces, or to the top of Mount Fan Si Pan. This mountain is the tallest one in all of Indochina and offers views that you won't find anywhere else in the world.
5. Tonle Sap Lake, Cambodia
Southeast Asia's largest lake offers a different perspective on the way humans and the natural world intersect.
For the best view, try The Tonle Sap Experience. These boat tours will take you through the lake's incredible floating villages, giving you an up-close perspective on this attraction.
One thing that makes this lake unique is the water that feeds it. It changes direction during the year, so it can go from completely empty to filled with 30 feet of water. The homes around the lake are "floating" – they're built on stilts or use buoys to stay afloat when the water rises.
You'll also catch a glimpse of many local plants and animals, some of which are endangered when you tour the lake. This appeals to both the nature-lovers and the adventure-seekers out there.
6. Chiang Mai, Thailand
Locals sometimes call Chiang Mai "the rose of the north" – how can you miss a city like that?
This city is calm, laidback, and relaxed, unlike more hectic areas like Bangkok. But it also offers just the right amount of excitement for a traveler. Get your spiritual life back on track by visiting one of the many spas, stupas, or spiritual centers in Chiang Mai.
This city also offers plenty of outdoorsy exploration just beyond its borders. Try visiting an elephant habitat or hiking into the mountains. You can even take a bamboo raft down one of the jungle rivers!
7. Bali, Indonesia
Bali has been a trending destination for many years now. But this city never rests on its laurels. It's continually reinventing itself to remain a place where modern tourists will want to go.
If you love city life, you'll love the selection of bars, restaurants, and hotels that Bali has to offer. And you'll also get your dose of the beach and jungle for a truly well-rounded trip.
Want to See the Best Places to Visit in Southeast Asia?
Reading about the best places to visit in southeast Asia just won't suffice. It's time to start planning your trip!
Of course, once you're there, you'll probably never want to leave. Don't miss this fun post about the signs it's time to leave southeast Asia!