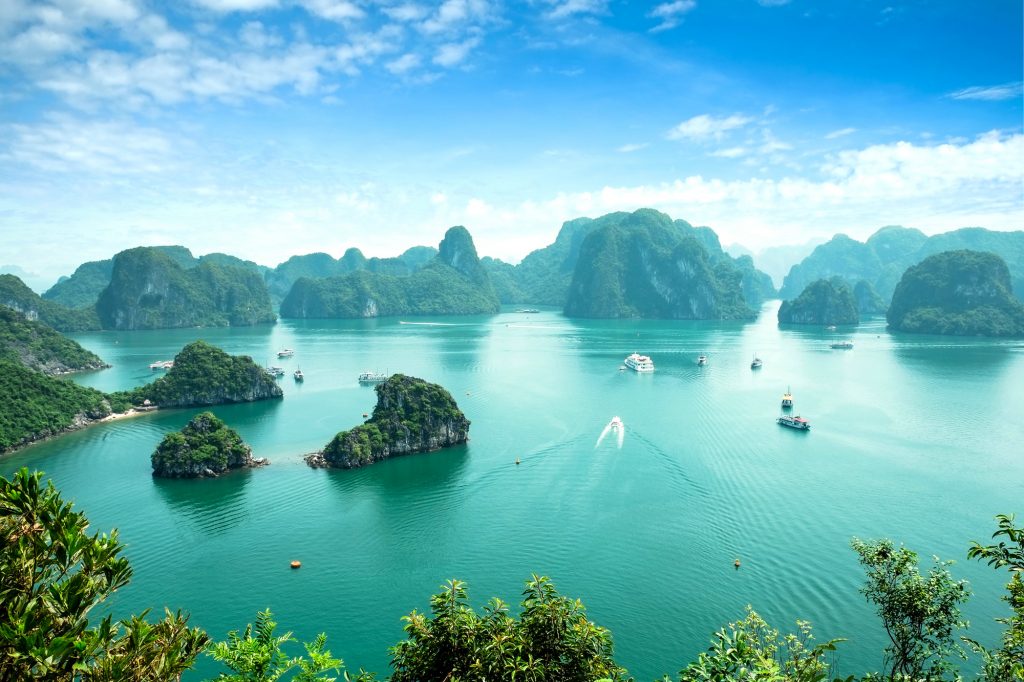 Visiting Vietnam for the first time? You're in for a treat. If you don't have an itinerary yet, here's what to do in Vietnam plus tips for those on a budget.
More than 1.3 million foreigners visit Vietnam each year.
Why? Because Vietnam has a lot to offer at a very affordable price. If you're heading to Vietnam on a tight budget, you may be wondering "what to do in Vietnam" without breaking the bank.
Don't worry. There are plenty of options!
Follow this guide for budget-friendly things to do and see during your trip.
1. Choose Vietnamese Foods
Although you can find virtually any type of cuisine in Ho Chi Minh City, Vietnamese foods will be the cheapest options. Plus, there are many delicious options to choose from.
Look for signs in Vietnamese that highlight items like pho, bun ca (noodle soup), come (rice), mi/my (noodles). You'll pay less than a dollar for most of these items.
Don't eat at places that cater to foreigners like your hostel or hotel or places in touristy districts.
They up-price everything and the food will be less authentic.
2. Travel by Bus or Motorbike
Motorbikes and buses will be your cheapest and most reliable travel options.
Motorbikes give you the freedom to do and go wherever you like. You can buy them for under $400 and re-sell them before you leave or rent them for cheaper than taking a taxi or Uber.
Buses are another cheap option, and you can choose whether you want amenities like air conditioning for an additional price. Buses are how the locals get around so prices stay low.
Another tip is to explore Sapa and Hoi An on your own. These are must see areas of Vietnman that you can't miss. To save money, rent a motorbike and tour them on your own.
Check out Mr. Linh's Adventures to find scenic trails to explore during your trip.
Important notes:
Never rent a taxi as they are notorious for bad experiences and ripping people off.

Guided tours are great, but they will dig into much of your budget. Plus, you can find free walking tours in the city.
3. Visit Museums
Now for specifically what to do in Vietnam.
Start with visiting museums. Museums are very reasonable in Vietnam as they are for locals as much as for tourists.
For only a few dollars, you can check out the Temple of Literature in Hanoi, which was built in 1070 and hosts the country's first university.
Imperial City in Hue is another great free option. It is an 18th-century palace that sits in the former capital of Vietnam.
At the War Museum in Ho Chi Minh City, you'll find artifacts and information about the Vietnam war and the first Indochina war.
There is an affordable museum for every taste.
4. Explore Buddhist Temples
Buddhist temples are something every visitor to southeast Asia should see. They are free and breathtaking.
There are many Buddhist temples throughout Ho Chi Ming City including Mariamman Hindi Temple, Cao Dai Temple, and Jade Emperor Pagoda.
Visit during religious holidays such as the Mid-Autumn Festival, Lunar New Year, or Buddha's birthday and you will get free entertainment, too. You will see dancing, traditional music concerts, and prayer ceremonies.
5. Find Free Walking Tours
If you're staying in Ho Chi Ming City, search online for free tours given by local universities or non-profit organizations. They will provide you with depths of information on the local culture and history (for free!).
The tours are also in English as many are specific to helping local children improve their English. They will also only take you to free sites and venues. You won't have to worry about spending while on the tour.
One of the best things about the free walking tours, though, is the children. They will tell you vasts amounts of information (honestly) about the city and their country.
6. Visit Notre Dame Cathedral and Saigon Central Post Office
One answer to the what to do in Vietnam question is to see parts of Vietnman history that remain.
Fortunately, famous attractions that show the history of colonization in Vietnam are free to enter. Here you will see colonial French architecture and learn about the history of Ho Chi Minh.
The post office is another attraction that foreigners visit to send letters home and view the beautiful colonial civic building.
7. Find Bia Hoi
Bia Hoi means "cheap beer". These are what to look for to fill your nightlife with fun while saving dough. Plus, these are where the locals go to drink so they are perfect places to make friends and learn about local life.
Beers are so cheap in Bia Hois that you can spend the night drinking and only pay $10 or less.
Look for these instead of bars or restaurants in the more touristy areas such as near your hostel or hotel.
8. Visit Tao Dan Park
Tao Dan Park is in District 1 of Ho Chi Minh City and full of entertainment and wildlife. It is free to visit and you can purchase some affordable Vietnamese coffee while watching locals with their songbirds.
That's right. This park features songbird singing competitions nearly daily.
You can also find the Hung King Temple and Nha Trang's Po Nagar Cham Tower at Tao Dan Park, too.
9. Book A Hotel During Peak Seasons
The prices for hotels drop during peak seasons due to demand. If you book early for holidays such as the Lunar New Year, you will get more for your money.
Another option is to stay in hostels which are always affordable. Many include breakfasts, too, which helps save on food costs.
More on What to Do in Vietnam
Head over to my blog post on my first experience in Vietnam to learn more about what to do in Vietnam.
If you're interested in learning about other travel locations, I have posts on everywhere I've been. Oceania, North and South America, Europe, Asia, and the Middle East are all featured.
Check out my travel thoughts, too, for tips and tricks on traveling.