Vietnam Motorcycle Trip Guide: A Guide (With Itineraries)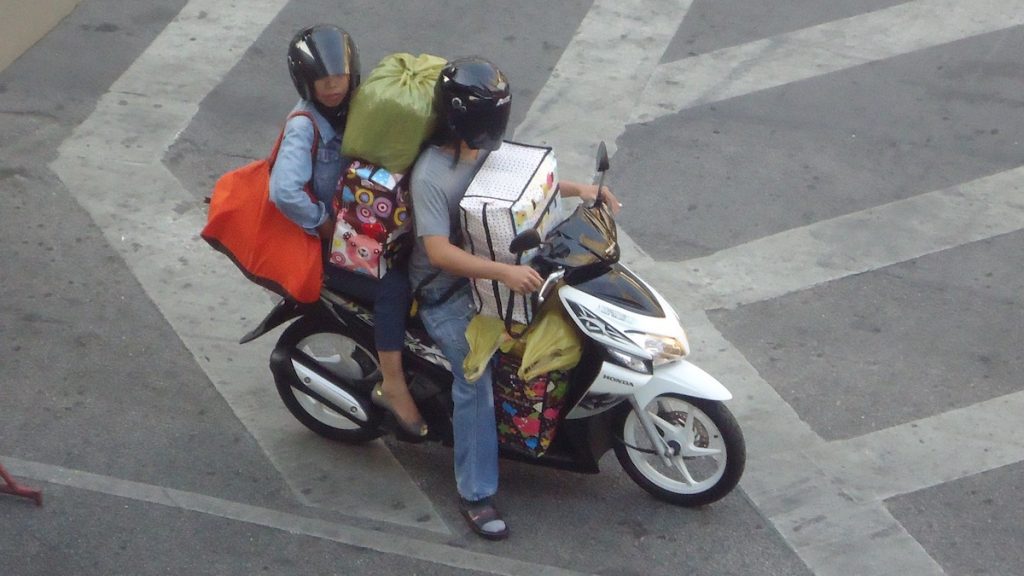 A Vietnam Motorcycle trip is just what the doctor ordered.
In the instant-gratification, super-fast-paced world we now live in, it's easy to race through experiences at full speed without truly taking them in. This has become especially true when it comes to travelling; with jam-packed itineraries, the call of high-speed trains and aeroplanes, we've forgotten to move with the pace of life on the ground.
Vietnam, with the fierce nickname 'The Land of the Ascending Dragon,' full of flat rice plains, mountainous valleys and picturesque river deltas, is not a country you want to blitz through at 100 mph. Vietnam is a country you absorb slowly, matching your own rhythm with that of the land, its people and the Vietnamese way of life.
There's no better way to find this almost meditative connection with the country than via a Vietnam motorcycle trip. Whether it's through its mountainous north, the jungle tracks of central Vietnam, or its major cities' open highways, a motorcycle trip through Vietnam is sure to be an unforgettable experience.
5 Reasons Why Vietnam is An Ideal Motorbike Road Trip Country
For the sake of pure honesty, I hated quite a lot of my time in Vietnam (and I will elaborate on the scam culture later on in this guide). So why on earth would I write a post, promoting a country that got under my skin so much?
I had a shitty time, but it still doesn't change the fact that the country was an ideal place to explore via motorbike. beauty is still objectively beautiful. Here are a handful of reasons why I still went to the trouble of writing this article…
Breath-taking scenery. One of the biggest draws to travelling through Vietnam on a motorcycle trip is the country's stunning scenery. Running the length of 1,000 miles, Vietnam has a huge variety of landscapes and climates to be enjoyed. Northern Vietnam is a breath-taking world of mountains, green valleys, hillside villages and farmland.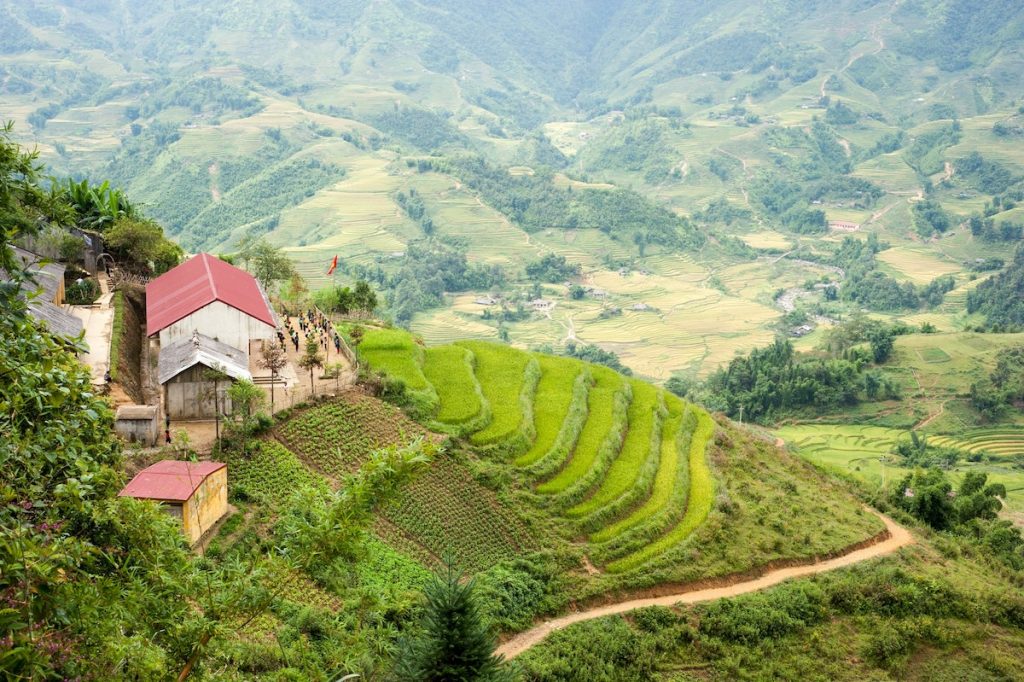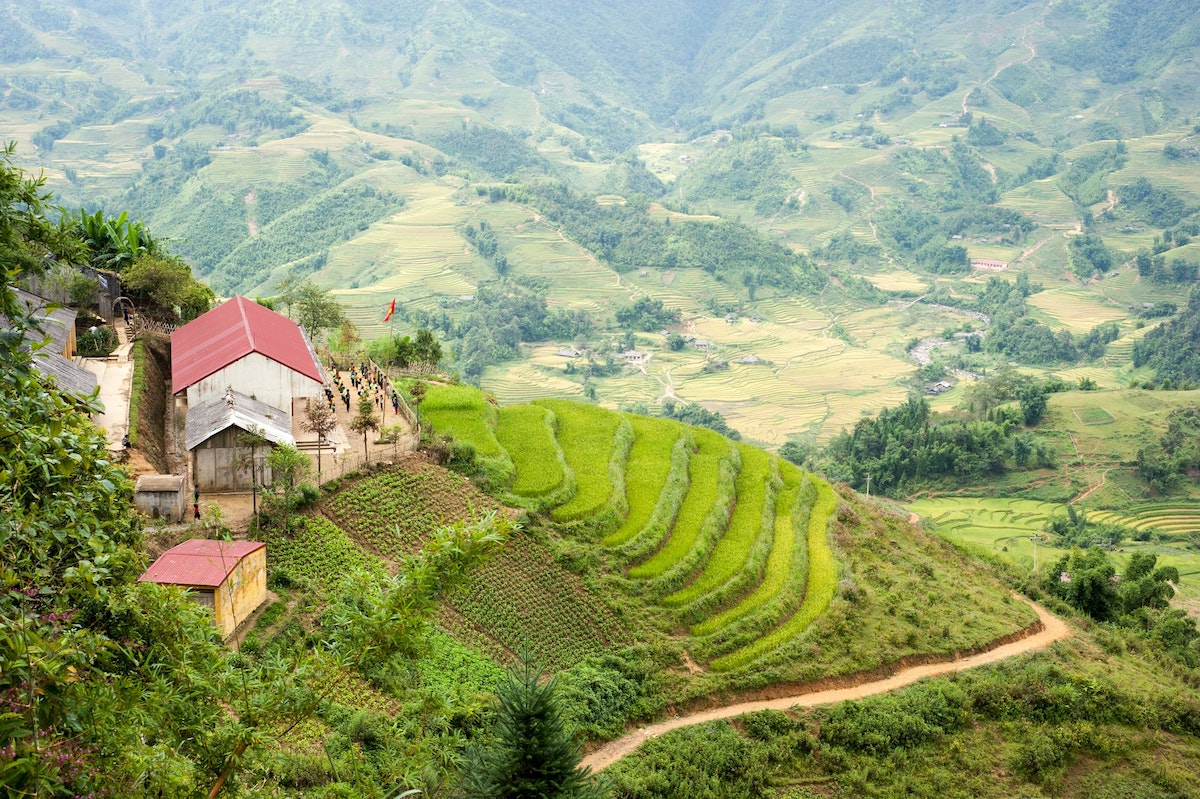 The 1000-mile coastline runs the length of the country, offering stunning beaches and turquoise seas, while the southern rice bowl of the Mekong Delta offers unique landscapes of wetlands, rivulets and a social scene unchanged in millennia.
Motorbike shops are everywhere! In a country where motorbikes and mopeds outnumber every other mode of transport, finding motorbike shops, repair shops and parts for bikes is a breeze – even in some of the more remote areas. If it comes to breaking down on the roadside, local Vietnamese knowledge of bikes is unmatched, and there will almost always be a friendly local around to give you a helping hand.
Road signs use the Latin alphabet. Unlike its neighbouring countries, the Vietnamese language uses the Latin alphabet. This means place names and street signs are written using ABC rather than the Brahmic script or Chinese characters, which is a God-send when you've lost your way to Hue or Ho Chi Minh City, and you're looking for that next road sign to point you in the right direction.

The untouched beauty of remote destinations. Vietnam lends itself perfectly to exploration by motorbike because many of its most beautiful and interesting places are off the beaten track. Hiring tours or organising transport to these remote locations can be both costly and time-consuming. Heading out under your own direction on a motorbike means you can explore these places without restriction.
Costs are low. While there are many great motorbike trips to do around the world, a Vietnam motorcycle trip is one of the most affordable. Exchange rates from major currencies into Vietnamese Dong are generous; this, combined with the low cost of food, accommodation and fuel, makes a Vietnam motorcycle trip one of the most affordable in the world.
Getting a Driving License For Your Vietnam Motorcycle Trip
Getting the correct documents for an independent road trip in any country can seem daunting at first. However, sorting out a driving license for your Vietnam motorcycle trip isn't as complicated as it might seem. But, it does require a bit of preparation from your side.
You don't need a driving license to ride anything that is 50 ccs or lower. This type of motorbike might be great for tootling around town, but it'll be a long-old road trip if you try to ride the length of Vietnam on one. For a motorcycle road trip, you're going to need something a little more powerful.
You'll actually find that most visitors hire motorcycles without any sort of license or permit. I wouldn't really recommend doing this as it's not unusual to get stopped by police officials in some of the more touristy areas.
Not having a specific driving license for Vietnam in this situation could land you with a hefty fine or parting with some serious cash in the form of a bribe. It's also almost impossible to get insured on your motorbike without a license, leaving yourself open to expensive medical bills if something unfortunate were to happen.
Anyway, at the risk of sounding like your overprotective parent, make sure you sort a license, it'll make things a lot easier in the long run. The easiest way to do this is to apply for an International Driving Permit (IDP) in your home country before you travel to Vietnam.
Once you've arrived in Vietnam, you can then convert your IDP to a Vietnamese driving license. Here's a quick step-by-step guide on what you'll need to do (bear in mind that you'll need to be in Hanoi or Ho Chi Minh to do this):
Gather the following documents: three passport photos, a translated and verified copy of your IDP, a copy of your passport, original passport, your driving license and a Vietnamese permit with at least three months validity.
Fill in this form and find 135,000 VND to pay for the processing fee.
Head to the Department of Transportation in Hanoi or Ho Chi Minh to hand over the documents and pay your fee.
Fill in a postal form and pay another 30,000VND to have the license posted to your address, which should arrive in about 7-10 days.
Should You Rent or Buy For Your Vietnam Motorcycle Trip?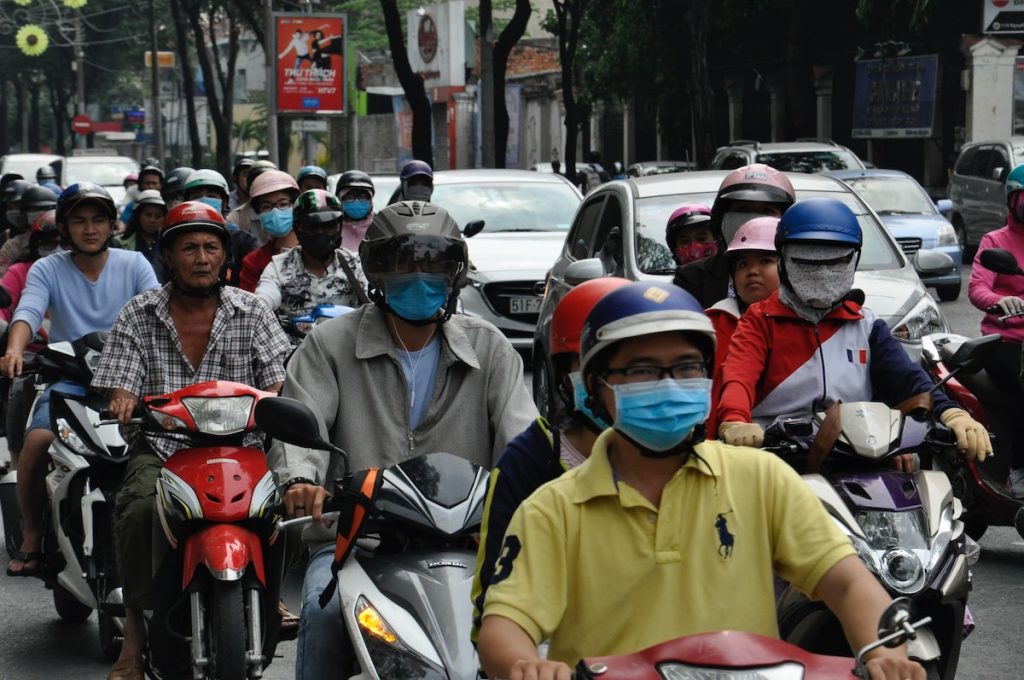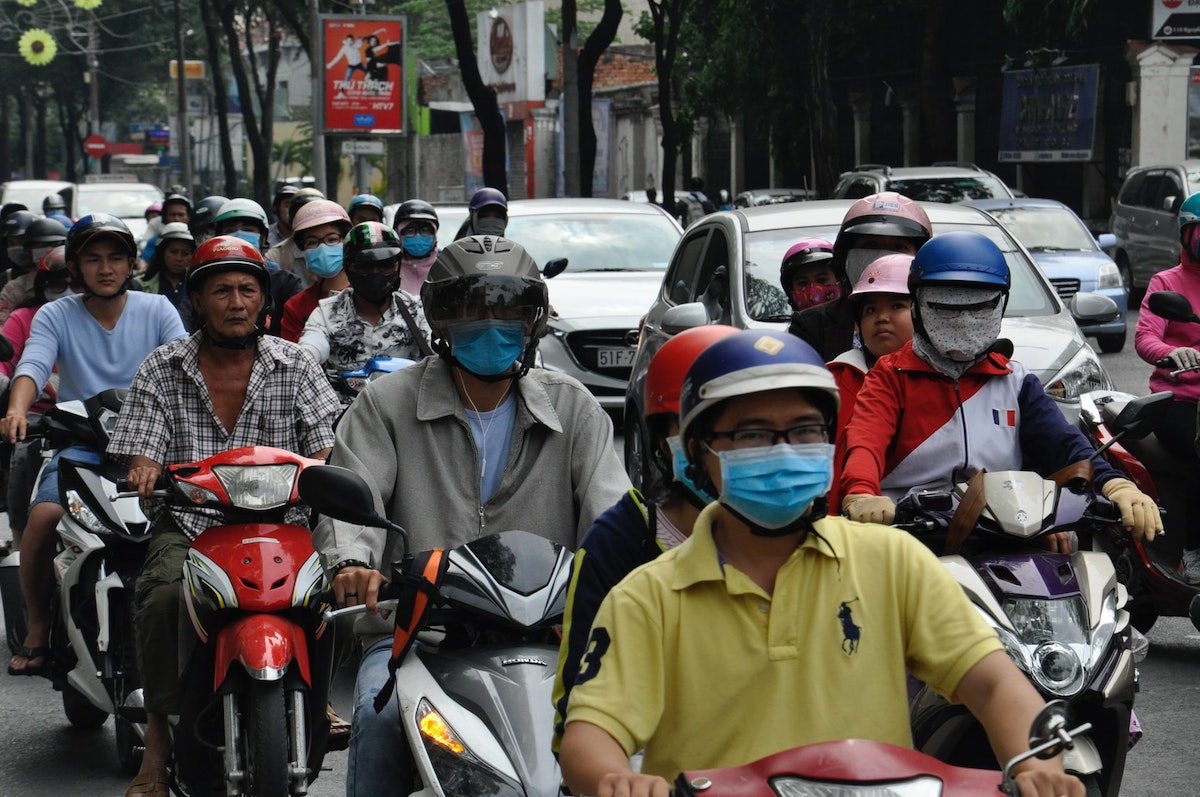 I won't sugar coat it, there's no black and white answer to whether you should rent or buy a bike for your Vietnam motorcycle trip. Your decision should really be based on how much money you want to spend, where you are in the country, your knowledge of bikes and the logistics of returning rentals or selling on bikes you have bought.
I'll take you through the pros and cons of both options, so you can make a decision that's right for you.
Renting a Motorcycle in Vietnam
Renting a motorcycle in Vietnam is, by far, the most popular choice for backpackers and short-term travellers for one simple reason: it's the easiest option.
Home to a seemingly endless number of motorbike rental companies, you'll pretty much find an outlet on every street in every city across Vietnam. Just make sure you read up on reviews or ask for recommendations from your hotel's front desk, so you go through a reputable company.
The cost of renting a motorbike in Vietnam depends on the make and model of the bike, as well as its size. Taking an average price, you're looking at paying around 150,000 VND per day of your bike rental, but you'll usually get a discounted rate if you're renting your bike for a month or longer.
You might need to show your Vietnamese license to rent a motorcycle though it's not uncommon for this to be completely overlooked. Depending on the rental company or the hotel/guesthouse/hostel you rent from, you may also need to hand over your passport or a small deposit as a guarantee that you'll return the bike.
If you do have to hand over your passport, it's worth making a photocopy. Not only to have a record of it in the unlikely chance it gets lost but because you'll need a record of your passport to check into the many hotels, hostels or guesthouses further during your road trip too.
When you rent your bike, you'll agree to a day to return your bike with the company. If you don't return it within this time or return it damaged or altered, you'll be liable to pay or lose your deposit.
Buying a Motorcycle in Vietnam
Buying a bike for your Vietnam motorcycle trip is another way of doing things. While it's less common than renting, buying a motorcycle does have its own advantages, especially if you're going to be in the country for longer than a month.
Firstly, buying a bike is generally more expensive than renting one, especially if you want something that won't malfunction half a mile down the road. The exact cost of buying a motorcycle can vary hugely, depending on the make, model and age of the bike. You can buy brand new bikes from most major cities in Vietnam, but the high cost coupled with the logistics of getting it out of the country doesn't make it the most cost-effective choice.
On the other hand, buying a second-hand bike can be quite affordable. Depending on the type of bike you choose, you can usually buy a secondhand one for as little as 7,000,000 VND.
There are two ways of going about buying a bike for a Vietnam motorcycle trip; finding a fellow backpacker who's getting ready to leave Vietnam or responding to online adverts.
One of the best places to meet backpackers with a bike to sell, is through adverts left in hostels and homestays in major cities like Hanoi, Ho Chi Minh City and Hue. In these popular cities, you're far more likely to buy bikes for a better price, as backpackers are keen to sell them before they leave the country.
Another way of buying a motorcycle in Vietnam is online; websites such as Travelswop enables you to buy motorcycles in the local area and gives you detailed information about the condition and price of the bike. The Vietnamese website ChoTot, an equivalent of Craigslist or Gumtree but just for motorbikes in Vietnam, is also a great place to buy a bike for your Vietnam motorcycle trip.
Will a Scooter (Moped) Suffice For a Long Road Trip in Vietnam?
While you're whizzing around Vietnam, you'll notice a number of different two-wheeled motors on the road; pushbikes, mopeds, scooters and motorbikes. But which one do you need for a successful Vietnam motorcycle trip?
For longer journeys, I'd recommend renting a sturdy motorbike rather than a scooter. Saying that, there are times when a moped will be perfectly fine for a bit of adventuring too.
You will need your moped to have at least a 125cc engine to make sure it's capable of holding its own on the winding roads of Vietnam. Anything smaller than this won't have enough power to make the journey and will end up being more of a hazard to you and other road users. You can find simple rev-and-go mopeds with this size engine, making them good enough to take on longer journeys.
Aside from the larger engines, you'll also find a selection of semi-automatic scooters. These are more likely to have a bit more power behind them compared to regular scooters and are ideal for longer road trips through Vietnam.
Best Bikes For Your Vietnam Motorcycle Trip
When it comes to choosing the right bike for a Vietnam motorcycle trip, you're going to need to weigh up the cost, the likelihood of finding repairs and parts and the availability of the bike itself.
Honda bikes are some of the best bikes to rent or buy when in Vietnam, as you'll find Honda repair shops all over the country. It's worth bearing in mind that a lot of the Honda bikes in Vietnam aren't Japanese but Chinese copies; this is ok for some bikes and can also be a detriment to others.
If you're unsure, here are some of the best bikes you'll find for your Vietnam motorcycle trip.
Honda Wave
This is one of the most common and cheapest bikes you will find in Vietnam. It's unlikely that you'll come across a genuine Japanese Wave, and you're more likely to find a Chinese fake instead.
While this semi-automatic bike hasn't got the largest of power capabilities, it is the workhorse of Vietnam bikes and can easily be fixed if anything goes wrong. The popularity of the Honda Wave can easily be seen on the street as the average Vietnamese rider is quite taken with this particular model.
Honda Master
Honda Master's are great all-around bikes for travelling across Vietnam; they are small enough to navigate the narrow passages of Vietnamese streets but also powerful enough to take you on those month-long road trips. The Honda Master uses a manual transmission, which is fine for your everyday rider, but will take a bit of getting used to if you've only ever ridden automatics.
Yamaha Exciter
Probably the most common manual bike on the road in Vietnam, the Yamaha Exciter is no stranger to the winding routes of the country, and the 150cc large framed manual is more than capable of tackling the more mountainous stretches of road trips in the north.
Suzuki Hayate Automatic
As automatics go, the Suzuki Hayate is one of the best you'll find in Vietnam and is great value for money. They're thought of as pretty reliable bikes and can be easily repaired at local shops, something that comes to great use when travelling long distances across the country. The only downside to these bikes has to be a lack of storage and pegs on the back for a second passenger.
Yamaha Nouvo 4 Automatic
One of the fastest automatics on the streets, the Yamaha Nouvo 4 Automatic is a popular bike for locals and tourists alike. Thought to be more on the flashy side for the Vietnamese, the 135cc engine gives a huge boost compared to other automatic bikes. The Yamaha Nouvo 4 depreciates fast, though, which isn't great for those who are buying and selling brand new bikes but is a bonus if you're buying it second hand from a fellow backpacker.
Motorbike Scams in Vietnam To Be Aware Of (& How To Avoid Them)
Like many countries around the world, there are always people looking for a quick win. In Vietnam, and especially when it comes to buying or renting bikes, you'll need to have your wits about you. There are a number of motorbike scams that you should be aware of; some are quite well known, while others are not.
Here are some of the most common motorbike scams you'll come across in Vietnam:
Stolen bike scam
One of the most popular motorcycle scams is one that not only happens in Vietnam but across the entirety of Southeast Asia. It goes as follows. You rent your motorbike, and then at some point in your journey, you come back to find your bike has been stolen. The person or 'company' you rented the bike from then charges you a huge fee to replace the bike and a fine to cover any other costs.
What has actually happened is that the company you rented the motorbike from has a spare set of keys, and has "stolen" the bike while you're not looking.
Luckily this is an easy one to avoid. Simply make sure that the only bikes you hire for your Vietnam motorcycle trip are from reputable companies and not an individual. It's key to do some background research before you rent a bike. Ask yourself some questions like; Do they have an online presence? Are there reviews from previous companies? Are there actual business premises? And so on.
Superficial damage scam
This type of scam isn't uncommon around the world. When you return your motorbike to the rental company, they'll try to charge you for scratches or marks on the bike that might not be your fault. Chances are, these small damages were already on the bike before you rented it.
To avoid falling foul of this scam, it's always good practice to take photos of all angles of your bike before you get the keys. This way, you can prove what condition the bike was in before it even left the shop.
Fake parking fees
As you make your way across Vietnam, you'll need to park your bike up at various locations along the way, whether this is at the roadside or in a designated car park at a tourist attraction. Some of these attractions will have their own parking lots, many of which are free and are part of the attraction or sight.
On your approach to some tourist attractions, locals will try to flag you down and encourage you to park in their "car park" (this is most commonly seen at the Bich Dong Pagoda near Ninh Binh).
Of course, charging you a higher-than-average fee for doing so. Generally, there is no law or local rule saying you have to park here, and it's usually just a result of a local opportunist. The best way to avoid this is to research the parking situation beforehand, on an app like MAPS.ME. This will give you an insight into where to park, which ones are legitimate, and which are scammers.
Is a Vietnam Motorcycle Trip Safe?
Riding a motorcycle by its very nature isn't without its own risks, no matter where you might be in the world. A Vietnam motorcycle trip has its own unique pitfalls and safety concerns, but it shouldn't be a reason not to complete a once in a lifetime road trip through the country. The best way to make your trip as safe as possible is to follow some key rules and safety advice and nail down travel insurance that will cover this activity before you go.
Vietnamese roads are notoriously busy and chaotic, and can be quite intimidating and overwhelming for nervous drivers. The best way to combat this is to drive defensively and cautiously, and to drive with the flow of the traffic.
Road rules you may be used to in your own country probably don't apply here, so treat everything with caution and assume that every vehicle on the road is a potential hazard.
Driving in the major cities may at first seem chaotic, but there is a type of organised chaos that soon becomes second nature to motorcyclists. With so much congestion, speeds rarely go above 20/30mph in the city. Out on the country roads, conditions fall into two different camps; either you will be riding down nothing more than a dirt track, or you will be on larger open wide roads. Choosing the correct speed and using your bike's horn to ensure fellow road users are aware of your presence is key.
Finally, although you may see many Vietnamese riding motorcycles and mopeds in nothing more than shorts and sandals, it's not wise to follow suit. Ensure you wear suitable clothing for your Vietnam motorcycle trip so you're protected, just in case the worst should happen, and you do come off.
Finding Accommodation on a Vietnam Motorcycle Trip
Finding a place to stay in Vietnam is famously easy, and affordable. Accommodation in the country covers all types of travellers, from low-budget hostels to luxury hotels, most of which can be booked last minute while you're on the road.
Other than your budget, the type of accommodation you stay in will also be determined by the area you've chosen to explore by motorbike.
Driving through more secluded countryside areas means you may be restricted to one or two guesthouses. Whereas, if you're passing through major cities such as Hanoi, Haiphong, Da Nang, Hue or Ho Chi Minh City, you will have a plethora of accommodation to choose from, whether that's a cheap dorm room or a five-star hotel.
It's easy enough to book hotels, homestays and hostels through a range of websites and mobile phone apps, but it's not uncommon to turn up without a booking and find a bed or room. This being said, if you're slightly more picky about your accommodation, it's worth booking ahead of time.
The best way to go about this is to plan your journey beforehand and work out where you will be from day-to-day. This way, you can book accommodation for each night and save disappointment – if your plans change, at least you have something booked and room to get some rest in.
5 Routes For Vietnam Motorcycle Trip Beginners
The beauty of Vietnam is that there is something for everyone. Only in the country for three days? Head out from Hanoi to explore the north. Looking for a two-week remote adventure? Take a Vietnam motorcycle trip through the country's highlands.
Below, I've outlined five of the best road trips you can do in the country, but don't be afraid to combine them to make the ultimate five-week road trip through Vietnam!
3 Day Road Trip – Hanoi to HaLong Bay and Cat Ba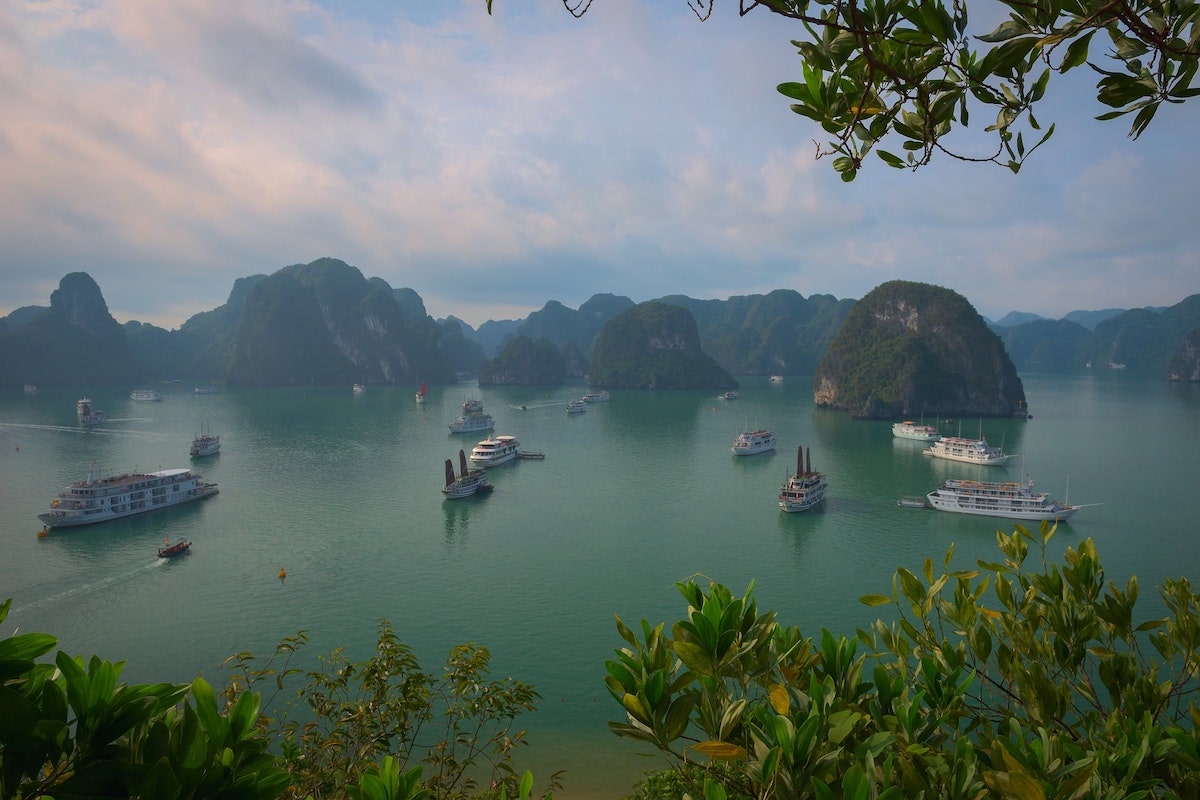 This quick, three-day trip route takes you from the Vietnamese capital through the country's northwest and eventually to the famous Ha Long Bay. It's the perfect motorcycle trip for those who are limited on time and can only travel a short distance from the capital and airport.
Day 1: Hanoi – HaLong Bay
Leaving the capital, you'll drive through the outer suburbs of Hanoi and to the ceramic village of Bat Trang, the oldest pottery village in Vietnam. Once you've soaked up the culture in this small village, it's time for an adventure through Vietnam's northwest and to the coastal city of Haiphong.
Day 2: Haiphong – Cat Ba
Day two can be a combination of exploring Haiphong, and then making the coastal motorcycle ride to Lan Ha Bay and the southern part of Halong Bay, a region known for its beautiful limestone islands. A quick boat will take you and your motorbike from the bay to the island of Cat Ba.
Day 3: Exploring Cat Ba and a return to Hanoi
You can spend day three exploring the island of Cat Ba, a place that lends itself perfectly to motorcycle adventures. Attractions include exploring the island's many winding tracks and panoramic views, as well as stopping off at the former Vietnamese cave hospital used by NVA forces during the Vietnam war.
5 Day Road Trip – Ha Giang Loop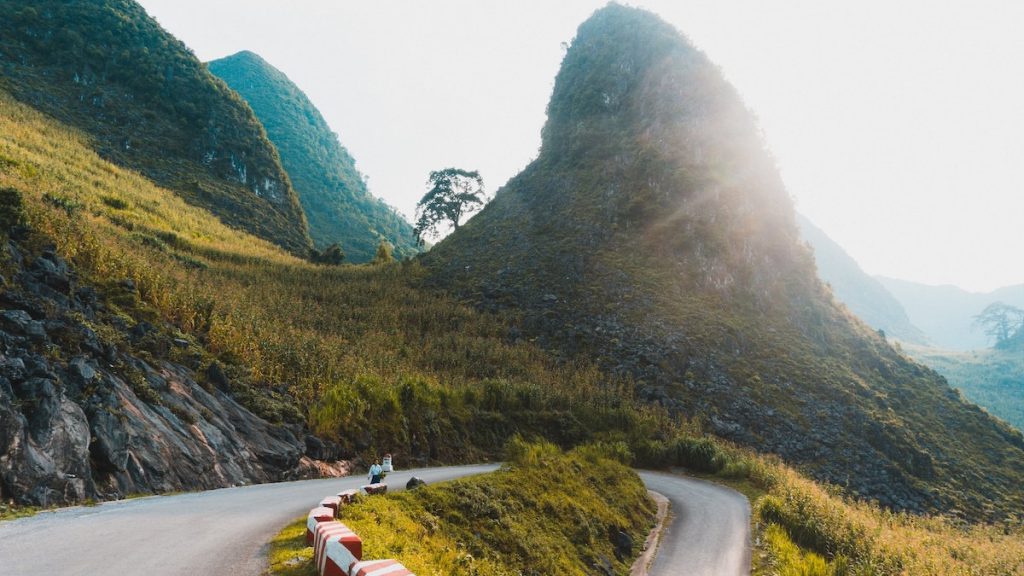 Arguably one of the most picturesque regions of Vietnam, the province of Ha Giang in the extreme north is Vietnam motorcycle trip heaven. With jaw-dropping landscapes and minority tribal towns, complete with an untouched and unspoilt way of life, Ha Giang still remains just off the tourist trail.
Bordering the Chinese province of Yunnan to the north and miles away from the built-up areas of Hanoi to the south, the Ha Giang Loop is a world within itself.
Here's how to experience it in five days, though I wouldn't blame you for adding a few days onto the end:
Day 1: Ha Giang city to Yên Minh District
On day one, you'll leave Ha Giang city and make your way through the valleys, which will now be your home for the next five days. The first point of interest is the Quan Ba Pass, one of the many stunning mountain passes you'll see along the loop. Good weather provided, this first section of the route is easy going. A little further is the magical Lung Khuy Cave – a must-see diversion off the main road. Finally, you can find a place to rest your eyes in Yên Minh.
Day 2: Yên Minh to Lung Cu
Setting out from Yên Minh, you'll make your way through the winding roads of the Tham Ma Pass, another gorgeous valley on the Ha Giang Loop. Once you pass through the valley, you'll come to the famous Sa Phin Market, a meeting place for the local Hmong people and other tribal peoples of northern Vietnam. From here, you can bike it to the H'Mong King Palace and the most northerly point in the country, Lungs Cu Flag Post.
Day 3: Lung Cu to Meo Vac
Leaving Lung Cu, day three will take you to the old town of Dong Van, a former colonial outpost with 100-year-old architecture. Winding ever on through the valleys, you will come to one of the most impressive parts of the loop, Ma Pi Leng Pass. This road is carved into the mountainside and makes for fantastic motorbike exploration, finishing in the town of Meo Vac.
Day 4: Meo Vac to Du Gia
Exiting Meo Vac, you can then drive through one of the final breathtaking roads between here and Mau Due, pulling over to enjoy the views and take lots of photos as you go. After miles and miles of more mountain views, you'll arrive at the rice paddy-laden village of Du Gia.
Day 5: Du Gia to Ha Giang
For the final stretch of the journey, it's onto the built-up town of Ha Giang to complete the loop. You can extend this motorcycle trip further by continuing your journey to Hanoi or heading over to Sapa (more on this next!).
7 Day Road Trip – Hanoi to Sapa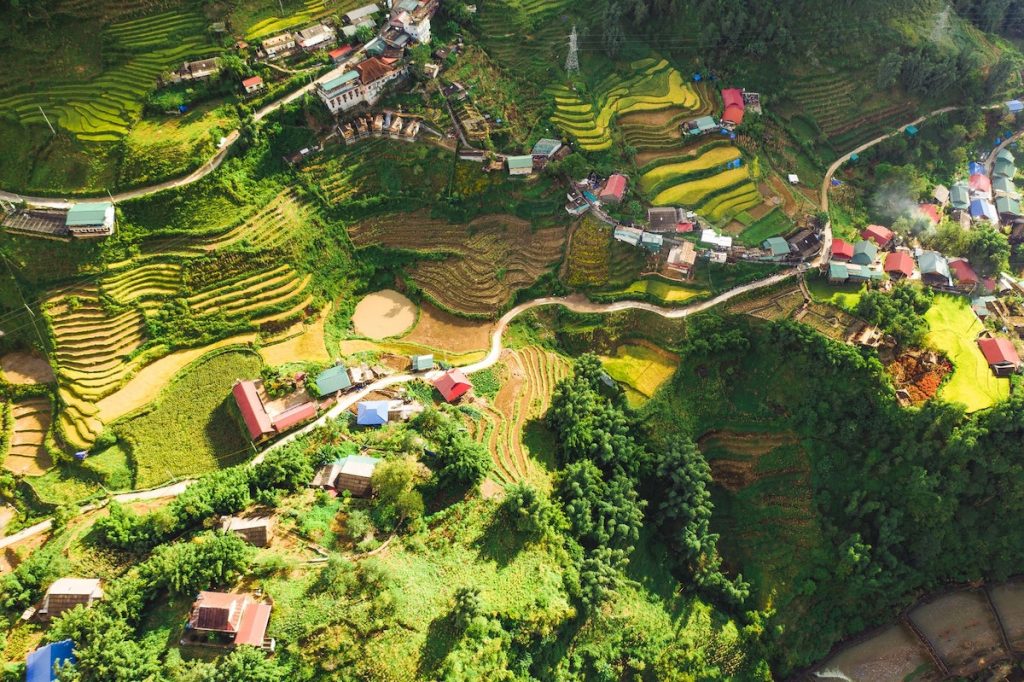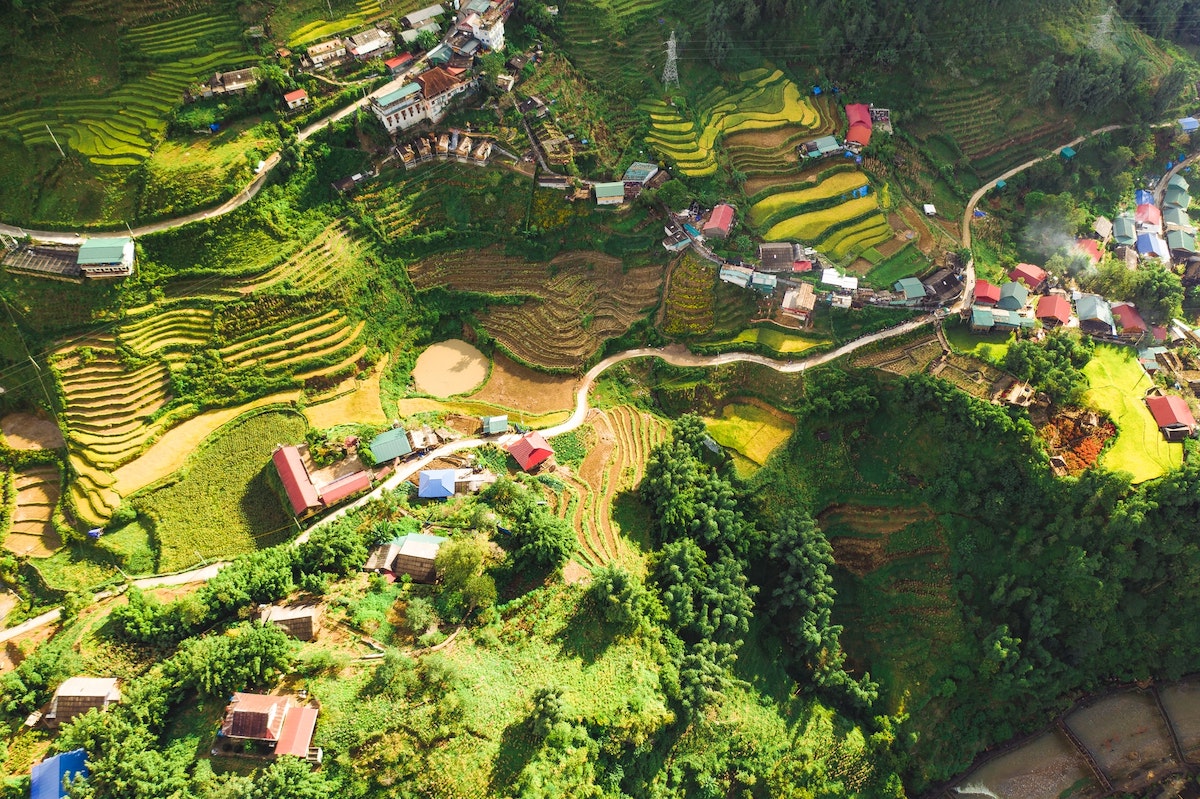 Another Vietnam motorcycle trip that starts from the capital is the route from Hanoi to the mountain town of Sapa. Complete with mountain views, local Hmong villagers and stunning rice paddy steps, this route is what Vietnamese motorcycle trips are all about.
Day 1: Hanoi to Mai Chau
The first day will see you exit the built-up capital of Hanoi and head out into the country's northwestern countryside. Home to a Thai ethnic group, you'll ride past extensive farmlands and country roads, especially the forgotten French road No 6, surrounded by stunning limestone karsts. You'll then finish the first day in the small town of Mai Chau.
Day 2: Mai Chau to Phu Yen
On day two, you can make the drive from Mai Chau, heading northwards through the idyllic Hua Tat pass, following the course of the River Da. At one point, you will need to take your bike across the river on the Van Yen ferry to make it to your final destination of the day Phu Yen.
Day 3: Phu yen to Than Uyen
Leaving Phu Yen, it's time to drive through the beautiful Lung Lo pass and the many mountain villages that sit along today's route. As you then approach Mu Cang Chai, you'll catch sight of some of the most beautiful and seldom-visited rice terraces in northern Vietnam, before arriving at Than Uyen in the evening.
Day 4: Than Uyen to Sapa
At the halfway point in this seven-day road trip, it's time to drive towards the main town in the area, Sapa. Another French outpost, Sapa, is home to old colonial buildings and modern cafes and restaurants, ideal for stopping off for lunch. After filling up on some of Vietnam's finest street food, head to the Qui Ho pass to cross Hoang Lien, the tallest mountain range in Vietnam.
Day 5: Sapa to Luc Yen
Day five is a much more relaxing drive, coasting through the mountain roads and passing through Lao Cai, which gives you a chance to look over the Chinese border. Finally, you'll arrive at Luc Yen, home to the Tay people who still live in stilt houses.
Day 6: Luc Yen to Vu Linh
Coming down from the mountains and hills, this is the flattest part of the motorcycle journey. Today, you'll pass through the picturesque villages of the Dzao and Tay peoples before stopping off for food and lodgings in Vu Linh, which sits peacefully on the banks of the beautiful Thac Ba lake.
Day 7: Vu Linh back to Hanoi
The Red River Delta route back to the Vietnamese capital means you can enjoy more picturesque roadside views without the need to ride your bike down the main highways.
10 Day Road Trip – Mekong Delta and the Central Highlands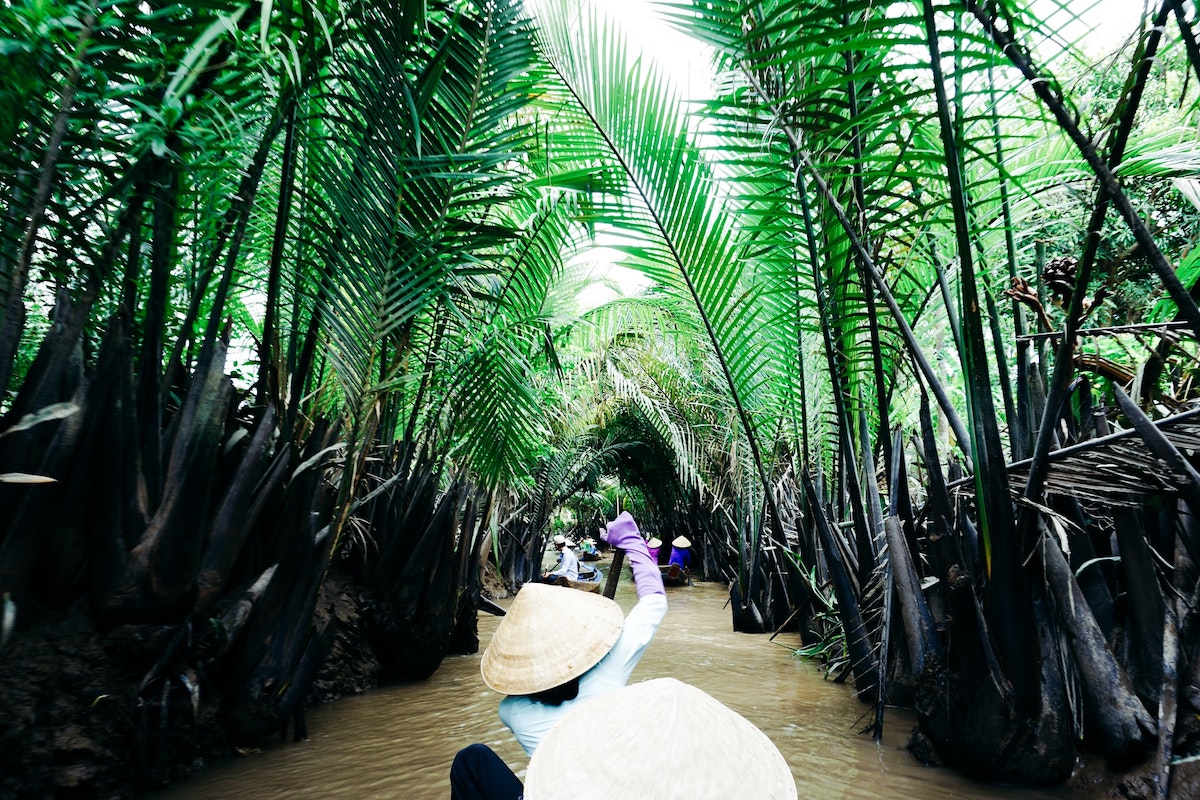 This Vietnam motorcycle trip takes in two of the most famous areas of the country, the southern Mekong Delta and the Central Highlands region. Leaving from Ho Chi Minh City, your route will loop through the delta and back up northwards through central Vietnam.
The ten-day trip is a great way to experience a cross-section of Vietnamese climates, from scorching river heat to soothing highland winds.
This is another easy road trip to extend, as you may want to spend a few days exploring Can Tho, Hoi An, Mui Ne and Dalat.
Day 1: Ho Chi Minh City to Ben Tre
Starting in Saigon or Ho Chi Minh City, to give it its official new name, your journey will head southwest out of the city towards the town of Ben Tre. City suburbs give way to calm village roads, ideal for long stretches of easy motorbiking.
Day 2: Ben Tre to Can Tho
On day two, you'll delve deeper into the Mekong Delta to one of its major towns, Can Tho. During this stretch of road, you'll need to travel over small one-track bridges and dirt tracks, only adding to the sense of adventure. Can Tho is also the site of The Mekong's famous floating market, Cai Rang. If you've got time, it's worth joining a tour to see the floating fruit and veg market come to life!
Day 3: Can Tho to Chau Doc
Day three is a day of many bridges as you cross multiple tracks over the waterways of the Mekong Delta. Your route will also take you through the Tra Su Cajuput forest, one of the most beautiful mangrove forests in Southeast Asia. The day ends in Chau Doc, giving perfect views of the Vietnam – Cambodian border.
Day 4: Chau Doc to Cai Be
On the fourth day of this Vietnam motorcycle trip, it's time to change direction, as you make your way out of the delta and head back east. Driving to Cai Be instead of Can Tho means the route is a little different than on the way there, though expect plenty more bridges and waterways to cross.
Day 5: Cai Be to Vung Tau
Bypassing Ho Chi Minh City, your route eases round to the coastal town of Vung Tau, which offers up a completely different view of the country that you will have seen so far. Vung Tau coastal peninsula is a taste of things to come as you ease up Vietnam's coast.
Day 6: Vung Tau to Mui Ne
Continuing with the coastal theme, day six will take you down beach roads with stunning sea views. With the sandy beaches and lapping waves crashing to the right of you, there's plenty of time to pull over for a quick dip in the sea before arriving at the beach town of Mui Ne.
Day 7: Mui Ne to Da Lat
Say goodbye to scorching beach weather as you leave the low coastal plains and head for the Central Highlands. The road winds ever on and upwards before you climb to the highland town of Da Lat, where pine forests and coffee plantations replace the drier lowlands of Vietnam.
Day 8: Dalat to Buon Me Thuot
Riding through the Central Highlands, this winding road will take you through endless coffee plantations and lucious green farmland. This is the perfect place to stop off and try the local coffee, especially as Buon Me Thuot is known as the coffee capital of Vietnam. Buon Me Thuot is also one of the only places in Vietnam where you can spot wild elephants roaming around!
Day 9: Buon Me Thuot to Kon Tum
Joining the famous Ho Chi Minh trail, this section is an easy drive punctuated by swing bridges, waterfalls and epic landscapes, taking you through the heart of the central region to Kon Tum.
Day 10: Kon Tum to Hoi An
The final leg of the journey is also the longest, covering 186 miles from Kon Tum to Hoi An. A treat for eyes as well as for motorcycle lovers, this is a challenging ride with more plantations and beautiful landscapes passing by with every mile. There's also a chance to stop at Vietnam's premier Hindu archaeological site of Mỹ Sơn before ending your journey in the popular UNESCO town of Hoi An.
11 Day Road Trip – Ho Chi Minh City to Hanoi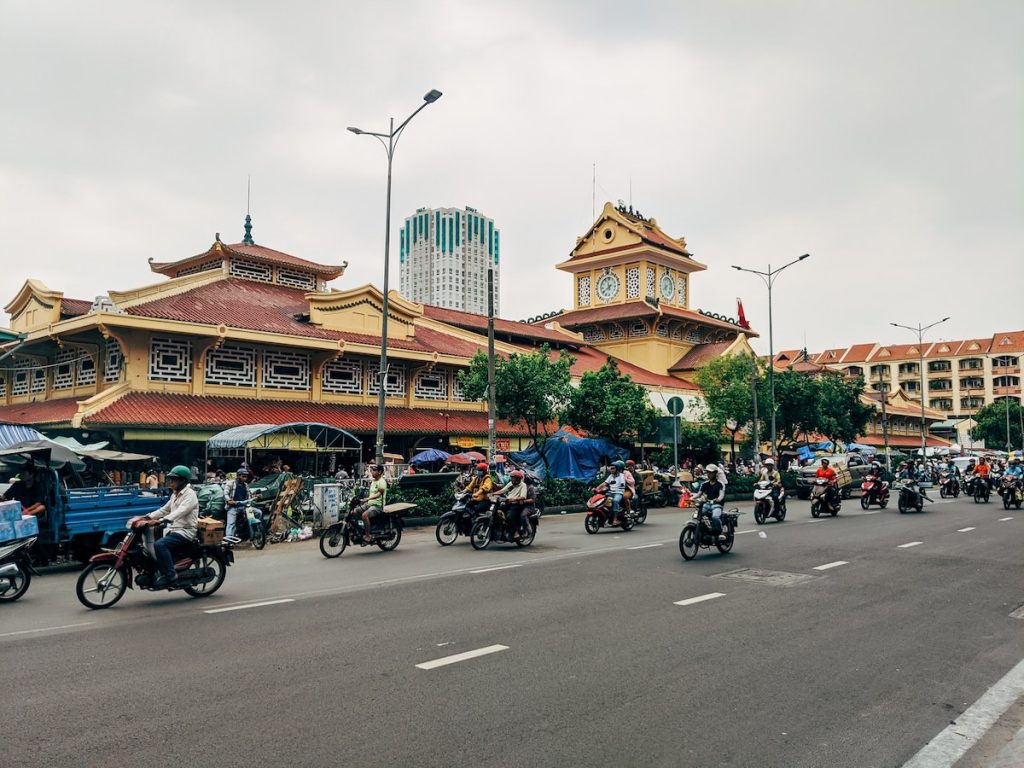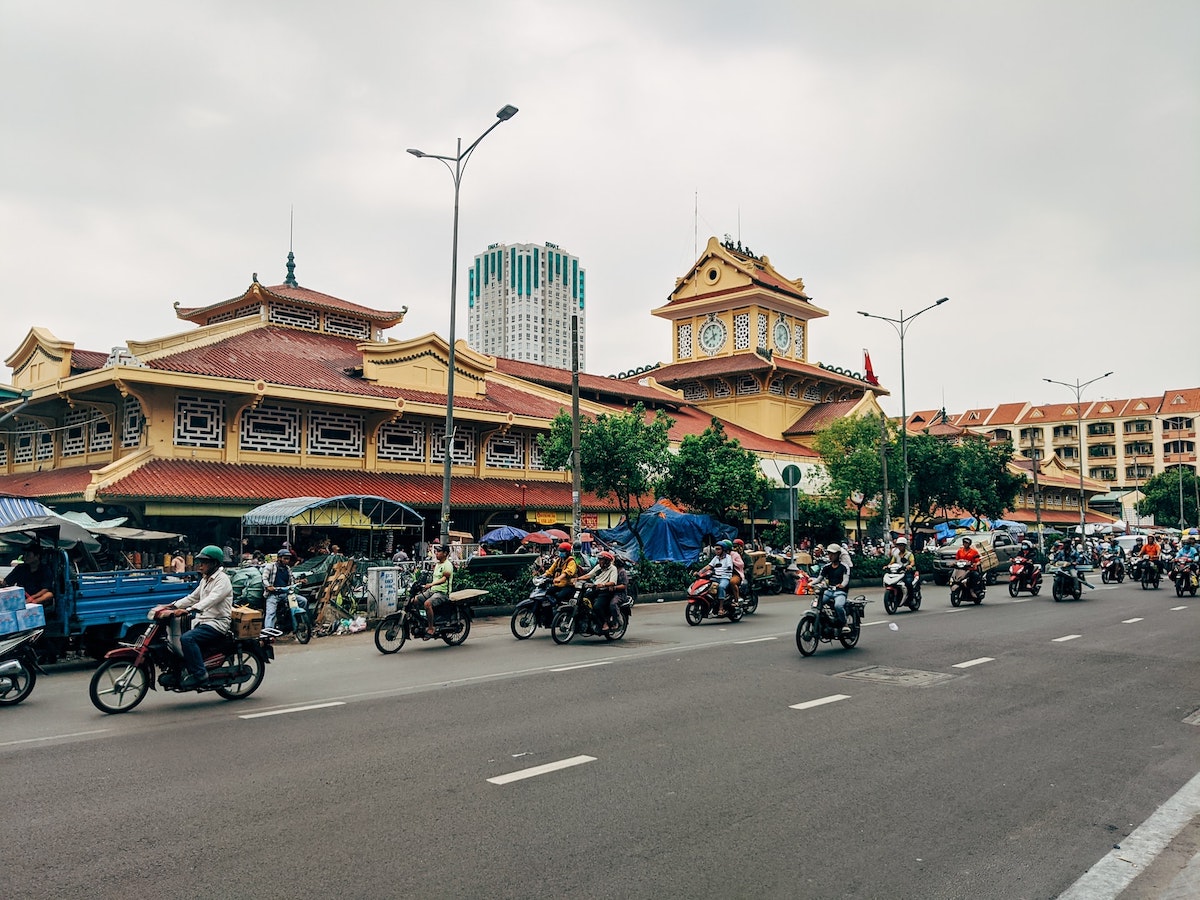 Embarking on an epic south to north journey through Vietnam is the king of all Vietnam motorcycle trips. Made famous in the west by the British Top Gear team, the Saigon to Hanoi journey is one full of multidimensional culture, ever-changing conditions and a real insight into Vietnam as a whole. Of course, this journey can be completed from either direction, but, in this case, I've started in Ho Chi Minh.
Again, feel free to add a few days here and there to soak in the sights of some of the larger cities. There's no reason why you couldn't make this an epic three-week road trip!
Day 1: Ho Chi Minh City to Cat Tien National Park
Starting in Ho Chi Minh, it's time to leave the busy city behind and head north towards one of the biggest national parks in all of Vietnam. Cat Tien National Park offers green spaces to bike through and a chance to see some of the country's famous wildlife.
Day 2: Cat Tien to Da Lat
Leaving the hot lowlands of Cat Tien National Park behind, your route will climb into the central highlands and the mountainous roads leading towards Da Lat. The temperate climate is a nice change, and the chance to visit some of the country's ethnic villages in the central highlands is a must.
Day 3: Da Lat to Nah Trang
When you leave the central highlands, you can take the winding route back to the coast and towards the resort city of Nah Trang. Mountain passes, and winding roads on the way to Nah Trang offer keen bikers a perfect route to let their hair down and pick up some speed. It's better to set out early in the day to ensure you get Nah Trang before sundown, allowing you to take a dip in the sea before turning in.
Day 4: Nah Trang to Buon Ma Thuot
Riding back into the Central Highlands, you'll drive to the region's biggest city, Buon Ma Thuot. Surrounded by picturesque mountain roads and the odd roadside waterfall, the journey to Buon Ma Thuot is captivating. Complete with coffee plantations and farmland, Buon Ma Thuot and its surrounding area are perfect motorcycle territory.
Day 5: Buon Ma Thuot to Kon Tum
Staying close to the Ho Chi Minh Trail route, the road continues north towards the town of Kon Tum. The sight of many fights during the American War (commonly known as the Vietnam War in the west), this route is perfect for history buffs hoping to hit up some poignant sites on the way.
Day 6: Kon Tum to Hoi An
Day six is another epic day of biking, when you'll leave Kon Tum and make for the coastal town of Hoi An, 180 miles away. The up-down motion of the roads are a little trickier here, but no less idyllic and picturesque. Heading down from the central highlands, you will notice the humidity and heat rise as you make it to the UNESCO town of Hoi An.
Day 7: Hoi An to Prao
Today, on your way towards the Vietnam – Laos border, you'll make it to the town of Prao, home to Cham architecture and tribal villagers. Stay in a guesthouse here and enjoy a few treks to local waterfalls. Far from the typical tourist trail, Prao is an untouched gem that is a welcoming stop after a tough day's ride.
Day 8: Prao to Khe Sanh
Biking alongside the Dakrong River is some of the best wild motorbiking you can do in all of Vietnam. Over streams, jungle tracks and narrow bridges, you'll arrive at the former US military base of Khe Sanh. The sight of a huge battle in 1968, little remains of the base, but there is a museum to visit that is dedicated to the conflict that raged here.
Day 9: Khe Sanh to Phong Nha
Entering historic North Vietnam, this section of your Vietnam motorcycle trip will take you over the old DMZ, Truong Son war cemetery and the Hien Luong Bridge. Arriving in the Phong Nha district, you'll be treated to magical caves and the company of the Van Kieu people.
Day 10: Phong Nha to Tan Ky
Venturing even further north, day ten offers even more scenic views of the mountainous and inland landscapes of central Vietnam. Much of this region is unseen by your average tourist and creates the feeling that you are truly in remote Vietnam. By the end of the day, you should arrive in the small, unassuming town of Tank Ky.
Day 11: Tank Ky to Hanoi
The last stretch of the route takes you from the historic start of the Ho Chi Minh Trail to the Vietnam capital. The roads start smooth and open as you leave Tank Ky but generally get bumpier as you approach Hanoi. The green fields of rice transform into the built-up suburbs of inner-city Hanoi as you draw closer. After tackling the busy traffic of Hanoi's central streets, it's time to grab a beer in the capital's famous Bia Hoi corner and toast to the end of your Vietnam motorcycle road trip!