My only knowledge of the unusual things to do in Colorado before visiting was based entirely on the satire show South Park!
Great show, but probably not the best idea to take its word for what life is like in this beautiful state.
After an impromptu and very long American road trip, I found myself parked in a lovely little city by the name of Durango in Colorado, overlooking snowy mountains that wouldn't look out of place in the French Alps.
After hanging my hat there for a bit, I went out in search of the weird and wonderful that Colorado had to offer.
These are my hand-picked best…
1. Garden of the Gods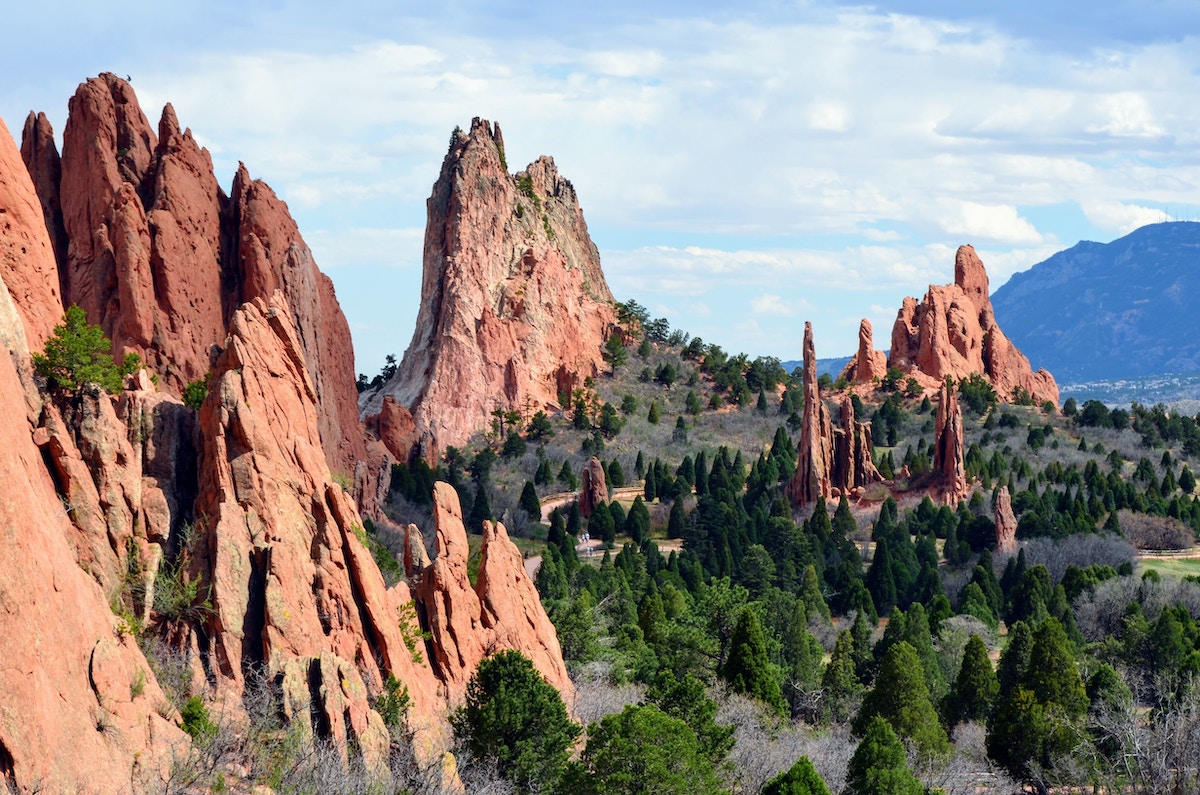 Nestled in Colorado Springs, this natural wonder showcases towering red rock formations that rise dramatically against azure skies. Legends whisper that these colossal monoliths were once ancient gods, petrified into stone.
As you navigate the winding trails, the iconic Balanced Rock and Cathedral Spires seem to defy gravity, compelling you to ponder nature's artistry.
Beyond its visual majesty, the park is steeped in Native American lore. Tales of spiritual rituals and celestial events breathe life into the landscape, making your journey an exploration of both earth and mythology. For those who crave the road less travelled, Garden of the Gods offers not just a scenic marvel but a chance to touch a world where myth and reality beautifully blur.
Don't just witness nature—immerse yourself in stories as old as time. Experience the unusual, the profound, and the mystical, all in one awe-inspiring trip
Location: Colorado Springs
Cost: Free
Opening hours: 5 am – 9 pm
Time needed: 2-3 hours
Getting there: Accessible by car from Colorado Springs.
2. The Paint Mines Interpretive Park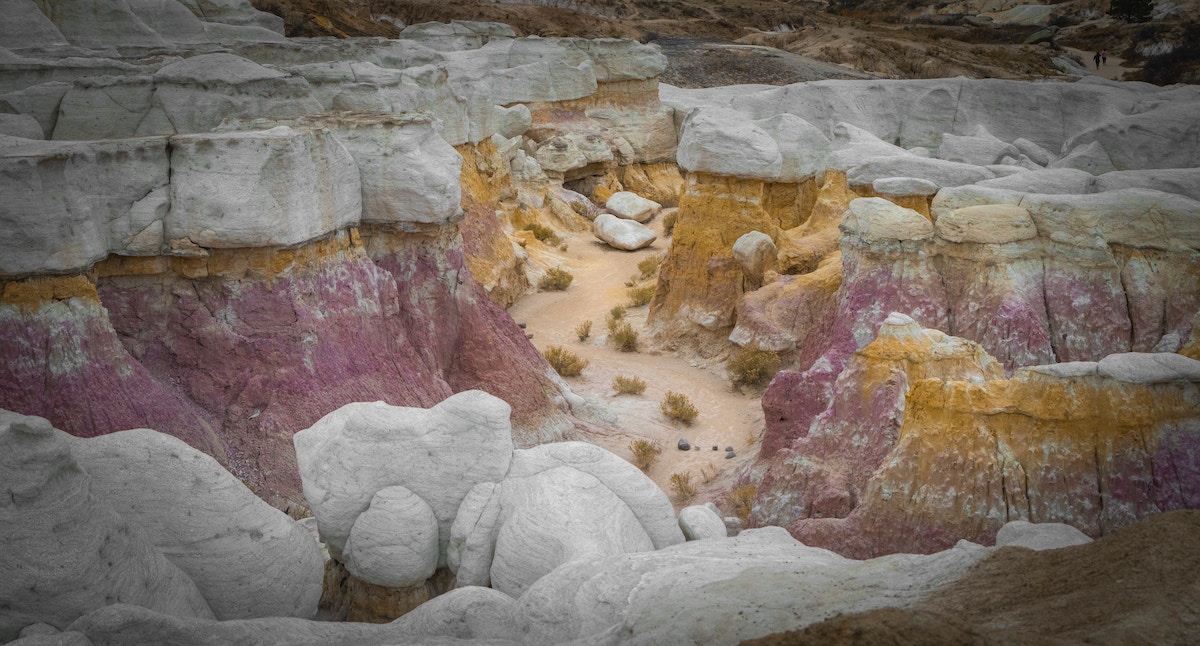 Tucked away in the plains of Calhan lies a lovely palette of colours to meet your eyes with pink and purple formations sculpted by time and elements into fantastical hoodoos and spires.
But these unique formations aren't just eye candy; they're pages from an ancient history book. The park's vibrant clays were once utilized by Native Americans for pottery and ceremonial paints, imbuing the area with a sacred aura.
For the traveller yearning for the slightly unusual, this park offers a journey where every hue has a tale, and every turn reveals a new colour-soaked spectacle. Break free from the ordinary; let The Paint Mines Interpretive Park captivate your senses and ignite your imagination, merging the mystique of the past with the allure of nature's canvas.
Location: Calhan
Cost: Free
Opening hours: Dawn to dusk
Time needed: 1-2 hours
Getting there: A short drive east of Colorado Springs.
3. Royal Gorge Bridge and Park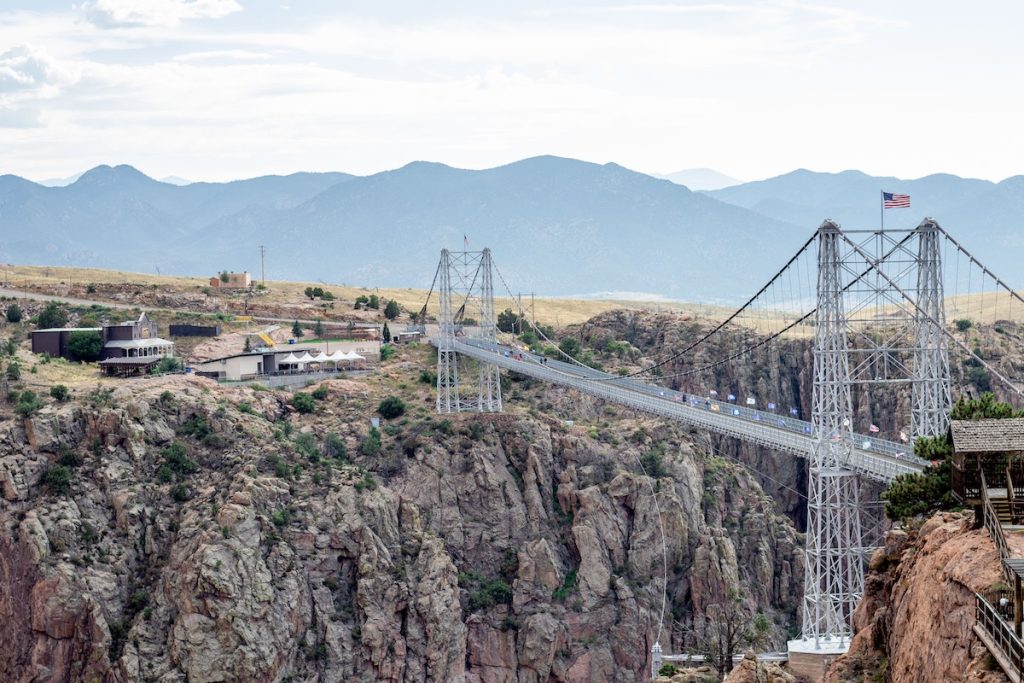 Suspended amidst the rugged splendour of the Rockies, the Royal Gorge Bridge beckons lovers of heights and architectural marvels.
As The USA's highest suspension bridge, it stretches gracefully over the roaring Arkansas River, offering heart-stopping views that mix vertigo with awe.
Beyond the engineering marvel, myths of the gorge speak of ancient spirits that whisper tales of time's passage through the canyon's winds.
As you tread its wooden planks, the vastness of Colorado wolf whistles from below, an expanse of wild beauty and untamed wonder.
But the bridge is just the beginning. The park, replete with adventures from zip lines to a scenic railway, ensures every heartbeat resonates with excitement.
Location: Cañon City
Cost: $29 for adults
Opening hours: 7 am – 8 pm
Time needed: 2-3 hours, alternatively book a night or two in nearby Colorado cabin rentals. No need to rush if you have the time!
Getting there: A short drive from Cañon City.
4. Cano's Castle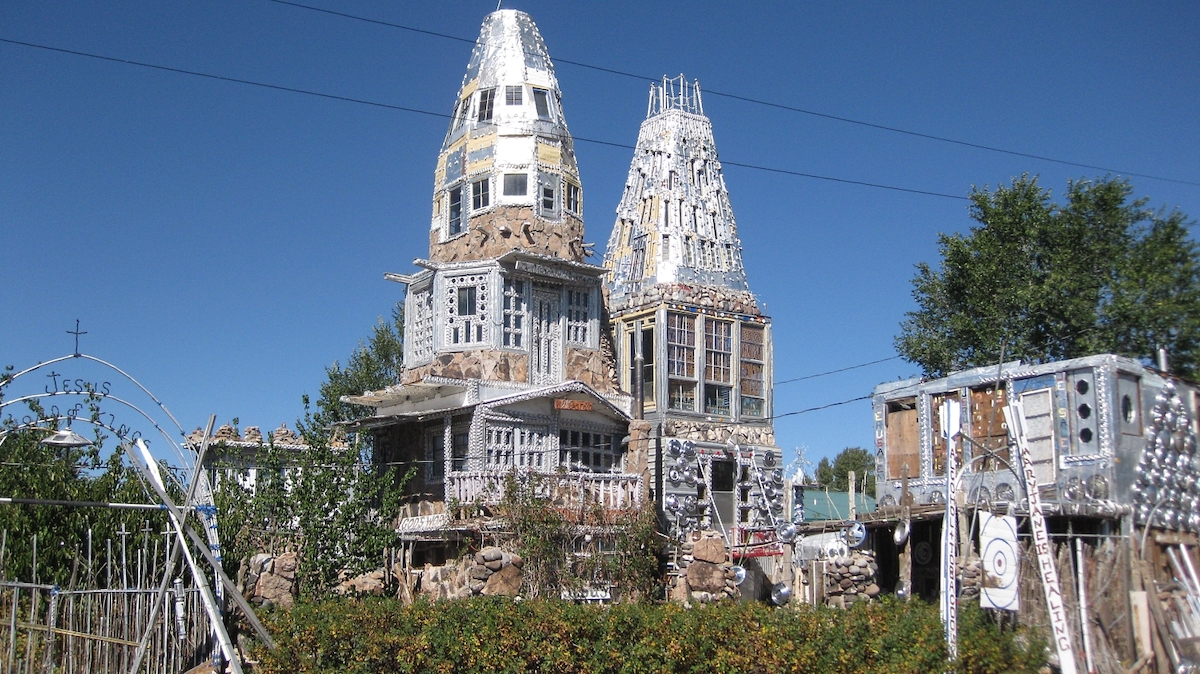 In the quiet town of Antonito emerges a structure that gleams with weirdness: Cano's Castle. This shimmering assemblage of beer cans, hubcaps, and discarded metal isn't your traditional fortress; it's a testament to one man's devotion and recycling prowess.
Dreamed and constructed by Vietnam veteran Donald Espinoza, or "Cano," this four-tower masterpiece exudes a fascinating blend of art and architecture.
As the sun graces its surface, the castle radiates a brilliant glint, as if winking at the San Luis Valley below. Folklore suggests that this glint is not just light but Cano's gratitude to the heavens, a gleaming nod to the divine.
An eccentric masterpiece made of beer cans, bottles, and imagination. A testament to the artist's talent while also hammering home the message of recycling.
Location: Antonito
Cost: Free (donations appreciated)
Opening hours: Daylight hours
Time needed: 30 minutes
Getting there: Located just off the San Antonio River in Antonito.
5. UFO Watchtower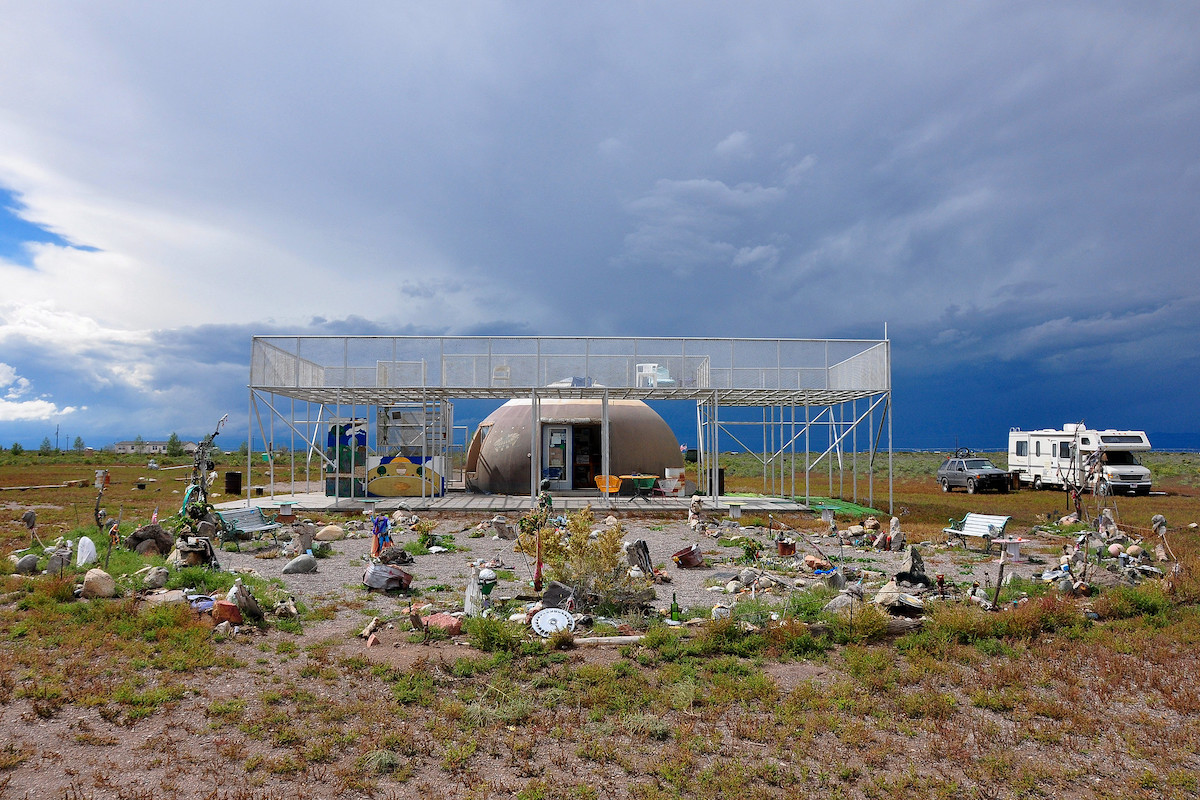 Amidst Colorado's vast San Luis Valley, the UFO Watchtower stands as an intriguing beacon for the curious and cosmic.
More than just a platform, this quirky observatory promises a glimpse into the mysteries of the universe. The valley itself, known for its high frequency of UFO sightings, sets the stage for an experience that's rooted in local lore. Inside the grounds, a "garden" brimming with eclectic offerings from past visitors swirls with tales of energy vortexes and alien encounters.
The passionate keeper, Judy, often regales visitors with anecdotes of luminous night skies and unexplained phenomena.
For those who crave the unconventional, the UFO Watchtower is more than a mere pit stop—it's a gateway to the cosmos, a place where Earth's boundaries blur and the vast expanse above invites wonder. Is the truth really out there… in Colorado?
There's only one way to find out!
Location: Hooper
Cost: $2 per person
Opening hours: 10 am – 4 pm
Time needed: 1 hour
Getting there: Off Highway 17, North of Alamosa.
6. National Ice Core Laboratory
Hidden within Denver's suburbs lies a chilly treasure: the National Ice Core Laboratory. Here, beneath sub-zero temperatures, ancient ice reveals Earth's climatic secrets, encapsulated over millennia.
These frozen time capsules, extracted from the planet's most remote ice sheets, narrate tales of bygone atmospheres, volcanic eruptions, and even ancient life.
Visitors are afforded the rare privilege to witness scientists as they decode these icy narratives. Amidst the pristine rows of gleaming ice cores, one can almost feel the pulse of history and the weight of undiscovered mysteries.
Forget typical museums or art galleries; this is a dance of science and wonder, an authentic look into our planet's intricate past.
Discover the secrets of Earth's past climates as scientists analyse ancient ice, offering insights into global changes.
It's a little nerdy, but if you're built that way – it's a nerd's paradise.
Location: Lakewood
Cost: Free (by appointment only)
Opening hours: Varies
Time needed: 2 hours
Getting there: A short drive west from Denver.
7. Mollie Kathleen Gold Mine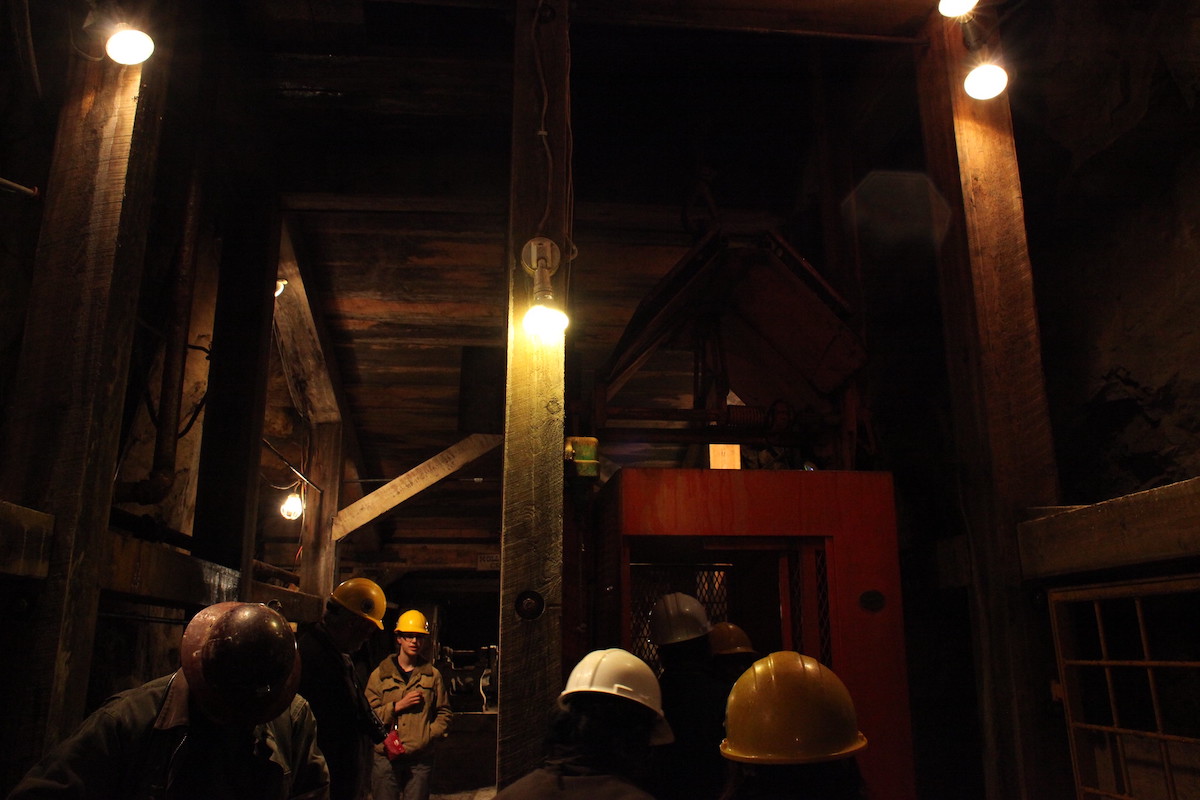 Journey a thousand feet below Cripple Creek, and step into the dimly lit world of Mollie Kathleen Gold Mine. One of the few vertical shaft gold mines in the U.S., this site beckons adventurers to experience the grit and glory of the Gold Rush era.
As the cage elevator descends, stories of ambition, luck, and labour envelop the senses. Amidst the cool, echoing tunnels, glittering veins of gold reveal themselves, much as they did to Mollie Kathleen herself in 1891. This mine isn't just a testament to nature's treasures but a tribute to human tenacity.
Engaging guides unfurl tales of miners' lives, of dynamite blasts, and of the legendary gold veins that once made millionaires overnight. For those keen to tread paths less travelled, Mollie Kathleen offers more than just a tour—it's an immersive leap into history, where tales of fortune and perseverance linger in every nook.
Embrace the allure of the underground and enjoy the golden heartbeat of Colorado's legacy.
Location: Cripple Creek
Cost: $25 for adults
Opening hours: 10 am – 4 pm
Time needed: 2 hours
Getting there: Located in the heart of the Cripple Creek mining district.
8. Mount Evans Scenic Byway Drive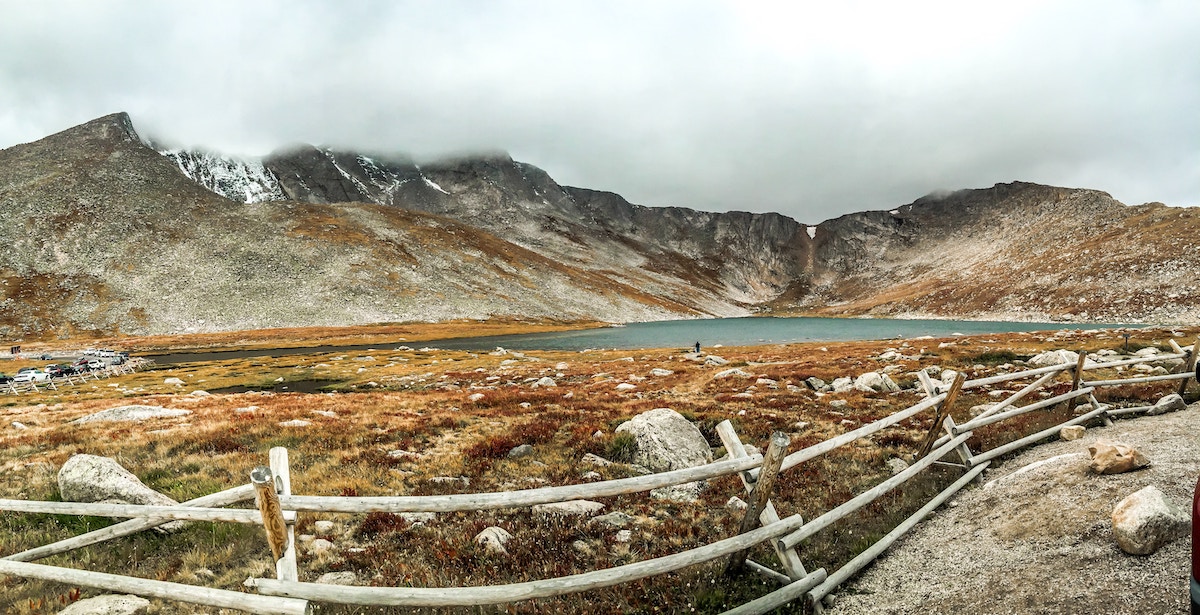 This winding route, known as the "road into the sky," spirals upward to an astonishing 14,130 feet, making it the highest paved road in North America.
Legends whisper of ancient spirits that tread these heights, where the world seems to float between earth and space. Mountain goats and bighorn sheep, the guardians of this lofty realm, may grace your journey.
For the intrepid traveller, Mount Evans Drive isn't merely a route; it's a transformative ascent, where every viewpoint smacks the senses. Soar skyward and let the celestial beauty of Colorado recapture your child-like sense of wonder.
Location: Close to Idaho Springs
Cost: $15 per vehicle
Opening hours: May to September
Time needed: 2-3 hours
Getting there: Accessible from Denver via I-70.
9. Swetsville Zoo
This isn't your conventional zoo (I am very much not a fan of them myself) instead of animals in enclosures, you'll find fantastical creatures born from the spark of metal against metal.
Created by Bill Swets, a farmer with an artistic vision, each sculpture tells a tale of reclaimed machinery turned into art. From dragons to quirky contraptions, the creations beckon with playful curiosity.
The allure? Each piece is infused with tales of yesteryears, of tractors, car parts, and machines given a new lease on life.
Swetsville Zoo offers a delightfully unique thing to do in Colorado. and it certainly goes down as Colorado's quirkiest zoo.
Location: Fort Collins
Cost: Donation-based
Opening hours: Daylight hours
Time needed: 1 hour
Getting there: Located right off I-25.
10. Bishop Castle Marvel
Birthed from the relentless vision of one man, Jim Bishop, this hand-built fortress is a testament to audacity and sheer will.
What started as a family cottage project in 1969 transformed into a sprawling castle, replete with intricate ironwork, ornate stained-glass windows, and, believe it or not, a fire-breathing dragon.
Whispers of legends fill its stone-clad hallways. Rumours of hidden treasures and mystical realms guarded by the very dragon that perches atop the castle's towers beckon the adventurous soul.
Venture beyond the known and into a world where dreams materialize in stone and iron, urging you to question, marvel, and believe in the impossible.
Location: Rye
Cost: Donation-based
Opening hours: Daily, 9 am – 6 pm
Time needed: 1-2 hours
Getting there: Located in the San Isabel Forest.
I really loved this State, I didn't get to see all of it, of course, and I only scratched the surface after a few weeks but I think I have made a perfect case for the unusual and unique things to do in Colorado.
See More Posts Like This:
11 Unique & Unusual Things To Do in Sydney, Australia