As pie-in-the-sky as it sounds; starting a blog changed my life for the better. It opened up new doors that I didn't know were there, enabled me to live my dream of travelling the world whilst earning a handsome income and it's acted as a public accountability tool for my own personal growth.
As well as the beauty of making money online – blogging has provided me with the tools to build ultimate freedom, maintain focus and it can be incredibly cathartic and confidence-building. My blog has also been the main catalyst in connecting with other like-minded weirdos on the planet, many of who are now my closest, real-life friends.
In fact, if I had to name my best life decision so far; starting a blog would undoubtedly be my answer. But you aren't here to hear me waffle on about mine; you're here to start your own…
How Do I Start A Blog?
Starting a blog is a lot easier than you think and this guide will show you how to start your very own in five minutes! I always tell people who are serious about blogging to avoid the seductive lure of free platforms such as WordPress.com and Tumblr like the plague. It's better to fully own your blog because if you start to get any traction after your hard work – free blogs will post advertising on 'your' site and you won't be able to do anything about it. Not to mention a limited selection of designs and having no say in the layout of your website too.
Full ownership = complete control. Control is good, being at the mercy of someone else is anything but. Go hard, or go home!
"But I'm Not Tech-Savvy"
I was (and still am) one of the most technologically challenged people that I know of. My friends often tease me about this, so trust me; if a man who still takes hours to transfer a few songs from his computer to his iPhone (and just about escape a mental breakdown) can start and maintain a full-time blog – I'm sure you'll do just fine.
Choose Your Name
Choosing a name for your newborn child can be a little tricky – but choosing a name for your blog can be titanium-encrusted nails kind of difficult. Often your number one preference has already been taken by some rotten scoundrel, or you're bewildered by the delicious paradox of too much choice.
My advice is to choose something non-cliché and something that will make sense in years to come…oh, and keep clear of hyphens like they're anthrax. I chose manvsclock.com because I was documenting a timed challenge, but I still love my name very much because it tells the story of the birth of the site whilst keeping me publicly accountable with other challenges to this very day.
I'll show you in a second where to search for your all-conquering blog name.
Hosting? What?!
Calm down! Come back! Hosting is not as complicated as it sounds. Basically, your blog name needs to rent a house to store all of its data, files, videos and photos that you're going to be uploading.
I personally recommend Bluehost as a valuable and cheap hosting plan for beginners. They also provide excellent customer service and offer a simple one-click installation for my fellow technophobe homies…
Step One
Get the kettle on – because blogging without a cuppa is pure sacrilege.
Hop on over to Bluehost and click on the green button that says; "Get started now."
Step Two
Pick your hosting plan – I recommend the middle option.
Step Three
This is where you get to search for the availability of your beloved domain name. May the Gods be with you.
Step Four
Fill in your payment and contact details.
Step Five
Adding extra features is completely up to you. I'm very obvious and candid about who I am here, so I'm not too bothered about hiding my details. However, buying domain privacy protection does considerably cut down on spam and undesirable folk contacting you – so I always choose this option for the other sites that I own.
Create Your Bluehost password. Make sure you write it down as you'll need that in a bit!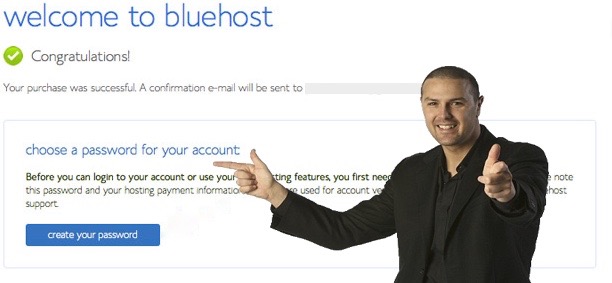 Almost done…
Upload Wordpress To Your Blog
Huh?! Didn't I advise you to avoid WordPress at the start of this article? The free WordPress platform option that you will see soon in your control panel is not to be confused with the aforementioned WordPress.com free blog account that I warned you of! WordPress software is by far the most popular for blog and website owners for good reasons and Bluehost makes it easy for you to install it at the very same time you set up your blog.
All you need to do now is simply sign in to your Bluehost login with your registered email address and password. You will be taken to your control panel, which looks like this:
Click on the WordPress icon shown on the photo below, guided by Paddy.
You will be taken to a page that looks like the image below – click on 'Start…'
Select your domain name and click on 'check domain'…
Do not tick 'advanced options' – write down your username and password details that you choose for WordPress. Aaaand Now You're Done! You're an Official Blog Owner!
What are you waiting for?! Copy and paste/wp-admin onto the end of your website name in your web browser and press enter. (So for example; mine would be manvsclock.com/wp-admin). Log in with your details —> select "Add New" under "Posts" and you're ready to start your first ever blog!
Don't be too intimidated by WordPress – it's your friend and you'll get the hang of it after practise and it'll become second nature to you.
Focus on quality content and the voice of your site first by publishing about 5-10 posts – then you can search for a sexy theme later on to make your blog easier on the eye.
Good luck on your journey and welcome to the world of blogging. 🙂
More of a Visual learner?
Don't worry – Guru of blog startups Robert Mening and I have you covered in this awesome step-by-step video tutorial below!