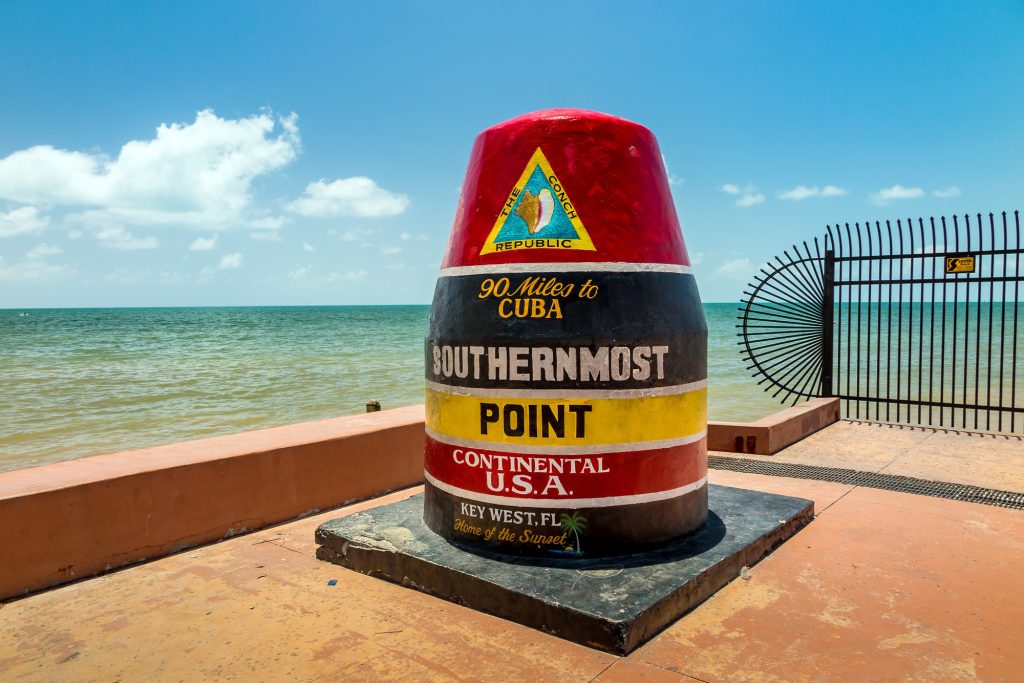 If you want to plan a fun and relaxing vacation, Key West is the place to do it. Start your itinerary with this list of the 8 hottest Key West attractions.
Ah, Key West Florida. Delicious food, pristine weather, and crystal blue waters.
It's a world traveler's paradise.
Don't believe me? Ask the almost 400,000 people who descend on the area as tourists each year and the tens of thousands more that live there.
If you're putting key west on your travel bucket list, first off, good call. Second, you're going to have to cook up some things to do while you're down there.
To that end, I've got you covered.
Below, I've put together a list of eight Key West attractions you can't miss. My hope is that armed with this information, you'll be able to create the perfect itinerary for your time in South Florida and have a dreamlike getaway!
1. Hang Out at the Southernmost Point of America
A lot of people who travel to the Key West aren't actually privy to how far south this tourist's paradise actually is. The truth is, Key West is a mere 90 miles from Cuba, which makes it the Southernmost point of the continental United States!
To nab an Instagram worthy picture that shows how far south you are while hanging out in the keys, head over to the famous red and black landmark buoy situated on the pier. The buoy has all kinds of fun geographical facts on it your friends can read.
2. Snorkeling
If you're like most people, you've headed down to Key West with crystal blue ocean waters on your mind. Believe me when I say that the waters in Key West will not disappoint.
The ocean is warm, particularly in the summer, and visibility underwater is as clear as day. For that reason, snorkeling is among the top Key West attractions.
You have a couple of options when it comes to snorkeling. You can grab your own snorkel and give yourself a self-guided experience close to shore. You can also hook up with one of the many snorkeling companies in the area that will boat you out to some breathtaking spots.
The choice is yours, but I definitely think hopping on a boat is worth the expense.
3. Dining at Blue Heaven
There is no shortage of incredible restaurants in Key West. Seriously, they're almost infinite.
One of my favorites is Blue Heaven for breakfast. Between their Lobster Benedict and mouthwatering Pineapple Pancakes, every time I ate here, I had a hard time putting down the fork.
The only catch here is that you have to line up early. It's a very popular spot and lines can get out of control.
4. Bike the Island
Some of the best Key West attractions are the simplest. That holds true with this pick: Biking.
Key West boasts breathtaking views, pristine weather and just being outside to enjoy the day would make for the perfect vacation. To take in all the best things Key West has to offer, you can rent a bike and give yourself a tour. You could also find a bike tour group like Key Lime Bike Tours or Lloyd's Tropical Bike Tours to show you the sights!
5. Duval Street
If drinking is your thing and bar hopping is a weekend tradition for you, Duval street will be one of your favorite Key West attractions. From Sloppy Joe's to Captain Tony's to more streamlined establishments like the Hard Rock Cafe, Duval has no shortage of watering holes for you to pick from.
A word of caution, though: Duval street is a bit of a tourist trap. Expect bars to be pretty filled and lively.
6. Kayaking Through the Mangroves
Key West has a reputation for being all sexy beaches and partying. Few people head down that way for quiet, natural beauty.
That's unfortunate because Key West attractions like the Mangroves are among the most breathtaking places to visit.
My recommendation is to head over to Stock Island and hit up any number of the kayaking and paddle boarding rental places. Then, ask which way to Mangrove canopy and sail off towards a special experience.
7. Find Inspiration at Hemingway's House
If you're a fan of classical writing, it might surprise you to learn that Hemingway had a beautiful home in Key West he lived at for around a decade. You can tour the historic home and see if inspiration strikes.
If it doesn't, don't worry. There's a great consolation prize to be had: six-toed cats.
That's right, Hemingway received a six-toed cat as a gift, and that cat's descendants still call the property home.
8. Sunset at Mallory Square
Let's face it, beaches and romantic sunsets are like french fries and hamburgers. You can't have one without the other.
That's why rounding out my list of Key West attractions is the incredible sunset you can watch from Mallory Square.
To make the most of your experience, walk down Seaport, grab some food and a drink, and you'll come to Mallory Square. There you'll have to carve out a spot and enjoy the show.
Sunset watching can get pretty crowded, so get there early if you want to find seating in the pier area.
Wrapping Up Top Key West Attractions
Whether you're taking in the party on Duval Street or soaking up pristine weather from a bicycle, there is no shortage of Key West attractions you can enjoy when you find yourself in southern Florida.
So go ahead and pick a couple, or all my itinerary suggestions to add onto your trip and prepare yourself for an amazing time!
Also, for more awesome tips, tricks and inspiration on all things travel, check out more of my content on Man vs Clock!