Choosing the best travel backpack for your impending trip can result in hair-pulling levels of stress for those who don't know much about it. Personally, I don't have any hair to pull out, but luckily for you what I lack in follicles I make up for in experience after spending 8 years of buying, hating, upgrading and loving many a backpack through 100+ countries.
I've made all the novice mistakes during that time, so you don't have to. I have blindly bought what I thought at the time was a backpacker's bargain, only to feel the lower back pain from so-called spinal support, or lack thereof.
In the earlier days I had backpacks rip at the most inconvenient times, roughed it with non-existent compartments, and don't get me started on backpacks that don't have a fully openable function (more on this vital subject later on in the article).
Enough about my paid dues on my long journey to become a backpack critic; let's take a look at what makes the best travel backpack. This article is guy-centric (as I am a man, it's all I've ever known), and although the backpacks featured in this post are specifically designed for men, as we are built differently to women, the rest of the information – that being the general philosophy of what makes a good backpack – will also serve as a handy guide to women.
On top of that, I asked a lady who also travels a lot to write the female version of this article.
If you're still stuck between the dreaded pre-travel purgatory of not knowing whether you are going to commit to a backpack, fret not, I have you covered in this detailed article: Backpack vs Suitcase: Choosing the Best Type of Luggage for your Trip
Why should you travel with a backpack anyway?
Whilst suitcases have many positives, choosing to travel with a backpack results in you being much more mobile. For a start you can get up flights of stairs faster, and in a much less cumbersome fashion.
A good travel backpack is very flexible and can be used for a last-minute hike. One that is small enough can fit nicely under your bus/boat/train seat or even in an overhead locker on a plane. The best travel backpack is one that will offer you the gift of freedom.
What size should my travel backpack be?
Does size really matter when it comes to travel? Is bigger necessarily better? This, of course, comes down to personal preference and how you like to travel. Personally, I shoot for a 70-litre backpack with cleverly designed compartments so I be more efficient with my space.
When I travel with a backpack I also have a day bag on me for when I am in transit, and I always have the day bag with me when I'm on any form of transport as that usually holds my most valuable items such as electronics.
When I travel, I travel for a decent amount of time and engage in a mixture of activities, so it's important for me to have a large backpack. If you're high on the spectrum of minimalism then you can easily get away with a 40-litre backpack (which I will bear in mind when it comes to the best travel backpacks review at the end of this article), but I tend to have a preference for a bigger backpack.
How much should a good travel backpack cost?
You really do get what you pay for with a lot of things in life and this rings true in the backpack buying game. It's tempting to get something under $100USD like I did when I first left, but this is not being frugal – it's being foolish.
It's way too risky, with little reward. There are plenty of other ways you can penny-pinch to extend your travels, but if you buy a cheap bag with crappy fabric the chances are you'll be forking out for another one soon.
A really good backpack usually goes for $150-$300 and above, but once it goes way over 300 it doesn't really have that much more to offer than something between $200 and $300. I am not averse to spending money to ensure my backpacks don't fail on me on the road, so I have spent a little more than $300 on two occasions and I consider those to be sound investments.
What should I look for in a travel backpack?
When it comes to the best travel backpacks, I find the following factors absolutely vital:
. Front-loading system
. Spinal support
. Water-resistant material
. Smartly designed compartments
. Padded waist and shoulder straps
Front-loading system
This is my top tip and I won't save the best until last, as I simply couldn't wait to get this off my chest. Always, always get a backpack with an open top function. If you don't, you will have to rummage through all of your gear at the top of your bag to get to what you want, and inevitably you'll throw everything on the hostel/hotel room floor in a tempestuous tantrum at least once.
I learnt this the hard way. The very first backpack I left with all those years ago didn't come with a front-loading system, adding to unnecessary stress and a time suck to my travels.
A front-loading, often referred to as "panel-loading" backpack opens up like a suitcase, giving you easy access to all of your gear whilst keeping it relatively well organised.
Here's a photo of the aforementioned monstrosity (I am referring to the backpack, not my unforgivable fashion sense). It only lasted 4 months and although online income started kicking off pretty fast and I upgraded almost immediately, I was still pretty clueless of what to look for in a solid, comfortable and reliable backpack…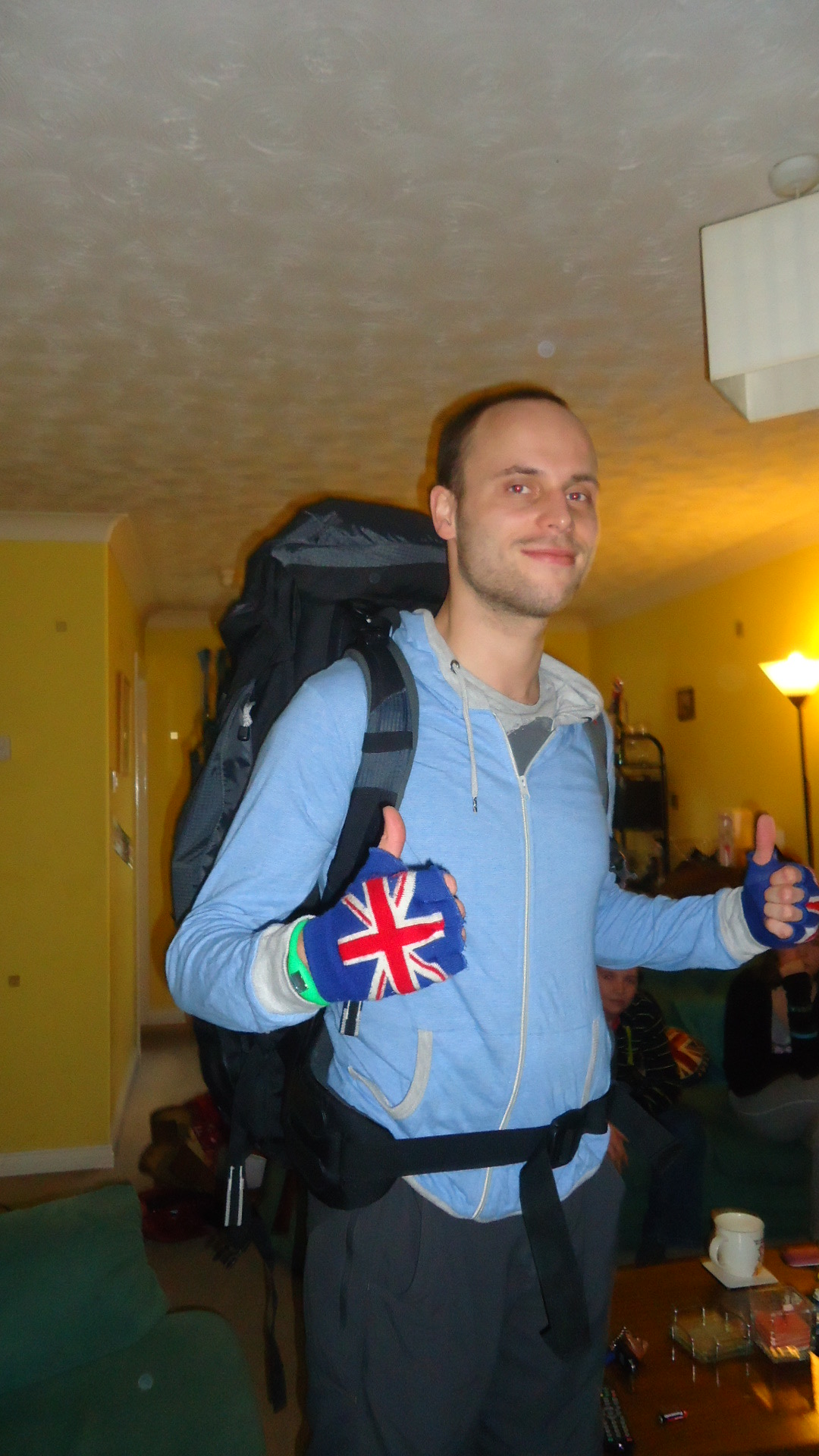 Spinal support
On the subject of comfort, you have to consider the fact that you are carrying most of or even all your worldly possessions on your back, often through temperatures that you are not used to, and maybe walking for longer than you would back home with that unprecedented weight on your back – constantly.
There will be times when even the strongest of Pilates puritans and gym bros will get tired, and when fatigue kicks in your body will naturally slouch. And, sadly, not all backpacks are created equal when it comes to comfort and injury prevention.
All of the backpacks that I list below are spine friendly.
Padded waist and shoulder straps
Staying with the theme of comfort and body support when you travel, the waist belt should be padded and should sit on top of your hip bones. This will distribute the weight that you are carrying. Your backpack should also have adjustable straps to tighten the belt to fit your body, as and when you need it.
Same deal for the padded shoulders – they offer weight support and stop the shoulder straps chafing when the backpack pushes against you.
Water-resistant material
Water-resistant is not the same as waterproof which means your backpack would need to be good enough for submerging deep into water with all of your gear living to tell the tale.
That would be some serious hardcore travel you're doing if you need that, but if you're not in the SAS and are a regular backpacker like me – a water-resistant backpack will do the trick.
If, like myself, you're from a rainy western country trust me, you don't know what rain is until you've been to the tropics. It will hammer down hard and fast from nowhere at times, and although it's wise to travel with a cover over your pack it's also a good idea to look out for one made out of water-resistant material so that you have that extra layer of protection.
Smartly designed compartments
I would agree that "smartly designed" is incredibly vague, but when I'm travelling one of my biggest pet peeves is having a backpack with god-awfully thought-out compartments.
When you need something from your backpack you usually need it quite fast and stress-free. You don't want to have to fight for it, and one thing for me that sets apart a bad backpack from a good one is this factor. I'm also a believer that more compartments are better than one.
On the back of what I've written above, I have selected the best carry-on backpacks and the best travel and hiking backpacks (can be used for either) below and shot for a range of sizes.
If you're interested in what bags I personally own, then check out My Full Gear Guide here. And as the bags below are mainly backpacks for men, feel free to check out the aforementioned sister version of this article, written by an experienced female traveller:
Best Travel Backpack for Women: Top Picks For Women Who Wander
The Best Travel Backpacks: What I recommend
All of the travel backpacks listed below have been carefully chosen with consideration to everything discussed above in this article. I've included my personal favourites too of course, and on that note it's worth an honourable mention of a the company "Macpac."
I still have my mighty Macpac backpack that I bought in New Zealand 5 years ago. The only reason I haven't featured them is because they mainly deliver to Australia and New Zealand. However, I emailed them recently and they informed me that they have branched out and are selling some products in Amazon UK, so Brits may have some luck.
My Travel Backpack: Osprey Fairpoint 70 Travel Backpack
Larger Travel Backpacks for Backpacking and Hiking
Carry-on Backpacks
My Top Pick: The NOMATIC 40L Travel Pack