If you're looking for the best natural hot springs in Tuscany, Italy then Mamma Mia you're in for a treat as you arrive in Florence!
When you think of this famously romantic Italian region your mind probably jumps straight to Renaissance art, picturesque vineyards, beautiful countrysides and the iconic Leaning Tower of Pisa. You'd be right with this assessment, although it also attracts lovers of health and wellness thanks to its natural resources and continuation of an old pastime.
Enjoyed since Etruscan times and later known by the Romans as 'Aquae Populoniae,' the hot springs offer therapeutic benefits from its thermal waters rich in minerals.
Tuscany has the highest number of hot springs in the whole of Italy and boasts a thermal spa culture that has been celebrated for centuries.
The following Tuscan hot springs could give the best Turkish Baths in Istanbul a run for their money, so let's dig in and work out which is the best natural hot spring for you.
1. Terme di Venturina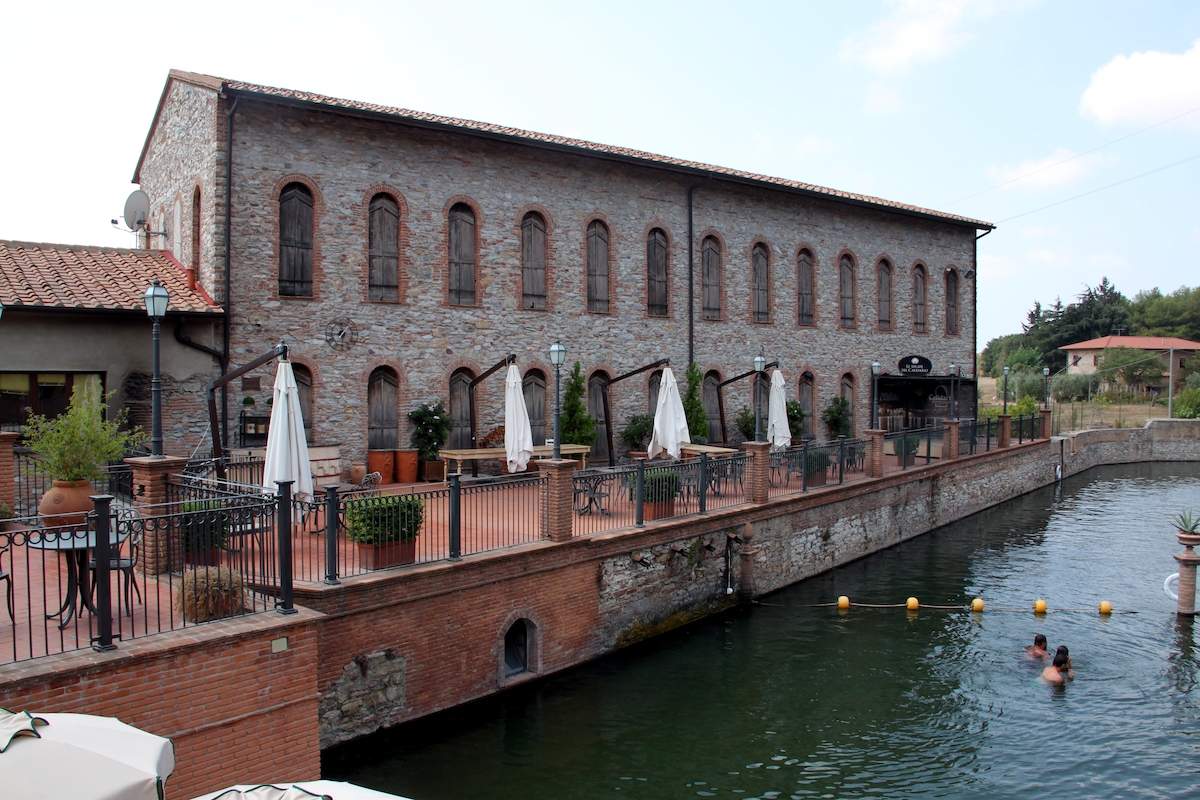 Terme di Venturina is nestled in the heart of Tuscany's Alta Maremma on the Etruscan Coast, a well-known wellness destination for health-conscious travellers and doe-eyed couples looking for romantic things to do in Florence.
The facility offers a variety of treatments, including mud baths, hydrotherapy, inhalation treatments, and therapeutic massages and the locally-sourced mud is used for total or partial body treatments, believed to have healing effects on the skin, joints, and muscles.
Amidst the picturesque landscapes of Tuscany that we crave when planning a trip there, Terme di Venturina offers a serene retreat for those seeking relaxation and well-being.
The waters emerge from the source at 36°C and are rich in mineral salts, beneficial for the body. Its location near the Mediterranean Sea and the Gulf of Baratti makes it a charming option for those who want to combine a spa day with a visit to the coast.
2. Terme di Montecatini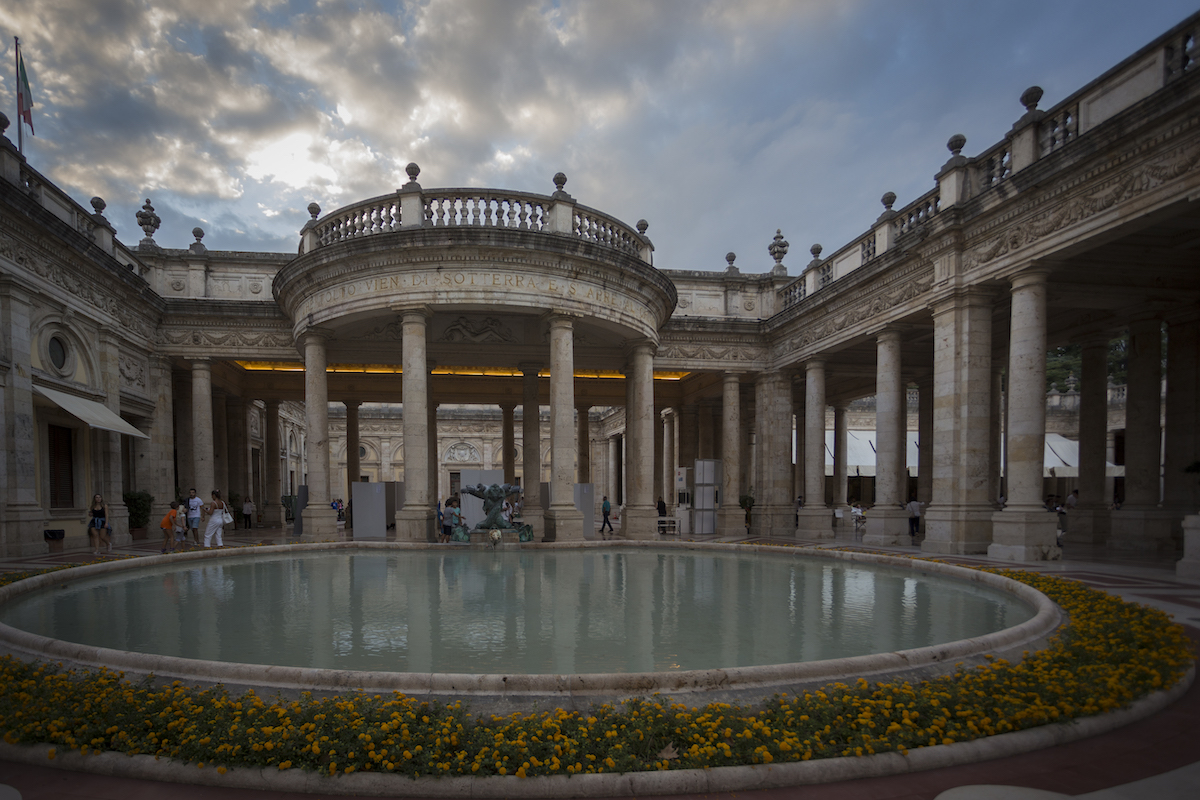 Terme di Montecatini, beautifully situated between Florence and Versilia, is a celebrated destination for wellness and relaxation that has the bragging rights of being the oldest natural hot springs establishment in Tuscany.
The thermal baths are enveloped by 700 years of history and are housed within stunning Art Nouveau and neo-Gothic buildings, all set around one of the most charming Thermal parks in Europe​.
The facility is renowned for having some of the most effective hot mineral waters in Europe, which surface from a depth of 60-80 meters, filled with mineral salts and precious elements​. The four distinct waters; Leopoldina, Tettuccio, Regina, and Rinfresco—are pure and ready to be consumed upon reaching the surface​.
The therapeutic waters of the Terme di Montecatini have been recognised for their curative properties for centuries and the natural hot springs continue to impress and rejuvenate.
3. Terme di Saturnia (also known as Cascate del Mulino)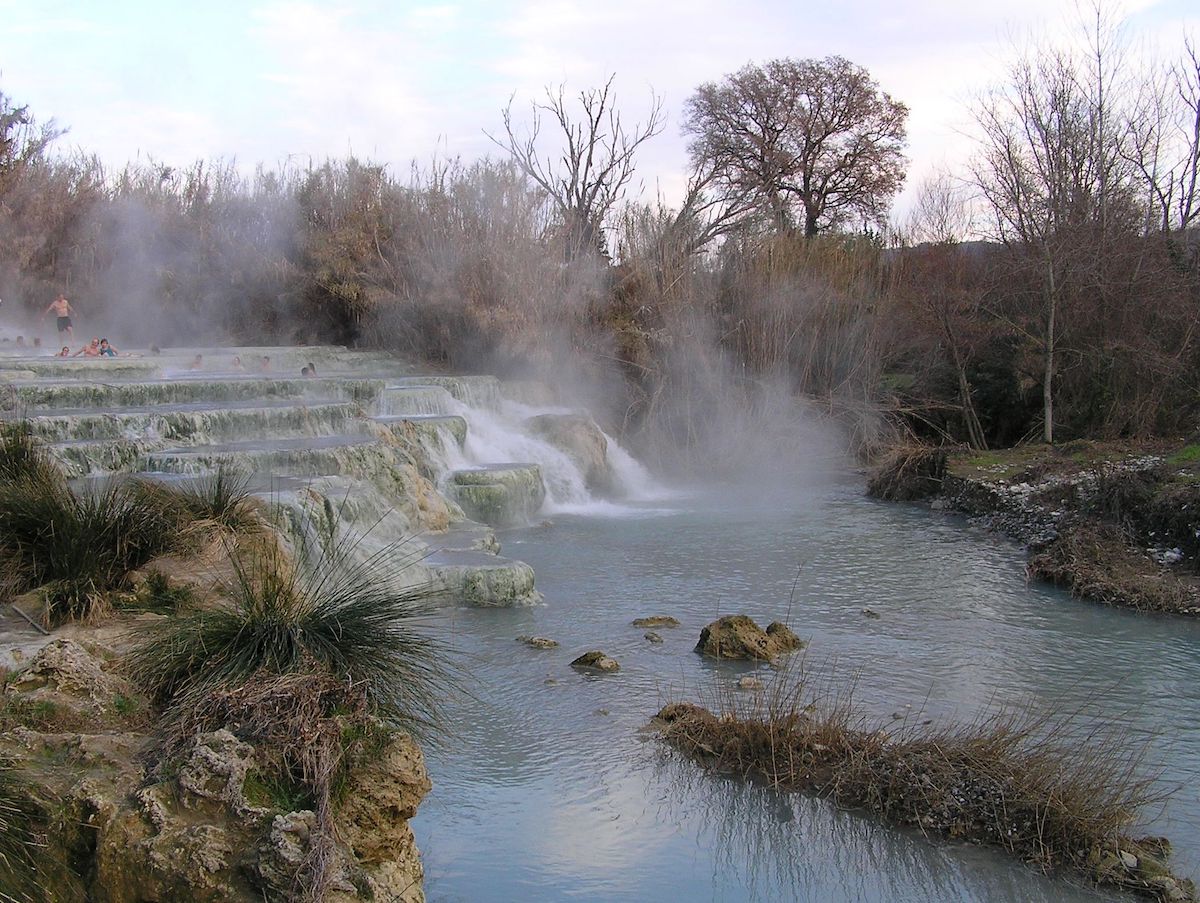 Terme di Saturnia, also referred to as Cascate del Mulino, is an iconic thermal spa destination situated in Tuscany's particularly scenic region of Maremma.
The hot springs are known for their therapeutic properties and are supplied by a volcanic crater, which provides mineral-rich water at a constant temperature of 37.5°C. The setting is particularly stunning with a series of natural pools formed in the rock, creating a waterfall-like effect.
The Saturnia hot springs are free and open to the public all year round. There is also a more upscale spa resort nearby, Terme di Saturnia Spa & Golf Resort if you have not quite had your fill of wellness and relaxation for the day.
4. Bagni San Filippo (Also known as Fosso Bianco)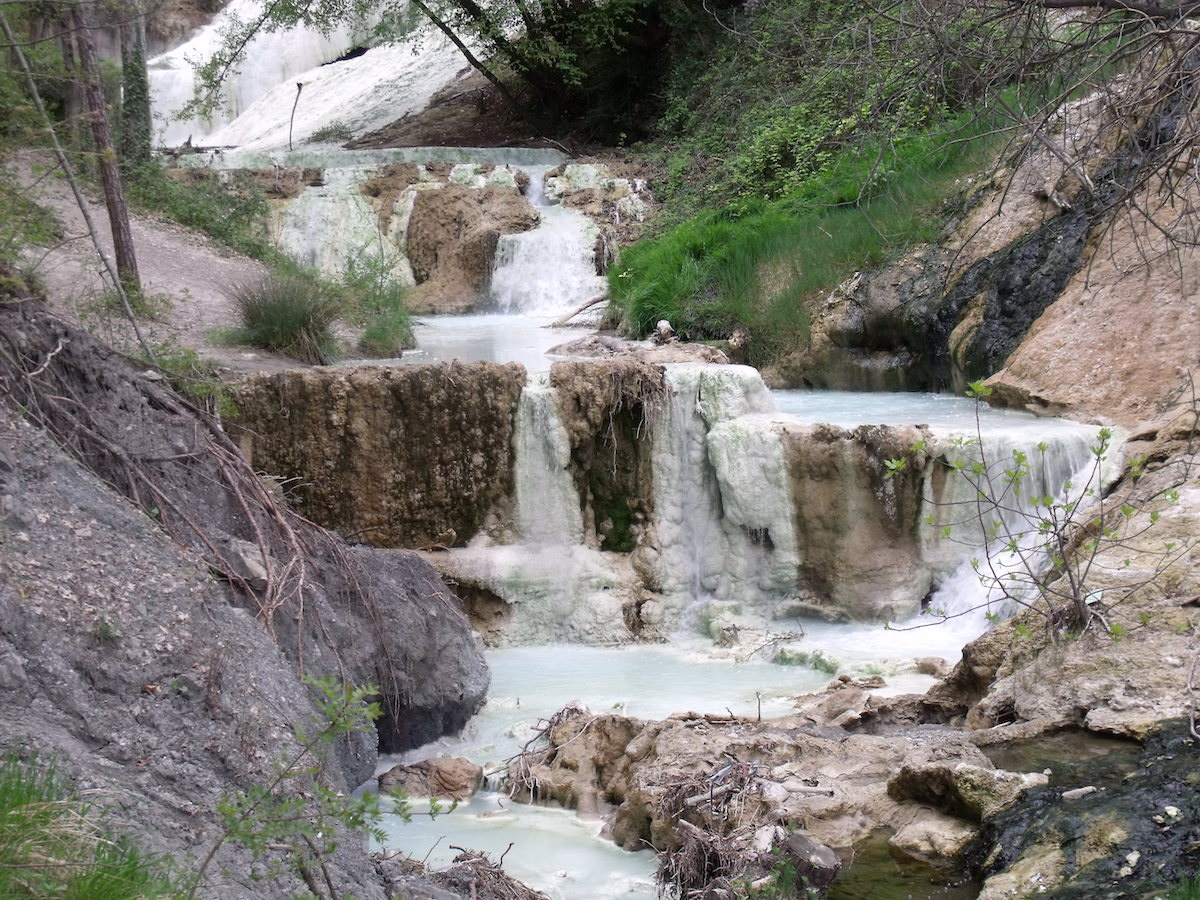 Bagni San Filippo, often known as Fosso Bianco, is a unique thermal spa situated amidst the lush Val d'Orcia, this spa destination is renowned for its geothermal springs originating from Mount Amiata, cascade down the white limestone formations, creating enchanting natural pools for visitors to immerse in.
The most striking feature, the "White Whale," a massive limestone formation, forms the perfect backdrop for a therapeutic soak in the steaming waters. The warmth of the thermal springs often reaches a scorching 48°C!

Fosso Bianco is the second free and accessible throughout the year thermal spa option on the list offering a tranquil retreat to locals and travellers without hurting the budget. 
This is a lesser-known but equally stunning hot spring located in the Val d'Orcia. The calciferous formations, waterfalls, and small pools of hot water surrounded by the woods just outside the small town of Bagni San Filippo create a fascinating setting.
5. Terme di Sorano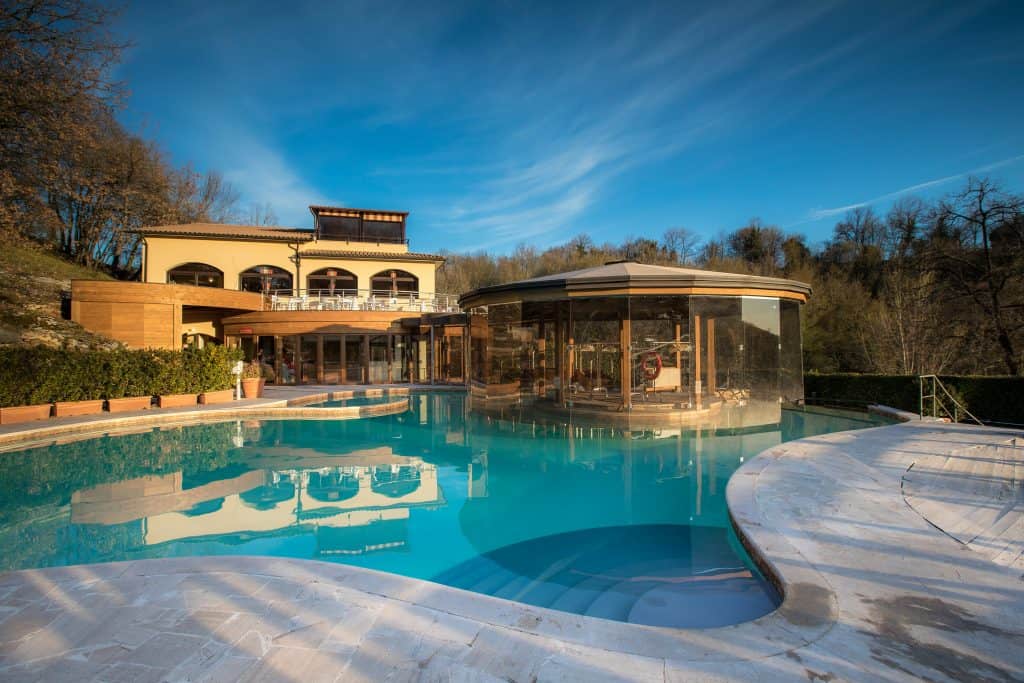 In the heart of the Maremma region of Tuscany, the Sorano Thermal Springs Residence is a contemporary structure immersed in spectacular surroundings, including the thousand-year-old Parish Church of Santa Maria dell'Aquila parish church of Santa Maria dell'Aquila.
The Residence offers wellness packages, thermal pools for children, a sports pool, and two natural spa water pools, catering to all guests' needs and ensuring a comprehensive wellness experience​.
The most unique pool, named "Il Bagno dei Frati" (The Monks Pool), is located in the woods next to a thermal creek, dating back to the 15th century. This pool is fed by two thermal springs that flow directly from the rocks​​.
The water flows from a river just upstream of the Church at a temperate 37.5°C. Bathing in therapeutic water with ancient Romanesque architecture greeting your eyesight as you take in how lucky you are is just what the doctor ordered for your fairytale trip to Tuscany.
6. Terme di Chianciano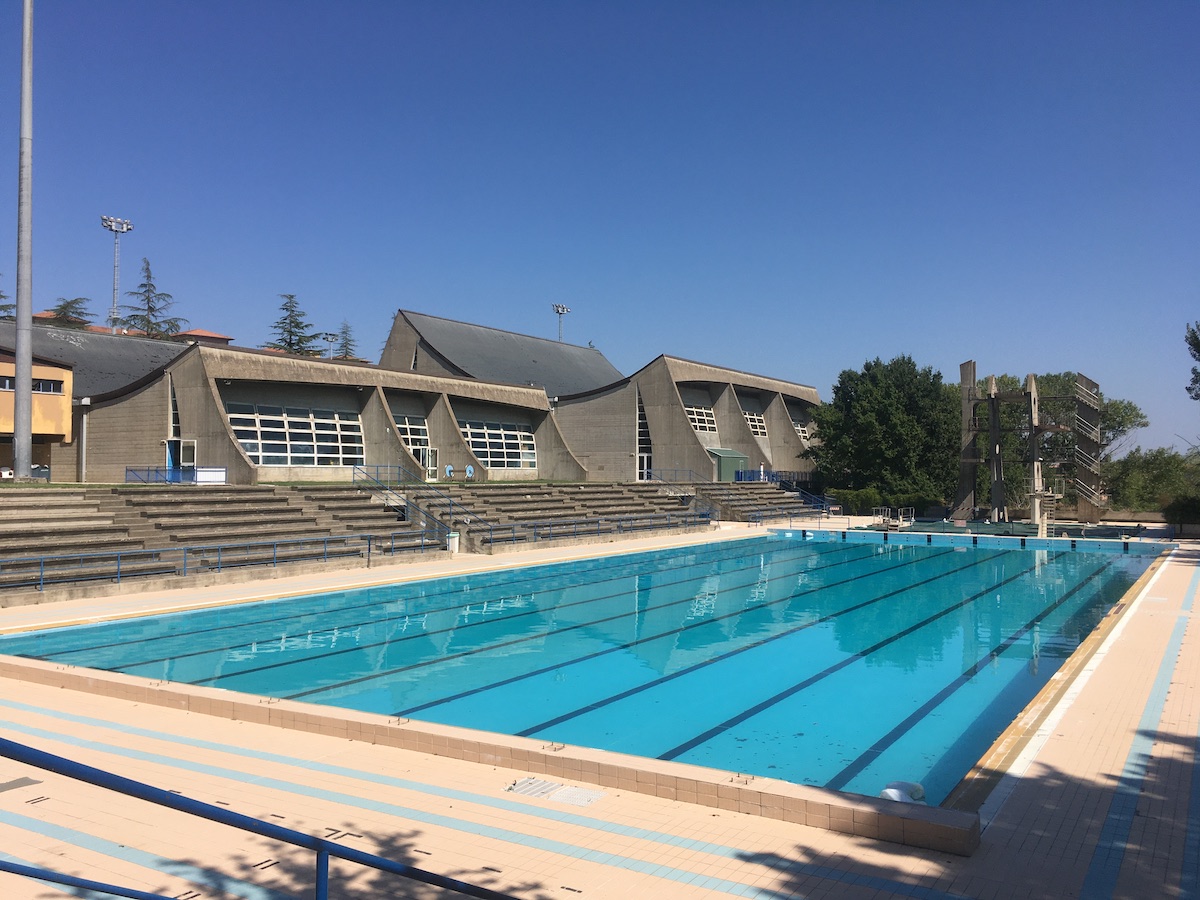 The storied past of Chianciano Terme stretches back to the 5th century BC when it served as the site for a sacred temple. This place of worship, built by the Etruscans, was dedicated to the deity of Good Health and was in close proximity to Silene Springs. 
These springs are now neighbored by the more recently developed area of Chianciano, known as the Terme section. The reputation of Chianciano's waters as a healing force rose to prominence during the era of the Roman Empire and its reputation has stood the test of time as locals and travellers embarking on a wellness pilgrimage visit its natural springs.
The renowned poet Horace was drawn to these thermal baths on the counsel of his doctor in the 1st century BC. His visit marked a luxury period, evidenced by the elegant Roman villas that sprung up around the thermal baths.
Delving deeper into the allure of Terme di Chianciano, the thermal bath complex offers an extraordinary blend of historical legacy and natural wellness.
In essence, a visit to Terme di Chianciano is more than just a retreat – it's a journey back in time, a cultural immersion, and a unique wellness experience rolled into one.
7. Bagno Vignoni Thermal Bath Old Town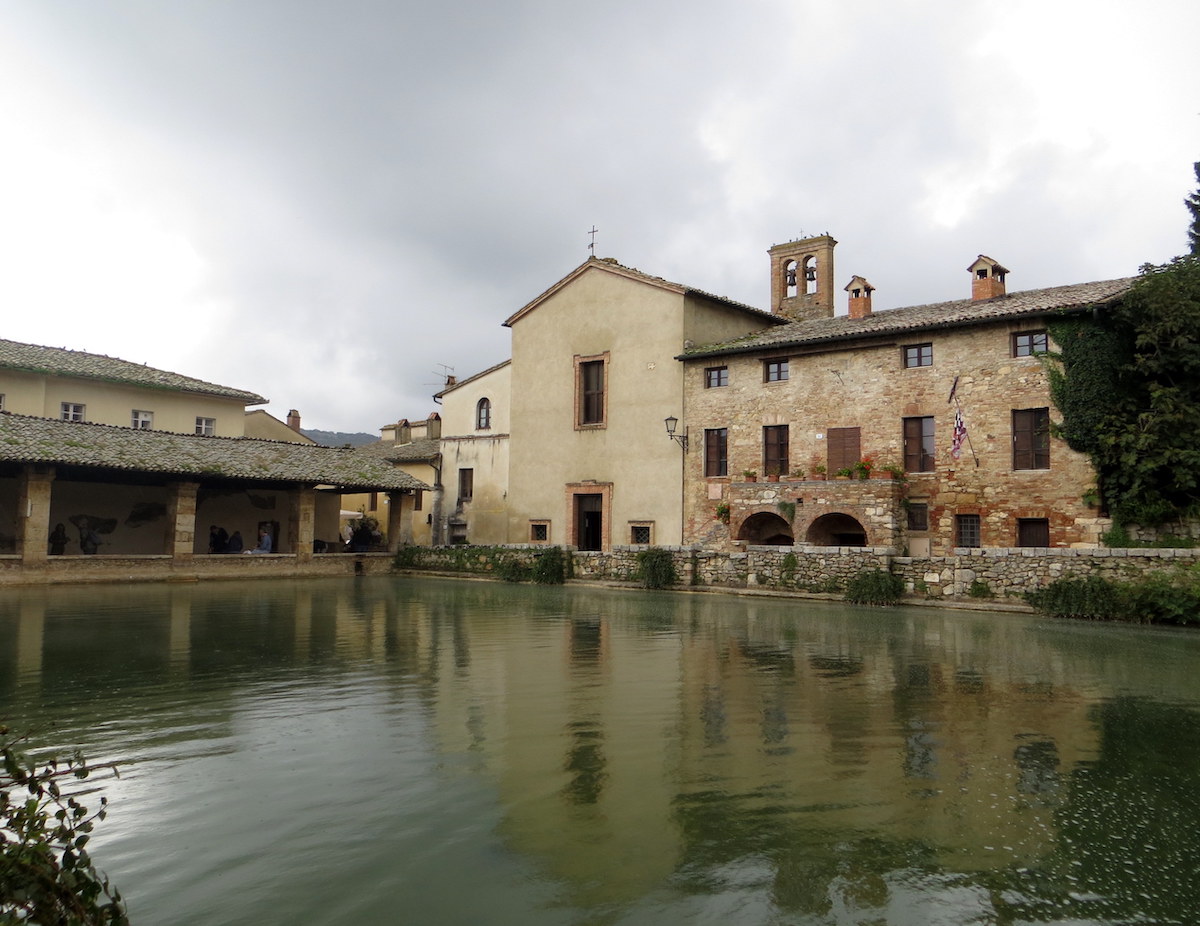 Bagno Vignoni is a captivating wellness destination in the scenic Val d'Orcia region of Tuscany, recognised as a UNESCO World Heritage Site.
A slight caveat with this one is that travellers visiting this landmark need to be aware of; dipping in the pool is no longer available to members of the public.
But don't let that put you off, you can still admire this work of art as you saunter around one of the most romantic town squares in the whole of Florence.
The bath, filled with hot thermal water from an underground volcanic aquifer, is the heart of the town square, offering a distinct and lovely view as the nighttime steam rises over the beautiful surrounding buildings.
Its proximity to other picturesque Tuscan towns like Pienza and Montalcino makes it a fantastic base for exploring the region's rich cultural and gastronomic offerings after your day date with your loved one.
This combination of history, and natural beauty makes Bagno Vignoni win the hard-earned title of the most romantic views out of all of the natural springs that Tuscany has to offer.