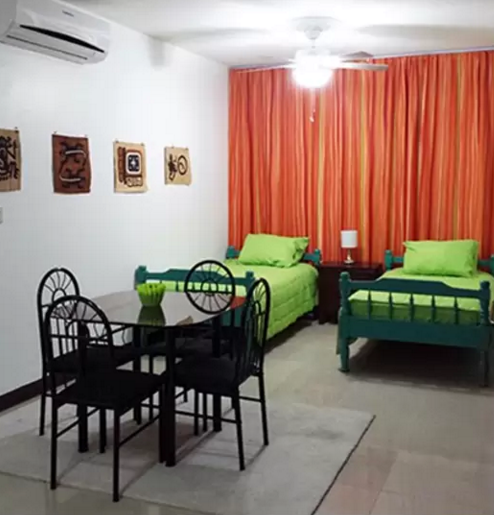 When planning overland travel through all countries in Central America, all paths lead to San Pedro Sula whilst travelling in Honduras – which is notorious for being the most violent city on earth. I'm not a great believer in allowing the media to dictate where I go and where I do not, but let's be honest – there is a fine line between being adventurous and being an absolute idiot!
When it's necessary to stay in a place with a reputation, you'd be mad to slum it in pursuit of shaving a few dollars off your travel budget. Don't be a hero and opt to stay in Plaza Morpho Suites – a quiet and cozy self-catering apartment located in Plaza Morpho, on the western strip of Avenida Circunvalación in San Pedro Sula. Plaza Morpho is a new mixed use building, with an abundance of restaurants on the ground floor and apartment-suites and offices on the second floor.
The apartments are just a block away from a large impressive supermarket; perfect for when you've been on the road for too long and are missing your favourite meal! The store is really impressive with a ton of fruit and veg, international food and a handsome wine section to calm your nerves after reading grim statistics about the city!
But in all seriousness, if you're not looking for trouble – you simply won't find it here. Every local shop comes with an armed guard outside and as long as you don't stray too far and stay in the area – you're going to be just fine. A taxi from the bus station is only 10 minutes away and the security in and outside the building is second to none.
The fully air-conditioned unit comes with a private bathroom with a shower, fully equipped kitchen with all the necessary eating and cooking utensils and a table, which is a perfect compliment to the free wifi. I didn't want to push my luck and go out late at night, so the place was absolutely perfect to catch up on a bit of work and wash my smelly backpacker clothes in the free washing machine and dryer.
Conclusion; Be safe, by being smart! Plaza Morpho Suites is the answer to comfort and security for a day or two in San Pedro Sula.