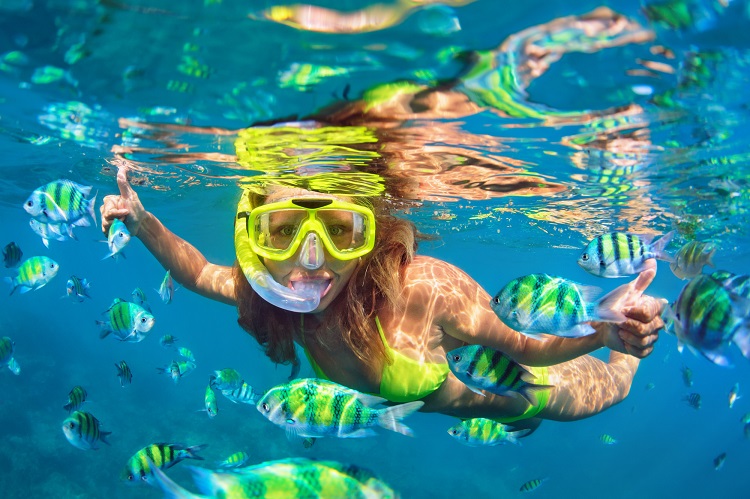 Snorkeling is a great way to see the world. But, where to go? Read on to learn about the best snorkeling destinations in the world.
Exploring the world is one of the most thrilling parts of life. And for those who love exploring the ocean, there's no better way than by snorkeling. It's an exciting activity you can enjoy at any age.
The best snorkeling locations around the world offer inspiring underwater scenery, both in the U.S. and abroad. So, whether you're an old pro or a novice learning how to snorkel for the first time, there's no shortage of amazing places to visit.
Let's take a look at some of the most beautiful places to snorkel that you will want to add to your bucket list!
Your Ultimate Guide to the Best Snorkeling Destinations Around the World
Snorkeling is a great way to see the world. But, where to go? Read on to learn about the best snorkeling destinations in the world.
The Big Island, Hawaii
You couldn't go wrong with any of the islands among the Hawaiian archipelago. That being said, the Big Island has the most to offer, with more square footage than all the other Hawaiian Islands combined.
There are so many incredible snorkeling spots to choose from. Including Honaunau Bay, boasting crystal waters and coral gardens, the technicolor coral at Kealakekua Bay, and the snorkeling paradise in the waters near the Captain Cook Monument. Just to name a few.
Komodo Island, Indonesia
This is one of those places in the world that brings to mind the most exotic imagery imaginable. Komodo Island is, of course, the home of the famous Komodo dragons, as well as the location of some of the finest snorkeling anywhere on the planet.
Pink Beach offers snorkelers the chance to swim with hawksbill turtles, rays, and schools of groupers. And Komodo National Park features 260 kinds of coral, 14 species of endangered giant turtles, whales, and dolphins, and more than 1000 species of fish. Both of these locations are phenomenal and truly unique.
Galapagos Islands, Ecuador
There is no mystery to why a place like the Galapagos Islands inspired the work of Charles Darwin in the development of his theory of evolution. A nature lovers paradise, the variety of wildlife found among these volcanic formations simply cannot be surpassed.
Snorkeling here is one of the ultimate underwater adventures. Yet it isn't as luxurious or glamorous as other destinations. Here you will have the experience of a lifetime as you snorkel among sea lions, penguins, and orcas, among countless other species of wildlife that will leave you breathless.
The Great Barrier Reef, Australia
If you are seeking an idealistic spot for your next snorkeling getaway, be sure to include The Great Barrier Reef at the top of your list. It is very simply one of the wonders of the world.
This underwater wonderland is guaranteed to leave you wide-eyed, with over 2,900 individual reefs that cover over 1,400 miles of Australian shoreline. Bursting with marine life, this a must-see destination. Highlights include the Low Isles, Lady Musgrave Island, the glamorous Whitsundays, as well as the reefs along the North Queensland Coast.
To see the best in snorkeling gear check out Ninja Shark U.K.
Bora Bora, French Polynesia
Bora Bora is one of the ultimate tropical paradises on earth. With calm shallow seas and white sand beaches, you'll be spoiled by the dozens of places to snorkel here. These waters are like swimming in a dream. Everywhere you look you'll come face to face with gorgeous marine life, including reef sharks and giant manta rays.
The Four Seasons Resort Bora Bora is a beachfront villa that offers you the luxury of slipping into the water right from your bungalow. You can also hire a Polynesian guide to take you out on an outrigger canoe to enjoy the full Bora Bora resort experience.
Punta Mita, Mexico
The next spectacular snorkeling destination on our list is known for its awe-inspiring rock formations and underwater tunnels. Punta Mita is one of Mexico's best-kept secrets.
This sleepy fishing village is ideal for an amazing aquatic adventure, and the Four Seasons Resort Punta Mita is the perfect place for beginning snorkelers.
Buck Island, St. Croix
Located in the U.S. Virgin Islands, Buck Island is another gorgeous destination ideally suited for both seasoned and beginning snorkelers alike.
In this stretch of paradise, you'll likely encounter parrot fish and multiple species of sea turtles as you explore the glorious underwater landscape. The shallow waters are good for novices, yet lack nothing when it comes to natural splendor.
There's no shortage of coral to explore. You could get happily lost for days swimming among the vibrant colors and warm waters.
Apo Island, The Philippines
Apo Island has grown in popularity among snorkelers in recent years thanks in large part to more available flights there than ever before. It's a volcanic island surrounded by calm seas and shallow reefs, populated by a splendid assortment of fish and corals to explore on your travel holiday.
This island might appear to be nothing special at first glance, but there's an entire world of marine life just below the waves. Don't miss the opportunity to swim with clownfish, sea turtles or striped lionfish, and whale sharks. Apo Island is a storybook setting that will create memories sure to last a lifetime.
Ilha Grande, Brazil
Ilha Grande sits amidst a wilderness between Sao Paolo and Rio de Janeiro. Surrounded by brilliant blue ocean and lush jungles, this exotic wonderland is teeming with wildlife and some of the best snorkeling to be found anywhere.
Prepare yourself to be entranced by the Blue Lagoon, where you'll swim with seahorses and angelfish while exploring mysterious underwater coves. There are also dozens of shipwrecks to explore, offering enough adventure to keep you busy for weeks at a time.
The hotels are beautiful and luxurious, so be ready to be spoiled even as you're watching monkeys play high above in the treetops.
Isla Holbox, Mexico
This sleepy island just off the Yucatan Peninsula is one of the best places for watching whale sharks swim. During the summer you can snorkel alongside these giant creatures as they feed on plankton. And have no fear — these fish might be enormous, but they are harmless.
This destination is especially refreshing because there are no cars allowed. So relax and enjoy!
Raja Ampat, Indonesia
This tropical paradise located in the West Papua province of Indonesia has one of the greatest concentrations of marine life in the world, as well as 75% of known species of coral on the planet.
This archipelago consists of over 19,000 square miles of islands and water, providing swimmers with an isolated getaway with beaches you'll have mostly to yourselves. Each day in this marine oasis you'll enjoy a new experience, snorkeling with sharks, manta rays, and over 1,000 species of spectacular fish.
Maui, Hawaii
Travelers who have spent time in Maui know that this destination is truly something special. With its abundance of amazing beaches, crystal clear waters and coves to explore, once you get a taste, you'll want to return year after year.
Among our favorite snorkeling sites is the Ahihi Kinau Natural Area Reserve. The waters here are filled with exotic fish, eels, coral and sea turtles.
Ambergris Caye, Belize
The largest of the Belize islands, Ambergris Caye is teeming with underwater life. The barrier reef is a geologic marvel. This destination offers serious adventure and remains relatively unspoiled by tourists.
Koh Tao, Thailand
This Asian destination is synonymous with world-class snorkeling. The small island of Koh Tao is only a short drive from the Four Seasons Resort Koh Samui, and is home to the astounding aquatic life and coral of the Japanese Gardens.
In this underwater wonderland you will be treated to blue spotted rays, triggerfish and baby sharks, as you explore the boulders covered in ornate coral.
Thailand offers some of the most breathtaking beaches found anywhere in the world, and Koh Tao has some of the finest beaches and snorkeling spots found in all of Thailand.
Silfra Fissure, Iceland
Last but not least, for our final recommendation on our list of the best snorkeling in the world, we take you to Iceland. The Silfra Fissure was created when the tectonic plates of Eurasia and North America shifted, opening a narrow canyon between the continents.
Melted glacial water flowing through an underground lava field serves as a natural filtration system, offering visibility down more than 328 feet. Unlike the other destinations on our list, you won't be seeing any fish here. But don't let that keep you away. Silfra Fissure is Mother Nature at its finest.
An Underwater World Waiting to be Explored
When it comes to exploring the underwater world, it's challenging to limit any list of the best snorkeling destinations.
For anyone wanting to learn how to snorkel, it's a sport that offers endless opportunities for adventure. Our planet is filled with fantastic places to explore, with amazing underwater landscapes and aquatic life that will never cease to thrill the heart and inspire the imagination.
We encourage you to start anywhere. Get your gear, throw a dart at the map, and get out there and have fun!
Click here to see the pros and cons of spontaneous travel.