With its stunning coastlines, fabulous theme parks, and bustling nightlife, Florida is a beautiful place that ranks high even among the many tourist hotspots in the United States. Considering all that the state has to offer, it isn't surprising that tourism has become one of the most significant factors driving the state's economy.
While the Sunshine State is best known for its highly acclaimed beaches, some of which remain wonderfully unspoiled, the region is also renowned for the snorkeling excursions it offers. Florida's Gulf Coast, in particular, has plenty of exciting spots that snorkeling enthusiasts will enjoy.
The Sunken Fort of Egmont Key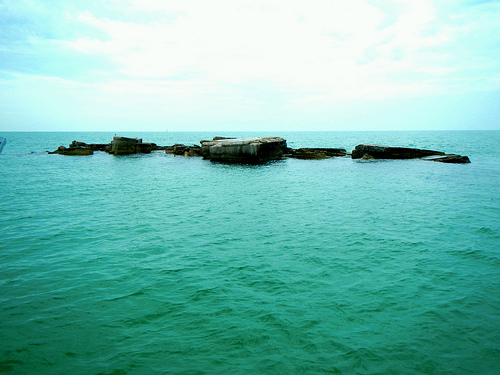 Image via Flickr by SNORKELINGDIVES.COM
Located southwest of St. Petersburg at the mouth of Tampa Bay, this snorkeling spot in Egmont Key offers a view of a Spanish American War–era fort sunk in 15 feet of water. You can get to this dive site only by boat, and a private charter would be best if you want to spend uninhibited time in the area. However, you can opt to go by shuttle from Fort De Soto. The shuttle departs twice a day, and by paying an extra fee, the operator can accommodate you with an hour's worth of snorkeling time among the ruins of Fort Dade.
While no services or purveyors are in the area, it would be wise to bring water and food during the trip.
The Artificial Reefs of Sanibel
If it's marine life that you seek, then you may want to head to the islands of Sanibel and Captiva. You may catch a glimpse of dolphins in the shallow waters or pick up a seashell or two during your dives.
The area has become a haven for sea creatures with its abundance of a dozen or so artificial reefs established off of Sanibel's shores. These human-made reefs are spread out to about 15 miles and are comprised of objects such as old bridges and boats, all of which are intended to create an ideal snorkeling environment. Tour providers in and around the area, such as Santiva Saltwater Fishing Team and Sanibel Island Cruise Line, offer guided trips with plenty of opportunities to snorkel.
Varied Options Along Longboat Key
Other than the private, secluded beaches found along the stretch of coast in Longboat Key, you can also find different snorkeling spots in the area. For example, you can discover some dive sites in and around Coquina and Bradenton beaches, although getting to these destinations may entail a short drive.
You can spend some time snorkeling around old piers between Coquina and Bradenton where you can see many interesting rock piles as well as colorful fishes, crabs, and rays. You may also spot the occasional manatee. Once you've settled in at one of Longboat Key's many accommodation options, you can always head out and find an ideal snorkeling spot nearby.
If you love the sea, you'd be surprised at how much the Sunshine State has to offer for water-based adventures. So, what are you waiting for?