Do You Really Need Travel Insurance?
Do you REALLY need travel insurance when you go travelling? Is it just another extra unnecessary financial burden, designed to ruin your fun and games on the road – or is it an obligatory cost? Going without it could extend your trip for a couple more months and besides, you know plenty of people who travel without it and they are always fine!
The Immortal Chain-Smoking Granny Paradox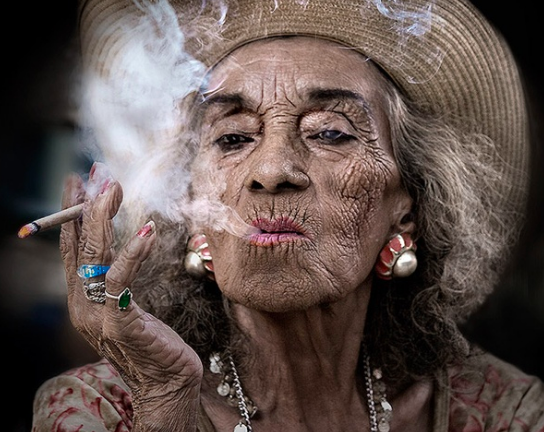 Whenever people pull that shit, I call it the Immortal Chain-Smoking Granny Paradox. One of my personal pet peeves is when an exception to the rule is used in order to negate the rule, such as; "My Granny smoked 40 cigs a day and she lived until she was 103!"
Cool story bro, indeed. But there are an awful lot of other grannies who didn't fair so well with their love of nicotine (my old dear included).
And for every cocksure fella you meet on the road, who proudly affirms their lack of having any of that travel insurance nonsense – there is some poor bastard with a horror story, wishing that they did!
My Personal Close Scares on The Road
Did you hear the one about the lad who left home forever on a one-way ticket to Malaysia, with only £1000 in his pocket? Two months into his life-affirming journey, he was almost broke and grew a freakish squash-ball size tumour inside his mouth and had to get major plastic surgery in Thailand?
You probably haven't, but that lad was me. You can read more about that nightmare here.
My travel insurance at the time only covered me for one of those two operations. If I knew then what I know now – I'd have chosen another company, but I was a naive novice and I had to learn the hard way. I ended up making the money myself and the horrendous stress of the situation was a blessing in disguise, pushing me into a corner and towards a breakthrough for making a living online.
However, the travel insurance covering even half of the problem bought me just enough time to make that happen. The current company that I use (review at the end of this post) would have covered me for 100% of that!
Did you hear the other one about the lad who went (quite literally) out of his depth whilst scuba diving in Belize and almost died? That was also me.
I lived to tell the tale and my medical costs were taken care of, no dint in my bank account – but plenty in my vulnerable pride!
On top of this, I've had borderline fatal flirtations on scooters and in cars as a passenger – lady luck shines down upon me, but she may not be around forever.
Personal anecdotes aside – I've heard of terrible stories regarding travellers who left without insurance, got into an accident and have spent a lifetime paying off their debts that they brought back from their holiday from hell. They're usually from a country with free national health care such as UK, Canada or Australia.
Don't take your health for granted when travelling, this is not the time to be a cheapskate.
What To Do When You Have Issues On The Road
If you feel like you may need to make a claim when travelling; write everything down. As much as possible – write down dates of events, keep receipts and make police reports if necessary (get a copy of all of that, to speed things up with your travel insurance company).
World Nomads Review
I had heard about the World Nomads a number of times and their name was almost impossible to ignore. The cynic in me thought that maybe they were maybe going hard on sponsored posts, seeing so every travel blogger under the sun seemed to be singing their praises.
Cynicism be damned. There's no smoke without fire with regards to this and at the fourth time of trying, I'm happy with my travel insurance agreement. The site is easy enough for a tech-dinosaur like myself to work out, the support are very helpful with any questions (and don't stalk you with a hard-sell when you're making your mind up) and I find their prices fair and competitive.
Another thing that I really like about World Nomads is that the Australian founder, Simon Monk is an experienced traveller himself and so he knows the bugbears and complaints of backpackers and short-term travellers, therefore he's tried his best to build a company that covers those grievances in an industry that can be seen sometimes as shady business.
What Does World Nomads Cover?
What's good for the goose is not always good for the gander. Make sure you write out what you're looking for in a travel insurance company first and always read the small print.
Accidental Death or Dismembered Limbs
Starting with the grimmest – if the Grim Reaper gets a bit of business on your behalf, your family will receive a payout and your body will be returned home at no charge. Payouts are eligible for those who lose limbs, sight or hearing too.
Lost or Stolen Goods
Coverage of theft and damage to your gear – it is what it says on the tin. Just make sure that you claim everything when selecting this coverage.
Trip Cancellation
World Nomads cover expenses for emergencies, or unforeseen circumstances such as cancelling a trip due to death in your family, natural disasters and companies going bankrupt and have not reimbursed your cost.
Medical Costs
They cover up to a whopping $100, 000 and of course depending on where you are on the James Bond spectrum – they have options of higher amounts of coverage based on your lifestyle choices. This includes hospital costs and evacuations during an emergency (I imagine a helicopter air-lift story would be a great one to tell the Grandkids, just make sure you are covered beforehand!)
Dental Treatment
If you bang or crack your nashers on your trip, World Nomads has your back for emergency dental treatment!
Still Unsure?
I've stated my case for why I believe travel insurance is an annoying paramount for your travels, but that really is up to you. Feel free to use the widget below to customise your preferences and destinations for your trip. If you do decide to go ahead with World Nomads, I will make a small commission for recommending them (out of their pocket, not yours).
My final request is that if you're a 103-year-old, chain-smoking Granny – please send me an email with the final price of your premium.