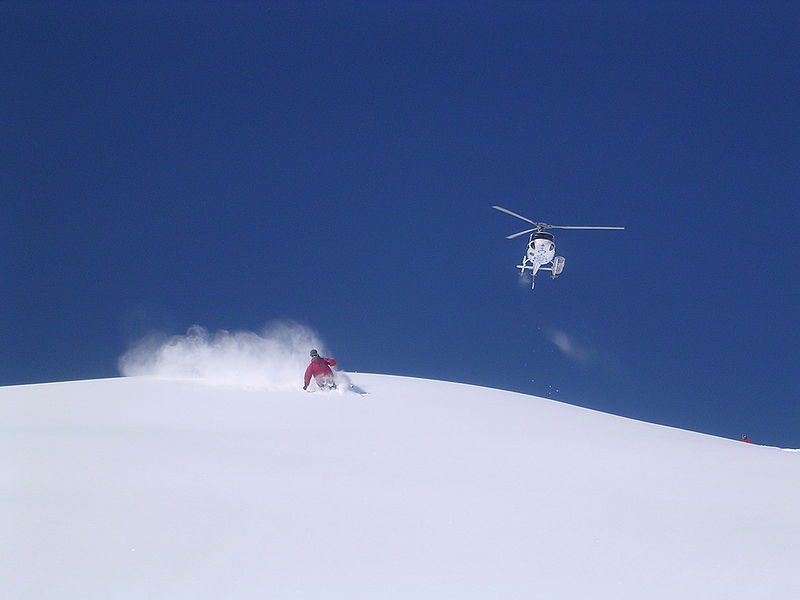 Skiing is a popular sport that is enjoyed by many people on an annual basis. Those that become interested in the sport, often have a favorite resort they return to often (mine happens to be Northen Escape Heli-Skiing in  British Columbia). For some, skiing is about the experience of the entire vacation. For others, it is about the perfect ski conditions. Heli-skiing allows individuals to reach more remote locations. This results in less crowded conditions, and better snow quality. There was a time when all skiers had to adhere to the traditional chair lift. The introduction of helicopter run transportation has changed the course for adventure seekers.
The Mountain Guide
There is some evidence that helicopters were taken to remote locations by skiers. The first recorded facts, however, point to Hans Gmoser as one of the first people to start the trend. He was a mountain guide, originally from Austria. He began his mountaineering career after the move to Canada. The year it all began was 1965. He is also known as a large contributor to mountaineering as we know it today. Gmoser enjoyed cycling in the Canadian summers and skiing in the winters. Two other Canadians, Herb Bleuer and Mike Wiegele are also credited with involvement in early heli-skiing.
The Goal
Heli-skiing did not start out as a tourist industry. At first it was a way for thrill seekers to find the ultimate powder run. Many of these enthusiasts were mountain guides. They often owned helicopters, and used them to chase their goal of the perfect ski area. The clean snow, risky turns, and lack of crowds was a dream come true for serious skiers, and still is. Gmoser was the first person to take paying customers out on his helicopter to look for snow that had not been touched. These first expeditions were ventures out into the Bugaboo Mountains. Helicopters are often able to reach areas that are unable to be reached by land.
The Timeline
After the early adventures of Hans Gmoser, it took a long time for others to catch on. Thirty years went by before heli-skiing reached the modern standards of today. It remained an activity for the very rich most of this time. Even today, it is one of the most pricy styles of skiing. There were also many years of remote operations that were incredibly risky. The guide would drop off a skier wherever wished, and come back for him later. The areas were not always safe. Today, anyone can have a try at heli-skiing. New regulations and organized companies have made it safe for a variety of audiences. Gone are the days when only the risk-takers gave it a try.
Many people are curious about heli-skiing, however, they are concerned about its safety. There were definitely many years where this sport was considered high-risk. Extreme skiers and snowboarders are always going to be on the lookout for the next great track, often making their way to dangerous territory. If the early explorers of mountaineering had not ventured out of their comfort zone, heli-skiing would not be what it is today.