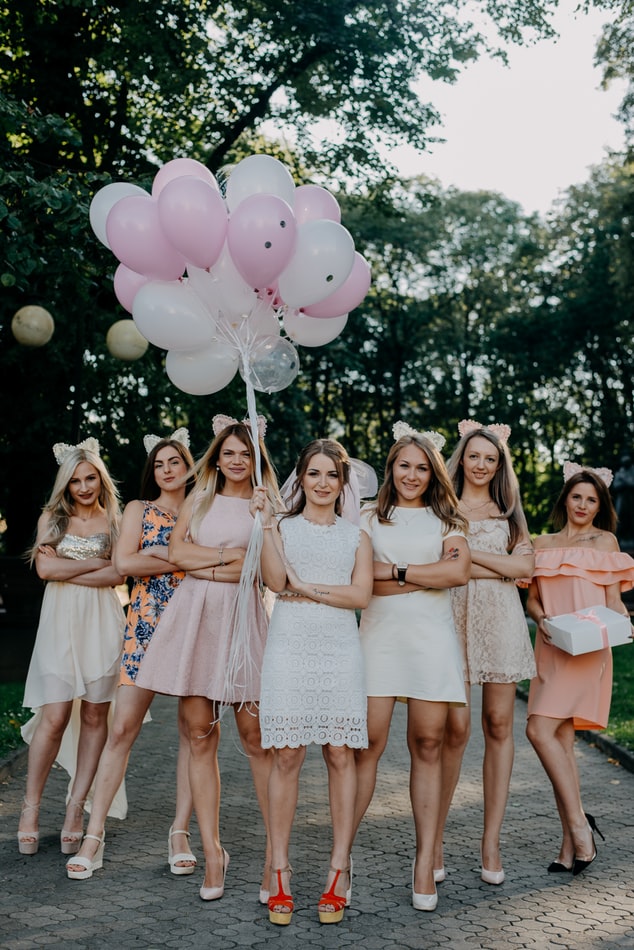 Source: Unsplash | Zoriana Stakhniv
A hen party is a party that is held for a woman who is about to get married. This term is mostly called hen party in the UK and called Bachelorette party in the United States of America. There is no big difference when it comes to planning and the party itself, including the activities that are carried out in the party. There has been an increase in the demand this is because people would want to get the entertainment by holding such parties; they are normally regarded as farewell parties.
How can you ensure you have a swift hen party in UK?
Planning and holding this party can be a very difficult thing to do, you may need an event organizer like Celebrate Just Right to help you achieve that, if you want to make this party run swift and without pressure, you will need to consider these things;
1. Plan early
This is the most important thing to do. You must plan the whole event even one year back, you will need to organize your money well to make sure that you can cater for the event and the people you will be inviting. You should also check on the activities that should be done in advance. The earlier you plan, the better the event turns out to be; also you will have no stress of things falling apart in the last minute due to the rush in the preparation of the events.
2. Ensure you understand the place you are booking
For you to avoid stress, you should know where you are booking, the place you are booking for the venue is very important, and for this case maybe you are booking very early. Sometimes in some places, you may go there the last minute only to realize you have been knocked out of schedule. This will be very difficult dealing with it because starting a search again when the time is much gone will be a hard thing to do and more expensive.
3. Draw your budget
You should be able to make your budget early enough for you to know if everything is okay or you can make an adjustment for the final budget, if you do this early  enough you will be able to have a swift and a very stress free party. This is very important also to know if you can afford the budget or not, you can also tell how many people you can be able to cater for comfortably.
4. Always remain with some cash
As you make your planning and your budgeting, just make sure that you are remaining with some cash that will enable you to counter the arising expenditure that was not planned for but it is necessary. The cost will always come back to you in case more things are needed; this is the reason why you should carry along.
5. Make all bookings early
For you to end up with this party in the UK very swiftly, you will need to make your bookings very early, you will be able to enjoy the lower prices when it comes to booking of the venue and the transport, they will always. A good thing with early bookings is that you can be able to pay earlier; this will allow you to be flexible with your budget when the time for the party comes, and you will not have budget pressure because you will have catered for the big expenditures
The things you can do at the hen party in the UK
The party is characterized by very many activities that take place during the party; here are some of the best ideas that you can try out on your hen party;
Pool party
These can be the best idea to do, first, many people like swimming, they love to party too, and this is the perfect condition for them then. This activity will give you a chance to play a lot of water games of pool games.
Cooking class
Women love cooking, this will be the best way of keeping them engaged in this fun activity, you can try out new menus, you can even get into competition of cooking. Cooking can be fun and a learning opportunity too that is why it is one of the very best ways of using your time during the party.
Music festival
Now this is the most common activity that takes place, it happens in almost all hen parties, you will be able to experience the environment of the real music festival including live bands and cocktails. In this music festival there will be games to be played and dance competition. On overall, what happens here cannot be specific, anything that brings fun will be found here.
Organize a movie
You can organize an outdoor movie at night; all you will need is a projector and a laptop, then you will search for the most interesting movie that everyone can love. You will need some snacks too, to keep you busy, snacks like popcorn and many others.  The other thing you should observe too is the weather, the weather at night can be so cold, and you will need to have some heavy clothing.
In conclusion, hen party has almost the very same characteristics regardless of where the party is taking place; it is just that some people have twisted it and taken a quite different direction when dealing with it. however many people stick to the basics. All you should know about this party is that before even you organize for it, you will need to do clever planning, you will need to put your money together and make early bookings too, this will save you a lot when it comes to the time when the party has approached, you will not be pressured in any way. Finally, you should be keen on the invitation list because it determines the budget.