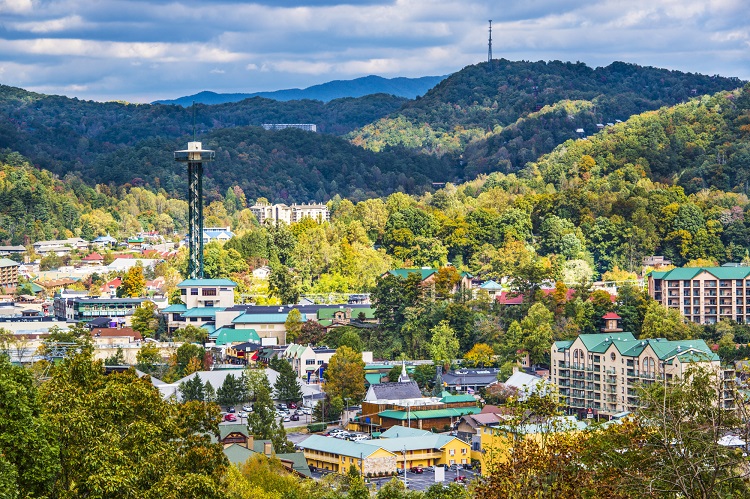 Are the Smoky Mountains calling your name? If so, then you need to stay in Gatlinburg, Tennessee, which houses three entrances to the Great Smoky Mountains National Park.
This quaint mountain town not only has great hiking and activities to do, but it also has a ton of really cool accommodations available. After a day of hiking, coming back to a nice hotel or a cute bed and breakfast is the perfect way to end the day.
For those planning their trip to the Smoky Mountains, here are the best places to stay in Gatlinburg.
Gatlinburg Falls Resort
Voted by Southern Living Magazine as the number one family resort in the Smokies, this resort is not one to miss! With cabins ranging from one bedroom all the way up to twenty bedrooms, Gatlinburg Falls Resort has space for anyone who wants to visit!
Each room comes with different amenities, such as hot tubs, pool tables, home theaters, and arcade games. If you're looking for a romantic getaway, they also have special romantic and honeymoon vacation packages.
The Lodge at Buckberry Creek
This place is perfect if you want an upscale hotel with the rustic touches of the Smoky Mountains. Buckberry Lodge boasts having a unique Adirondack style and artifacts in each room. Rooms can also come with grand fireplaces and scenic balconies overlooking the great Tennessee Smoky Mountains.
Guests can choose between their Gallery Suites or Lodge Suites. Each option comes with room to spare complete with seating rooms and even kitchens as well.
Old Creek Lodge
If you are looking for amenities like the hotels above but are also a bit easier on the wallet, then try Old Creek Lodge. As it is already in downtown Gatlinburg, you won't have to travel far to get to the Smoky Mountains or all of the fun things to do in the town of Gatlinburg.
With free continental breakfast, parking, and Wi-Fi, this hotel is perfect for families on a budget! Rooms are warm and cozy, complete with fireplaces and balconies.
River Edge Motor Lodge
This hotel has all the charm of a mid-century motor lodge, but with rooms that are both charming and modern. Rooms come with a refrigerator, microwave, and Keurig coffee maker. The lodge also has complimentary breakfasts and a fantastic outdoor swimming pool!
The River Edge Motor Lodge is perfect for families looking to explore the Smoky Mountains or couples looking to relax after a long drive to Gatlinburg.
Laurel Springs Lodge Bed and Breakfast
This bed and breakfast exudes charm. Built in the 1930s, this renovated building still has all of the allure of historical Gatlinburg. Guests can choose between five rooms that all have their own amenities like Wi-Fi, air conditioning and heat, chocolates, and cable tv.
Breakfast is included with the price and is served every morning. Guests can choose from options such as banana pecan stuffed French toast, blueberry crepes, apple soufflé, or different types of quiches. They also have healthier choices for breakfast as well, along with accommodations for restricted diets. My mouth is watering just thinking of all the delicious food!
Book One of the Best Places to Stay in Gatlinburg
As you can see, there are a ton of excellent places to stay in Gatlinburg. With the beautiful backdrop of the Smoky Mountains, it's no wonder that Gatlinburg is such an outstanding town to stay in.
If you're looking for the best places to stay in Gatlinburg, this list is a great start! Need help planning on what you'll need in the Smoky Mountains? Read my article on travel insurance and if it is necessary (spoiler alert: it is).