After learning most of these handy Thailand travel tips from firsthand experience (Thailand is my home), I put together a comprehensive guide for readers who want to be fully armed, with all of the necessary information to prepare for and get the very best out of their upcoming trip to Thailand.
Thailand is the number one tourist magnet on the well-trodden Southeast Asia travel trail, with a whopping 16 million people swarming to the country every year, and for many good reasons.
Even though the secret of Thailand's beauty is well and truly out, you can still get good value for your money. The famous cuisine fully deserves its plaudits and the self-titled "Land of Smiles" opens its arms to travellers of all budgets and interests.
I love this country so much that I came back years later and decided to officially call it my home.
Whether you're a penny-pinching party animal, a refined and relaxed traveller, a fancy flashpacker, or a serious adventure traveller, I'm confident you will be able to tailor make the best trip for you.
In order to help you do that, this Thailand travel guide will highlight the most popular things to do whilst tipping its hat to non-typical activities and destinations that don't always get the love that they deserve. I'll also provide you with enough information to navigate your way around the country with confidence.
Popular Things To Do in Thailand
Let's get the guide started by taking a look at the most in demand destinations and activities…
Visit Chiang Mai Elephant Nature Park
I'm not going to lie in order to make myself look more virtuous. When I first left home to travel I rode on the back of elephants on two occasions. I honestly didn't think it was a big deal – they're huge and strong, surely my skinny little bum isn't going to hurt them, right? Wrong!
If you visit the Elephant Nature Park you will never ride on top of an elephant again, once you learn about the abuse that these gorgeous animals go through, as their spirit is broken down in order to serve their masters via elephant tourism.
The sanctuary will teach you why there is no such thing as "ethical elephant riding," you get to bathe these glorious animals in the river and the place also rescues dogs, cats and other abused animal species. There are some fake sanctuaries kicking about though, so the official address and map are pinned below to make sure you get the right one. Prices vary depending on how long you're going for, check out your visiting options on the official site here.
Many parks advertise themselves as sanctuaries but they are not. Never go to a park that advertises shows, unnatural behaviour, tricks or painting – and please, never ride an elephant.

(Maria Mossman, founder of non-profit group Action for Elephants UK.)
Party All Night At The Full Moon Party, Koh Phangan
An all-night drunken, pilled up night of hedonistic partying on a beach under the full moon. They take place all over on other islands, but as it originated on Koh Phangan you may as well go to where the party got started, so to speak. It's hardcore and people get pretty messed up, so don't be too surprised if you see people doing it in front of you like no one's watching.
You were warned, it's not for everyone.
How to get to to Koh Phangan Full Moon Party and costs: Take one of the twice daily flights from Bangkok's BKK Airport (not Don Mueang) via Thai Airways to Koh Samui. Once you reach Koh Samui, you can take a short taxi ride (for around 100 Thai Baht) to the Big Buddha pier and grab a ferry to Koh Phangan which will take you there just under an hour.
Explore The Grand Palace, Bangkok
Escape the Bangkok traffic and travel across the water to visit the pimped-out lodgings where kings of Siam (ancient Thailand) used to hang out and where modern day royal formal gatherings still take place.
How to get to Grand Palace Bangkok and costs: Take the Silom Line on the BTS to Saphan Taksin Station and go through Exit No. 2 when you get off. Then, take the Chao Phraya Express Boat to Ta Chang Pier. A 10 minutes brisk walk will bring you to the entrance gate of the Grand Palace.
The palace is a full day trip. Make sure you cover up your legs (men included) and ladies need to cover their shoulders and remember to bring a form of ID and 500 THB for the entrance fee.
Have a Traditional Thai Massage
If you're expecting a relaxing, zen-like western type of massage then you're in a for a big shock. Getting a proper Thai massage is tantamount to a Brazilian jiu-jitsu beating, but hey… it's all part of the experience.
Some weirdos actually like it and you can find traditional Thai massages all over Thailand.
Island Hopping in Thailand
Thailand is famous for having a plethora of beautiful beaches. You can do a bit of research and make a pick-and-mix of your desired islands and become a Thai beach savant. The trickiest part is getting the transport right, but thanks to 12GO.Asia you can take advantage of bus and boat combo tickets, saving you the hassle, so you can just kick back and enjoy that Pad Thai on your way.
Thailand has so many things to see and do and these are just the main highlights of the country. A quintessential part of Thai culture is going to watch a Muay Thai kickboxing match, and other honourable mentions for popular things to do in Thailand are bamboo rafting, visiting Bangkok's floating markets and snorkelling. All these suggestions are, of course, just the tip of the iceberg.
There are also a lot of options for those who want to get off the beaten path and for the adrenaline junkies amongst you. So let's take a look at the more adventurous, cool, quirky and weird destinations and activities for those with curious minds and for those travellers who like to walk on the wilder side...
Unique & Unusual Things To Do in Thailand
I never feel the pressure to visit "must see" or "must do" activities when first going to a country, but if something is popular and I want to check it out, I will. However, I do like to explore the weird, the wonderful, the confusing and the road less travelled when I can and I know I'm not the only one.
There are plenty of unique and unusual things to do in Thailand, (particularly in the capital) here are my top picks for the weird and the wonderful that Thailand has to offer:
Nine Emperor Gods Festival, Phuket
Also known as the "vegetarian festival." A nine-day festival is celebrated throughout Thailand by locals, mainly by those with Chinese ancestry. The participants purge their soul by going for a month without sex, animal products drugs or alcohol.
Some of the most ardent meat-eaters that I know admitted that the street food (which is all vegan) at this event is out of this world.
Phuket is the best place for this event, but it's not for the fainthearted as hundreds of locals put themselves through agony, many with sharp objects through their faces. I wrote a post about it and don't say I didn't warn you about the photos.
How to get to Nine Emperor God's Festival and costs: The festival is free and there are many cheap buses and flights into Phuket; just make sure you rent a scooter/motorbike to get around more easily as it's jam-packed at this time of year.
Lopburi Monkey Festival, Central Region
Long-term travellers learn the hard way that monkeys can be as ruthless as they are cute, just ask anyone who's ever been mugged by one in a tourist trap.
But if you're feeling brave, venture a couple of hours outside of Bangkok for the Lopburi Monkey Festival where the local long-tailed macaques are the guests of honour and are offered fruit to feast on by the locals.
The mass monkey picnic transpires on Khmer ruins and takes place on the last Sunday of November.
How to get to Lopburi Monkey Festival and costs: Budget backpackers can get the BTS Sky train to Mochit followed by a 5-minutes motorbike taxi to the northern bus terminal.
The train option is more scenic and takes two hours from Hua Lamphong Railway Station, otherwise known as the Bangkok Train Station, and leave about every hour. Tickets are fairly cheap, though the price does differ depending on the availability of quality trains.
You can search 12GO.Asia to book in advance.
Dine in the Dark, Bangkok
Eat in 100% pitch black complete darkness whilst blind employees guide you to your table, bring you food and drink, and playfully tease you as you try (and fail) to eat, pour and drink without making a mess.
It's a fun night out and a way to support local people with disabilities. It will also make you leave feeling extremely grateful for your eyesight. As it's situated in a five-star hotel, the food is first-class and that comes with trendy prices of around $50 USD per person. Grab the BTS to Asok and follow the directions below. You probably don't fancy being stuck in a taxi during rush hour in Bangkok.
Explore the Abandoned "Ghost Tower", Sathorn
Bangkok is no stranger to unfinished building projects but this one has an extra energy of eeriness to it. The 49-storey skyscraper in Sathorn was abandoned in the late '90s and since then it's been a hangout for drug users and homeless people. A Swedish backpacker was found hanged there in 2014, and the place is so creepy that the superstitious locals refer to it as the "Ghost Tower".
You can get to the top (I did) with some brave/stupid manoeuvres and when you summit you will have absolutely amazing views of the city.
How to get to the Ghost Tower, Bangkok, and costs: I hear that the building owner has now opened the building up for tourists and that the path to the top is much less dangerous. Take a look for yourself and get the BTS Skytrain to Saphan Taksin (Silom Line). The building is impossible to miss when you get off at the station.
Songkran Water Festival
Songkran is an incredibly fun, high energy, 3-day water fight festival to celebrate the Thai new year, taking place every April. The water represents cleansing of the past year's sins and so much more. It is celebrated in other parts of Southeast Asia, but it doesn't get any more intense than in Thailand.
If you want to go all out for the full Songkran experience, then Chiang Mai in Northern Thailand is the mecca of Songkran. Check out my article here for further information – Songkran in Chiang Mai: A Guide to Thailand's Water Festival
The Mummy of Luang Pho Dang, Koh Samui
It's not often that you get to see a mummified monk, but seeing a mummified monk meditating in the lotus position, that has been there for two decades is a sight that us more curious travellers simply can't miss out on.
What makes this even more special is that at 79 years of age, Luang decided his death was on the horizon so he starved himself from food and water and requested to remain on display at the temple in an upright position as a symbol to inspire future generations to follow Buddhist teachings and be saved from suffering.
Local monks have put sunglasses over his eyes so that he looks less haunting, making him the coolest-looking of dead holy men. Go and check it out, but remember to be respectful and not piss off any proud Buddhists.
How to get to the Mummy of Luang Pho Dang and costs: The name of the temple is Wat Khunaram, and it's very far from the exotic beaches of Koh Samui. It's a good idea to check out the meditating mummy in Ray-Bans on the way to Na Muang Waterfalls. It's roughly 30 minutes from Chaweng beach and about 300 THB in a taxi. Entrance is free and donations are welcome.
Criminally Underrated Destinations in Thailand
Some places get all the love, but these unsung heroes in Thailand often don't receive the plaudits that they deserve:
Koh Mak
This tiny little island with a population of under 1000 is still one of Thailand's best kept secrets. It's better for a romantic getaway as opposed to a boozy group tour though. The entire island is privately owned by five families who carefully manage its development, and ensure its businesses remain exclusively local. No 7-Eleven stores and no ATMs on this heavenly island… you just have to settle for pure bliss in an off the beaten track location instead.
How to get to Koh Mak and costs: Fly to Trat Airport from BKK Airport via Bangkok Airways and jump on a 40 minutes boat trip to the island.
Phimai Historical Park
One of the largest Khmer temples in Thailand which resembles a smaller version of Cambodia's Angkor Wat, although it was built much earlier. The park is well maintained, located in the centre of the town and the flatness of the site makes it accessible to people of all ages.
How to get to Phimai Historical National Park and costs: 12GO.Asia will find your path by bus travel. The bus station is located quite a few kilometres from the centre of town, but the motorbike taxis can get you there for around 50 THB. The entrance fee for Phanom Rung Historical Park is 100 THB.
Kanchanaburi
Visiting here isn't exactly avant-garde in terms of Thailand travel, but a surprising amount of folk don't take the worthwhile two-hour bus trip from Bangkok to this quaint little Thai town with strong historical significance. Check out the "Bridge on the River Kwai" and get to know about Thailand's World War Two era, bathe in the Erawan National Park and if you're feeling fancy – stay at Natee The Riverfront Hotel with a lovely balcony view.
How to get to Kanchanaburi and costs: The bus station in Bangkok currently on Google Maps is an old one. It was my birthday and I was grumpy about the lost time so I got a last-minute GrabTaxi (Southeast Asian app, which has bought out Uber in this region) and it took two hours. Sign up to Grab with the promo code GRABMANVSCLOCK and you will receive up to 40 THB off your first Grab ride.
Sukhothai
The first capital of Siam (ancient Thailand) was the birthplace of Thai art, architecture and language. The name itself translates as "The Dawn of Happiness" and it's a UNESCO World Heritage Site, meaning it's a perfect stop off for history buffs and those seeking to get away from the crazy party side of Thailand.
How to get to Sukhothai and costs: Budget-friendly Nok Airways is Thailand's budget carrier and offers flights for around $80 USD departing from Don Mueang Airport, with the flight taking around 2.5 hours. Personally, I rode a scooter there and bit off more than I could chew. It took 5 hours. Apparently not taking sunblock on a journey like that when you're bald is a bad idea. Who knew?
Entrance fee to Sukhothai Historical Park is 100 THB.
Sam Phan Bok
The "Grand Canyon of Thailand", situated in Ubon Ratchathani Province is close to the area known as the Emerald Triangle where the three countries of Thailand, Laos, and Cambodia meet. The underrated natural beauty is best enjoyed at sunset or sunrise (although don't bother visiting during rainy season).
How to get to Sam Phan Bok and costs: There is no entry fee to Sam Phan Bok, I couldn't find public transport, so I rented a motorbike and winged it on 4G with Google Maps. Make sure you arrive early as it's a wide-open are with no shade and you are at risk of some serious sun damage if you go during the peak afternoon heat.
Adventure Travel in Thailand
Beyond the temples, busy city streets of Bangkok and delicious food lies another side of Thailand…
Rock-Climbing in Krabi
Rock-climbing enthusiasts and first-timers swarm to Railay and Tonsai beach to take on one of the worlds most famous spots to climb.
Learn Muay Thai Kickboxing
The best-case scenario is you'll shred body fat and learn one of the world's most effective martial arts. The worst case is you'll get beaten up. I think the risk is worth the reward, but that's your call to make.
I love how the people of Thailand are so smiley, cordial and often a little shy, yet they have developed one of the most effective and brutal martial arts on the planet. It's such a compelling paradox.
There are Muay Thai schools all over the country, you can take a taster class and if you become hooked you can easily stay in Thailand legally for up to one year under an education visa.
Wake-boarding in Bangkok
I'll come clean – this was more about 'extreme face-planting in water' at high speeds. But hopefully you'll take to it better that I did!
Whitewater Rafting in Pai
Take on the Pai River in the foothills of the Himalayas, overlooking a non-accessible jungle.
Climbing Don Inthanon, Thailand's Highest Mountain
Earn your evening Thai beer of choice by summiting Thailand's highest point. It's not for beginner hikers, dig in deep.
When To Go To Thailand
As a general rule of thumb the best time of year to visit Thailand in terms of weather is between November and February with notable exceptions being the east and west coast and of course this country is no stranger to natural disasters overt the years.
The east coast (Koh Samui, Koh Phangan and Koh Tao) is perfect from February to October, and the West coast (Phuket, Koh Phi Phi and Krabi) is absolutely glorious between December and May.
If you're sensitive to bad air you should avoid Chiang Mai like the plague during "burning season" from March to May, as farmers in northern Thailand and those areas bordering Myanmar burn their fields to prepare their land for the next year. You'll also feel the wrath of tropical rain during this time, with it dissipating around the end of October.
Thailand Travel Costs (Suggestions for all Budgets)
Answering the old classic "how much does it cost to visit Thailand" (or any other destination) is a very nuanced question as we all have different budgets, interests and personal preferences.
In the table below I have covered costs (in US Dollars) for a frugal backpacker, a mid-range traveller and a flash-packer.
Frugal backpackers tend to stay in hostel dorms, eat only street food, religiously take public transport and haggle hard whenever possible.
Mid-range is what is says on the tin. They usually have a bit of extra wiggle room and like their occasional costly pleasures.
Flash-packers (who are often wrongly confused with super high-end luxury ballers) have more disposable income and don't mind spending more money for the sake of assured comfort and convenience.
I have also added a splurge option for cool experiences that may make your experience fuller, or a once-in-a-lifetime opportunity. This category isn't paramount for your travel budget, but it's nice to see what options you have for if you are travelling on any special occasions, or want to treat a loved one.
Thailand currency is the THB. You can convert the information above into your own currency thanks to this handy little magic box below:
| | | | | |
| --- | --- | --- | --- | --- |
| Thailand Travel Budgets at a Glance | Frugal Backpacker | Mid-Range Traveller | Flash-Packer | Optional Splurge |
| Accommodation | $6-13 | $15-20 | $25-40 | Suit up! Channel your inner David Beckham in Bangkok city centre with tailor-made suits, ranging from $300-$700 |
| Food | $5 | $15 | $20-35 | |
| Transportation | $3 | $15 | $20 | |
| Activities | $15-30 | $35-45 | $40-60 | |
In this guide I have more detailed information on transport and accommodation, which will help you to create a realistic budget for your trip to Thailand.
Where To Stay in Thailand: Accommodation Suggestions For all Budgets
Agoda are the kings of online hotel booking in the Thailand. They have an awesome rewards system, so that means you'll potentially have a couple of free stays if you're happy with them and collect some points. Sign up to Agoda today for hotels and homes in Thailand.
Other useful companies that I use for accommodation in Thailand are:
Booking.com – I love their myriad of options and superior filter/search option
Hostelworld – Budget-friendly, private room for cheap, luxury hostels…
Homestay – Stay with a local person or family for an agreed price
Airbnb – Digital nomad saviour. Apartment sharing, full house to yourself, and more. Sign up with this referral link and you will get a $55USD discount on your first time booking!
You get a really good bang for your buck in Thailand, you can also be a proper fancy pants and go luxury too (with some eye-popping bargains). Below I've listed options for all budgets with hostels, hotels, apartments and even staying with locals for popular cities and towns in Thailand.
Budget Accommodation in Thailand
Homestay and Apartments in Thailand
Luxury Accommodation in Thailand
Is it Safe to Travel to Thailand?
Thailand is relatively safe in terms of being a potential victim to a crime, with the most common misdemeanours being motorbike renters trying to charge you for a scratch on the vehicle that was already there, pickpocketing and the occasional targeting of women for bag-snatching. Violent attacks are extremely rare in this part of the world, which is great because no one wants a Muay Thai knee to their face whilst innocently enjoying a chilled bottle of Chang.
As nowhere is a utopia, still use common sense and lock up your personal belongings in your accommodation, listen to your intuition and always walk away if something feels dodgy. Don't go wandering alone when hammered and be aware that Thailand has relatively strict laws towards hard drugs and marijuana.
Always wear a helmet when on a motorbike/scooter and never drink and drive. If you're concerned about your safety on the road then read Travel Safety Tips for Women and Men.
Make sure you buy travel insurance as no one is immune to crime or injury, most people don't think that they need insurance…until they need it.
The Best Travel Insurance for Thailand
I switched my insurance over to SafetyWing and I can't stop singing their praises. The main highlights being that they are 3 times cheaper than their nearest competition, you get private healthcare in most countries and it's a monthly subscription, meaning you can cancel and restart it at any time.
I've attached an infographic below, which showcases other reasons why I choose SafetyWing as my travel and digital nomad insurance. If you want a more comprehensive guide, you can read my full review here: Best Digital Nomads Insurance on the Market: Why I Switched to SafetyWing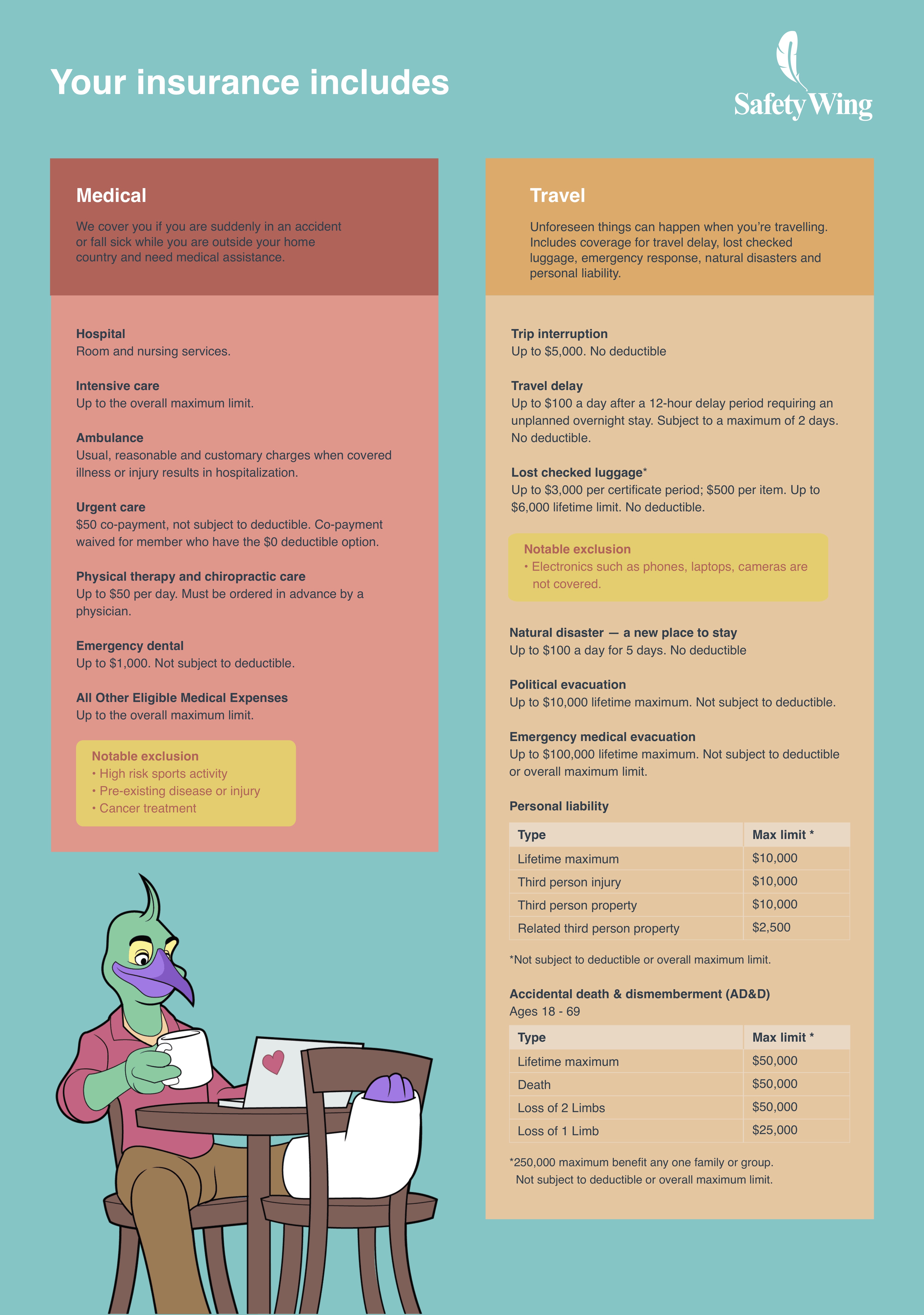 Internet and SIM Card in Thailand
Internet in Thailand is fast and reliable, in fact I would rate it above my own country, The United Kingdom and other developed countries such as Australia and New Zealand. Most hotels and restaurants offer WiFi, so staying connected here is not really a big issue.
Buying a Thailand SIM card upon arrival is no drama too and the two heavy hitters for data are True Mobile and AIS. You can pick one up in Bangkok (BKK) airport and if you don't have enough time or aren't flying there first, you can get a SIM and a package in a nearby mall.
Thailand has started mandatory SIM card registration and now you need to provide your passport whenever you choose to purchase. Topping up is easy in Thailand, you can either find a franchise store of your chosen SIM network or via these stores: 7-Eleven, Family Mart, BigC and Tesco.
The Best VPN For International Travel…

A good VPN (virtual private network) protects you from shady hackers by offering a secure bridge between your chosen device and the internet. It gives me peace of mind when logging into sensitive information like my bank account and it also works on Netflix, so I don't have to annoyingly lose access to my favourite show because I have changed countries!

I use Express VPN on both my desktop and two mobile phones. One membership allows you to use its VPN service on five devices at one time. This is also the best VPN to use for China, which really likes to "ban all the things". I am able to access all my usual social media sites and Gmail when travelling in China.
How To Get Around Thailand
Flying Around Thailand
This can be cheap and cheerful, with the major flight hubs in the country being:
Bangkok Suvarnabhumi Airport (BKK)
Phuket International Airport (HKT)
Chiang Mai International Airport (CMX)
Hat Yai International Airport (HDY)
Samui International Airport (USM)
Be sure to check flights on credible comparison sites Skyscanner and Momondo before buying your flights.
Renting a Car in Thailand
Renting a car is not worth the hassle in my opinion, but that's just personal preference. If you plan to drive in Thailand, you should officially have either a Thai driver's license or an international driver's permit and be above 21 years old (but many require you to be 23). You might get away with a few ubiquitous bribes when the police officers stop you and pulls a fee amount out of their bums, but all in all I'm not a fan of this option.
Renting a Scooter or Motorcycle in Thailand
This is incredibly common amongst tourists, in fact it's one of the easiest places in the world to do it. You won't have to look too hard at all, in order to find your local rental shop in this country, and it often works out as the cheapest mode of transport.
Bus Travel in Thailand
Buses are the preferred mode of transportation for long distance trips in Thailand and is also the most budget-friendly option. There are VIP options, which are higher quality, they aren't exactly on the same level as the fancy busses in Argentina or Europe, but still you will be surprised by how little you'll pay for an upgrade.
The old-fashioned method is to rock up in person and buy the tickets, but if you prefer to book ahead then try your luck on 12GO.Asia
Getting Around Thailand By Water
Travelling around Thailand via water can be fun once the tiring ticket purchases are out of the way and your options come in all shapes and sizes, due to the sheer amount of tropical islands. Almost every port has some form of water transport from fancy ferry cruises down to a haggle-agreed deal on a fishing boat to take you to a peaceful, gorgeous island.
Train Travel in Thailand
Train travel isn't relatively popular in Thailand, but there are still opportunities for those who love to travel by rail. the best options with popular routes being Bangkok to Chiang Mai, or the scenic route from Bangkok to Kanchanaburi. Thailand to Singapore is a cool journey too (and you have the option to stop off in Malaysia on the way).
If you really want to travel on a train and have the desire to put together a DIY plan, but you're feeling overwhelmed with information, then seek advice from the Godfather of world train travel; The Man in Seat 61
If this trip gets too much for you and you have to book multiple transport options, I highly recommend letting the search engine at 12GO.Asia do all the hard work for you so can take advantage of bus-train-boat combo tickets.
City Travel in Thailand
Tuk-Tuks
These 3-wheels of steel vehicles are everywhere in Thailand. Always haggle beforehand, the drivers usually attempt to rip you off, but in a more jovial and less sinister way than taxi drivers in the country.
Songthaew
You can save a lot of money for the sacrifice of patience and personal space. Great if you're on a tight budget, awful if you have a lot of luggage.
Bangkok BTS and MRT
The Skytrain and subway systems are well used by the people in the capital. Rush hour is 7-9 am and 5-8 pm and is absolutely mental. It's very rarely "quiet" in a city of 9 million people, but it's an efficient, air-conditioned option for getting around the capital city.
Taxis
in Thailand they have a deservedly bad wrap because they constantly try and scam tourists. In most cities be prepared to walk away if the taxi driver refuses to put on the meter, or has knowingly asked for an extortionate amount.
A good tip is to politely ask a local how much is a fair price from Destination A to B, again, don't be scared to haggle as it's very much the norm in Thai culture, but don't take it personally if the driver drives away mid-conversation during the negotiation.
Motorcycle Taxis
These are my go-to guys for immediate, short trips and they can bob and weave through traffic like they're in a Matrix scene. Much like the tuk-tuk guys, they may try and ask for a cheeky price at first, but they're more agreeable in general than the taxi drivers.
If, like myself you're a fan of Uber, you should know that they have been bought out by Malaysian-owned Grab who rule the roost in Thailand. I use it all the time in Thailand for pre-agreed metered taxis, motor taxis and even for takeaways when I'm feeling hungry and lazy!
One of the best Thailand travel tips to give you more transport options to get around headache-free is to Sign up to Grab with the promo code GRABMANVSCLOCK and you will receive up to 40 Baht off your first Grab ride.
Food in Thailand
If you start your travels in Thailand then you've set the bar way too high for future culinary experiences. This really is the kitchen of the world with Thai cuisine celebrated as one of the best out there, but there is a cost… You have to like/tolerate spicy food.
Travellers who want less spice in their food should ask for "Nit Noi," but it's better to say "Pet Noi" if you really suffer from the spicy kick. Seafood is very popular in Thailand and most dishes are colourful with an array of mixed vegetables making up much more of the plate than you'd see in the Western world. Food is eaten with a fork in the left hand and a spoon in the right hand.
National Dish of Thailand: Pad Thai (A noodle stir fry dish with bean sprouts, peanuts, egg and tofu, often with added chicken)
Other Popular Thai Dishes: Tom Yum Goong, Green/Red Curry, Pad Krapow Moo Saap
My Personal Favourite: Massaman Curry
Thailand for Vegan Travellers: 3/5
Being vegan in Thailand isn't as tough as it can be in some countries. A 5000-year-old religion called "Jainism" could be to thank for that, as Jain followers object to the consumption of meat, fish and eggs based upon the principle of non-violence.
Your relationship with tofu is going to be the deciding factor as a vegan travelling in Thailand as that's the main source for your protein options. With that being said, most of the touristy islands have their little hippy havens with plant-based meals in abundance. Chiang Mai is very vegan-friendly as is Bangkok but that will come at a premium.
Vegan Thai meal options: Pak Boong, Pad Thai (without egg), Som Tam, Laab Jay
The thorn in your vegan side could be eggs used as a condiment and watch out as lot of curries are cooked in fish sauce. Thais are a friendly folk and will accommodate you if they can and if you are able to get around the language barrier. Opt to have mushrooms as a meat replacement whenever possible as most stir fries and curries mix well with them and they're delicious in this part of the world.
Needless to say no vegan traveller should ever leave home without the Happy Cow App.
Gear and Packing for Travelling in Thailand
I'm hesitant to say what the "best" backpack or suitcase is for an individual country. It depends on a variety of factors such as budget, fitness level, injuries and the type of travel that you are planning to do. However, I do have you covered for deciding what luggage is best for you and your trip to Thailand.
Check out my detailed and typically guy centric article Choosing The Best Travel Backpack – The Ultimate Guide. Don't worry, I haven't forgotten about you lovely ladies. I'm just not one myself, so I asked an awesome and well-travelled woman to write this detailed post Best Travel Backpack for Women and she's also put together a must-have Thailand packing list below.
If you are still unsure which type of luggage you want to take on your trip, then my post Backpack vs Suitcase should help you with your decision. If for whatever reason you have a staunch love of suitcase over backpack, then my article A Guide to Choosing the Best Rolling Luggage should guide you towards finding the best suitcase on wheels on the current market.
What To Pack For Thailand (For Men)
Clothes
5 pairs of boxers
2 pairs of breathable sport socks
2 pairs of breathable "smart" socks
2 pairs of shorts
5 T-shirts
1 long sleeve T-shirt
1 "smart/nice" top for nights out etc
1 pair of breathable trousers (I pack cargo pants by Jack Jones) and they are my backup for covering legs when visiting places of worship, have handy pockets and are good for surprisingly chilly nights in places like Chiang Mai, Cameron Islands etc
1 high quality, lightweight jeans (ideal for dates, impromptu formal gatherings and looking respectful when applying for visa extensions in official immigration buildings)
1 pair of "nice" boxers. Whether you're travelling with your partner or hooking up as you go, be prepared to bring your A game in the underwear department for when the moment presents itself
1 pair of flip-flops (after 8 years on the road I can confidently tell you that Havaianas are the Lord of the flip-flops and I will attempt to unapologetically proselytise you at any given moment)
1 pair of smart boat shoes/Vans (optional)
Baseball cap or a Multifunctional Buff (optional for some, but necessary for baldies like myself)
Toiletries
Roll-on deodorant
Toothpaste
Toothbrush
Dental floss
Razor (I travel with an eco-friendly Bambaw razor, and store a backup of reliable razor blades in the box for safety)
Soap (I'm too clumsy to have shower gel in my bag)
Condoms
Band Aids
Antiseptic cream
Paracetamol/aspirin
Melatonin (hands down the best sleep aid. Ridiculously banned over the counter in the UK, available in most places)
Tiger Balm – I swear by it. (The antidote for evil little hungry mosquito bites)
Other Stuff
That should do for the basics for men travelling in Thailand, but feel free to check out Travel Gear For Men (After 8 Years Experience and 100+ Countries) for a more extensive list.
What To Pack For Thailand (For Women)
Clothes
Toiletries
Face soap
Face moisturiser
Shampoo and conditioner (Or a 2-in-1 if that works for you)
Shower gel or soap (Soap avoids the need to carry another plastic bottle or liquid and you can find either wherever you are, so you don't need to carry a massive bottle from home)
Toothbrush, toothpaste and floss
Deodorant (Roll-on is best for carry-on travel)
Menstrual cup, pads and/or tampons
Sunscreen
Insect repellent
Razor
Nail clippers and nail file
Tweezers (Not just for your eyebrows or the odd stray hair, but they're also handy for other things such as splinters and removing stings)
Make-up (When going out in the evening and want to dress up a little, you can get away with the basics of concealer, eye shadow, bronzer, eyeliner and lip gloss. Don't forget the brushes for your eye shadow and bronzer!)
Extra contacts (If you wear them as well as a pair of glasses)
Birth control (Or any other medication you may take. It's a good idea to carry your doctor's prescription with you, as some countries can be funny about what they allow in and you may need to prove that you are taking it on the advice of your doctor.
If you're looking for a more comprehensive packing list for women travelling in Thailand then Christina's post will help you out: A Comprehensive Packing List for Women Who Love To Travel
Travelling To Southeast Asia?
I hope these Thailand travel tips have armed you with enough information to get the best out of your upcoming trip. I'm now working on travel guides For every country in Southeast Asia, stay tuned and feel free to check out my comprehensive Southeast Asia Regional Travel Guide if you're visiting Thailand's neighbouring countries.