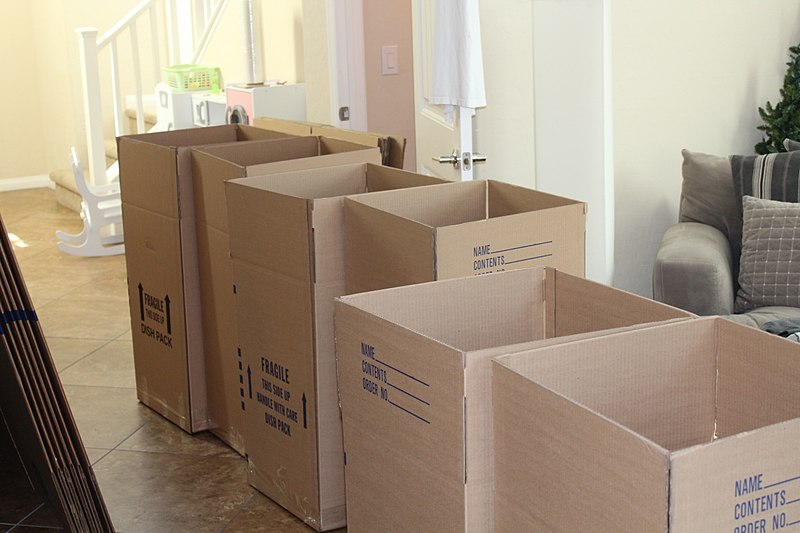 Source: Wikipedia
Moving home is an incredibly exciting experience and although I have moved 7 times because of my husband's job, I can honestly say that the novelty doesn't wear off. What does wear off pretty quickly is the excitement of the actual moving, the packing up of your possessions and getting them to your new place. As a result of these experiences however I am now very much a dab hand at moving and so I wanted to offer you some tips on the best way to get it done. If you have a move coming up, here is how to ensure it goes well.
Storage
If you head to a search engine and type 'storage near me' you'll find a whole host of units where you can cheaply store your things. There are a number of ways in which to benefit from using a storage unit. Firstly if you want to get ahead of the game with your packing then you can start moving boxes into your storage unit, ready for moving day. Alternatively you may wish to rent a unit close to your new place, so that you can get ahead of the game before you get your keys. We moved without a moving company last time and we were able to take small amounts to the unit near our new property, which meant we were ready when we finally closed the deal.
Early Birds
Do not leave your packing until the last minute, if you can then I would advise trying to get everything packed up well before your moving day. This can be a bit tricky when you are still living in the property and you need things that may well have been boxed up, but this short term pain will help you massively when the time comes to leave. There is so much in the house which isn't required for day-to-day living so get it packed up and ready.
Colors
I would urge you to use colored boxes rather than labels when moving, and allocate a color for each room in the home. This is not only to help you pack, but it will make unpacking far easier. As each box comes off the removal van you will know exactly which room it should go to, a huge time saver.
Many Hands
They say that many hands make light work and this is certainly true in the case of moving home. Call in as many people as you can to help you move furniture, appliances and boxes, they may even help you take the stuff to your new place.
Planning
Aside from color coordinating your boxes you will have to have a plan for the bulky stuff, sometimes you'll need to remove a door or a window to get things out, which is better to have in your mind before the main event. The last thing you need on your moving day is to suddenly realize that you have to take doors off hinges or removing window panes, so plan ahead and make sure that you are prepared for it.