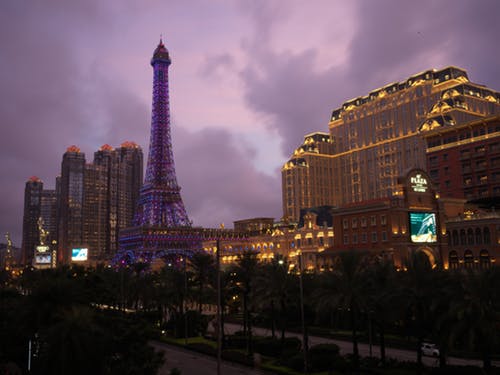 Beauty is in the eye of the beholder as they say and what better way to experience luxurious beauty than to travel the world in search of the most marvelous hotel and casinos ever built. 
Stunning architecture paired with exquisite services is all offered by 8 of the world's top luxurious casinos. Far and wide, we've searched them all and brought them to you. Keep reading and you just might be booking your next vacation.
1. The Bellagio, Las Vegas
Of course, we had to begin with one of the most noted and luxurious casinos in the famous Las Vegas, Nevada. Constructed in 1998, The Bellagio is a staple to the Las Vegas Strip. It holds over 4000 hotel rooms, 2 of the best restaurants, a large casino. 
The Bellagio offers 115,000 square feet of amazing casino games. The best part of this casino is the magnificent synchronized water show it puts on to classics like Frank Sinatra, Elvis, and many other beloved singers. Tourists love to watch as the water dances to the music. This is their main attraction as well as their Bellagio Water Fountain in the center. 
The Bellagio is not a casino to be missed when visiting Las Vegas as it is highly regarded and one of the most luxurious casinos you will ever see. Bellagio is also the second best casino to visit in your lifetime (after Casino de Monte-Carlo) according to Weekly Slots Magazine. 
2. Marina Bay Sands Casino, Singapore
Let's travel further to the tranquil and turbulent Singapore where the Marina Bay Sands Casino can be found. If you're looking for deluxe style rooms, a rooftop infinity pool, and spectacular world-class dining, this is the casino for you.
With 161,000 square feet and over 2500 hotel rooms, this ridiculously luxurious casino has more to offer than you think. The Marina Bay Sands Casino (owned by Las Vegas Sands, the most profitable casino company in the world) has a fashionable nightlife, entertaining shows, and a museum. 
This high-class casino offers a plethora of activities for everyone other than simply gambling. It's the type of place to pique your curiosity and leave you wanting to return again and again. 
3. Ibiza Gran Hotel Casino, Balearic Islands, Spain
Ibiza is a wildly popular party destination, known for its luxurious venues and top-tier services, the Ibiza Gran Hotel Casino definitely does not disappoint. It's a paradise like no other. 
The hotel and casino provide exceptional service they refer to as magical. Visiting this casino is a journey all on its own. Their dining is impeccable with mouth-watering food options that you wouldn't normally have. You'll be taken care of with a luxurious breakfast and exceptional pool restaurant. 
The GranHotel also offers beautiful spa services with a beauty parlor, facials, massages, fitness areas, and more. The Casino de Ibiza atmosphere is euphoric and artistic. Its dimmed ambiance carries you through the casino and gives you an enjoyable experience. 
4. The Venetian Macao, Macau
Moving right along to Macau, Asia, you can find your golden luxury at The Venetian Macao. This casino offers comfortable and stunning suites and resembles a Vegas strip feel. 
Here, you can find 500 gambling tables, more than 2,000 slot machines, and a variety of entertainment for everyone to enjoy. The Venetian houses 850 shops where you can take a gander at exclusive brands and find great deals. 
If you're into the fashion scene, you will appreciate the galas and boutique shows where they display all of the top brands and designers. This is a place you must visit and see for yourself how spectacular it truly is.  
5. The Kurhaus of Baden-Baden Casino, Germany 
What differentiates Baden-Baden from other hotel-casinos? It literally translates to the "Good-good life" and that meaning speaks for itself. This casino located in breathtaking Germany.
The Kurhaus of Baden-Baden Casino is a mosaic piece of art and the architecture resembles a beautiful medieval feel. With its vibrant offerings, you can go sightseeing to really revel in all its beauty. The inside of the casino is a sight in itself with gorgeous, golden chandeliers and crafted walls, you'll feel the soothing atmosphere. 
Their extravagant casino is one of the most beautiful casinos in the world and the photos can't do it justice. It offers all of the classic casino games like Blackjack, Poker, Roulette, and more. 
6. The Ritz-Carlton, San Juan Casino, Puerto Rico
As the name implies, The Ritz-Carlton San Juan Casino was built to impress and exude luxury. Surrounded by beautiful palm trees, relaxing pools, and lots of recreational activities, it's a place filled with fun.
This hotel-casino is the perfect paradise getaway for the family. The Ritz-Carlton also offers activities to keep your kids occupied like arts n crafts, outdoor adventures, and the Ritz-Kids®. 
The hotel rooms have spacious layouts and thoughtfully crafted designs. Don't forget about its dazzling casino and nightlife that brings you into its uplifting atmosphere. 
7. Hotel de Paris & Casino de Monte-Carlo, Monaco
This lush hotel and casino has more than you could've ever imagined. It is the definition of luxury. With open-concept rooms and floor to ceiling windows, it's a beautiful delight that you give you a sense of calm. 
The Gatsby-like, Belle Époque architecture is breathtaking and looks as if it was taken out of a fairy-tale. The casino is lively with gaming and entertainment in every corner. The sophistication of the casino is certainly a unique feature and prides itself with its artisan-crafted gaming tables that add character. 
It's no surprise that the Hotel de Paris & Casino de Monte-Carlo landed on the list of top luxurious casinos as it truly is like no other. 
8. Sun City Casino Resort, South Africa
Two hours away from Johannesburg, South Africa lies the spectacular castle-like Sun City Casino Resort. The structure was built in 1979 in then, the state of Bophuthatswana. 
The Resort is hidden in the bushes but it towers over the trees. Its architecture is phenomenal and invites high-rollers and gamblers from all around the world to experience its beauty and majesticness. 
This palace of a resort is highly regarded as one of the top casinos in the world. It has not one, two, three, but four hotels containing more than 850 slot machines and 40 Blackjack, Stud Poker, American Roulette, and Punto Baccarat tables. 
The coolest feature of this casino resort is that it offers a safari on its own private reserve. 
On the other hand, if you're a fan of gambling but don't have the funds to travel to one of the listed casinos, you can still have fun and experience the casino life at onlinecasinogems.com.