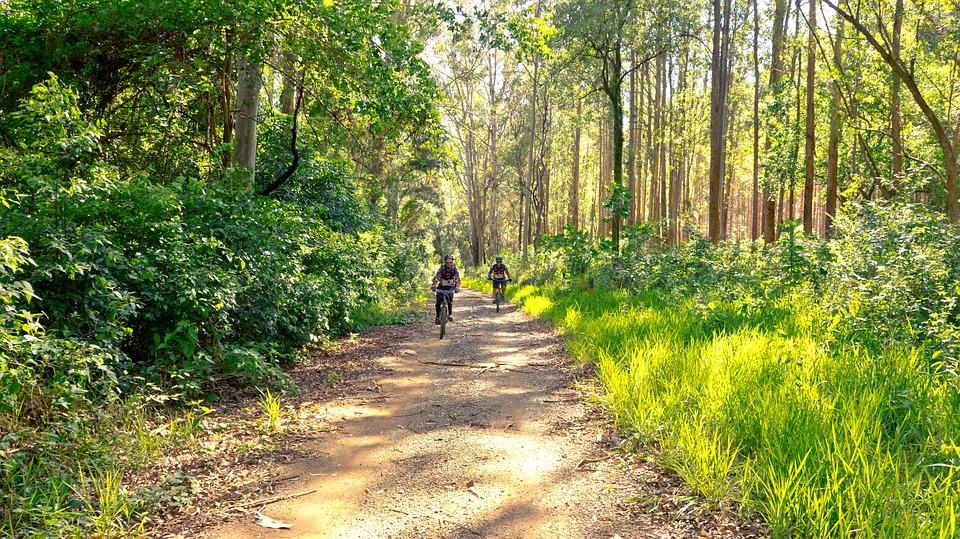 There is no doubt that America has so many remarkable mountain bike trails for enthusiast cyclists. Due to this, it is quite a challenge to select the best ten since almost all of them are fantastic.
However, we have a list of some of the well-known biking trails you can find in the United States. You might be familiar with some but there are others which you might have never come across. Go through the article to know which one you should consider in your next cycling adventure.
1. Mills Peak In Downieville, California
California is a very big state and if you were to choose the best mountain biking trail here, it is almost impossible since there are many awesome biking trails in California. Mills Peak in Downieville is one of the best. It has a drop of 3000 feet and its 8.5 miles. Just ensure that you are using one of the best hybrid bikes 2018.
2. Kokopellis Trails – Fruita – Colorado
This one is among the best sceneries for any mountain bike rider. Irrespective of the cost of your bike, you will really enjoy riding on these trails. The trails are incredible and provide stunning views as you ride on the uphill climbs, bumpy singletracks, smooth singletracks, fast downhill bombs among other sceneries. They are over 40 miles.
Bike Resource: https://10bestranked.com/best-hybrid-bikes/
3. Slickrock Trail, Utah
This is a very challenging trail and it is therefore ideal for experienced riders only. It contains petrified sand dunes and ancient dry seabed which provides an extensive view of the vast rock hills. Despite the challenging terrain, it is a great place to ride in.
4. Hartman Rocks –Gunnison – Colorado
This one is not just a trail but also a trail system of about 12 miles. It comprises of different trails which are linked together. You can spend several days on these trails and not still be able to ride in all trails. If you are one of those who love riding in open rugged spaces, you will find riding on these trails very enjoyable.
5. McKenzie River Trail In Blue River, Oregon
Oregon is another place which is full of great biking trails. One of the popular trails in this city is the McKenzie River Trail. You can even carry a camera to take some photos of the striking sceneries.
You will be riding 26 long miles downhill which contains some of the lushest foliage you can ever find. The shade provided by the 300 years old trees gives you an amazing experience across the lava field. This lace also has waterfall which drops into a shocking blue, crystal clear lake.
6. Captain Ahab
Among the most amazing features of Moab are the unique red rock landscape and the fantastic trails which you can't find elsewhere. You can select either the Hymasa Routes or the Amasa Back to reach your destination.
Both of them have amazing terrains. They also provide amazing views of the Kane Creek anticline and the Colorado River. Here you will experience some of the most scenic spots before you climb the famous Captain Ahab single-track. This place has some fast and very challenging descents.
7. The Kingdom Trails In East Burke, Vermont
Vermont is not a very big state but it contains 1000 miles of trails. These trails vary from buff ribbons which comprises of dirty to chunky rock gardens which are quite challenging even to the experienced riders. They are among the best biking trails in North America. They are a spider web of over 150 miles of trails and they are all amazing.
8. 401 in Crusted Butte, Colorado
Colorado is another state with excellent biking trails. If you were to select just one, the best Crested Butte's 401 would be a great choice. This one is between 9000-10000 feet and contains sweeping views of snow-capped mountains. It also contains bucolic gloves of quacking aspen and meadows of wildflowers which are in different colors. The trail has a drop of 2200 feet in 9 miles.
 9. Highline Trail – Sedona –Arizona
This one is another fantastic trail for mountain bike riders. Unlike others, it is not marked. This is very important because it keeps tourists off. It has 10 miles of single-track and slickrock delight.
10. Little Pan Loop, Black Canyon Trail
This one is popularly known as the lollipop loop. It is well known due to its candy blue skies. Riding on this trail gives you amazing glimpse of the. It is 78 miles track with a fantastic trail design. This means it gives you a mash up of several amazing climbs. The rugged terrain provides you with a clear view of the desert.
Conclusion
We believe that if you were searching for your next cycling adventure, you have identified several places from our list. All the above trails are worth your time. You will absolutely love cycling along these trails. They are safe and the environment is conducive for cycling.