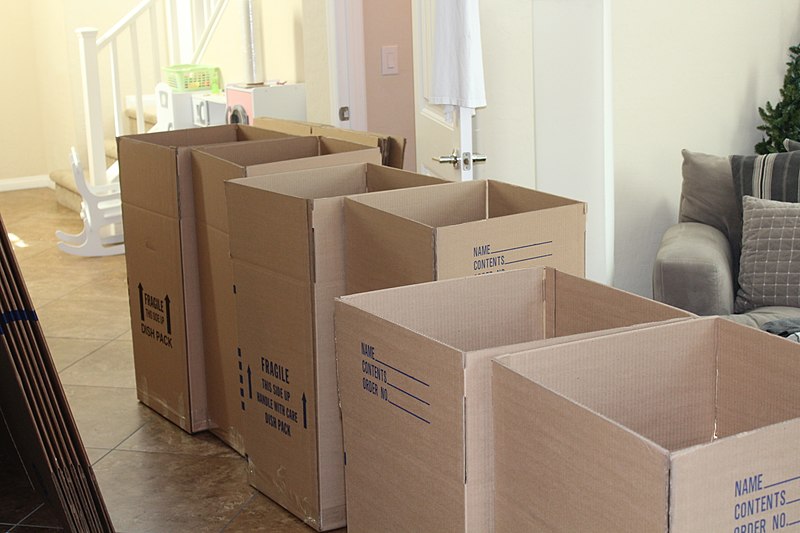 Source: Unsplash | https://commons.wikimedia.org/wiki/File:Moving-boxes.jpg
Moving home is the perfect time to utilize the support of family and friends who are kind enough to offer their services. Even if you are using some local movers to transport the goods from one property to another, there is so much more involved in moving home which you are going to need support for. Whether it is the packing up of boxes, the licensing of the property before you leave, using friends as movers themselves to load up there car and hit the road or simply just a pair of hands to lug boxes from A to B, you are going to need some assistance. In order to se their help wisely, here are some tips on how to manage it.
Giving Notice
You can't expect your friends or family to simply drop everything that they are doing with a day's notice and come to assist you. You will know well ahead of time when your moving day is so be sure to make a plan as to when you will complete each task, work out what assistance you are going to need and then ask people to help you on a certain date, you must give them at least a few weeks notice. It is likely that they'll be giving up quite a chunk of their time, so people need to plan for this.
Clear Communication
The people coming to help you need to have clear instructions when they arrive, it is possible that they have adjusted their lives to fit you in, so the last thing you want to do is waste their time. Whatever the job is that you wish for them to do, make it easy and clearly communicate with them about what their task is.
Tools for the Job
You must be organized enough so that when they arrive at your property, you can put them to work right away. In order for them to be able to do this you have to give them the tools for the job, if they are boxing up then be sure that they know what is going where, and that they are armed with sellotape, boxes, colored pens or stickers and whatever else they will need for the job. The key here is efficiency and having the right tools is a large part of that.
Looking After Them
These people are going to be giving up their time to help you, so you must ensure that you look after them. The last move we did I was in charge of keeping the troops fed and watered, as well as looking for gifts to thank them for what they did. A neat gift which I bought for our helpers was a 3 month coffee subscription which delivered products to their home each month, if you want to do the same you can find coffee monthly subscription options online, a cool idea and one which was well received. Be sure to look after your helpers when they are in your property, and don't forget to give them a thank you gift afterwards.
Calling on friends and family is super helpful and you should think yourself lucky that you have people who are willing to do this for you.