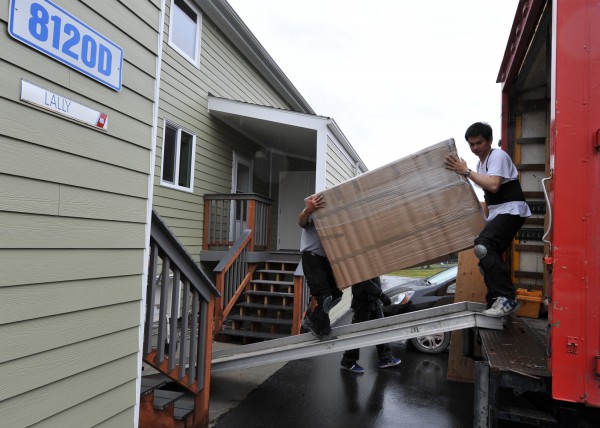 What a year it has been, and it is only August! We moved down to Florida just 2 months ago after my husband was offered the chance to run a new branch of Chuck's Roadhouse, a great opportunity for him. We only found this information out in February so it has all been something of a mad dash to sell our home, find a place in Florida and move the family down here, but we managed. My husband and I are very organized people and even by our standards I must say that our moving day ran as smoothly as possible. If you have a house move coming up, here are my tips on nailing your moving day.
Right Movers
The first thing you need to focus on is getting the right movers, you want someone with a great reputation for punctuality and care, this is why we used the team at mybekins.com who were absolutely brilliant. Make sure that if you do use professional movers, that you invest plenty of time into making the right choice.
Pre-Work
In truth my 'moving day' really started about 3 weeks before the big day, when we started to pack up all of our belongings. To be honest I would have much preferred to get started a couple of months before the move but this time around I just didn't have that luxury. Moving tips for first time home buyers: get started as soon as you can, even if it means you have to live in a shell of a home for a while until you move.
Colors
Some people like to put colored stickers on their boxes to identify which room it is from but I like to take things one step further and use colored boxes. These are widely available and what it means is that you don't risk the stickers coming off in transit. Another reason why this works so well is because in the run up to moving day it is much easier to find the right box to pack things into.
Call in the Troops
If you have family and friends nearby then I'd recommend calling them in to help with the packing, the cleaning or the lugging of the boxes from one place to another. We had amazing support from 10 of our friends who gave up days of their time to help us out. Don't forget to look after them when they are helping, keep them fed and watered and give them a gift to show your gratitude, we ensured that all helpers got a nice gift box from the Naked Winery as a gesture of our thanks.
Early
Make sure that you are up at the crack of dawn on moving day, the longer the day drags on the less desire you will have to give this all of your energy. Get up sharp, be 100% ready for when the delivery vehicle arrives and get the job done as early as you possibly can.