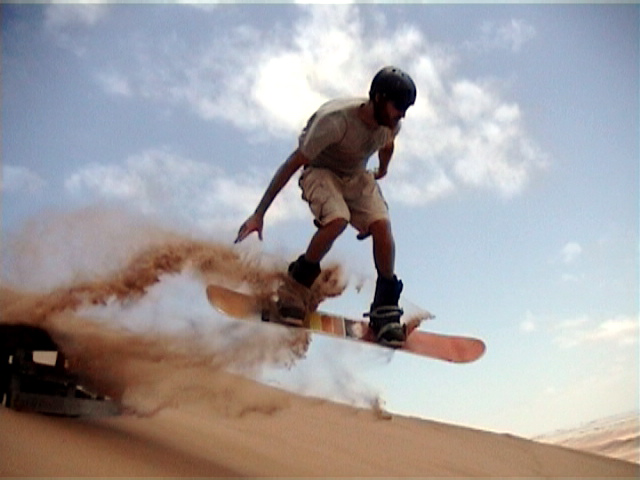 Many people will tell you that their idea of a great vacation is sitting on a beach and drinking a margarita. While it's great to unwind and relax, you can only have so many margaritas before you start craving some excitement! Fortunately, the world around us is full of incredible experiences to be had, sights to be seen, and people to meet.
It's time to throw out that dusty old travel itinerary. It's time for an experience you'll never forget, something that'll change the way you see the world, and yourself. It's time for an adventure! Lucky for you, we've decided to put on our explorer hats and go searching for some of the world's best adventures…
1) Sandboarding the Dunes of Namibia
Ever wanted to see the ocean and desert together? Of course you have. Fortunately for you, we know just the place: Namibia. Stay in Swakopmund, a gentle coastline city with sandy beaches and welcoming weather. Explore the outreaches of the city and get your fix of desert with some intensely fun sandboarding. Seriously, what are you waiting for? 
2) Hiking in Idaho, USA
In the movies we're always shown New York or Los Angeles, but let's not forget that America has lots more to offer, especially in the nature department. The state of Idaho has some of the most beautiful hiking trails in the world. Immerse yourself in nature, and then lose yourself in its stunning scenery, all while experiencing the thrill of being far, far away from life's ordinary troubles.
3) Sail through the Gothenburg Archipelago
Take a trip to Sweden and experience the Gothenburg Archipelago, a collection of quaint, beautiful islands.  Jump aboard one of the many guided tours and you'll quickly discover gentle forests, jaw-dropping scenery, and delicious foods. If you think about it, how often do we get to sail between islands? Not all that much. And, if you feel like adding an extra layer of amazing to the experience, grab a canoe or kayak and start paddling!
4) A Safari in Kenya
Travel to Africa for an authentic Kenyan Safari. Whether you visit Lake Nakuru, famous for attracting thousands of flamingos, or decide to drive through a nature reserve, either way you're in for a true adventure. Have you ever seen a leopard in the wild? How about an elephant or lion? If the answer is no, then an adventure in Africa is definitely exactly what you need! 
5) Walk the Death Road in Bolivia
If the words "Death Road" don't excite you much then you might just have to hand over your adventurer card, because very few adventures promise to deliver a thrill quite like this one! Built on the side of a mountain, Bolivia's North Yungas Road quickly earned itself the Death Road title. Widely considered to be the most dangerous road in the world, once you've done this, you can do anything! 
6) Swim on Rooftops and Explore the City in Phnom Penh, Cambodia
While all the other tourists rush off to Thailand or Vietnam, why not ramp up the adventure by spending your next vacay like a celebrity? Cambodia's capital city, Phnom Penh, is full of high class hotels, many of them equipped with sky bars and swimming pools which overlook the city's incredible nightlife. When you're not in the pool, leave the hotel and get lost in the city. Shout for a tuk-tuk driver and you'll quickly have a local Cambodian eager to show you all that the city has to offer. Try the famous "Happy Pizza", or meet some actual Buddhist monks. However you spend the time, you're guaranteed an unforgettable adventure!
7) Reflect with the Great Philosophers in Athens, Greece.
Life can be a bit overwhelming and sometimes we need to take a moment to reflect on where we are and where we're going. So why not do the most adventurous thing of all and get to know yourself? Walk amongst the ruins of Ancient Greece. Look in wonder at Plato's Academy, feel the rush of history, and spend some time reflecting on life in the company of history's greatest thinkers.
We each have a limited amount of time, and we all get to decide what to do with it. Sure, you can have margaritas on the beach until you pass out, but the real adventures are out there right now, waiting to be had. All you have to do is take the first step. You never know — you might just surprise yourself!