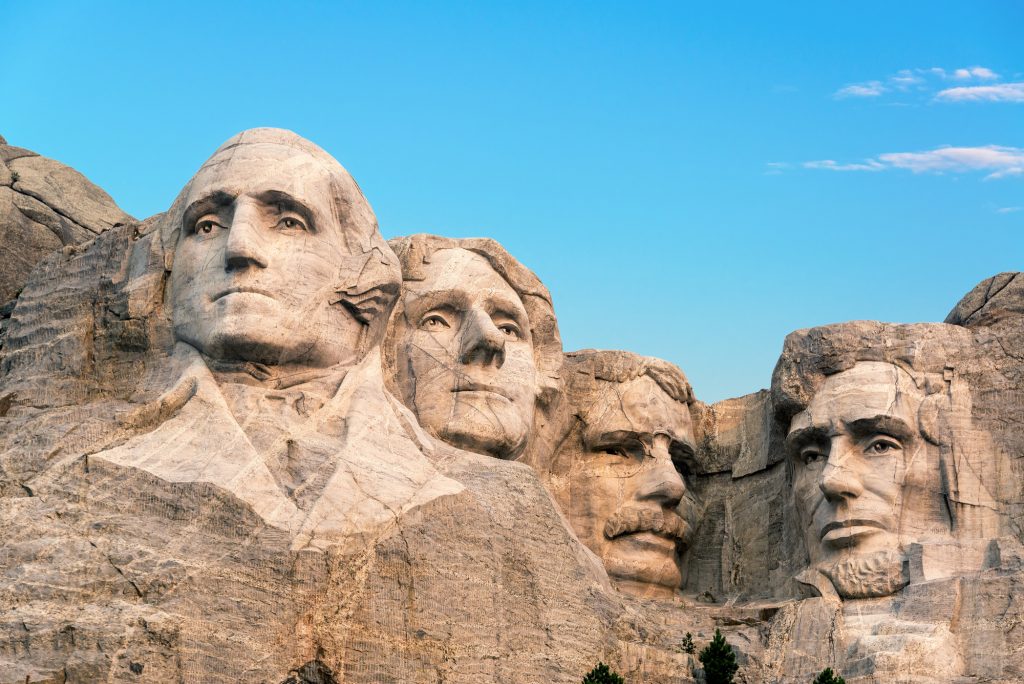 There's no other place in the United States quite like South Dakota. Here are the top 8 South Dakota attractions you have to experience in 2018.
You may have thought about exploring all across North America, but did you consider any South Dakota attractions?
If you love to travel but can't afford to go overseas, a great place to start is in your own country – turns out, your own backyard is a lot bigger than you think!
South Dakota, in particular, has a rich history of prehistoric beasts, Native American legends, and famous pioneers. If you're looking to take a vacation, don't miss these eight great attractions.
1. Mount Rushmore National Monument
You can't visit South Dakota without visiting Mount Rushmore.
You might think the movies have shown you everything you need to see. Visiting the real thing will prove you wrong. After all, where else in the world can you see the faces of George Washington, Thomas Jefferson, Abraham Lincoln, and Theodore Roosevelt carved into the side of a mountain?
The carving began in 1927 and halted for several decades before the monument was finally completed in 1991. These days, the Lincoln Borglum Visitor Center is an essential first stop for any visitor.
Don't forget to walk the Presidential Trail–it's the best way to get a closer look at Mount Rushmore.
2. Badlands National Park
For those who prefer to take a proper hike, your first stop is the Badlands National Park. Don't let the name deter you–sure, the land is inhospitable, but you can't deny that the scenery is gorgeous.
The Badlands is marked by hills and pinnacles formed by the erosion of sand and clay, as well as the numerous herds of free-roaming bison. Plus, it contains the Buffalo Gap National Grassland, one of the last remaining intact prairie landscapes in North America.
3. Custer State Park
Then, there's Custer State Park, which is widely recognized as one of the best parks in South Dakota.
Here, you'll see herds of huge bison, granite peaks, and abundant lakes, streams, and rivers. It's a peaceful pocket of the world with a variety of ways to take in the view.
A great family hike is the Sylvan Lake Shore Trail, which is one of the easiest trails in Custer. It makes a complete loop around Sylvan Lake, and other than some exposed rocky areas that aren't suitable for strollers, the trail is largely flat.
If you're not much for hiking but love other nature trails, don't worry–there are also trails for biking and horseback riding.
4. Loop Road
If you want to see scenic South Dakota without walking for miles, there's always Loop Road, better known as Wildlife Loop State Scenic Byway.
This is an 18-mile stretch of road winding through the park. You'll see everything from deer, elk, and coyotes to bighorn sheep, pronghorn, and prairie dogs, but the real stars of the show are the buffalo.
Just be careful: they're gentle, but they're also surprisingly fast, so stay in your car if you find yourself crossing the path of the 1,300-head herd wandering Custer State Park.
For the best wildlife viewing, make sure to drive the loop in the morning or evening–and take your time to enjoy the view!
5. Spearfish Canyon
If you're in the mood for dramatic waterfalls and cliff faces, then make sure you stop at Spearfish Canyon.
You've got multiple hiking and viewing options from Bridal Veil to Spearfish Peak. If the waterfalls aren't doing it for you, there's plenty of wildlife to go around–think porcupines, bobcats, and mountain goats. There's also rock climbing and fishing for those who want to actively take part in the view.
And if you love fall foliage, stop by when autumn rolls around. The canyon is especially scenic when the colors start to change.
6. Deadwood
South Dakota isn't all national parks and forests. But of all the towns in South Dakota, Deadwood should be at the top of your list.
It's nestled into Black Hills landscape and full of lush history. Some of the biggest characters of Wild West lore lived or passed through here, including "Wild Bill" Hickock, who met his demise on the streets of Deadwood.
If you're a fan of history, Deadwood has a bit of everything from cute, historic main street to the Broken Boot gold mine, which operated from 1876 to 1904.
Deadwood and the Black Hills area are a great place to stay for your South Dakota adventures – learn more about great places to stay at Black Hills Getaways.
7. Mammoth Site
Of course, South Dakota's history runs much deeper than the Wild West–all the way back to prehistoric times, in fact.
You can experience it for yourself at the Mammoth Site in Hot Springs, where more than 60 mammoths–including three woolly mammoths–have been discovered.
If you feel like channeling your inner Indiana Jones, there are junior and advanced paleontology classes available, and the bones are displayed as they were found in a climate-controlled building.
8. National Music Museum
Visiting South Dakota isn't just about the wildlife–there's something here for music lovers, too.
The National Music Museum & Center for Historical Musical Instruments maintained at the University of South Dakota at Vermilion, features thousands of instruments from all over the world including American, European, and non-Western instruments from a range of historical periods.
Music isn't just for Nashville. In fact, the New York Times called the museum one of the largest and most important collections of musical instruments in the world.
They have a bit of everything–they're not joking when they say the museum's collections are encyclopedic. In between buffalo and hiking trails, spend some quality time with everything from an American electric guitar to German zithers.
Travel Beyond South Dakota Attractions
Who said life has to be boring? That's what travel is for.
Maybe you're off to visit South Dakota attractions, or maybe you're visiting the Great Wall of China. Wherever you're going, go prepared.
Click here for a full map of everywhere this blog has visited and you'll find all kinds of advice, tips, and thoughts on the experience of visiting that place.