Kuala Lumpur is a city that will always remain close to my travel heart, because it was the very first destination of this life-changing, indefinite round-the-world journey that I am currently on. During my time in Malaysia's capital, I noticed that KL generally tends to be a stop-off hub for people going to Australia, Indonesia and other neighbouring countries. One thing that we all had in common though, was the fact that we wanted to take a snap of a building that once boasted the bragging rights of being the biggest in the world.
It has been known to have been responsible for penis envy, on many a skyscraper around the globe.
So the fairy tale goes a little something like this:
You and your new-found travel buddies collect your camera's from your hostel room. You hold hands and skip down to the underground train, where you share your greatest and worse travel tales. You get off the train and you're welcomed instantly by the architectural eye-candy that is the Petronas Twin Towers.
You high-five, hug and squeal in delight, as you take polite turns in aiding each other with putting a tick in each other's photo bucket list. Snappity, snap, snap – even throw in one of them peace signs that all Asians seem to do in their photos…'when in Rome' and all that.
You open your hostel room door and the former Irish band of beauties 'The Corrs' (except Jim, sorry Jim) have invaded your room…they're ovulating, have always wanted to bed a bald man and believe that sharing is indeed caring.
Well at least that's how my fairy tales end! But sadly, this is the reality:
You're jet-lagged to bits, you have just enough stubble for it to no longer look anywhere near attractive or stylish, but you're definitely pulling of the unwashed, dirty hobo look. And it itches, Oh God, it itches. On top of that you're really hungry and that loud girl from San Francisco is really doing your tits in. KL is so busy and the towers are so high that in reality you probably won't be able to get a good picture from the ground unless you're an expert.
Your reality may not be exactly the same as mine, but I can guarantee that I can advise you on getting the best (and swankiest) view of the Petronas Towers, with less stress. The best advice I can give you is to not actually aim for the Petronas, but to look for a place called Sky Bar. Get the underground train to KLCC LRT station and head towards a big hotel called 'Trader's' in red writing.
Make sure you get the underground train any other time than between 4pm-6pm, unless you totally hate your life – then go ahead! The tip I am giving you is best for the evening, so set off after 6:30 pm.
Once we got to Sky Bar, we were not disappointed. The whole bar is centred around the Hotel's Swimming Pool, providing a unique and somewhat tranquil atmosphere. It is one of the poshest places I have ever been to and of course – the view is fantastic. Make sure you get a window seat as you soak in the magical, lit-up Twin Towers while tucking into some amazing grub.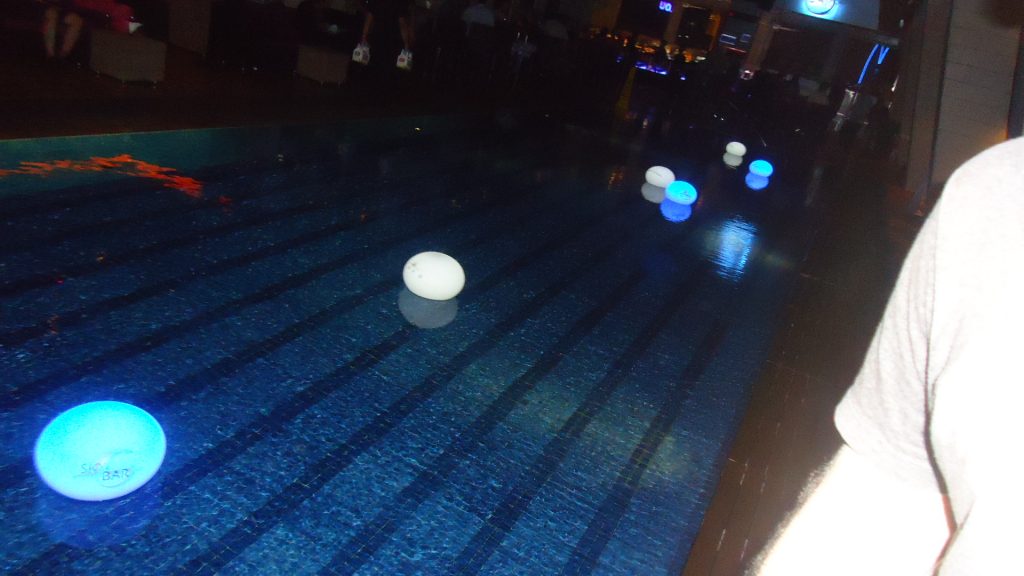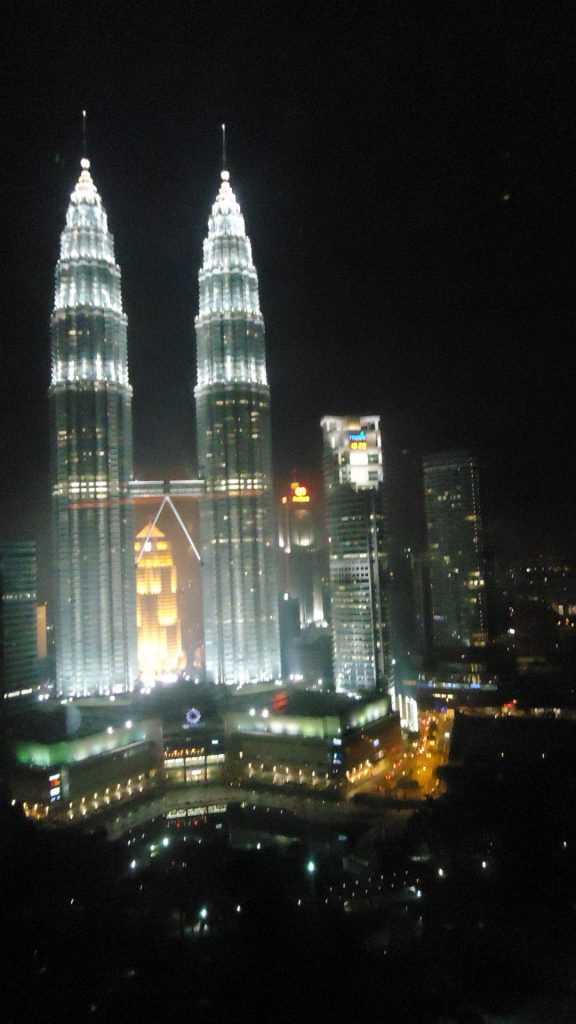 The total cost for food and grub turned out to be £25 ($38). Spending that much in one place in Asia seems a lot to a budget traveller, but I reckon if I went to a similar establishment in London I would have paid at least a couple of hundred quid.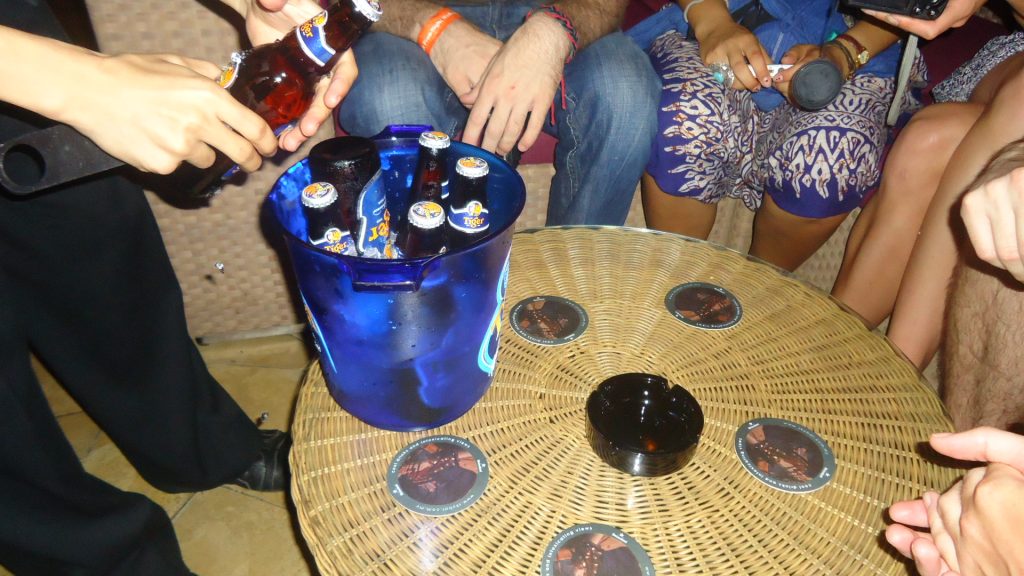 You don't have to get a 3-course meal, you can just go up for a quiet drink and soak in the whole city from your window seat.