A few months ago I suffered a travel bloggers conundrum; I had severe writers block and I really hadn't been anywhere that exciting to write about. I don't want to write the generic "top 10 things to do in Bangkok/Chiang Mai" type of posts on my blog. They do serve a purpose, but that's just not my style and I don't enjoy writing in that way.
The problem was instantly solved when my Thai friend, Nok invited me to her village 'Nakhon Sawan' to watch her nephew become ordained as a monk for life. This was the perfect chance to see a proper Thai ceremony in action, what it's all about and how they celebrate. And so I jumped at the chance and took the no air-conditioned, cramped six hour car journey south to Nakhon Sawan.
It was little surprise to me to see how the Thai's celebrated this holy tradition – with an abundance of alcohol and delicious food. Party number one starts the day before the ceremony and it's more of a casual affair, with friends and family of the monk getting together for a bit of a knees up. The soon to be monk isn't present at this one and is back at the temple before his big day.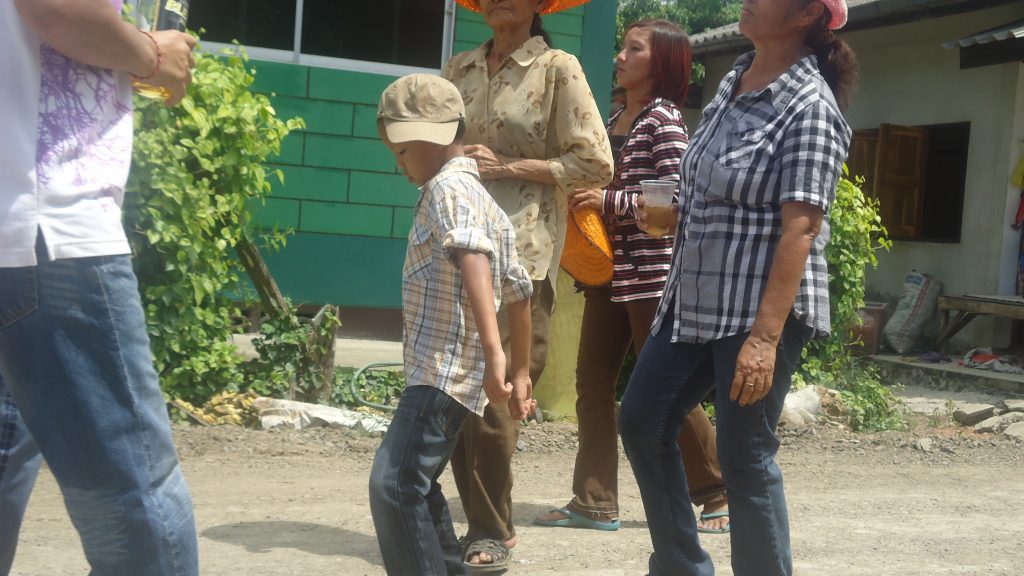 I got to meet the monk in question early in the morning of the big day and as I watched him get his head shaved; I began to really consider the magnitude of this man's commitment. This young man (21) is about to commit himself to his religion for a lifetime of selflessness. He will never get drunk with his friends; he won't get to choose where he goes and what he does. He will never experience the unbridled joy of soft female flesh lying against his body. Men are scared of commitment? Try telling this guy that!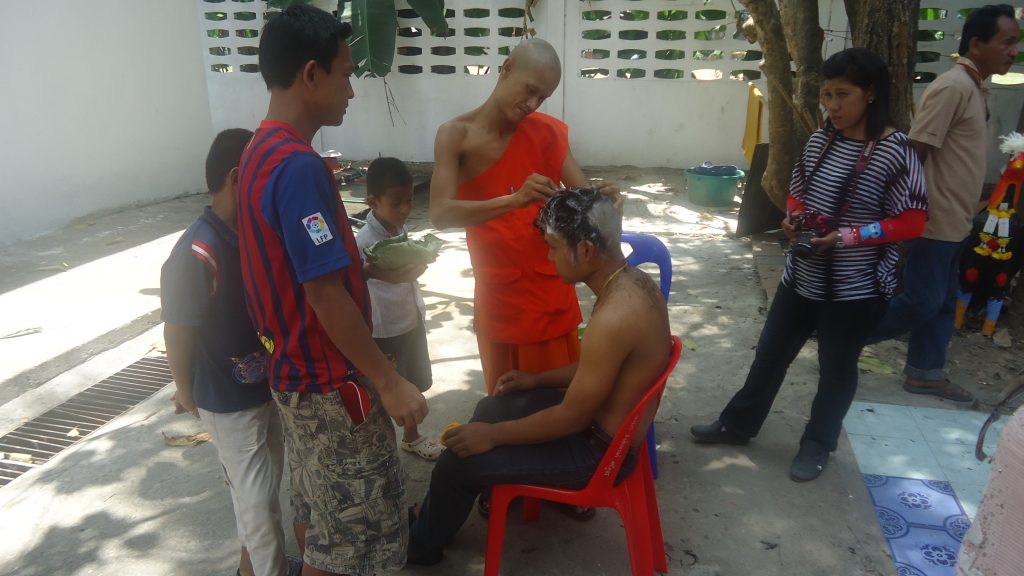 The monk then has to wear a traditional head-scarf while circling the temple three times, before becoming fully ordained. The whole of the village is centred on the monk and they come out to dance to a mobile band and get merry, all following his three times circle of the temple. Once the monk is done, he throws money into the air which is tightly wrapped in a pretty decoration. It is said that if you catch one thrown by a monk that you will receive good luck. Well let's hope so, because I caught one.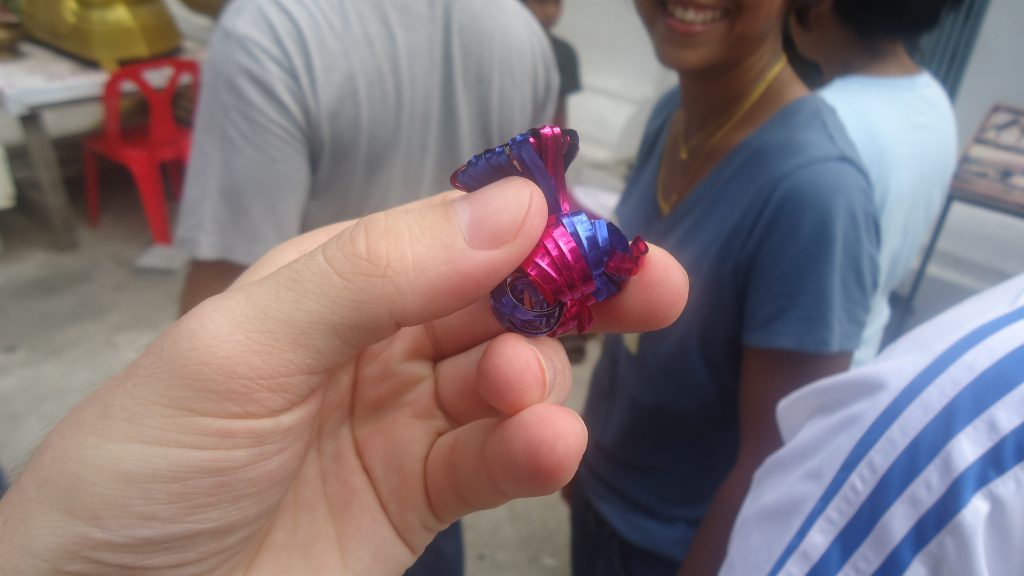 Too Much Attention for Me
The evening party was a MASSIVE celebration consisting of more food and alcohol and even though the party was for a monk – the music concert was sexually charged. Scantily clad Thai lasses shook what their Mamma gave them and even made sex noises during songs. Not what I expected for a guy who has planned celibacy for life.
But I guess it's always good to throw a friendly lady-boy in the mix, to balance things out…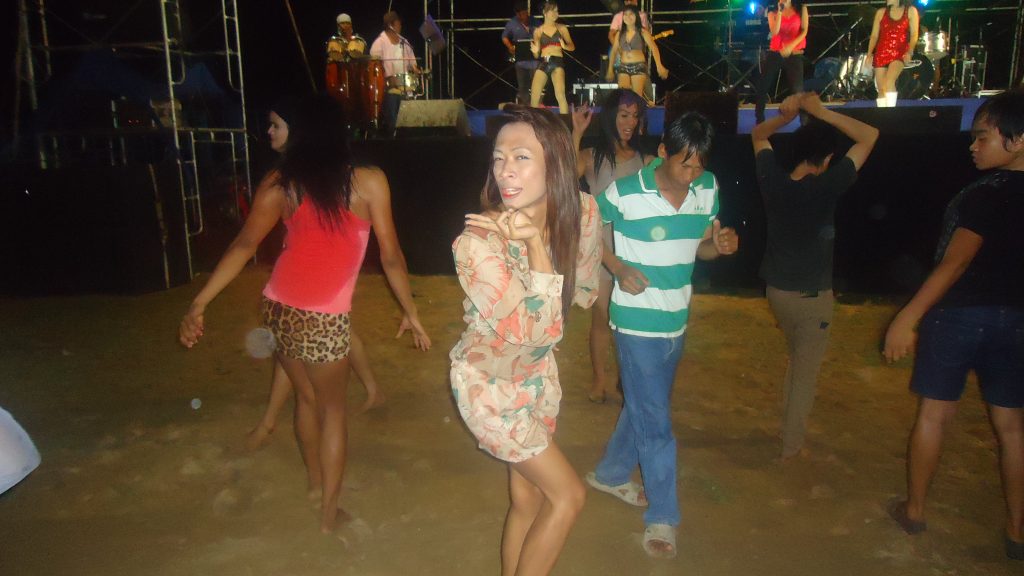 Feeling like a Girl
I enjoyed the cultural experience and I feel really lucky that I was part of this, but there was one thing that I didn't particularly enjoy – all of the attention that I received. I'm not the one to shirk away from attention and I'm a flower that blossoms when given such enthusiasm, but this was a day when I wasn't particularly feeling too good. I had a lot of silly stuff on my mind and I didn't fancy being the centre of attention and I also didn't want to steal the monk's thunder – it was his day after all.
On multiple occasions, locals were freaking out because they had never seen blue eyes before!
Maybe if I was feeling in a positive state of mind already, I would have felt differently. However it was overall a positive, cultural experience for me to get off the beaten track and something interesting to try out.