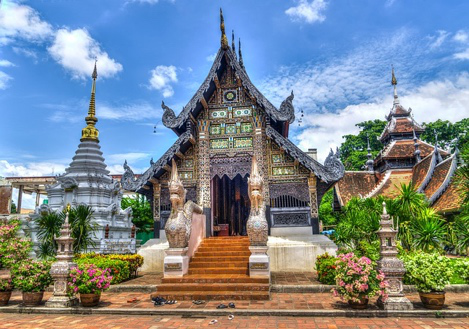 Hard to believe it's already 2019, isn't it? It seems like just yesterday when we were holding our collective breath, waiting to see if Y2K would cripple our society. Thankfully, none of the apocalyptic predictions associated with that event came true, but for many of us, the sense that we should seize the day has stuck with us. After all, tomorrow is never guaranteed, so why not grab life by the horns today?
Of course, one of the best ways to carpe diem is to travel! Have you made any travel-related New Year's resolutions? Or do you have any exciting journeys planned for the year ahead? If not, we've got a round-up of the best new travel blogs to help inspire you. Bookmark these blogs — but fair warning, they will inspire some serious wanderlust!
Be My Travel Muse
There are two kinds of travelers: those who want to share their experience with a spouse, BFF, parent, or child, and those who find that traveling with someone else is a surefire way to ruin a perfectly good relationship. If you fall into the latter category, check out a blog called Be My Travel Muse.
Kristin Addis has been traveling solo for the past six years, chronicling her adventures in the hopes of helping other lone wolves. While the blog isn't technically new, Addis has stepped up her content game big time in the past year or so.
Addis doesn't shirk from adventure, as her travel resume will attest. She has hitchhiked through China, climbed some of the world's highest peaks, and even spent 10 days in silent meditation at a Buddhist monastery.
Petite Passport
Have you ever gotten so caught up in browsing Instagram that you've completely lost track of time? Do you find yourself mentally rearranging your friends' living rooms? Have you ever been moved to tears by a photograph? If so, Petite Passport is going to blow your mind.
This gorgeous design, style, and travel blog is run by Pauline Egge, and even a quick glance will tell you that Egge is a photographer by trade. Although she also offers written content, it's her visual imagery that will truly make you swoon, and/or make you green with envy. Egge is all about the world's "hot spots" and you can bet that many, if not most, of her destinations are located on the road less traveled.
Culinary Backstreets
The culinary world — and the world at large — lost a shining star in 2018 when maverick traveler and intrepid eater Anthony Bourdain took his life. Tributes to his larger-than-life personality quickly poured in from around the globe, and it's a safe bet that his death inspired countless people to dust off their passports and pull their luggage from storage.
Culinary Backstreets is a travel blog for gourmands, for people who would rather go hungry than eat an insipid hotel breakfast of rubbery eggs and lackluster toast, especially when there's a street cart serving up delectable noodles just around the corner. Between the listings of culinary walking tours, special reporting on topical subjects ("The Syrian Kitchen in Exile" is one), and loads of photos, this blog is guaranteed to make your mouth water.
Boat Planet
Do you know the difference between athwart and astern? Can you tell a sloop from a schooner? A fin keel from its full-length cousin? Are you comfortable in white sweaters, Bermuda shorts, and leather Sperrys? If so, you probably enjoy reading about boats when you can't be out in the salt and the spray.
Travelers who'd rather arrive by boat should check out this article on Boat Planet, which is a roundup of the best boat blogs around. Follow the links to find advice on maintaining your boat, travel tips, boating safety resources and even articles on boat etiquette.
The Bucket List Family
Lots of people think that if you have children, the only traveling you'll be doing is to Disneyworld or Hershey, PA. The folks behind The Bucket List Family, the Gee family, beg to differ. In 2015, this adventurous gang decided to actually do what so many people only dream of: quit their day jobs, sell their possessions, and travel the world full-time.
Luckily for us, Mom and Dad, along with their three children, have made it a point to capture every moment and share them with the world through their blog, their Instagram account, and their podcast. And although the Gee family has since settled down (in a Hawaiian bungalow, no less!), their travels still inspire other families to make their own bucket list dreams come true.
Wrapping Up
There is a plethora of wonderful travel and lifestyle blogs out there, and choosing only a few to include in our round-up was a difficult task indeed. It would be great to continue this conversation, so please share your thoughts in the comment section below. Let us know which travel blogs you regularly read and would recommend to others!