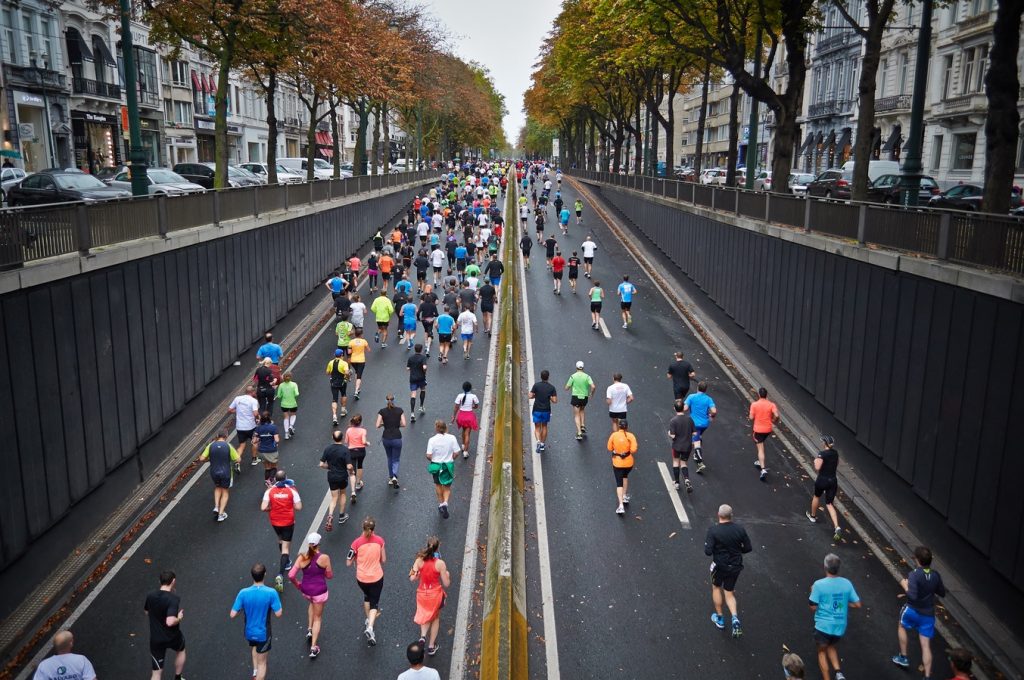 There are exciting places to see and visit on every continent of this planet, but whilst global travel is the most rewarding thing you can do, on many levels, it can also be physically demanding and tiring. That's why it's important to take time out to relax between vacations, and just as important to keep your mind and body in good shape. Exercising and playing sports while on holiday can help maintain your health and fitness levels, but it's even more fun when you take part in some of the mass participation sports events that the world has to offer.
The London Marathon
Running a marathon certainly isn't for the faint-hearted, but if you've run those 26 miles and 385 yards before, then there's no better destination to run them again that in London. America has prestigious marathons of its own in New York, Boston, and Chicago, but few can match the visual splendor that London has to offer. The event to began in 1981 and today, competitors still run past landmarks such as the old tea clipper, The Cutty Sark, and through some spectacular and historic locations, before finishing with a sprint, or possibly crawl, along the Mall in front of Buckingham Palace itself, home of Queen Elizabeth II. There is always competition to enter the marathon, despite the more than 40,000 people who run it, but you can find out how to enter as an overseas competitor here.
Mass Participation Asia
Asia is a huge and very diverse continent, containing a vast number of cultures and histories, which is why so many travelers from America find it exciting and intoxicating. It's also proud of its mass participation events, and the Mass Participation Asia annual event is a grand celebration of this. It brings in large numbers of spectators and participants from across the continent and beyond, and they certainly aren't short of events to get involved in. Whether you like trail running, cyclothons, marathons or wild swimming (the term used for swimming in the sea), Mass Participation Asia has all that to offer and more. Of course, once you've finished your event, you can take in some of the spectacular sights that the continent has to offer.
The Running Of The Bulls
Have you ever wanted to run down narrow, ancient streets and alleyways while being chased by a ferocious and rather angry bull? Surprisingly, many people have, and Pamplona in Spain is their place of pilgrimage. Pamplona is the capital of the Navarre Province and is supremely beautiful and evocative of centuries long gone, but during its annual 'Running Of The Bulls' event it takes on a very different atmosphere. It's easy to get carried away by the excitement when in Pamplona and running alongside thousands of others, all the while listening for the sound of running hooves below. Beware, however, as this is not an event to be taken less than seriously: between 500 and a thousand people are injured in Pamplona every year during the run, but for more thrill-seeking travelers, this only makes it more fun. It's certainly a mass participation sporting event that will live long in the memory.
La Tomatino
Spain loves festivals of all kinds, but if you want one that's lots of fun yet a little less dangerous than 'The Running Of The Bulls' then 'La Tomatino' could be just what you're looking for. It takes place in the small town of Bunol, near Valencia, on the last Wednesday of August. Participants simply line the streets and throw tomatoes at all and sundry; it may not be a traditional sport or form of exercise, but once you've finished, you'll certainly have used up a lot of energy and calories, and you'll also be covered in tomato from head to toe.
How To Get In Shape Before You Travel
To get the most out of your holiday, especially if you plan on taking part in one of the sporting events we looked at earlier, it helps to be in good physical condition. Eating a balanced, nutritious diet that's low on sugar will help, but you also need to exercise today. More and more people are turning to home gyms to get fit. Equipment such as the Bowflex Max Trainer range combines stepper machines with elliptical machines in one unit, saving space in your home and saving you money that could then be spent on your next overseas adventure, but you should read this review before making a purchase.
There are mass participation sports events for everyone, from marathons in historic cities to swimming across open harbors, running away from bulls and slinging tomatoes at your fellow tourists. Finding the event that's right for you can turn a good holiday into a legendary holiday, and it's also an ideal way to keep fit when you're away from home.