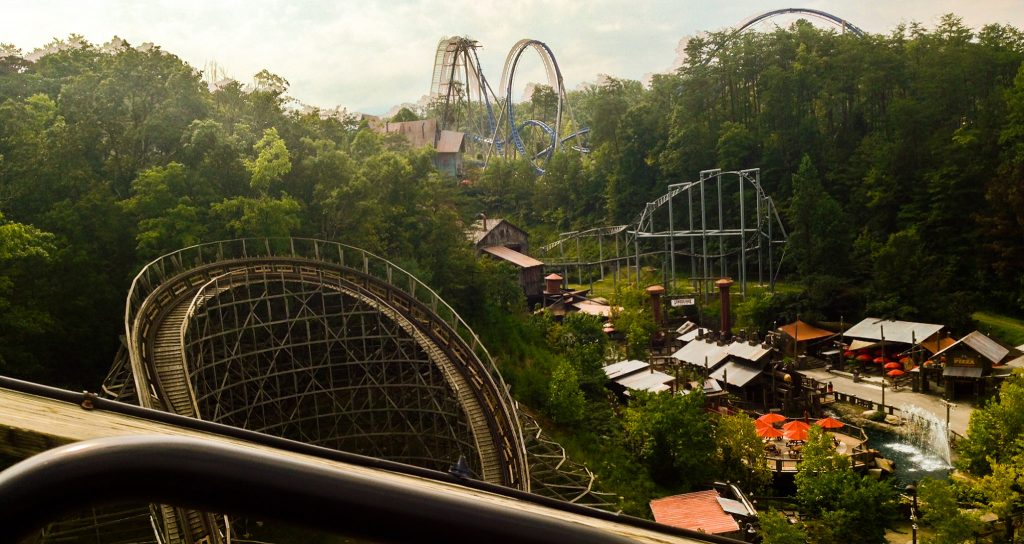 It is always nice to spend the holidays at home with family and friends. But sometimes you and your family want something completely different. The people at Vacations Made Easy have a great trip idea, spend a few days over the Christmas holiday at Pigeon Forge, Tennessee.
Pigeon Forge and Gatlinburg is located on the outskirts of the Great Smoky Mountains in the state of Tennessee. There is plenty to do and see on a December holiday vacation. From lumberjacks to magicians, and breakfast with Santa, there is something for everyone in this beautiful Midwestern winter wonderland.
Below are 4 secret reasons why people are flocking to Pigeon Forge for a holiday getaway.
Smoky Mountain Christmas at Dollywood
Beginning in early November, Dollywood is lit up with millions and millions of lights over the holidays. There are special areas to wander through with a mug of hot chocolate and marvel at the different Christmas displays.
There are several different performances that celebrate the season of giving in a way Dolly Parton remembers. The award-winning festival of lights and sounds has been playing out for over a decade. And each year, new special elements are added so no two years are going to be alike.
The entire family can stay at one of the beautiful, warm lodges and enjoy all the perks of the park in celebration of the holiday season. There is something for everyone in the family to do and make memories to carry for years to come.
Wonders of Magic Show
The Wonders of Magic show, located at the WonderWorks Attractions & Theater in Pigeon Forge, will wow the entire family.
Featuring internationally-recognized magician Terry Evanswood, the show runs about 75 minutes. It showcases suspense, illusions, sleight-of-hand, and death-defying stunts like a woman floating off a 10-foot waterfall and a whirling buzz saw.
Evanswood is a Merlin award-winning magician and performer that loves to entertain. By combining magic with science, this professional magician will teach his audience a thing or two along the way.
Paula Deen's Lumberjack Feud Show
This is a fantastic competitive show for the entire family. Featuring speed pole climbing, ax throwing, sawing and eight more events unfolding on a large stage inside a giant grandstand.
All the performers are professional real-life lumberjacks and belong to one of two families, the McCraws or the Dawsons. Visitors root for their favorite family while enjoying fast-paced, loud and fun entertainment. The show lasts about 90 minutes, is open year-round, and is appropriate for everyone in the family.
Elvis and Friends
Located in the Memories Theatre in Pigeon Forge, Elvis will seem to have been reincarnated. This impersonator looks and sounds exactly like the King of Rock 'n Roll.
You never know who will be performing on the day you take your seats. Some of the special artists appearing at different times include Loretta Lynn, Carrie Underwood, Waylon Jennings, Kenny Rogers, Ray Charles, and Marilyn Monroe to name a few. You and your entire family will be amazed by the talented impersonators singing an array of hits from the 50's to the 70's.
When planning your trip to Pigeon Forge for the holidays, check out these and many other special events for the entire family. Make a trip to Pigeon Forge an annual Christmas holiday event, you won't be disappointed.