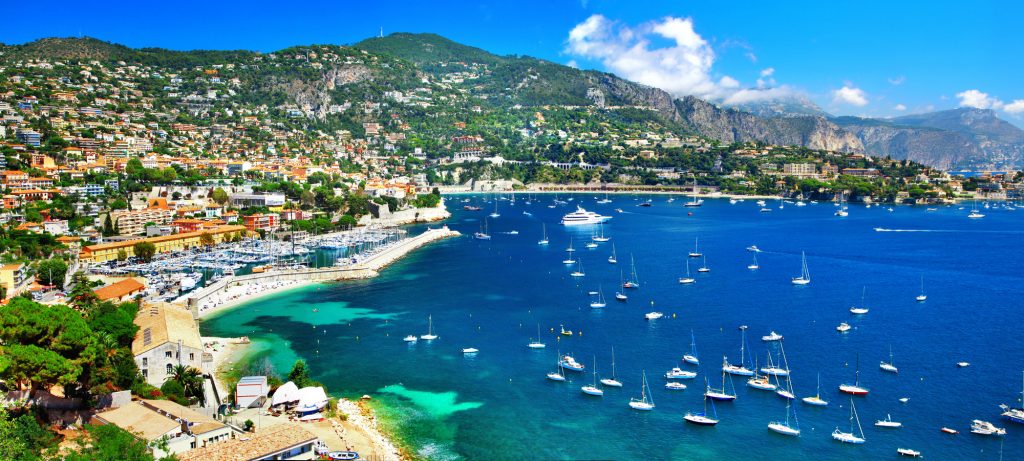 France has some of the most incredible camping destinations in the world, which is why it should be your next travel destination. Click here for the 10 best campsites in France so you can have the most epic camping adventure.
A quiet stroll along the Seine. A plate of cheese paired with a French Burgundy. A high-adrenaline bike race along the Tour de France.
Got the travel bug yet?
many reasons France is the ultimate travel destination
There's a reason everyone is flocking to France. It's the second most popular country for tourism, making it an ultimate travel destination.
Yet its Joie di verve lies in its abundance of action-packed campgrounds.
Ready to cure your case of wanderlust? Read on for the 10 best campsites in France.
1. Chateau de Monfreville, Normandy
On the coast of Normandy sits Chateau de Monfreville. It's one of the best small campsites in France for those seeking a break from the hustle of the big city.
The campsite only allows 25 tents, with no vehicles or camper vans allowed. This cuts down on any chances of overcrowding. Go solo or bring a partner to enjoy simple pleasures and peaceful evenings.
Enjoy the great outdoors with views of rolling hillside and grazing donkeys. Drink brews over the open fire pit. Fresh pastries will even get delivered right to your tent every morning.
The campsite has showers, bathrooms, and laundry on site. There's also a swimming area with a hot tub.
97% of campers bring some form of technology with them. For those who don't want to unplug, use the on-site WiFi and charging stations.
For French cuisine, visit the on-site party barn. Enjoy a menu of mussels and fries, wood-fired pizzas, and whole roasted chickens. The barn also hosts social events every Thursday night.
2. Le Ranolien, Brittany
For some of the best camping in France, visit Le Ranolien. The seaside village sits on a natural reserve with a coastline of pink granite rocks.
The campsite offers basic to luxury level accommodations. It's a great camping option when traveling with a group of friends or family. The campsite also welcomes four-legged friends.
Pick from tent pitches to fully-equipped cottages. They feature kitchens, living areas, terraces, and bathrooms. Other amenities include laundry and hot showers.
Get a meal at the creperie or pizzeria. Find entertainment at the underground disco. The site also has a game room with foosball, air hockey, video games, and pinball.
The pool complex is complete with water slides and a jacuzzi. Enjoy other water sports such as fishing, canoeing, and windsurfing.
There is also an aqua gym and scuba diving. For a unique experience, try sailing school or the Ponant surf school.
Tour the nearby village with its charming old houses, shops, and restaurants. Or hike a path along the coast. Be on the lookout for the beach of Tourony, as well as the Seven Islands Bird Reserve.
3. Country Camping, Midi-Pyrenees
When camping in France with own tent, you'll want to head to the South of France for Midi-Pyrenees.
It's near Gaillac-Toula village, offering true rural countryside charm. Camp among the sunflower fields and fruit trees. With nearby mountains and woodlands providing gorgeous views.
The campsite offers 20 pitch sites, as well as parking for caravans. Or you can stay in a wooden chalet, safari tent, or mobile home.
It's fun for the whole family with pools, playgrounds, a boules court, and even a giant outdoor Jenga game. Experience the best in hiking trails, whitewater canoeing, and wildlife watching.
Visit the mountain town of Andora for cafes and duty-free free shops. Or take a trip into the village of Saint-Ybars for historic town festivals and local food and wine.
Head to Foix to see ancient castles and French architecture. If traveling with children, the Sequoya adventure parks shouldn't get missed.
4. Domaine Les Moulins, Vendee
Off the west coast of France sits the island of Noirmoutier. You're in for an idyllic lifestyle of clam digging and white-washed beach cottages. Sea views and salt marshes also make it a top place for sea salt harvesting.
The Domaine Les Moulins campsite takes the idea of tent camping in France to a whole new level. Choose from wooden tents, two-story teepees, and other luxury cabin accommodations.
Cabins get outfitted with rain showers, cozy duvet covers, and fine linens. You'll also enjoy full kitchens and in-suite jacuzzis.
The campsite features a spa, gym, and aquatic park. Spend the day on the endless bike trails.
Or enjoy the sun and sand while kitesurfing.
The town of Noirmoutier is home to old castles and churches. You'll also get your fill of French cuisine from local seafood shacks.
5. Kon Tiki Riviera Village, Cote d'Azur
For the ultimate glamping experience, you'll want to explore Kon Tiki Riveria village. It's where you can camp in class among the St. Tropez elite.
The campsite lies on a beautiful stretch on Pampelonne Beach. It's considered one of the best French campsites for those seeking a party atmosphere. Bask in the sun, stroll the sandy beaches, and lay beneath the shady palms.
Their cabins resemble tiki huts and house 2 to 6 guests. Gain access to the private beach clubs to mingle with locals. Or enjoy French food and wine at one of the many trendy restaurants.
There's a whole array of activities, from a circus to forest laser tag games. You'll also practice archery, soccer, and ping pong.
Sweat it out with beach fitness classes or volleyball. Or go kayaking, jet skiing, wakeboarding, or parasailing. There's also a diving school and catamaran cruises.
You won't need to rough it at the Kon Tiki Village. It's home to a tiki spa, salon, and full concierge service. The campsite also features a gym, fitness park, and bike park.
6. Les Alicorts, Loir-et-Cher
Deep in central France, you'll find Loir Valley. It's grassy knolls and shady oak trees make it the perfect camping destination.
The Les Alicorts campsite resort is home to swimming pools, a spa with a sauna, and a water park for the kids. It's got water sports, mountain biking, hot air balloon rides, and a nine-hole golf course.
You can pitch a tent, or stay in a family tree-house. They also have luxury safari tents and baby-proofed cottages. Some cottages also accept pets.
Visit the Chateau de Chambord, home to the largest enclosed park in Europe. Tour the Chateau's interior to see exceptional renaissance architecture. Pay special attention to the spiral staircase and carved ceilings.
The medieval city of Bourges is also worth a visit. Experience its nighttime light shows, and gothic style cathedrals.
7. Camping des Iles, Dordogne
Located on an island along the Dordogne River, you can camp right on the riverbanks. The campsite sits across the way from the town of Beaulieu-sur-Dordogne. So expect views of gorgeous medieval architecture.
The campsite offers pitches, wooden huts, and safari tents. It features a snack wagon as well as fresh bread deliveries from the local bakery.
Relax and unwind in the heated swimming pool with a sun deck. You can also go fishing, kayaking, and canoeing. The campsite also puts on live concerts.
For more adventure, try the tree high-wire courses. Or go potholing (or spelunking) in a local cave. Venture out to the Padaric Chasm for an unforgettable sightseeing opportunity.
When looking into the best campsites in France, it's important to pick a spot with appealing activities. Review Campsited to find the perfect site for your needs, so you can avoid a boring and unadventurous trip to France.
8. Chateau de la Grand Noe, Normandy
Nestled among the redwoods on a large countryside estate, this Chateau offers six towering tree houses.
The houses come fully-furnished, with terraces nestled among the leafy branches. Expect to see wildlife, from wild boar to rabbits to rare birds.
Take note that there is no running water in the tree houses. It's a real experience in nature with organic dry toilets.
The Chateau is also home to a working organic farm, known for their apple orchards and fresh juice. The Chateau will also provide picnic baskets prepared with local produce.
Local activities include horse-riding, cycling, and nature walks. You'll also enjoy golfing, fishing, and horse-drawn carriage tours. Top local attractions are Monet's gardens or Le Mans for racing.
This campsite is perfect for a romantic couple retreat. Long-term relationship travelers and travel romance seekers should look no further.
9. Camping La Ravoire, Haute Savoie
This campsite calls picturesque Lake Annecy its home. It provides a backdrop of snow-tipped mountains in the French Alps. It's the perfect location to clear your head and have a daily meditation session.
It's home to 130 pitches, chalets, and mobile homes. Take advantage of its walking trails with breathtaking water views. Or enjoy high-energy watersports such as wakeboarding and paragliding.
Trek the La Tournette alpine summit. It's about a 6-hour hike. But the 360-degree views are well worth the climbing commitment.
For a challenge, cycle along the Cor de la Forclaz. It's one of the Tour de France bike routes, and accessible by two locations near the campsite.
Or try canyoning. Where you can climb and jump along canyons and waterfalls. You're also near the Chamonix sea of ice, in Mont Blanc. It's the largest glacier in France.
10. Huttopia Versailles, Paris Region
Located along the Versailles forest is Huttopia Versailles. It's nestled among the country's best parks, Regional Natural Park and Le Vixen.
It's home to your traditional accommodations for tent camping in France. As well as two-story wooden huts. They feature a cabin on the first floor and a tent on the top floor.
Or you can stay in style in their new evasion chalet. It's fully-equipped with all the necessities and includes a large terrace.
Rent a bike and go exploring around Versailles. Visit the local markets of Porchefontaine and Marche de Versailles. Take a boat ride along the grand canal or attend the summer festivals.
The Palace of Versailles is also only 5 minutes away from the campground. And you're only a short train ride away from Paris.
The Best Campsites in France, from the Coast to the Countryside
The best campsites in France are full of fun and adventure. They will break you out of your comfort zone. They will create lasting memories for solo travelers, groups, or couples.
Traveling abroad can get pricey. Even if you choose to backpack and forgo 5-star accommodations.
Don't fret, you can still cure your wanderlust. Here's how to travel local and explore your own country.
Your next big adventure awaits…