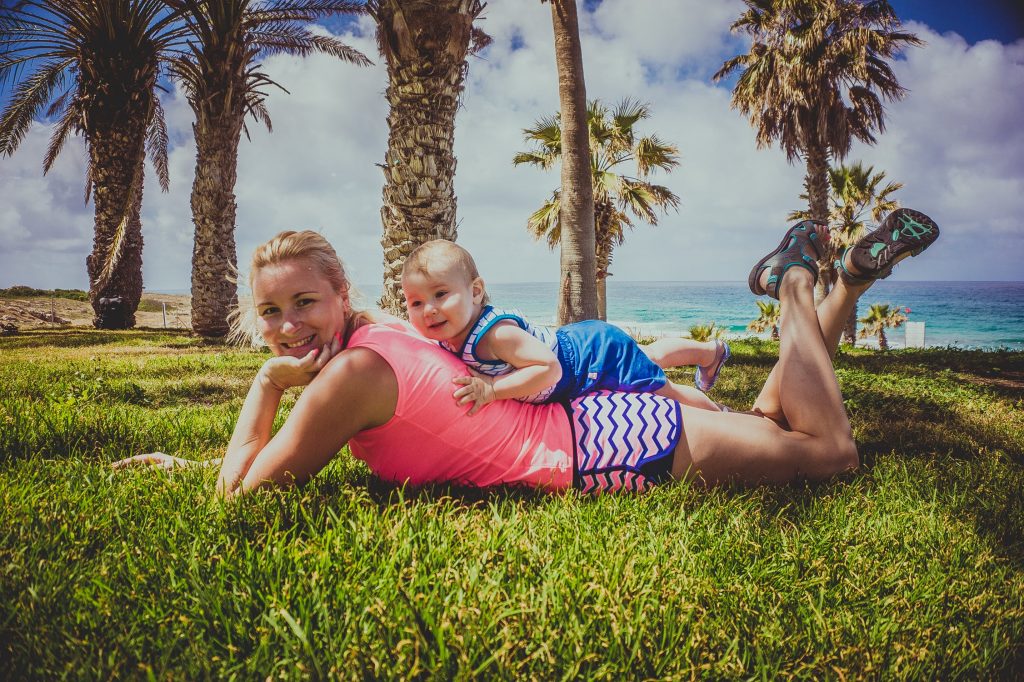 When you have a new mini family member, most of your time is spent caring for this amazing little person that has popped into your life. You have less free time (if any!), far more work, and a whole array of new emotions and responsibilities to deal with. You might find you feel reluctant to be too adventurous with days out, and the thought of taking the baby on holiday seems like far too much of a chore. With so much more on your plate and the insecurities new parenthood can bring, it's not surprising that your inclination is to stay home and wait until you have a little person who can walk and talk. Or, at least until you feel more confident in your abilities to cope with a child and a trip before contemplating booking some time away! The question is, how do you know that going away with the baby will be stressful and hard work – isn't it just as likely to be an amazing experience and a chance for you to take time off and relax?
Planning is the key
If you want to go away and take your baby with you, planning carefully for the trip will increase your chances of having an enjoyable and stress-free time. First of all, choose your location with your little one in mind. You don't want anywhere too formal, too restrictive or too busy. Your surroundings should be conducive to baby getting a good night's sleep, so somewhere peaceful is ideal. Big cities might be okay for a visit, but with the noise and pollution, you wouldn't want to expose the child to this environment for too long! Fresh air and open spaces are ideal, where you won't feel stressed if the baby has a screaming fit or you need to change a diaper in a hurry. What might not be such a great idea is to go so far into the wilderness that it's hard to access medical services in case of any problems. See what appeals to you within a reasonable travelling distance too. While most babies will sleep quite happily in a car seat; it's not ideal for them to be in a sitting position for extended periods of time due to the compressive effect on their lungs. If you do want to go further, then just make sure you have plenty of breaks where you can take the baby out of the car. You don't need to take the entire contents of your nursery with you when you go, just calculate what you are likely to use for the number of days you'll be away. If you do find your self-running out, you can always get some emergency supplies at your destination. If you don't have a baby carrier or a sling, get used to using them before you go. They're a great way to keep baby close and happy while leaving your hands free and avoiding the inconvenience of pushing a buggy. There are also backpacks to carry baby in if they are old enough to hold up their own heads. If you can't use a carrier, or baby's getting too big, you can also buy or hire cross country strollers that have off-road tires and suspension, making them robust enough to travel on footpaths and across fields.
Where to stay
A camping trip is one of the best ways to enjoy the outdoors in a relaxed environment but might sound a little too rudimentary to be enjoyable when you have a baby with you. You still need to provide safe sleeping conditions for example, and fitting a cot into a tent might be a bit of a pain, and possibly quite cramped. If you haven't been camping for a while, you might not be aware of some of the very spacious and easily erected tents that are available now, with separate sleeping quarters and living area. Or if you like the idea of being outside but prefer the comforts of civilization, how about combining the two with an Under Canvas glamping trip? Then you get the benefits of being close to nature, with the luxuries of a proper bed and cooking facilities. Other good options are holiday lodges and cottages, where you can live home-from-home without being surrounded by too many other people. Hotels might not be the best choice for avoiding stress – worrying about keeping other guests awake and getting complaints about the noise of the baby crying in the night can be quite stressful, and if you want the holiday to be enjoyable, you need to make it as stress-free as possible.
What to do
In some ways, having a baby can be easier than having a toddler when you want to take a trip. Babies are safely under control in a carrier or pushchair, whereas toddlers are often like a force of nature themselves, wanting to explore everywhere and touch everything. They also can't walk great distances, and you can be alternating between pushing an empty stroller with one hand and hanging on to your toddler's reins with the other, or strapping the child back into the chair when they start getting tired and grumpy. Babies need frequent naps as well, so if you time it right, you can have a couple of peaceful hours browsing the exhibits in an art gallery or museum. There's no reason not to take part in adult activities such as surfing or snorkelling providing one adult looks after the baby, or there is an approved creche onsite. Don't forget that your baby can take part in a lot of your activities and will enjoy being included. Ideal activities include looking at gardens, parks, and wildlife, or visiting zoos and sea life centers where they can see a range of animals, and experience the sounds, smells and bright colors of their surroundings.
If you want to be sure how well you would cope, just take a weekend away and see how you get on. This will reassure you that you will all be fine, and if there is anything you've forgotten, you'll know for next time. Having a baby is no reason to forgo your holiday, and if you give your destination and itinerary some thought, you should have a wonderful time.