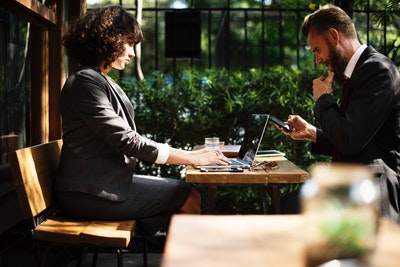 learn about the top ten outdoor business ideas.
The cubicle life isn't for everyone – I would know. But it can still be hard to figure out a way to ditch your office gig for a job you actually enjoy doing.
Spending all of your time outdoors seems like a great idea until you remember that you have things like rent and bills and responsibilities that don't just disappear.
But what if I told you that you could spend most of your time outside and still make enough money to live?
There are plenty of outdoor business ideas that many people don't even think of. I've put together my top ten for you here.
1. Adventure Clubs
Don't have the money to travel? Start an adventure club right in your hometown.
Odds are, you're not the only one nearby who has a little bit of an adventurous spirit. Why not bring all of the like-minded people in the area together?
Adventure clubs organize fun trips, activities, and sports for their members to participate in. If you enjoy working with people and getting paid to organize daring activities, this is something you should consider.
2. Photography
Ever wonder who's out there taking all those pictures in National Geographic? Someone gets paid to do that.
You don't necessarily have to be the next internationally famous wildlife photographer, but there is a great market out there for photography. Depending on what interests you most, you can do everything from wedding photography to still-life.
3. Campsite Manager
People who love camping don't always realize that they can make a living from introducing other people to their favorite hobby. Someone manages your favorite local campsite – why can't that someone be you?
Most campgrounds are only part-time (AKA are only open when the weather is nice enough), but depending on where you live, you might be able to run one full-time. This will help you make the most money from your new job.
If you're a camping enthusiast, you already know what makes a campsite fantastic. If you market it well and make sure you have a variety of activities for campers, you'll find success.  
4. Dog Trainer
Some people like animals way more than they like people. A hardcore dog person might consider becoming a dog trainer.
Dogs need a lot of activity and stimulation, so odds are you'll spend a lot of time outside training dogs to walk on a leash, teaching them how to sit and stay, and making sure they know the basic obedience commands. Some owners might even have specific commands they want their pup to learn.
You will have to get licensed for this, so just keep that in mind.
5. Horse Trainer
Another option for working with animals is helping to train horses. This is definitely a more expensive business to get started. Not only will you need the horses, but you'll also need to either rent or own a stable or other training facilities.
If you can get the start-up cash, though, this can be a very lucrative business.
You can start small by boarding a few horses at a local stable or farm and then work your way up to owning your own training facility. If you want, you can also offer riding lessons.
6. Lawn Maintenance and Landscaping
One job that's in demand almost anywhere you go is lawn maintenance. Whether it's mowing lawns, pruning trees and shrubbery, or creating gardens that look like they're straight out of a magazine, there's almost always some kind of outdoor home maintenance to be done.
Many homeowners will pay a premium to have a yard that looks fantastic (and better than their neighbor's). By providing this service, you'll be meeting a demonstrated need and spending a lot of time outside. The good thing about going into this industry is that you don't need experience to get going. You can easily hire experts remove trees like https://www.thelocaltreeexperts.com/ or seek consultation from flower growers before you go ahead with any plans.
7. Produce Farming
If you know there are people who are looking for a farm-to-table experience in your area, you might want to get into produce farming.
You don't have to have acres and acres of land to start growing produce. If you have a yard that you're willing to convert into some farmland, you can start growing simple crops and produce.
Then, you can sell them at local farmers markets or stores to turn a profit.
8. Canoe & Kayak Tours
People who enjoy being on the water and live near a lake or river might start up a canoe or kayak tour business. Depending on what kind of business you want to run, you might be able to get away with only buying a few boats to get this started up.
You can guide people in their own canoes on tours of the lake, or you can offer small one-on-one tours and take people in your boat. Whatever you choose, you'll need to make sure that you have insurance just in case.
9. Woodworking
If you enjoy working with your hands and creating physical items, you can start your own outdoor woodworking studio. Depending on what interests you, you can create anything from furniture to art pieces.
You can sell your products locally or in an online store, whichever is best for you. As the word starts to spread about your business, you might even be able to consider working on commissioned items for people who love your work.
10. Fitness Instructor
Love exercise and helping other people live their best healthy lives? You can combine your love of exercise, being outside, and helping other people by teaching outdoor fitness classes.
There's really no limit to what you can teach. If you want to connect with the nature around you, become a yoga instructor. If you love to dance, try Zumba. And if you want to work on strength building, then start an outdoor boot camp.
There may be different pieces of training and certifications associated with the avenue you choose, but each path will lead to you being able to spend more time outside and take care of your own health.
Put These Outdoor Business Ideas To Use
What are you waiting for? Start thinking of how you can put one of these outdoor business ideas to good use. Now is the time for you to take control of your life and start doing something you actually love.
Don't stop there – make a little extra income on the side by blogging about your new life path. Find out how with this guide to starting a blog in five minutes.