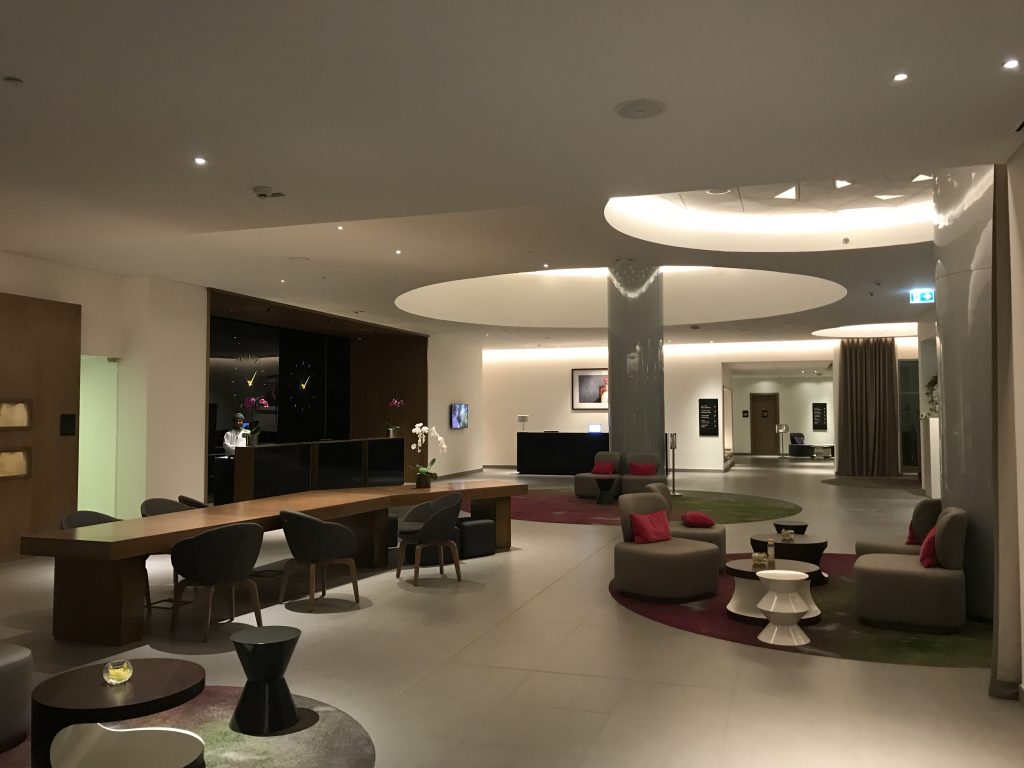 Oman was the country that lifted my mood, right at the swan-song of my Middle East tour.
The oil-rich gulf states didn't really do it for me, but after only a few hours in "The Pearl Of "Arabia" I knew it was going to be a fun and unique trip.
However, as I made my way from Salalah to the capital, Muscat – panic struck in as I realised that I had mixed up my flight dates to India.
Meaning I would have less time in Oman than my happy-go-lucky-state had gotten used to.
Step forward Sundus Rotana Hotel. The oasis of tranquility in my desert of panic. It's only a baby in terms of how long it's been around, which was incredible to believe – the marketing people at Sundus are clearly doing their job properly as I decided to walk from the airport and friendly locals helped along the way, assuring they knew where this "new hotel" is.
From the very first second I checked in I was thoroughly impressed by the fact that they had only opened in November 2017.
Sundus showed no signs of new-facility naivety and I knew I was in safe hands with Ahmed at front desk when I checked in.
Flying into Muscat and Oman in general I knew I was in for a treat during the trip. While it's touted as being one of the pricier places in the region for many things, I have to say that you definitely get your money's worth. It's not one of these places that asks for a high price but gives you something lacklustre and the hotel I stayed at – the Sundus Rotana Muscat – confirmed this.
More For Your Buck
If you want a hotel that definitely doesn't skimp on style or class and is minutes away from the International Airport, this is what you need in your life. Rated four stars for good reason, the Sundus Rotana was like walking into one of the higher class hotels back in London. The lobby and communal rooms are fantastically decorated and offer up a lot of modern style furnishings that just add to the overall impression of being in a top of the line, classy establishment. I can't fault them for any of their decorating skill – it really brought the place together.
Omani coffee and pitted dates at a grab too…yes please!
The Sundus Rotana makes sure that its visitors are able to hit the ground running through the providing not just shuttle transportation to and from the airport but also ensuring there is high speed internet available throughout the hotel, on top of secretarial and meeting facilities to use in order to help those business travellers stay on top of their to do lists even while they're soaking up the sun in Oman.
The Rooms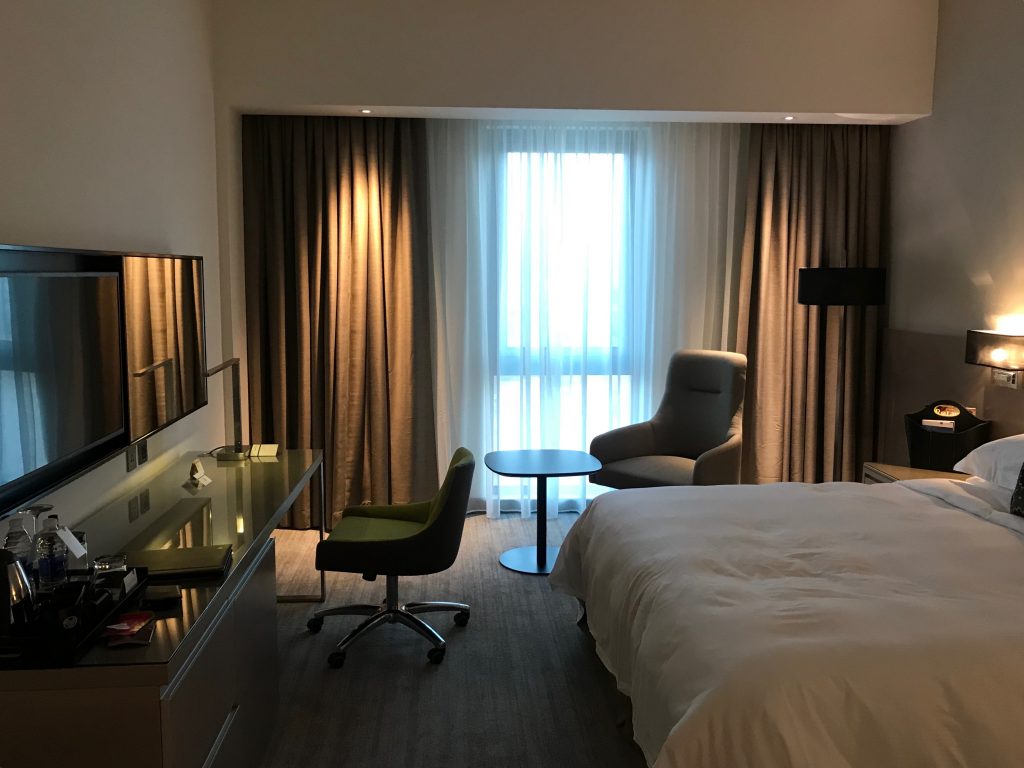 I expected the rooms at the Sundus Rotana to impress before I even saw them in person. With such an awesomely decorated lobby and grounds I knew I was in for a treat and it didn't disappoint. The room I stayed in had a great view over the pool, and one of the most comfortable beds I've ever slept in. I was glad I had chosen such a luscious hotel for my stay in Muscat – it really made the whole time there that much more special.
Amenities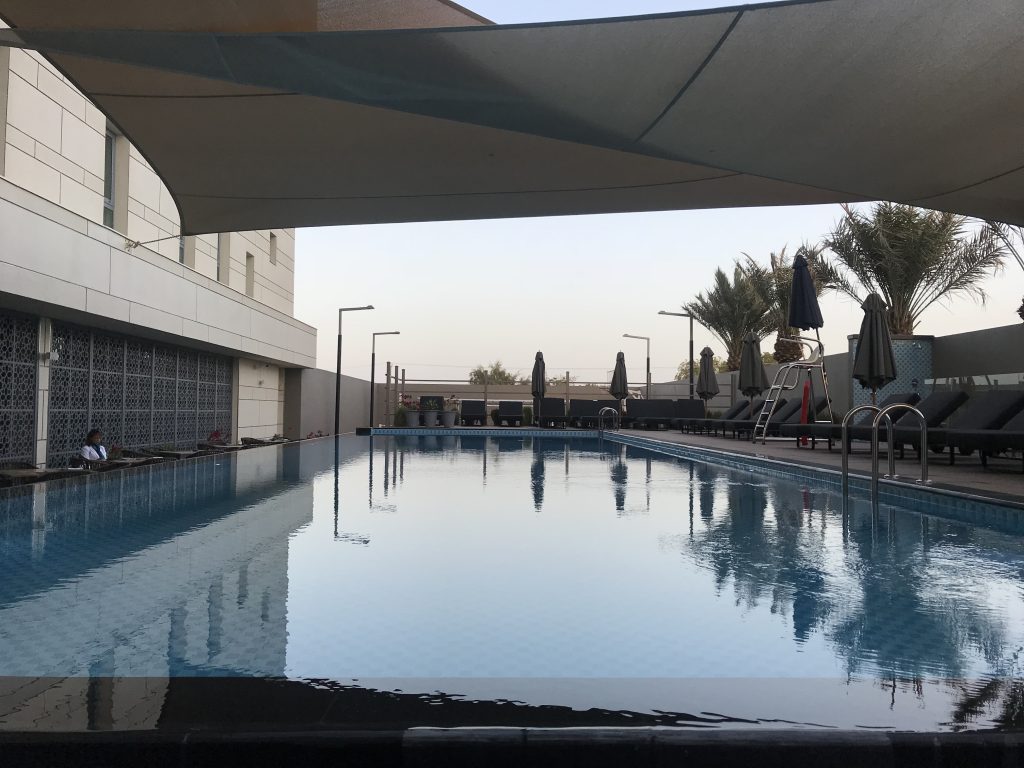 The staff were so helpful and friendly and were up for answering any questions I had, even if they (my questions, not the staff!) were a bit on the difficult side. I didn't know what I should see during my time in the area and they helped me not just organise great trips out to some nearby and famous Wadi's, but also had great suggestions on different things to see and do in Muscat.
They can provide services and even help you with travel arrangements through the airport which is extremely useful for business travellers. The pool was clean, bright and with towels provided. Free breakfast each morning had a number of great choices on offer, so you could try something every day without getting bored.
The gym hosts and impressive. spacious gym which is open 24/7. I think most hotels need to be this flexible in terms of being more flexible with fitness centre opening hours. Not everyone likes to (or can) work out at the same time!
Health and fitness is your resolution in 2018? #sundusrotana 's #bodylines gym and wellness over looks our pool, with a fully equipped steam room, take your fitness and relaxation to the next level #bodylines #muscat #oman #2018 #muscatexpats #rotanahotel #experinceoman pic.twitter.com/FMwRRkhNyi

— Sundus Rotana (@sundusrotana) January 5, 2018
Overall the say I had at the Sundus Rotana was superb. I'd highly recommend it to anyone looking to spend a couple of days (or more!) in Muscat. The quality of hotel for the price definitely makes for a fantastic stay and the perfect base for seeing the magnificent local wadis!