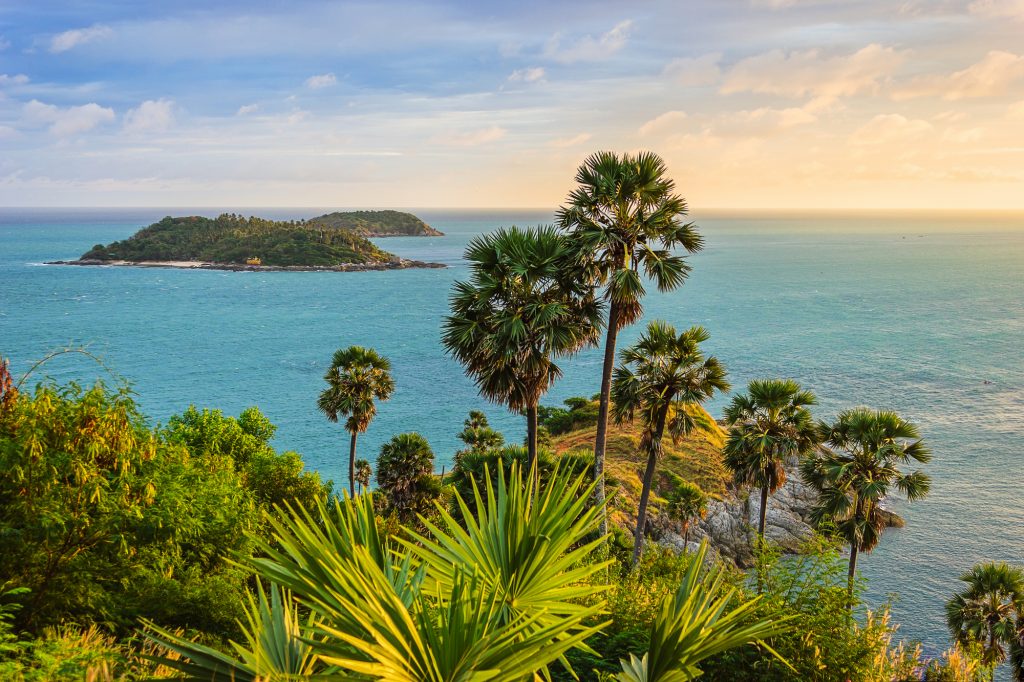 Phuket is Thailand's largest island and lies just off the western mainland in the Andaman Sea. You've probably seen the photos – colorful long boats swaying on swallow turquoise bays and vast karsts towering over powdery white beaches that are ringed by palms. There's more to this tropical paradise than just the landscape though. Scratch the surface and you'll find one of the most intriguing islands in the Land of Smiles. Here are eight reasons why Phuket is such a special place.
Phuketian culture
If you can tear yourself away from the beaches (harder than it sounds), you'll find some astonishing places to visit. In the commercial center, Phuket Town, you'll find plenty of museums, old Chinese temples, and colorful Sino-Portuguese shophouses. Don't miss the popular Jui Tui Shrine, a Chinese temple that plays an important role in the annual festivities. Then there's Phuket's Big Buddha, one of the island's most visited and revered monuments. The 45-metre tall landmark sits on top of the Nakkerd Hills near Chalong and is best visited using a Phuket car rental.
Phuketian cuisine
Many visitors know that Thai food is highly regional: Southern Thailand has a whole host of dishes that are very different from those in Bangkok and the North. Phuket was once an important port and trading post, which exposed the island to influences before the rest of the country from across Asia. The cuisine is unique with recipes that have been honed over generations and has been crowned with UNESCO status for gastronomy in 2017. The best way to get a grip on the island's food is by joining one of the food tours with a local guide. Expect dishes like stir-fried Hokkien noodles, spicy crab curries, and crispy roti with sweet milk tea.
Phuket's beaches
If you're not a culture vulture and your sole purpose is to fly and flop, you've come to the right place. The large island is littered with sweeping, white powdery beaches fringed with swaying palms. It doesn't matter if you're a backpacker on a shoestring budget, a flashpacker looking for a little more comfort or a jetsetter seeking out some serious luxury, you'll always find beachfront accommodations that fit the bill. Tiptoe barefoot across the sand and launch yourself into shallow, warm turquoise waters. Bliss!
Phuketian marine life
Some of Phuket's most magnificent sights lie under the water's surface. The Andaman Sea teems with marine life. Strap on your snorkel mask and flippers to dive underwater and immerse yourself in the colorful world of tropical fish. If you've got a little more time or you're a scuba diver, you can always hop on one of the daily excursions to Ko Phi Phi or the magnificent Similan Islands, both considered some of the best diving spots in the world.
Phuketian festivals
The island has a packed schedule of year-round festivals that you won't experience anywhere else. Like the rest of the country, the April Songkran (Thai New Year) festival sees the island burst into one big water festival as locals celebrate the coming rainy season. Then there's the week long Vegetarian Festival which runs between late September and early October every year. The nine-day Taoist event, also known as the Nine Emperor Gods Festival or Kin Jay Festival, sees locals practicing self-mutilation by piercing their cheeks and inserting everything from knife blades to baseball bats while walking across hot coals. Not for the faint hearted, but certainly an experience.
Phuketian activities
It's not all rest and relaxation here! There are more activities to take part in here than you could possibly do in a week-long vacation. Learn to surf, go sailing along the coast, gentle paddling through mangroves on kayaks, practicing your swing on the golf courses, watching a Thai kickboxing match, taking the kids to the water parks, go hiking along the trails, spotting wildlife…..the list is endless. Plus, you'll find most of these activities are surprising affordable, even for those on a modest budget. To make the most of the activities, your best bet is nabbing an affordable Phuket car rental. Have an excellent trip!