I fidget in the back seat of the taxi. I reread the same page in my Kindle for the fourth time, completely unable to comprehend the writing in the story. I glance at my watch for the 5th time in a minute. I'm antsy, I'm restless and I'm about to be late for my sleeper train from Bangkok to Chiang Mai – anxious in the knowledge that there isn't another train available for the next few days.
I ask the taxi driver, who is smiling even though he's in a sea of gridlocked traffic; "how long, please?"
His English is poor, he doesn't understand me and so I play the waiting game. I hate the waiting game. I gave myself more than enough time to get to the station, (or so I thought) but the roads in Bangkok really aren't like any other regular roads in the world.
They're unpredictable, unsafe and bursting of anarchy. I've seen a family of five on a motorbike, travelling with everything but the kitchen sink on more than one occasion. I've seen near misses with cars going the wrong way with wallpaper rolls sticking out the window, I've seen it all and I was only here for three days.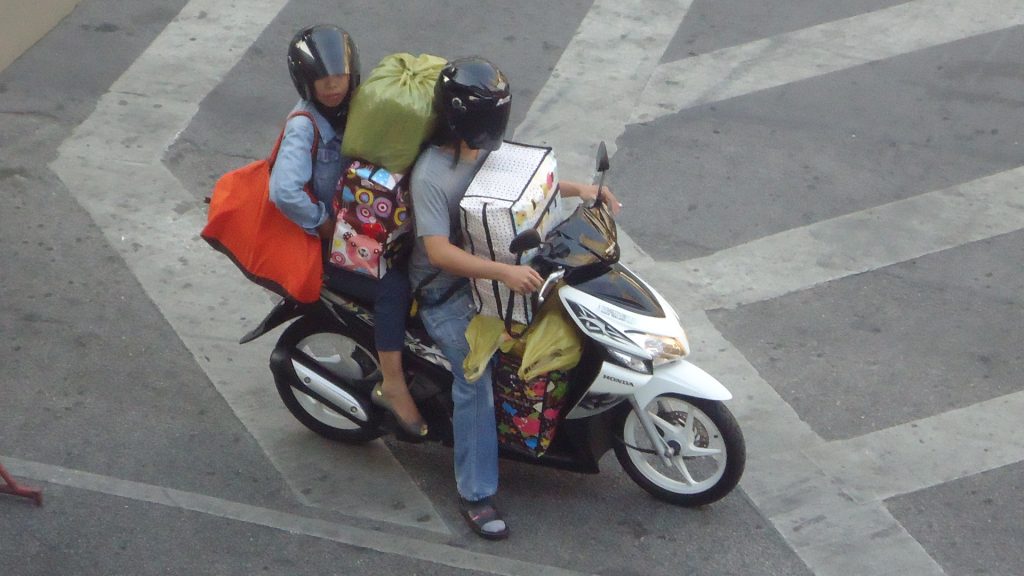 You could offer me all the tea in China and all the hot brunettes in Argentina and I still wouldn't take to the wheel (or motorbike) on the streets of Bangkok. (Edit – this philosophy changed within a year haha) No chance.
The taxi finally gets to the station at 18:25, fifteen minutes after the time of proposed departure. I momentarily ponder what the hell I'm going to do in the outskirts of a strange, bizarre (yet awesome) massive city – and then I immediately snap out of it.I've never been the fan of giving up easy, forever the optimist; I grab my backpacks and sprint like Usain Bolt on acid to the platform, hoping that there was a delay on my train. I am British after all, so I'm used to trains not being on time.
I'm greeted by a guy who works at the train station. He takes my ticket and says; "Oh noooo, Chiang Mai gone already, sir."
My head drops, I am beaten. I am Man Vs Clock, and I have been owned by the clock. I fiddle about in the contacts of my phone, to call my hostel. It wouldn't have been such a big deal of I wasn't broke!
Seconds pass and Mr Thai train employee appears in the corner of my eye, wearing a motorbike helmet and one in his hand for me.
"Come, come" he says, followed by an enthusiastic; "fast, fast!"
He's surely not going to try and race the train (which already has a fifteen minute head start) to the next station, in Bangkok rush hour traffic…on a motorbike!? You bet! My instincts tell me I have nothing to lose. He tells me my name and asks me mine as he changes from 2nd to 4th gear and swerves nonchalantly past a pissed off Land rover who almost clips us, but for the purpose of the story we shall call him 'บ้าระห่ำ' meaning, "Daredevil" in Thai, pronounced 'Baraham.'
It takes all of my core strength (thank you abdominal crunches on the beach in Langkawi) to sit upright with a 75 litre backpack while grabbing the seat and trying not to fall off, as Baraham bobs and weaves at an incredulous speed through the cars and other enraged motorbikes. Baraham even had the audacity to beep at anyone who dared to halt him in his quest – even though he went through every red light!
Adrenaline kicks in as our near misses seemed to get closer every time, and my priorities are obviously very warped, as the worry for my safety is now replaced with two main thoughts in my mind:
. This is going to make an AWESOME story on my blog!
. This would NEVER happen in England!
I'm referring to the guy giving a shit about me missing my train. This is the general reaction that you'd get in England if you missed your train and were in need of some guidance:
I'm totally getting off on the rush of danger and even though Baraham is laughing in the face of fear with such contempt, I start to feel a bond of trust between the little crazy Thai fella and me. We pull up to a train station and I'm almost sad that our insane adventure is over, but happy that my travel insurance premium has not been compromised. I cross my fingers as he asks his colleague at the next station in Thai if we have missed the train. The postmortem concludes that it left just a few minutes ago.
I'm beaten again but remember my manners and applaud Baraham in his efforts. He smiles (of course he does, he's Thai – these kids would smile if they were on fire) and yells defiantly "SAME, SAME!"
Baraham was not going to be beaten today, oh no Sir! Back on the bike of death we are, racing through the mad motorway of Bangkok – attempting to get to the next station before the train. He giggles like a little girl and yells; "Hold on tight, Antony Hopkins!"
Baraham goes even faster this time, as the slip road is quieter. Full whack he goes, tearing up the highway with only one goal in mind; to help out a stranger. We arrive at the next station and his colleague tells him the Chiang Mai train is due to arrive in ten minutes. Wahoo!
I now have my new hero, and his name is Baraham.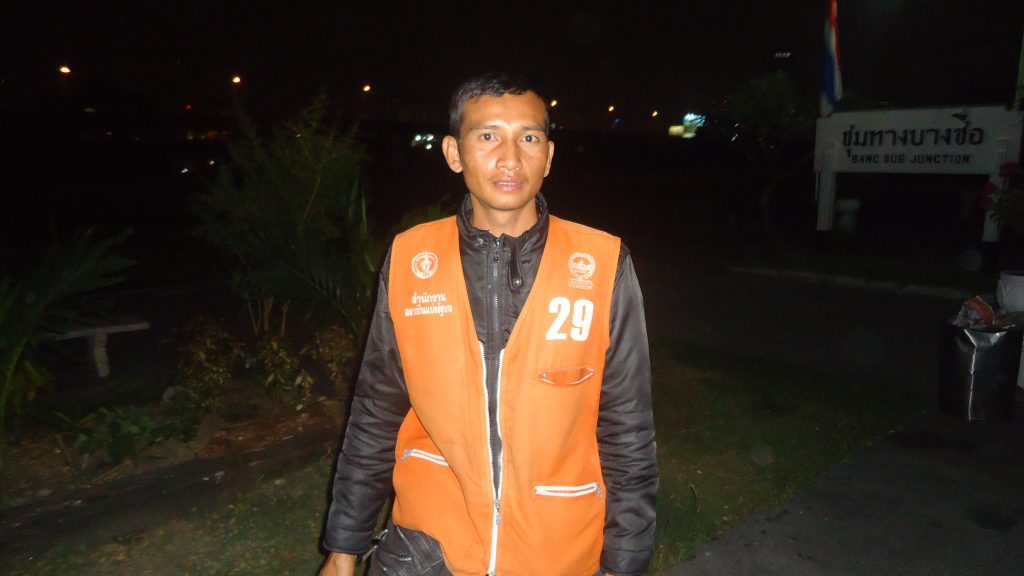 I tell him; "THAT WAS AWESOME!" As I refuse a cigarette that he offers me. I pull out 500 baht (about £10) and say thank you. He genuinely refuses the money and he refused – he doesn't want anything in return. After months of living in Thailand I found out that he was actually a motorbike taxi driver, as they all wear that vest, but he didn't accept my money that day – weird!
Then he handed me this…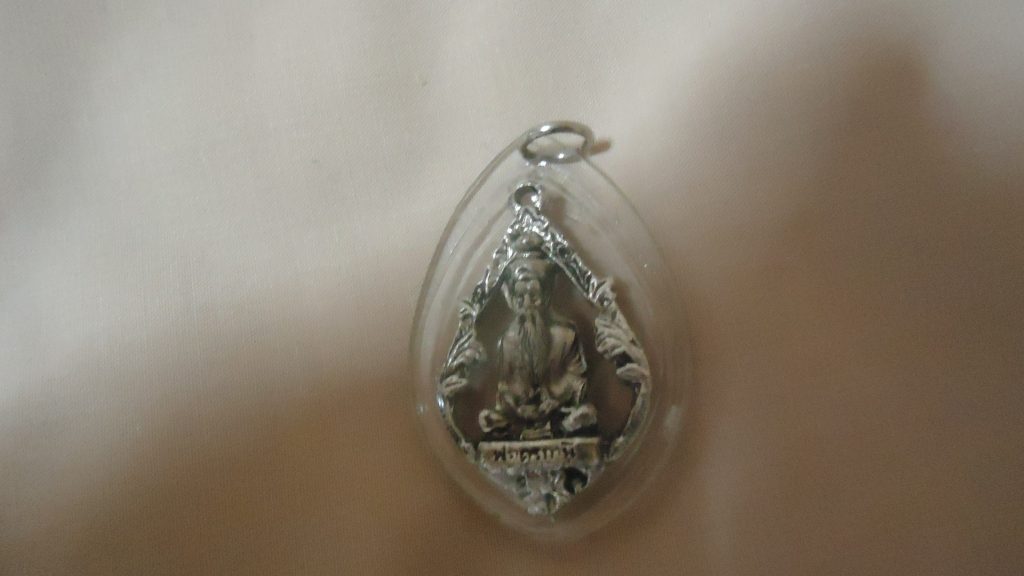 It's a Buddhist thing sign for good luck, some kind of penchant. I feel overwhelmed and it hits me like a hammer; I am in love with Thailand. Irrevocably, absolutely and unconditionally – I've got it bad for this country already.
This place is very popular for travellers and tourists and many visitors return to these shores. Is it the pristine white beaches, mouth-watering food, parties, or the cheap beer? I'm guessing it's a factor, but the main one is quite simply; the people.
The cliché really is true; it's the people who make the places good or bad. So far, so good!