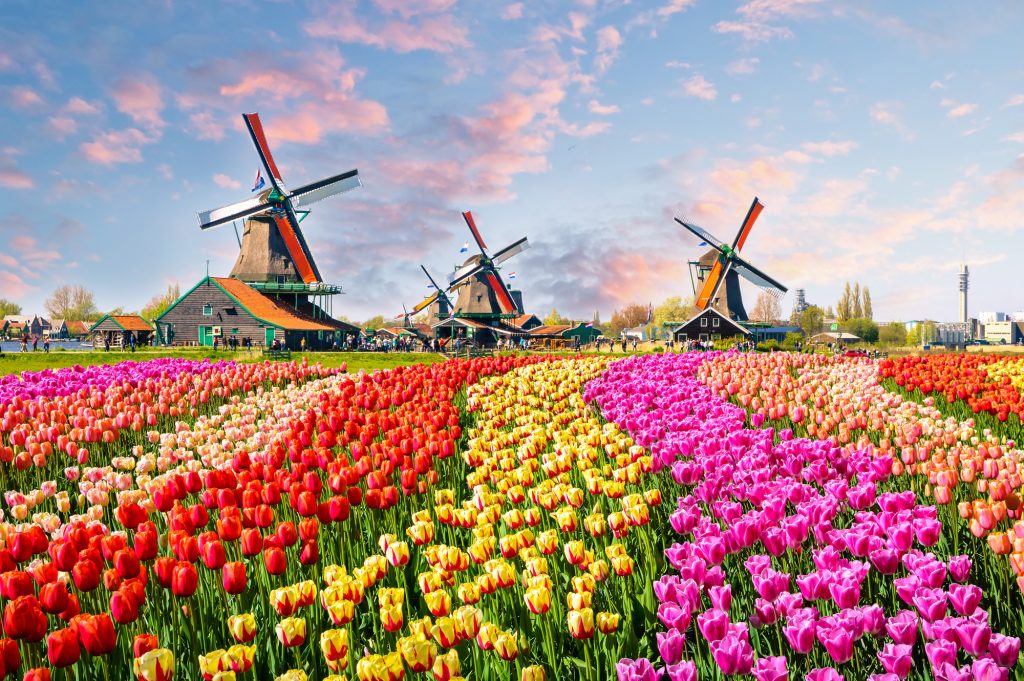 In one survey, almost three-quarters of Americans said they'd gone into debt to fund a vacation. However, there's no need to break the bank. Travel smarter and save money by planning your vacations strategically!
Some of the best places to go may not be all that far from you. You can get more out of many destinations by picking the perfect season to visit. Even if you don't travel far, you'll be amazed by what you can find at the right time of year.
Now's the perfect time to plan for a spring vacation. What are the best places to visit in April? I've put together my favorites for you here — keep reading before you book that next trip!
Sun Peaks, British Columbia
Haven't gotten enough of winter yet? Then you'll want to head to B.C. for their April Snowbombing event, the last hurrah for those who love to hit the slopes each winter. Even if you don't ski or snowboard, you can still enjoy the classic apres-ski activities like sipping hot cocoa by the fireplace.
Bogotá, Colombia
If you're ready for spring to get here, get a little closer to the equator with a trip to Bogotá. It's never sweltering hot, but many people love the mild spring temperatures of this thriving city.
You can choose from luxury high-rise hotels or trendy neighborhoods, depending on your preferred travel style. Columbia's capital really has something for everyone.
Washington, D.C.
It wouldn't be spring without the famous cherry blossoms. You can get them right here in the states by heading to the U.S. capital in April.
Spring is the perfect time for this city: it's not too crowded, and temperatures are just right. In addition to the cherry blossom festival, there's plenty to do in D.C. during April. Don't forget to hit up the National Mall for all the museums — they're free for you because they're taxpayer-funded!
Kyoto, Japan
If you want even more cherry blossoms in your life, don't miss Kyoto's famous sakura season. The city's always beautiful, but the cherry blossoms will really make it special at this time.
You can keep your visit more quiet and nature-focused, or spend more time in the city. Don't forget to try Japanese whiskey: the country's becoming known for its high-quality dark spirits.
The Canary Islands, Spain
If the essential vacation for you includes beach time, book an April trip to Spain's Canary Islands.
Spring lets you avoid the biggest crowds while still soaking up plenty of sun. There's plenty to do just steps away from the beach, so you'll never have to stray too far from the water.
Clearwater, Florida
Want to avoid the obnoxious spring breakers in Miami and Fort Lauderdale? Then make an April trip to Clearwater instead. You'll get the same sandy beaches, minus all the college students.
Plus, each April Clearwater has the famous Sugar Sand Festival. At this event, which spans more than a week, the world's best sand sculptors compete to build incredible structures that most of the world will never see.
Amsterdam, Netherlands
Centuries ago, "Tulipmania" first struck the Netherlands, and the popularity of the blooms hasn't waned in the modern day at all. Don't miss this chance to see the colorful blooms in the area, then explore all that the streets of Amsterdam have to offer.
Havana, Cuba
April is the perfect time to experience Cuba's famous architecture and culture in this completely unique city. The capital of Cuba has great weather in the spring — perfect for everything from seeing the sights to dancing in the streets.
In late April, the city also has the Ritmo Cuba festival, which is perfect for any visitor passionate about dancing and music.
Paris, France
Booking a trip to Paris will have you checking your daily love horoscope — it's the city of romance for a reason! But booking your trip after Valentine's Day and before summer arrives will help you avoid the crowds that can pack this ancient city's streets.
Paris has something for everyone, even if you're not the traditional romantic. Visit the incredible architecture, some of which date back to the Middle Ages. Walk the streets to find a late-night cafe or cabaret, or grab dinner from one of the bustling street markets.
Lima, Peru
Peru doesn't always offer calm, sunny weather in April, but the country makes up for it by offering affordable hotel rates during this "offseason."
Peru is famous for its amazing food, and Lima is a great place to explore top restaurants, as well as great nightlife and stunning architecture. You'll also find museums devoted to everything from alcohol to erotic pottery.
Mendoza, Argentina
You can stick to the southern hemisphere, where April is a fall month rather than spring, and head over to Argentine wine country next. This is the perfect time to visit, since fall means harvest time in Mendoza's famous vineyards.
Wine lovers can get up close and personal with the process of making wine, and of course, taste some of the best wines to ever come from South America. You can also enjoy all the laidback activities the surrounding countryside has to offer, from hiking to spas.
Istanbul, Turkey
Istanbul has its own spring tulip festival, plus some of the most striking ancient architecture in all the world to form a backdrop for the blooms. It gets sweltering in summer, but it's pleasantly warm in the spring. Plus, you'll also find reasonable hotel prices since the travel season won't yet be in full swing.
Ready to See the Best Places to Visit in April?
The best places to visit in April tend to be off the beaten path. Skip touristy spots like Hawaii and Playa del Carmen in favor of one of these creative vacation spots!
Feel like travel is just out of your reach? I made travel a lifestyle and I can help you do it, too — learn more about me here!