Is it true that younger generations of men care more about their skin than their predecessors? According to Statista, younger men are much more likely to have a skincare routine than men of over 50.
One of the reasons for the changes in the attitude of men towards skincare seems to be an increasing awareness that the skin needs care from an early age to protect it, nourish it and keep it young-looking.
Everyone knows getting enough sleep means you will wake up refreshed without puffiness and bags under your eyes. If you already have dark circles under your eyes, using Particle cream can help to reduce puffiness and make them less apparent.
Sticking to a well-balanced diet ensures that you're getting enough vitamins and minerals as these contribute to your skin's appearance. If you live on junk food, it means your skin is not getting the nutrients it needs to stay young and healthy-looking, especially as you start aging.
But what can be done more to help us keep our youth?
As technology advances, we can now test specific compounds and make very effective solutions that work on a scientific level to improve the texture of skin.
One such product is called Particle, an anti-aging skincare solution for men, formulated by biochemists to penetrate men's tough, thick skin and deliver nutrients to the deeper layers on the skin.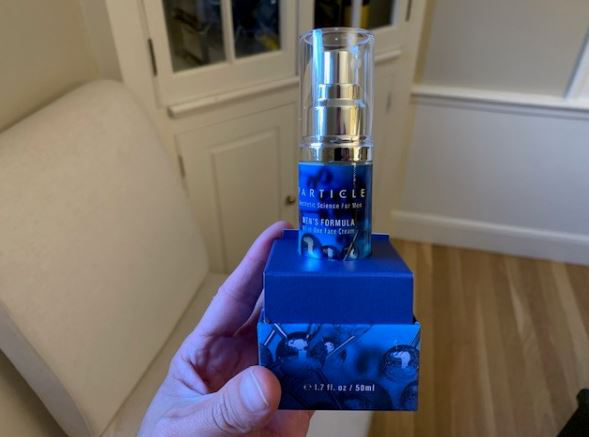 Let's see how it works.
Look your best every day
Before you start cursing your genes, ask yourself whether your lifestyle and skincare routines are up to par. Regardless of your genetic makeup, you can take small steps on a daily basis to improve your appearance. You will not only look younger, but you will be healthier too and the sooner you start, the more chance you have to make a real difference.
Using Particle cream every morning and evening can help to make your skin look smooth and stay healthy because it contains ingredients such as Vitamin E, which has antioxidant qualities. Ingredients like Shea Butter, Glycerin and Allantoin also help to nourish and soothe the skin.
Follow a daily skincare routine: Particle cream makes having a daily skincare routine easy because you only have to use one cream with a number of amazing benefits. Even if your skin is more naturally oily than women's skin, you still need to moisturize it daily and protect it from the sun's UV rays.
Gently massaging Particle cream onto your facial skin in the morning and evening will nourish and protect it. Make sure you pay particular attention to the areas around your eyes and your forehead, where fine lines usually start to appear at a certain age.
If you already suffer from sun damage, Particle is able to reduce the appearance of fine lines and dark spots (don't over expose yourself to the sun, as it can make your skin wrinkle prematurely). The inclusion of coffee seed extract, for example, promotes healing from sun damage and tightens up your skin.
Stop your skin from feeling sensitive after shaving
If you find that shaving causes irritation, razor burn and ingrown hairs, Particle can also relieve these problems. It works for every skin type, including more oily skin, leaving minimal residue on the skin after application. Ingredients such as Hyaluronic acid and Squalane absorb moisture and lock it in to keep skin feeling smooth. Jojoba oil has anti-inflammatory qualities to help relieve irritation.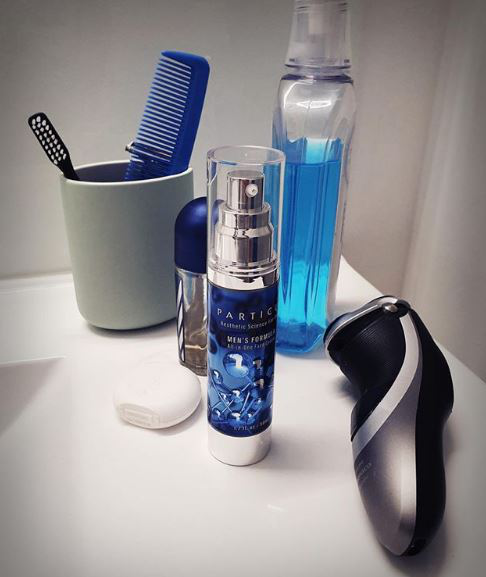 Layering on too many products can irritate the skin rather than soothing it. Enjoy the clean, masculine aroma as you apply your Particle cream after shaving in the morning and feel its soothing effects.
Moisturize, repair and protect with one product
A daily skincare routine provides the skin with nutrients it needs to regenerate and Particle cream not only provides these but provides a protective barrier.
One of the most important functions of skincare is to keep the skin hydrated and Particle contains many ingredients to keep it hydrated, reduce wrinkles and help firm up sagging skin. Symwhite is an ingredient that improves uneven skin tone and discoloration.
Use Particle and you can experience all the benefits in one cream without having to buy and apply multiple products. It doesn't take more than a few weeks to start seeing improvements.
Don't take your skin for granted
Your skin may be smooth when you're in your 20s but when you're in your 30s, you're likely to start seeing the early signs of aging. As you age, your body starts to produce less collagen, loses elasticity and shows the effects of sun damage.
Giving it the right care from an early age can help you to maintain your youthful appearance while those around you are suffering from wrinkles, circles under their eyes, razor burn, and more.
Don't be put off by a plethora of confusing skincare products. Particle cream will help you to establish a simple, easy daily skincare routine. The company offers free shipping and a 30-day money-back guarantee, so you have nothing to lose.
Make sure your skin is moisturized, nourished and rejuvenated with this comprehensive anti-aging skincare solution with high-quality ingredients known for the incredible benefits.