When you tell people that you've just booked a ticket to Papua New Guinea, it's very rare for them to not respond with hysterics.
Last year I started my epic three month trip around New Zealand and the Pacific Islands in the supposed land of the cannibals with Johnny from OneStep4Ward. It still feels really surreal to say I was there.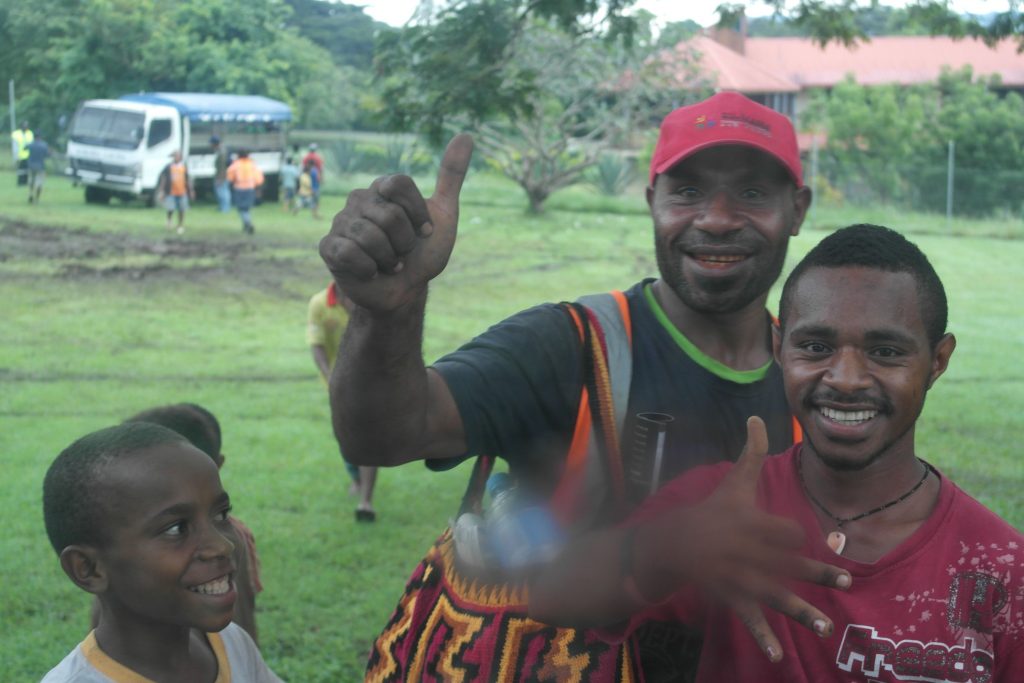 Considering that I am writing this with all limbs attached – we weren't used as dinner by the tribe we stayed with in Madang. In fact, I look back on my time in PNG with fond and happy memories. But it wasn't without dodgy moments. When I returned from a place where people half-expected me to get butchered – the question changed from "Why?" to one of a more relevant nature, for the ambitious traveller who wants to go to the next level of adventure; Is Papua New Guinea safe to travel? Would I recommend the place to backpackers? What's it like?
Before I discuss the safety issue – I'll give you the lowdown on the logistics…
How To Get There
Papua New Guinea isn't the kind of country you can just get up and go to from most places in the world. We chose the best option – which is to fly from Australia. Papua New Guinea is rich in certain natural resources and Australians travel there to work in mining.
Transport Around Papua New Guinea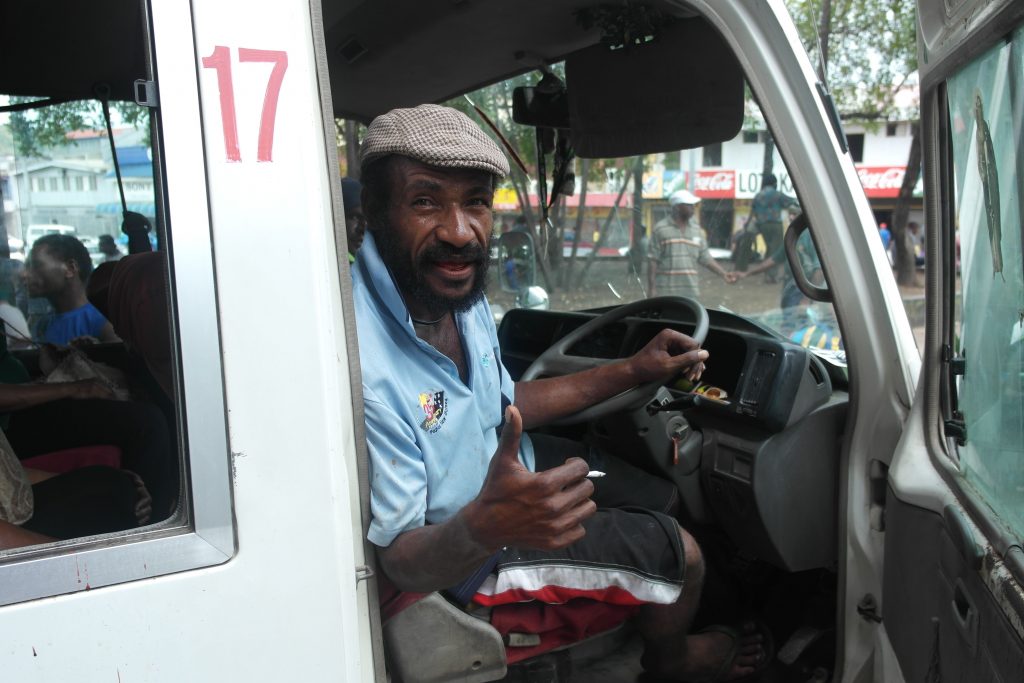 The capital, Port Moresby, is not linked by road to any of the other major towns and many highland villages can only be reached by light aircraft or on foot. Getting around Port Moresby we used PMV's (Public Motor Vehicles) which are crowded mini vans with jungle/reggae music blasting. If you want to go off the beaten track even more – you'll need to get a domestic flight. We flew to Madang – that's a whole new article.
Wifi?
Hahahaha. Good one!
What's The Food Like?
If you're travelling to Papua New Guinea for culinary reasons – you're going to be very, very, very disappointed. I tried to go veggie when possible (as I've been considering it for a while), but it was pretty much impossible. Your main choices are mock KFC fried chicken places, or yellow fin fish outside of the capital. I can't even remember seeing a green vegetable although there was plenty of fruit at local markets. On a happier note – yams are everywhere you turn and cheap enough. On that note…
Is It Expensive?
After visiting 32 countries I can say with resounding (and sad) conviction, that I have never known an economy so abused, exploited and screwed up as Papua New Guinea's. As mentioned earlier on Papua New Guinea is rich in natural resources including minerals, oil, copper, gold and gas. And the locals are obviously suffering because of the mismanagement and trades with other nations.
Standard, 'budget' one bed dorm rooms in a hostel average at around a whopping $280 per night. Street food isn't so bad, but restaurant prices are a joke. Transport is cheap in PMV's – if you're feeling brave. Flights are insanely expensive. The accommodation prices are so high that it's impossible not to spend an extortionate amount during a visit there on accommodation alone.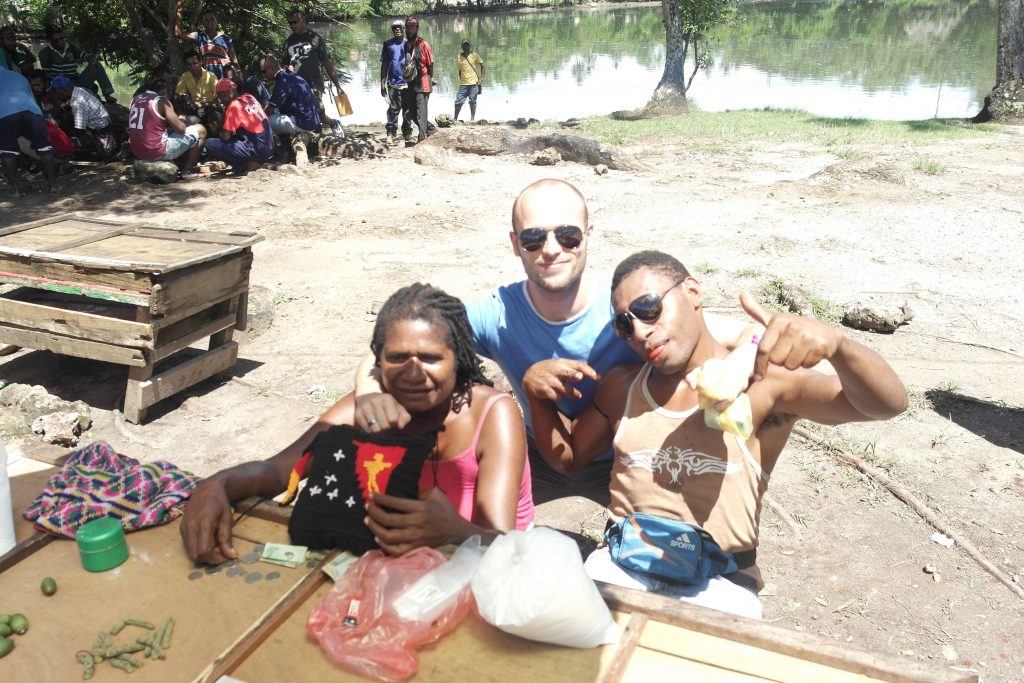 The prices don't match how underdeveloped the place is and I don't know how the locals survive – apart from turning to crime. Which brings us to the elephant in the room…
Is Papua New Guinea Safe For Backpackers?
It started off as an innocent adventure. But looking back, I cringe at our naivety. It was around dusk and we were in Port Moresby – walking around one of the most dangerous, crime-laden cities in the world, with expensive cameras dangling around our necks. In our defense – from the very first warning from worried locals; we started making our way back to our hostel.
"What are you doing out here at this time? The Raskols! The Raskols are coming!!"
'The Raskols' are ruthless, violent street gangs who have been known to rob, rape and kill on many occasions. TV Presenters/Actors/Tough guys Vinnie Jones and Ross Kemp recently recorded documentaries on these people and have looked overwhelmed and out of their hard-man depth, although Ross does really well here. If this was not staged, I think Ross handled this very well and he's quite possibly the most alpha male in the universe. I would've needed to change my pants.
While we waited for our PMV back to our hostel, and being told time and time again that we shouldn't be there at that time – we were surrounded by a gang. They were all high as a kite and asking us questions whilst edging closer. I think we did a good job of not showing how unbelievably petrified we later admitted to be. Not Ross Kemp standards though.
Don't get me wrong, I would've handed everything I had over including the clothes off my back in order to not get stabbed, but adrenaline kept me alert. The PMV turned up and some locals ushered us into the van and out of trouble. They warned us yet again, to stay away at night time and from certain areas.
Lucky escape.
Heart pounding.
Actually thought I was going to die.
A few days later (during the day) we met a guy who turned out to be a policeman he informed us that we were being tracked by Raskols. He reassured us, "Don't worry, my job is to break Raskol's legs and hands!"
Madang was more of the same – but Port Moresby was a different level of scary.
Conclusion – Papua New Guinea is

NOT

 "Safe" For Backpackers
Yes, I came back unscathed and yes there was that innocuous moment with the cameras, but to use the word 'safe' and Papua New Guinea' in the same sentence would be as oxymoronic as it gets. I went there fully aware of the dangers and I lived to tell the tale. The gangs in PNG are absolutely unforgiving, cold-blooded, high on drugs and out only for their gain. I'm a big believer in human intuition – I just think we've forgotten how to tune into it. I was constantly on edge over there and it kept me on my toes. Readers should know what to expect if they're considering a visit. I did have a fantastic time though and I'm glad I went. But it's definitely no Disney movie.
Ladies – Forget About it!
Sorry, girls. I'd be pissed off if I was a female too. And here I am – placing a limit on your potential experiences based solely upon your gender. What an utter scumbag. I hate to fear monger and I have nothing but respect for solo female travellers who dare to travel in such hardcore countries.
But I live in the real world and you have more risks than us on the road.
And look no further for 'risky for women' than Papua New Guinea. Domestic abuse is rife and women are second class citizens. If I had a girlfriend and she wanted to come with me to PNG – I wouldn't even consider negotiating. If my sister wanted to go – I'd personally fly home to the UK and lock her in her room. (It's cool, I'd still feed her and give her a window – with bars).
I'd like to tell you that horrific cases like this are isolated event – but they're not. It's commonplace. Ladies – I don't mean to sound condescending, bigoted, or demeaning. I say this out of your best interest and good intentions – Papua New Guinea is not the place for a woman.
Have you ever braved Papua New Guinea? Which country did you find the scariest on your travels?
Song for the moment – "I predict a riot," by The Kaiser Chiefs.
Notable Lyrics:
"Watching the people get lairy,
It's not very pretty I tell thee,
Walking through town is quite scary,
It's not very sensible either."