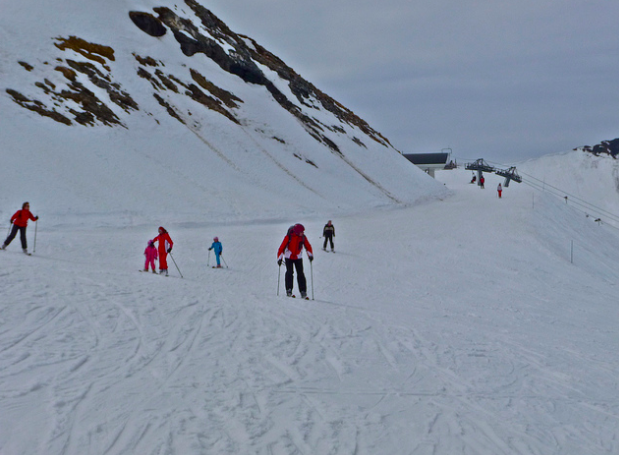 An unforgettable weekend in Les Gets can be achieved very easily, with no need to pack lots of gear. If you want to enjoy a fabulous ski break with a feeling of lightness and freedom then this is a terrific choice of destination.
So, put away the giant suitcase and look out something smaller. You can pack as light as you want for a fun weekend in sensational Les Gets.
Buy Clothes While You Are There
One of the biggest issues most of us have when packing for a trip is with our clothes. How can you possibly fit in everything that you need to look stylish at all times without your luggage weighing a ton?
A good idea when you head to Les Gets is to go shopping when you get here. There is a decent selection of shops here that let you get stocked up, with the emphasis obviously on winter sports gear and chic ski clothes.
You might want to take away a few basic essentials but why not try leaving your suitcase virtually empty for a change? It is an incredible feeling of giddiness and freedom to head somewhere as exciting as Les Gets with very few possessions.
Of course, one of the secrets to travelling light is to choose clothes that combine well into different outfits, rather than having to pack a number of completely different outfits. This means having a co-ordinated approach and using garments that all work well together.
When you book an exciting ski trip with experts such as https://www.igoski.co.uk/ you can look forward to the chance to wear great ski clothing but without worrying about taking it all away.
Hire Your Equipment Locally
If this is your first ski trip then you might wonder how you can possibly travel light with all of the skis, ski boots and other equipment that you will need. Thankfully, you can hire everything that you need once you get here.
This means that you can turn up virtually empty-handed and head over to the most convenient ski equipment shop to get started. In this way, you will be up and running in no time at all and without any hassles.
This also has the added benefit of meaning that you can get some help in choosing the perfect equipment for your size, weight and experience level. Les Gets is located in the giant Les Portes du Soleil ski area, so it is an easy place to hire ski equipment and find a ski teacher if necessary.
Once you get going you will realise that skiing is a terrific exercise that makes you feel truly alive. It also offers a fine way of cheering yourself up if you are feeling miserable and need a lift.
Make It a Last Minute Break
What could be more invigorating than deciding at the last minute that you would love to get away for a sparkling weekend of skiing in Les Gets? For example, you might have had a rough week at work and decide that you need the break to lower your stress levels and feel great again.
You will feel amazing when you check for deals and discover that getting away in this way is completely possible. There is just no way of comparing the idea of jetting off to the French Alps at the last minute with that of staying at home for the weekend.
When you organise an exciting break like this you don't even need to bother spending a lot of time packing. Just grab your passport, some money and a few other essentials and you are ready to go.
This means that you can go to work as normal on the Friday and then dash off to the airport right after finishing there. In just a few hours you will be in the resort and ready to start enjoying the good life right away.
Don't Take Food With You
Some people love nothing more than heading away on a trip with their suitcase crammed full of food from home. Maybe this is because they are afraid that they won't find a single thing to eat in their destination that they like.
However, this really isn't going to be a problem at all in Les Gets. This area is packed with many brilliant restaurants where you will find all sorts of different food to try.
Whether you want to try some classic French dishes or international dishes you will discover plenty of amazing options here to try. The impressive range of eateries in Les Gets means that you can also decide whether to eat somewhere that offers great value or somewhere more luxurious.
Even if you plan to rent a chalet or apartment there is no need to take away cooking ingredients. You can easily find what you need in the local stores and can get a lot of thrills doing some shopping here too.
What Else Do You Need Anyway?
If truth be told, Les Gets is such a fantastic place with so many things to do that you probably don't need to take away much else anyway. The chances are that you will be kept so busy skiing and doing other stuff that there is no need to think about taking away anything for entertainment purposes.
If you often travel with books, a laptop or some other form of entertainment then that simply isn't going to be necessary here. Instead, you can enjoy skiing or other winter sports before heading out for some food and après ski in the evening.
A weekend break in Les Gets might seem fairly short but you can make it hugely memorable by soaking up the atmosphere at every opportunity and doing everything that you possibly can to have a great time.
The best piece of advice is to just leave the luggage at home and just try to live this adventure to the fullest in whatever way suits you best. You might even find that going to the French Alps with very few possessions gives you a completely new way of looking at travelling from now on.
Feel Complete Freedom
Perhaps the most exciting thing about travelling to Les Gets is that it gives you a sense of complete and utter freedom. When you sense the immense mountains all around you it will make you feel that you are embarking on a thrilling new adventure.
As part of this, you can be sure that you will feel even more freedom when you arrive with very little luggage. You can head straight to the slopes, the local bars or restaurants without a care in the world in this way.
It also means that you will feel relaxed and care-free about going home at the end of the trip. There is no need to rush about packing everything away at the last minute if you travelled light in the first place.
You can, therefore, look to enjoy your skiing trip right up until the very last minute before it is finally time to go home again. This is a wonderful way of squeezing every last drop of pleasure out of the break.
If you tend to pack a lot then try this different approach and pack light for Les Gets. It could turn out be one of the best travel decisions that you ever make.