At the start of last year I had to be brutally honest with myself – I'd simply let myself go. I've never exactly been Jason Momoa in terms of physique but I had always been a physically fit guy.
Never bulging with sexy mirror muscles like a brawny bodybuilder, but slim and wiry with a good engine. Cardio never phased me and I always excelled at it whenever the challenge arose.
But that was a long time ago and I don't want to be one of those guys who always bangs on about what he used to be able to do. Thats a sad existence. It's gone now and the past is irrelevant, the present is what I'm the most concerned about.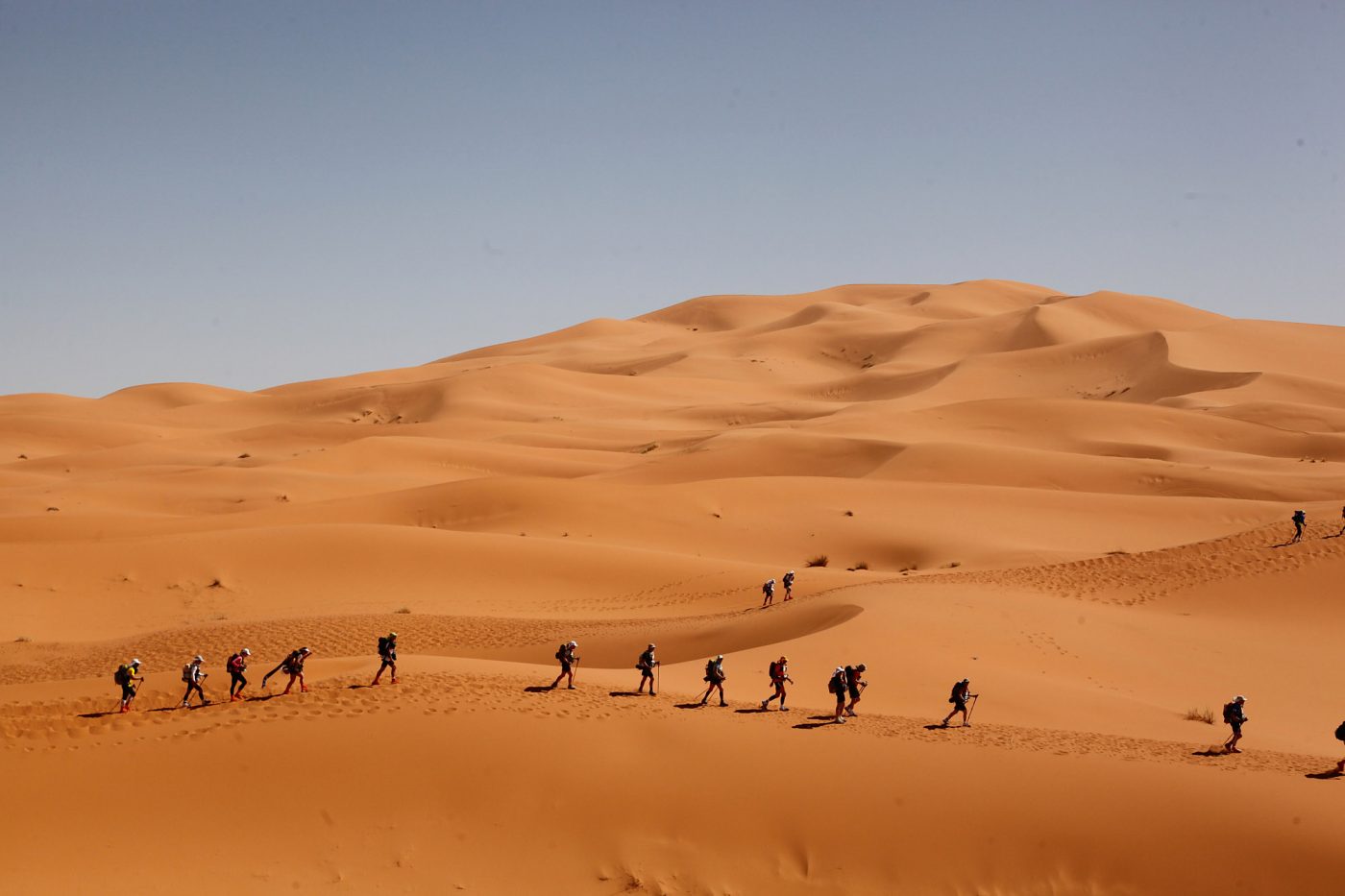 I travelled hardcore for pretty much all of 2018, which isn't the best of circumstances for health and fitness and so I failed with this conquest.
I got up one of the Seven Summits, weather beat me on another attempt and I took part in a local half marathon back home in the UK.
5/10 would be a fair score for physical fitness for 2018, but I am determined to make 2019 my true year of reconditioning my body for robustness, good health and hard times.
It's often hard to explain a strong feeling, but when I started my blog and left England with little cash, on a one-way ticket, I just knew I was going to make it work.
I'd talked and talked about leaving before, but never truly believed and felt that it could be possible. However, when I got on that plane eight years ago there was a different type of feeling in my body and mind – I felt that things were going to change for the better…and that's exactly the feeling that I have now about fitness this year.
Last year was a little rough for me, emotionally, but the same twinkle in my eye that I had at the start of this journey all those years ago is starting to gleam again, so I'm ready to take on a mammoth challenge this year.
In April I will be participating in "the toughest foot race on earth" (stated by The Discovery Channel) in Morocco, running 6 marathons in 6 days…in the Sahara desert!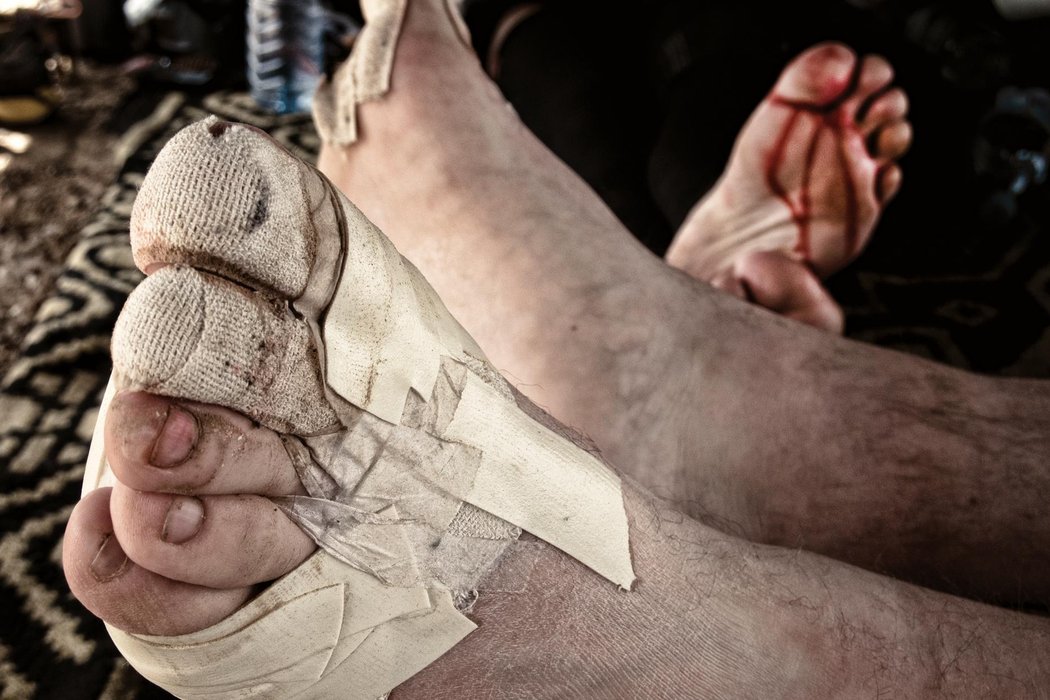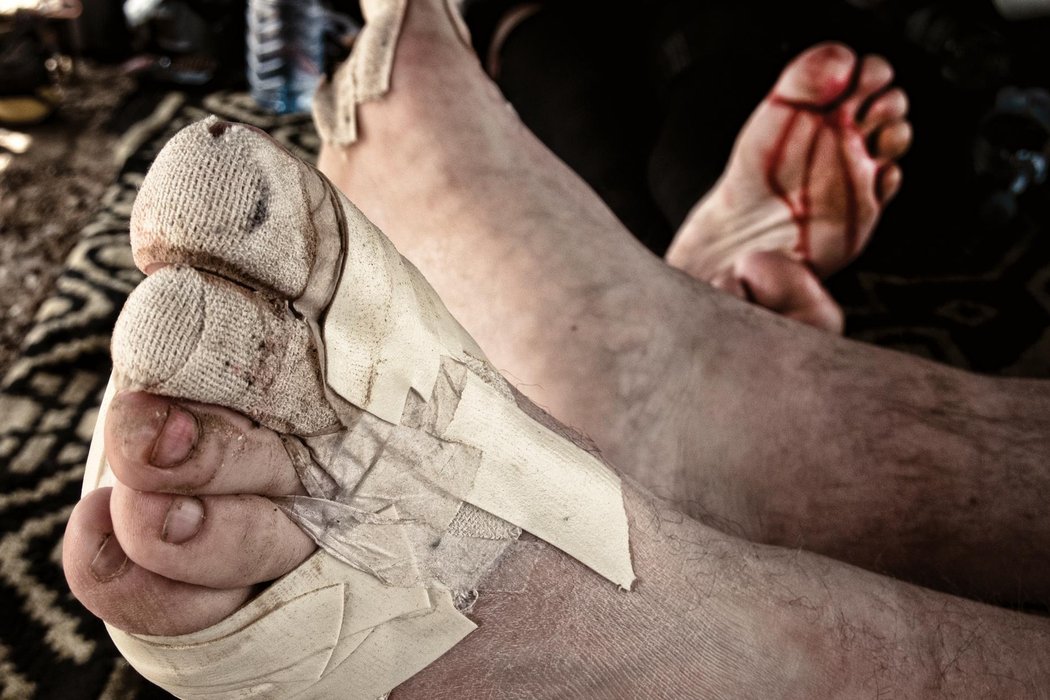 It's officially called "Marathon Des Sables" (Marathon of Sand), in a six-day period I will look to join over one thousand other lunatics in the baking hot Sahara Desert, one of the most inhospitable places on planet earth – at temperatures up to 50 centigrade to run 156 miles.
The fourth day will see a notoriously hellish DOUBLE marathon of 52 miles in the sweltering heat, with the next day being a much needed rest day. It's no surprise that this part of the course has the biggest drop-out rate.
The running and the temperature is only half of battle – stories of Des Sables survivors speak of sandstorms that constantly burns their eyes, delirium, coughing up blood, feet cracking apart with agonising blisters and of course – the ungodly ball-chaffage (lest we forget).
Tainted testicles aren't the only worry here, as we also have to pack our bags with all of the food that we intend to carry for our time there, so there is the extended stress of running out of food, when we are clearly going to be starving at the end of every race.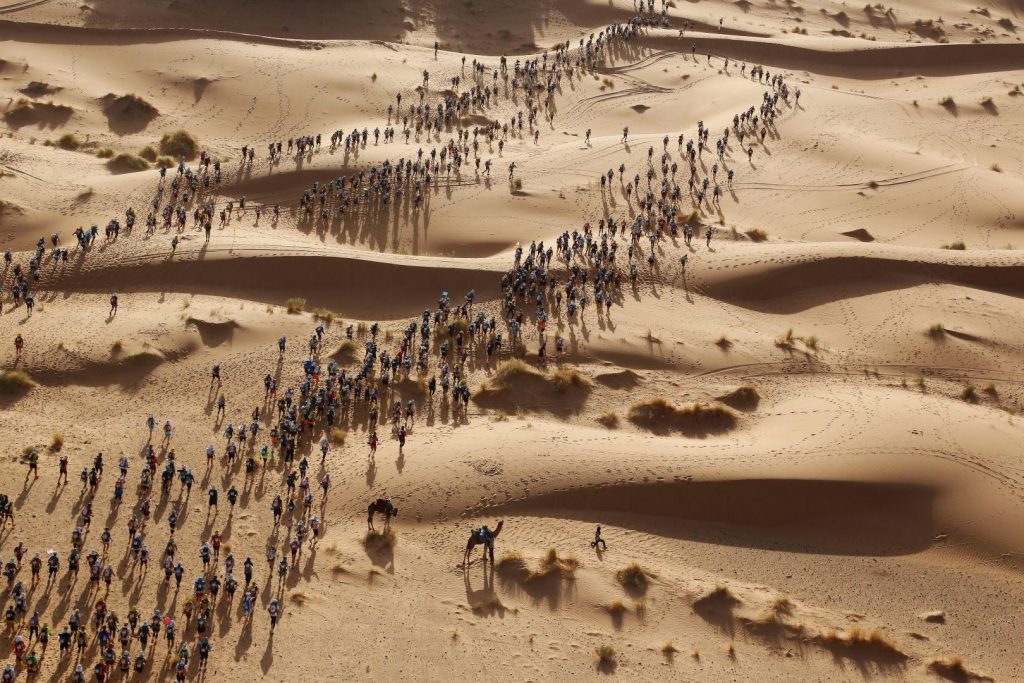 Water stations are provided but they're also rationed (if you exceed the water ration you receive a time penalty). H20 aside, the bragging rights is crossing the Sahara self-sufficient, running 6 marathons in 6 days. Even if you crawl over that finish line on the final day, you'll get to say you survived The Toughest Footrace on Earth.
The terrain of course isn't all flat, and steep sand dunes will be an extra nemesis to getting through the event. On the long day (the double marathon) it is obligatory to carry anti-venom on you, as deadly viper snakes and stinging scorpions come out to play on the night time.
Why am I doing this?
Why am I running shit loads of miles through the Sahara desert, killing my feet, hurting my bollocks and paying £4400 for the privilege? It's a damn good question, squire. Ego? Sure, that's got to be part of it, but as mentioned above, I want to be feel like a well-oiled machine. I'm sick of feeling soft, weak and lethargic – so training for Des Sables will be tough, and the perfect tonic for getting that fitness back.
Why couldn't I just work up to a couple of 10k runs and go to the gym like a normal person? It's not in my nature, I'm an intense person and instead of shaking my first to the heavens and saying "why me," – I'm going to embrace it.
This is the Phoenix From The Flames moment that I've been waiting for.
Another bonus reason is it will be a great advert for Veganism. I chose to go vegan roughly four years ago when I could no longer defend the cruel things that we do to animals for food and clothing and all the rest. I made mistakes during the transition and it was bloody hard, but I felt it was the right thing to do.
However, I had to put up or shut up, and so I made my choice. It's a frustrating subject to say the least, but I'm an "actions speak louder than words" kind of bloke, so now it's time to take big action.
For every person saying that we "need" meat to live, I'm going to put my money where my mouth is and show what can be done and that the body can not just survive, but thrive on a well-planned 100% plant-based diet.
Less talk, more do.
How I'll be training for Marathon Des Sables
Moving back to Bangkok was a tactical move on my behalf. I knew that I planned to participate in MDS and so I had to train somewhere hot and humid.
Bangkok certainly ticks those boxes and I plan to run a half marathon first thing every morning with fellow Des Sables participant and usual partner-in-crime for doing stupidly dangerous stuff, Mr OneStep4ward.com
I will add two strength training sessions a week, so that my core is strong for the giant sand dunes.
I also hear that Bikram Yoga is good preparation for this event, so I'll try and take part at least one per week the closer we get to the date. On top of this, I'll be having a sports massage and working on mobility with a fantastic physio here in Bangkok.
This event is not just a physical test, but one of the mind and my mental strength will have to be as tough as a Spartan's for this. Meditation is going to be a big factor too; I can't be losing my mind out there.
I'll be getting reacquainted with the podcast of Ultra-runner Rich Roll (one of my favourite vegans) and the 'Live Life Aggressively' podcast (my personal favourite, which I am a monthly high-tier Patreon of because I love it so much).
This raw and honest reflection on Des Sables by Irish Fitness Podcaster, Brian Keane is a great listen:
British record-breaking MDS two-timer, Tobias Mews is a fella whose advice I'll be reading a lot of too,
I'm new to the Marathon Des Sables world, and have a lot of studying to do so that I also pack my bag with enough nutrition and buy good enough gear to give me a fighting chance. If there are any marathon-runners and ultra-runners out there, or even better – Marathon Des Sables veterans/survivors, then I'd love some advice to get me through what will simply be the hardest physical challenge of my life to date.
Man vs Clock Countdown to Marathon Des Sables: