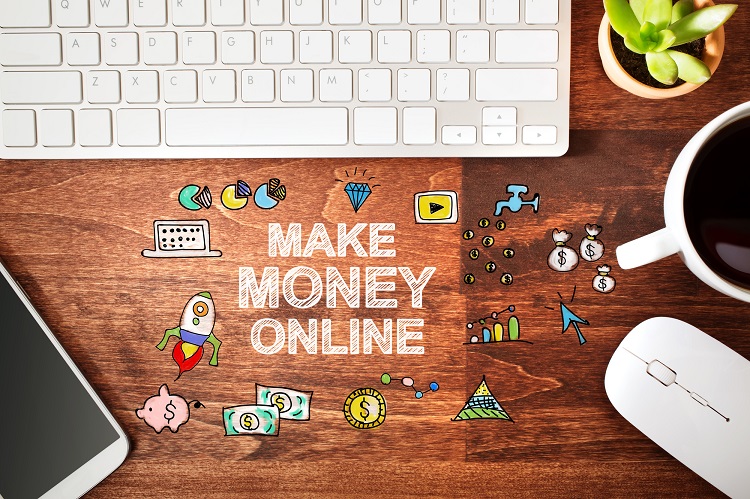 Is your salary just not cutting it? There's a lot you can do to get your hands on extra cash. Keep reading to learn how to make money online on the side.
In 2017, more than 44 million Americans had a side hustle in addition to their regular income. With more people utilizing the gig economy and tapping into the virtues of technology, this is a figure we expect will continue to climb.
Is your 9-5 paycheck simply not cutting it? Are you interested in having some extra discretionary cash on hand?
Let's get into how you can learn how to make money online!
Save Money While Shopping
If you online shop (and who doesn't?), there are several websites and apps geared towards helping you save money on the products you already purchase.
For example, installing a cash-back extension, like Swagbucks or eBates can generate you anywhere between 1-40% cash back at various stores. The popular receipt app, Ibotta, allows you to scan in your receipts and score additional deals on both in-store and online items.
Don't forget to sign up for newsletters and preferred lists! Yes, you'll get a few extra emails here and there, but these emails often tuck away promotional rates and discounts.
Sell Things Online
Chances are, you have old textbooks, clothes, or dusty electronics just lying around the house. Today, there are infinite websites and mobile apps that are happy to help offload these items from you.
Whether it's Craiglist, Amazon, eBay, Decluttr, thredUP, or Facebook Marketplace, there's a demographic for every item imaginable. That includes video games, clothing, furniture, electronics, and, yes, even makeup and grooming items!
If you find yourself enjoying this process, don't overlook the lucrative path of flipping and reselling items. Successful entrepreneurs can make tens of thousands every month simply by scouring discounted items and flipping them for a profit.
Rent Things Online
Just like you can sell virtually anything online, you can also rent most anything. There are plenty of eager consumers who would love to rent out your house, car, musical instrument, and, yes, even your driveway!
Don't overlook the financial benefits. Some people turn this passive income stream into a full-time job.
Just make sure that you fully read the terms and conditions for each site or mobile app. You obviously want to ensure that your items come back to you in tip-top condition.
Sell Services Online
Can you speak German fluently? Got a knack for graphic design? Enjoy editing silly cat videos?
No matter what creative or technical skill you have, there's a market out there for you, and a potential seller is looking to buy your service. In today's society, you don't need much capital to get started (and even if you do need capital, bad credit loans are always available).
Furthermore, many freelancers get their start with gig economy jobs online. Popular marketplaces include options like Upwork, Fiverr, or Craigslist. However, you don't need to limit yourself to those options.
If you have a special talent or one-of-a-kind product, you might want to consider opening up your own online store. Marketplaces such as Etsy or Amazon Handmade specialize in bringing together local vendors with consumers.
Remember the success lies in the quality of your posting. You need a captivating way to show what you can bring to the table, and you need to deliver competently- every single time. This will take time, dedication, and lots of patience!
This process towards financial freedom is a matter of trial-and-error, but plenty of successful freelancers actually transform their full-time gigs into online entrepreneurship.
Make Money Blogging
No, blogging isn't a dying art. In fact, it's one of the best ways to start earning active and passive income.
Starting a blog is easy, but you should absolutely take the time to consider your purpose and intentions for writing. Do you want to share your daily routine? Or do you want to show off your professional expertise in a specific line of work?
Blogging requires dedication and commitment, and you typically won't make any income from the start.
With that said, by building up the right traffic, you can create a lucrative cash flow through the following sources:
affiliate marketing

guest and sponsored posting

ad traffic and revenue

selling services and products online
Today, there are dozens of bloggers pulling in six figures every month. Why shouldn't you join those ranks?
Complete Surveys or Online Tasks
No, you won't be able to quit your full-time job off this income, but surveys and online tasks can be a fun and easy way to collect extra cash.
Popular survey sites include YouGov, Pinecone Research, IPSOS, MySurvey, Toluna, and Swagbucks. If you want to earn serious rewards, it's best to sign up to as many companies as possible.
Each of them will vary in length and incentives. No question or topic is off-limits! You'll answer everything from vehicle preferences to voting demographics to snack foods.
Some companies will even send you trials or samples to test out their products. It's a great way to score some freebies and garner some extra money.
For online tasks, Amazon Mechanic Turk is a popular option for on-demand work, such as website feedback, image tagging, usability tests, or online data collection.
That's How To Make Money Online!
Technology makes it easier than ever before to save and earn extra cash while still holding down a stable career. If you learn how to make money online, you open yourself to limitless possibilities for financial flexibility and freedom.
Are you interested in learning more about leveling up your income and maximizing your life? Be sure to check out our blog today!