On Christmas Eve I dropped my last-minutes plans, when given a personal invite to a Muay Thai Kickboxing tournament by the promoter of Chiang Mai's 'Taephae Boxing Stadium.' I don't like fighting, in the sense that I think fighting in pubs and clubs is just plain stupid. (why would you want to punch someone's face in, when you could just chat to sexy people instead?) But when it comes to a good old combative sport, with rules, tradition, skill, fitness and determination – count me in and get me a ringside seat!
And so I did just that.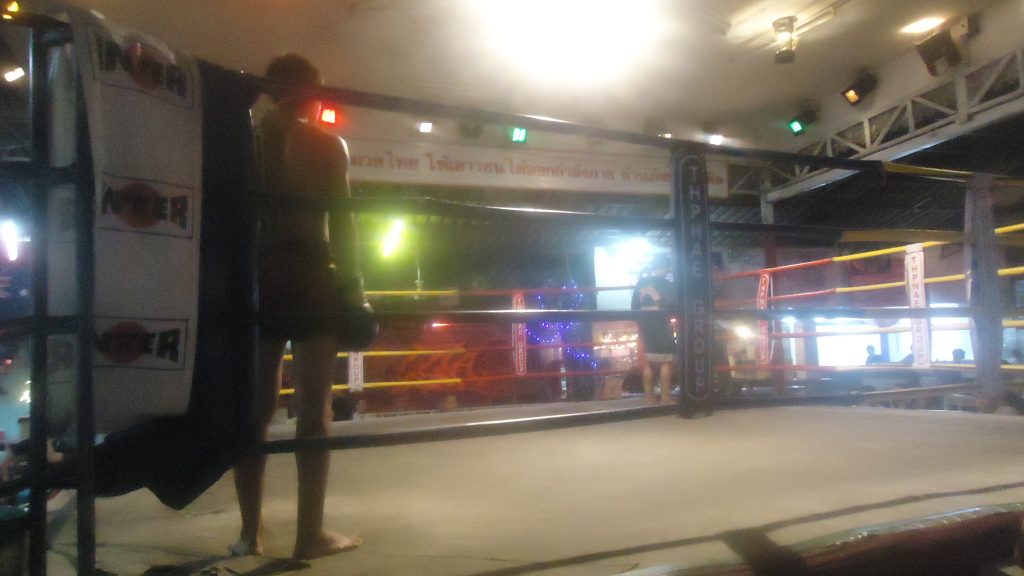 Muay Thai is a combative sport that uses stand-up striking along with various clinching techniques. Make sure you get the adequate travel insurance, should you be brave enough to take up the sport while over here. Muay Thai athletes train twice a day and are extremely fit professionals, moreover the sport is massively popular in Thailand.
Thapae Stadium hold boxing events every Monday, Wednesday, Thursday and Saturdays between 9pm-midnight. Food and alcohol stalls are situated within the stadium and the price for meals is extremely reasonable to a budget traveller. A ticket costs 400 baht and a VIP ringside seat is 600 baht. If you're visiting Chiang Mai and want to see some kickboxing, you can't miss it – just look for Tae Pae Gate and you'll hear the music blasting from the speakers.
Action
The first guys up, weighing 120 pounds, were both Thai's and looked very evenly matched in size and weight. This was my first witnessing of the endearing ritual that takes place, before the guys kicked the snot out of each other. The opponents dance around the ring, peacocking and showboating with dance moves before kneeling down and doing something that resembles praying.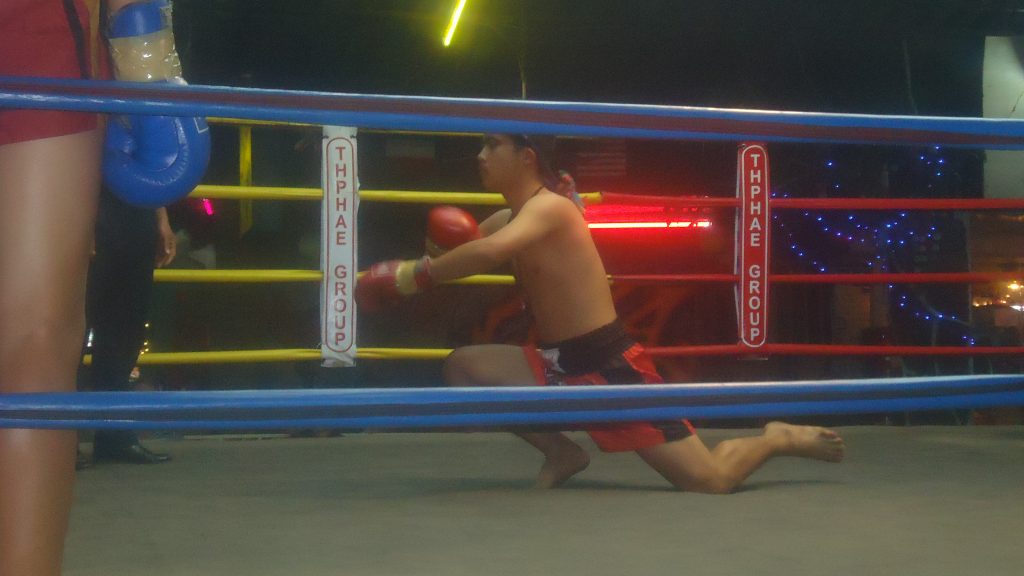 I was informed by a local that the traditional ritual is known as 'Wai Kru Ram Mua:'
During Wai Kru Ram Muay, boxers may use this time to motivate themselves to be courageous and to make emotional preparation for the coming fight.
During Wai Kru Ram Muay, boxers may have opportunity to observe their opponent's ability, strength and weakness through the Ram Muay postures and form of ritual dance as well as to assess to find out how to beat the opponent.
The match started and the two guys sized each other up, I looked around the stadium and it had a good cultural feel about it. The roof was leaking. there were tiles missing on the wall, with cockroaches crawling them and extremely rough looking Thai men who looked like they'd mess you up in seconds, stood by punching bags, chewing tooth picks. Old school. Love it.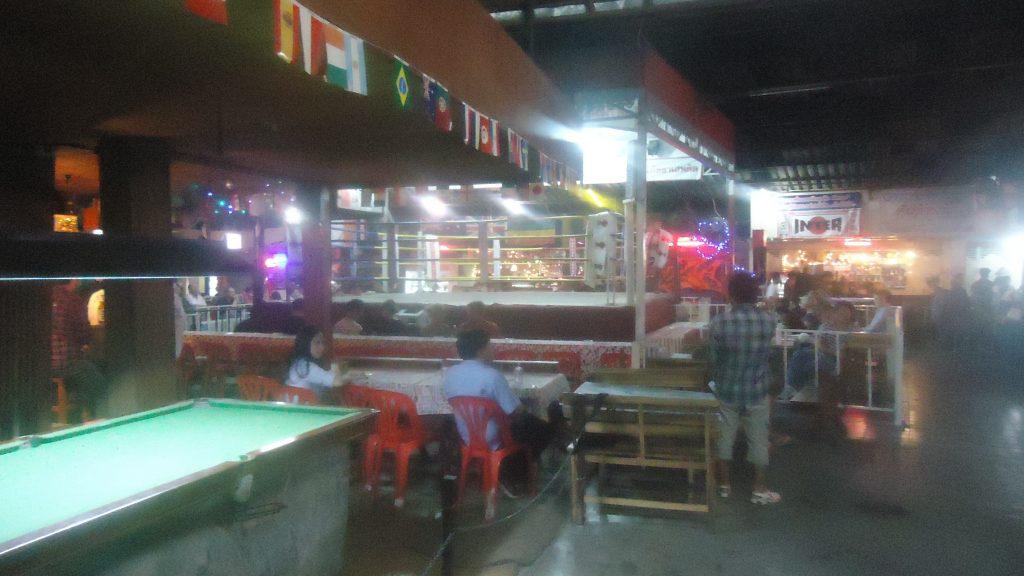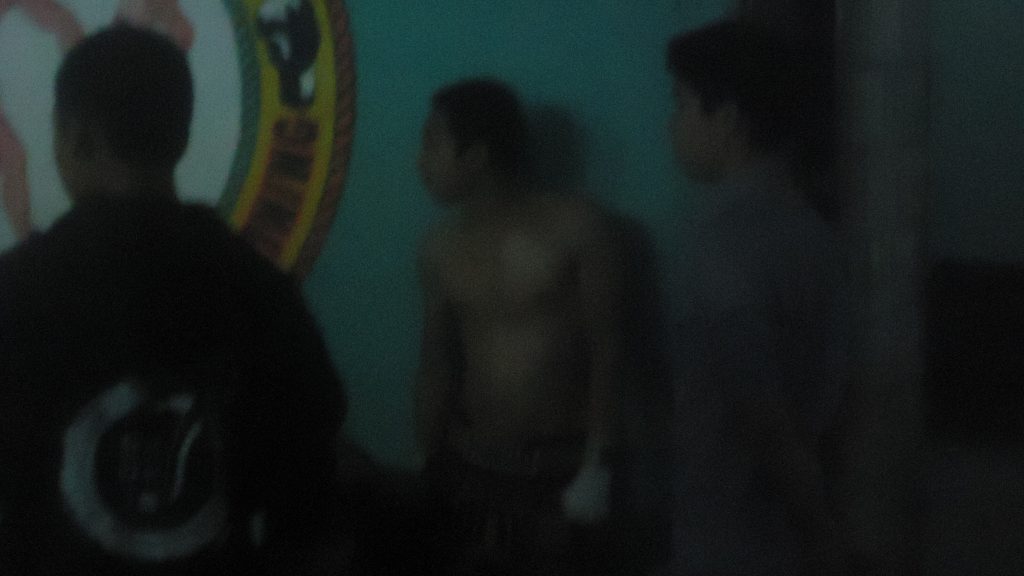 Unfortunately the match ended quicker than a horny boy's virginity in round 1, due to one of the dudes not being able to count the refs fingers. But no knockout was seen. Victory to Nongtrain Ooiwonloong of Chiang Mai.
Before the next opponents were flourished to the blood-thirsty crowd I took a look at my paper to see their weight class and I thought; "wow, they must be skinny!" And then to my horror, these cute little kids were displayed: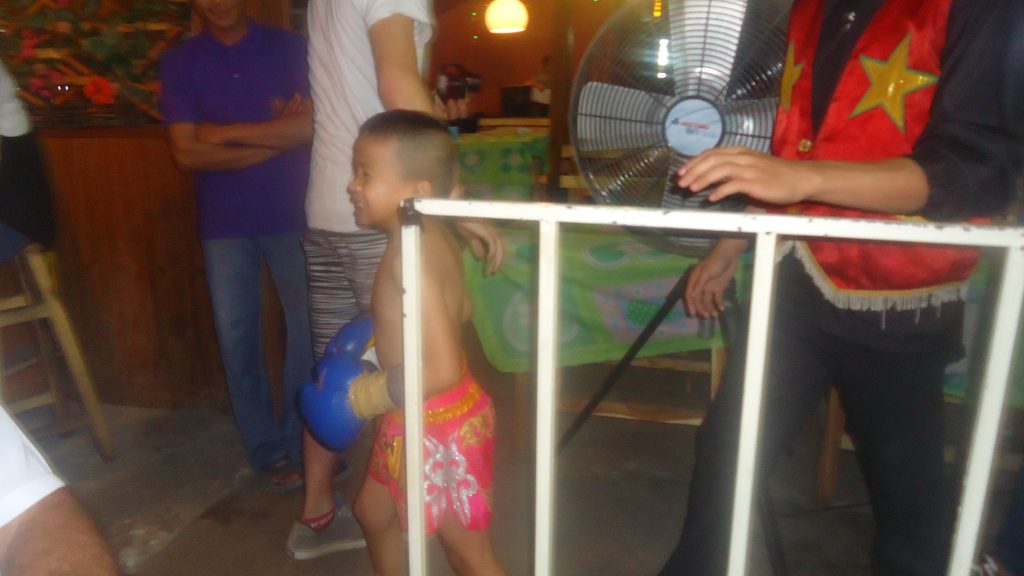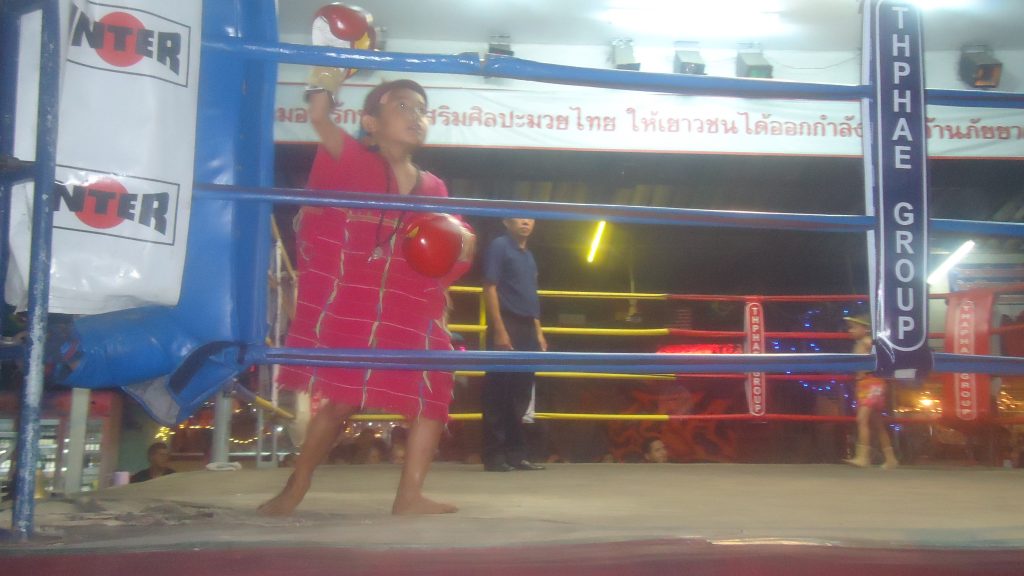 The children seemed unfazed and performed the ritual accordingly. I instantly felt a conflict of interest in my head, but decided to get it on camera and try to look at it with an open mind. The first round started and it was pretty harmless and even, no kid looked like they were going to get really hurt.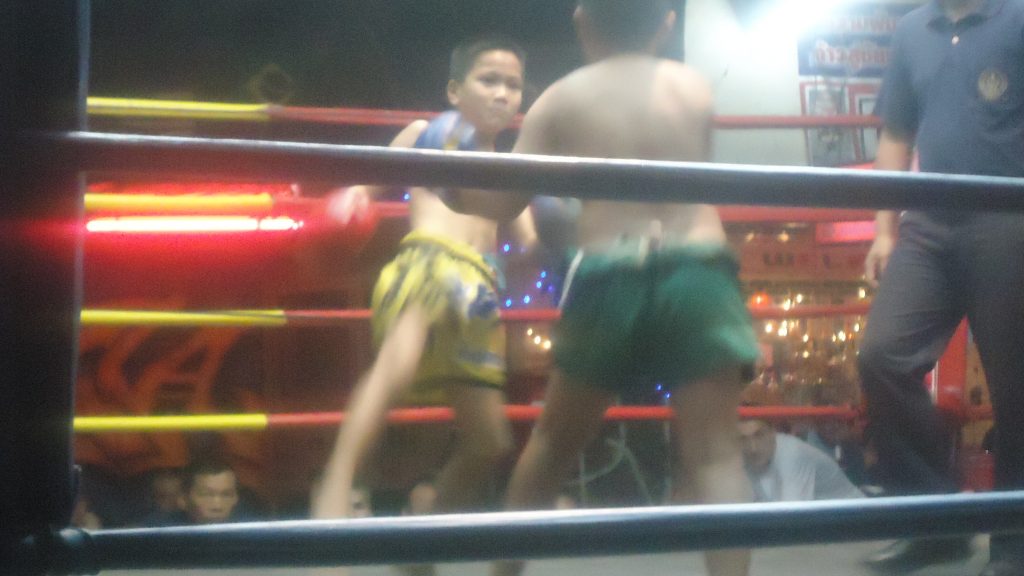 However, in the second round I seen my first knockout of the night. I'm totally for children being competitive from an early age. We live in a tough world and we must learn fast about winning and losing, success breeds success. England brought in this stupid law in 2008 that all football leagues in schools for under 11-year old children, were to be abolished and they'd only have friendlies instead of  a competition and I hated this decision.
But to me, there's just something inherently wrong with a child getting a blow to the head and being knocked out and people celebrating this.
Soap box over, I've said my piece. The next few fights were quite boring in all honesty – that was until the French kids rocked into the place! Mr Chayyaigym of France took to the ring against a guy from Bangkok called Sor Sianglah and this spiced up the ring. Their bodies were pretty evenly matched – impressively ripped from head to toe, I had a feeling that this one was going to be a good fight. (Sorry ladies, I missed the snap of their physiques – I was too much in awe myself!)
The next five rounds were reminiscent of a Rocky fight; each opponent giving it their all and sizing each other up with hefty blows and nifty jabs and knees to the ribs. Victory came for the French kid just before the end of the fifth round, dazzling the Bangkok guy with a pretty sweet left jab.
The next French kid was just ruthless. His muscles had muscles. He strutted into the ring with an I-have-just-bench-pressed-the-world air of confidence and I nodded in agreement as my Canadian friend leaned in and said; "well this guy means business!" The other guy was Thai, he was big and chunky but didn't possess the same amount of impressive lean muscle mass as the French kid, but he was still a big bloke. These were obviously the heavyweights of the night.
Once the match started, I noticed two things immediately: The French kid was quite possible not human and the Thai kid had some sick level of pain threshold, albeit impressive. It was obvious that it was going to be another victory for France as Sebastien completely leathered the Thai guy all over the place in Van Damme Hollywood style. It was quite poetic, in a savage kind of way. High kicks, fast jabs, elbows to the ribs – the man was a machine. Thai guy put us all out of our misery in round four when he succumbed to a deadly kick-punch-to-face-elbow-to-ribs combo.
It turns out the French kids are brothers and are fighting each other next week. I'm looking forward to that one, somehow I think their Mother may not be as keen.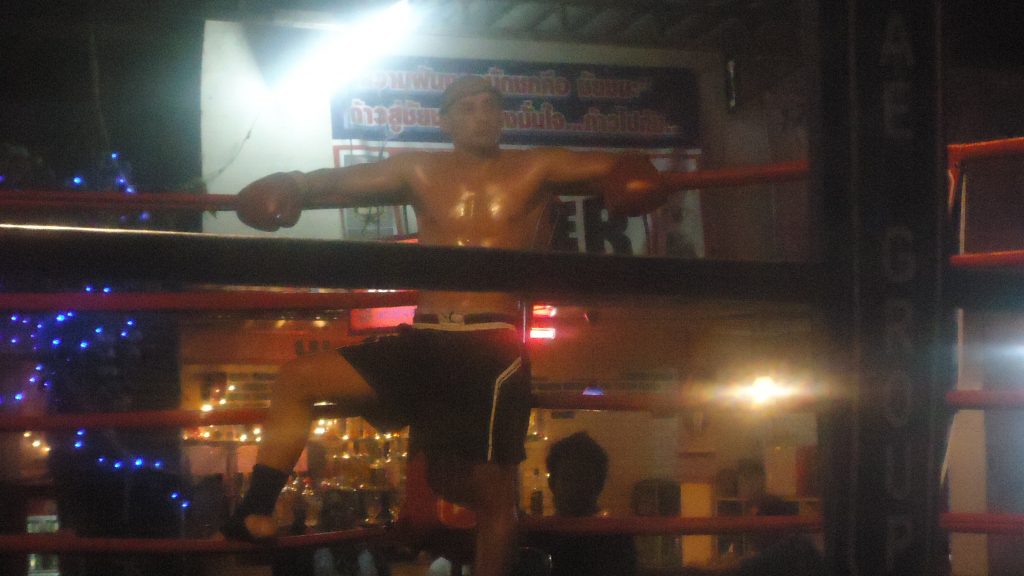 The whole place went from really serious, to really silly within seconds. Ten kick boxers entered the ring and put on blindfolds! The audience were puzzled to what was going on, while some cheesy music began to play. And then I witnessed one of the funniest and equally disturbing things that I have ever seen – ten blindfolded men swinging there arms around, and flying kicking each other. It shouldn't have been that much fun – but it was!
Thankfully the best fight was saved to last, when the "special fight" of the night started. It was two women, the only women of the night and these were some tough ladies! Lads, let's just say you would never forget to leave that toilet seat up ever again if you dated one of these ladies.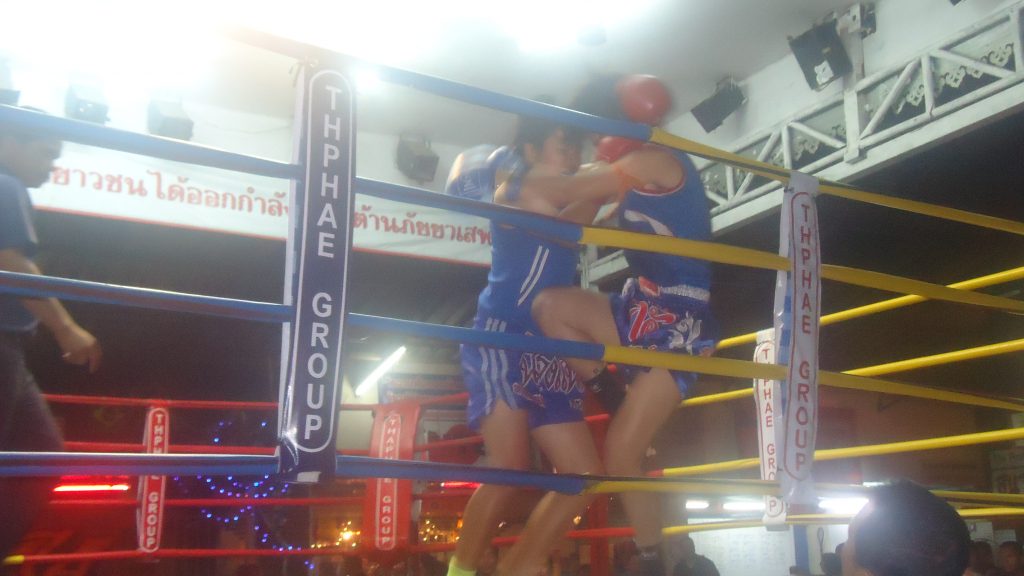 I've witnessed some pretty nasty cat fights in Newcastle and Durham, but this was something else! Eight rounds of the angriest, and remorseless estrogen attacks were witnessed by my amazed eyes! Congratulations to Nongnan Paradorngym for a KO that would have made Chun Li proud.
Final Thoughts
Would I go back? Yep, absolutely – I'm going again on Friday night. Marks out of ten? I'd say 7 – the kid KO thing took a few points off it for me, but the overall experience was good and my ringside seat made sure I didn't miss any action. Would I try Muay Thai? Well I actually have been, but I've had to cut that short unfortunately (will reveal all next week). If you like sport and you want a cultural feel of Thailand, I'd definitely recommend Thaphae Boxing Stadium.