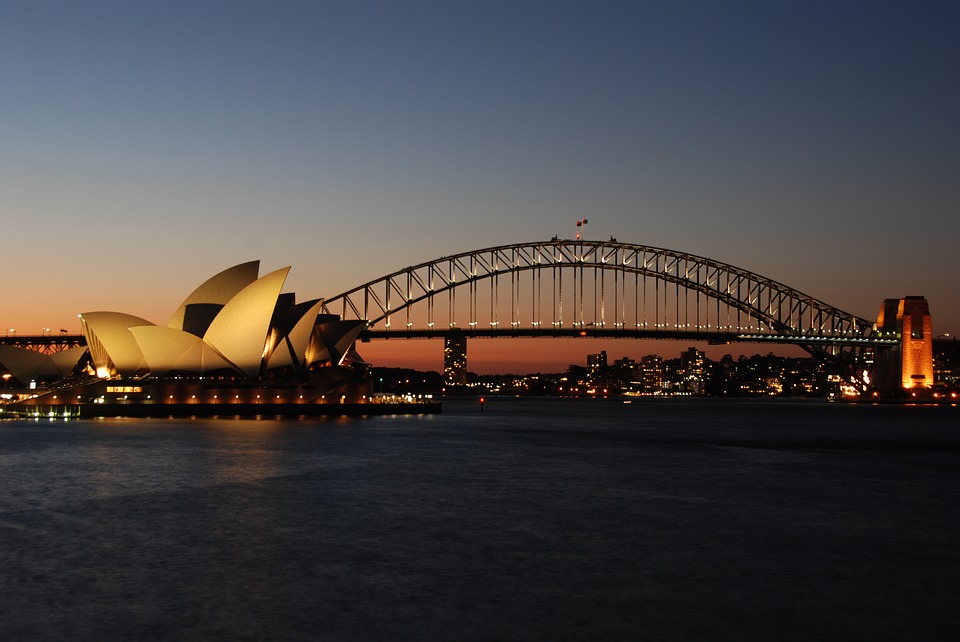 Sydney figures as a popular destination of Australia – a country of remarkable biodiversity, a uniquely characterful populace, stunning vistas and incredibly cosmopolitan cities, with Sydney the epitome of modern, multi-cultural Australia. The city itself can seem a little daunting to explore in the few days that you've set aside to scratch the surface of a modern and at times enigmatic metropolis, but with a few pointers you'll be able to suss out exactly what's for you in Sydney's many treats, from the most-visited tourist sites to the off-the-beaten-track corners that you'll have to find on your own.
Cover the Harbour
Like all great coastal cities, Sydney is uniquely draped along a coastline and harbour that makes for stunningly attractive walks and constant picture opportunities. One of the top five most iconic buildings in the world, the Sydney Opera House, juts out dramatically into the central hub of the harbour and is well worth viewing from the opposite bank, while the Sydney Harbour Bridge along Circular Quay is another stunning sight, especially when viewed at night from a waterside bar.
You'll be able to see Sydney Harbour and should endeavour to be there for sunrise and sunset for the most spectacular views, escaping the sometimes oppressive heat of the day and the crowds of tourists who descend on the main sights in the middle of the day. Stake out the best spot for a sundowner overlooking the serene waters of the harbour and glory in the huge colourful skies and twinkling lights of this pretty little city.
Soak up the Culture
Aside from Melbourne, Sydney is the city with the most concentrated cultural offerings in Australia, with galleries and museums boasting both national and international treats for any culture vultures out there who are keen to see some aboriginal art or simply escape the heat of the streets for a little while. Located largely in the city centre, this is another side of the city that can be covered in a day between rests at local cafe and bars and relaxes in the city's lush provincial parks.
There's the New South Wales art gallery, replete with some stunning local artworks as well as loans from international galleries, and the Australian Museum, in which you'll be able to view animals native to this country. There are museums covering maritime activity, the police, mummified bodies and artefacts from before Australia's colonisation by English convicts – all incredibly set out for the curious tourist.
A World of Cuisine
It would be a scandal to talk about Sydney without highlighting the culinary treats that lie in store for the traveller who likes to eat well while abroad. While in smaller towns and cities you're likely to enjoy the traditional Aussie barbecue, or locally caught and fried seafood, spend your time in Sydney gobbling up the incredible fashion dishes that take full and tasty advantage of the city's decidedly cosmopolitan air, with immigrants especially from Asia contributing their own unique culinary styles to the Australian palate.
There are world-renowned and Michelin-starred eateries for those without budget constraints, but you'll find on your long wanders around the city a worldly variety of restaurants serving up everything from kangaroo to curried snapper. Book a table at the top of one of central Sydney's skyscrapers for some of the most exquisite views of the whole harbour or delve deep into Chinatown for authentic Asian cuisine. There are bustling hothouses of aromas and sound that'll briefly transport you far away from Australia. The choice is yours but make the most of Sydney's wonderful variation when it comes to food.
Stay in Beautiful Locations
Sydney is a global city that caters for international businesspeople as well as families, couples and the intrepid solo traveller. To match this constant stream of visitors from around the world, there's a delightful array of places to rest your head after a day's exploring, whether you like to stay in the thick of the city for access to the nightlife, or a little further into the suburbs where you'll be able to spend a day relaxing in the sun by the hotel pool.
Check out the well-placed Savoy Hotel for rooms a short walk away from the harbour's delights from which you can enjoy a sundowner before heading out to enjoy the lights twinkling over the harbour. There are options to stay a little further out of town to be surrounded by greenery, though you'll then have to commute into the city daily which can be a bit of a drag. When booking a place to stay, prioritise what you'll want to get from the city – are you most interested in daily exploration or nightly antics? Build your stay around these priorities to find the ideal hotel.
Sample the Nightlife
Australia as a whole is famous for its gregarious and fun nightlife, which ranges from live music haunts with local bands playing jazz or folk into the night, all the way to all-night raves which last until sunrise, boasting international DJs playing to international crowds. If an evening or two of clubbing or experiencing the local bars at night is on your agenda, then Sydney is likely to have exactly what you're looking for – you'll just have to do your research.
The main nightlife hubs are along Oxford Street for clubs, and around the various quays for the little-more-laid-back and sophisticated bars for the chic traveller looking to mingle. Arq and the Oxford Art Factory offer spaces for DJs as well as contemporary electronic musicians to show off their wares, while gay-friendly Stonewall Hotel boasts a riot of colour, music, and dance for those with a passion for nights out with a joyful and open-hearted twist. There are pool parties to be found at the Ivy Pool Club too – whatever your taste in nightlife, Sydney will most certainly cater for it.
Australia's most cosmopolitan and varied city has so much to make the traveller linger a few days longer than expected; use these tips to extract the very most out of your stay in Sydney.